Edwin De La Rosa photo exhibit to open
[+] Enlarge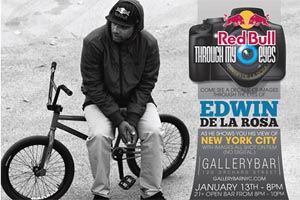 Courtesy of Red BullEdwin De La Rosa's Red Bull Through My Eyes Photo Exhibit flyer.
On Thursday, January 13, New York City street rider Edwin De La Rosa, in conjunction with Red Bull, will host his first solo photography gallery, at NYC's Gallery Bar on the Lower East Side. Under the Red Bull 'Through My Eyes' series, De La Rosa will present his brand of urban point and shoot photography that he's collected over the past decade. "It's just photos I've taken while riding BMX, from spot to spot, with my friends. Things that I've seen riding around New York City. Random shots from NYC and road trips I've been on," said De La Rosa about the upcoming exhibition, which opens on Jan. 13 and runs through Jan. 27.
Known for pioneering the four-peg, brakeless approach to street riding in the early '00s, 26-year-old De La Rosa came onto the BMX scene in his mid teens and transformed the landscape of the professional BMX lifestyle through technically progressive video parts that consisted of stylish street riding in and around the New York City area. Although he made a name for himself through his riding, De La Rosa never left home without a camera. "When I first started going on road trips, I was 15 or 16, and I would always buy a disposable camera, bring it on the trip, shoot some photos, and get it developed when I got back into town," said De La Rosa from Brooklyn on Thursday. "I never considered myself a photographer, I just take pictures. I kinda just kept doing that, and that's what I've been doing since. It's a way to remember everything that happened on the trip," he added.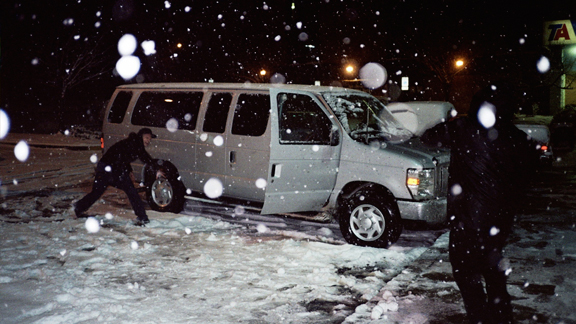 Edwin De La RosaOriginal photography from Edwin De La Rosa: Winter snowball fight with the Animal crew.
Throughout the years, De La Rosa collected his photos in shoe boxes, and only shared the photography with close friends, until last year. "I started showing my photos more often. And [Brooklyn area artist] Ryan Humphrey got me into a show," says De La Rosa, whose photos were featured in Joyride: The NYC Bicycle Film Festival art show in June of last year alongside the likes of Spike Jonze and Humphrey. "Then I met another photographer named Dana Goldstein, and I knew who she was from her photos. She came out riding with me, and I ended up talking to her about photography. I sent her a few photos, and she told me that I should try to get them into shows. Between her and Humphrey, they got me into a few shows, and that's how this all started," he adds.
Over the past decade, De La Rosa has remained an integral part of the NYC BMX scene, living full-time in Brooklyn, riding for local brand Animal Bikes and acting as a partner in Bushwick's Post Bikes. And to this day, De La Rosa continues to release progressive video parts through his sponsors Animal, DC, Red Bull and Dan's Comp. In the summer of 2010, De La Rosa split with longtime bike sponsor Fit to launch his own brand, Skavenger Bikes, but his photography rarely captures his BMX endeavors. "I don't even like shooting riding photos. If someone is doing something crazy, I'll try to get it with the point and shoot, but most likely, it won't come out. I like capturing the things we did when we weren't riding," says De La Rosa. "People think of BMX as just all we do is ride all the time, which we do, but there's a lot of fun non-riding things that happen in between the riding."
The Red Bull Through My Eyes Gallery featuring De La Rosa's work opens on Thursday, January 13, and runs from 8 p.m. to 3 a.m. The Gallery Bar is located at 120 Orchard Street in Manhattan, N.Y.
Follow Brian Tunney on Twitter: @briantunney
ALSO SEE

Keep it here for everything you need to know about BMX.
---
BMX AND ART ON ESPN BMX
---
EDWIN DE LA ROSA ON ESPN BMX
---
ANIMAL ON ESPN BMX
---
SKAVENGER ON ESPN BMX
---
FEATURES
---
VIDEO
---
GALLERIES
BMX Blog | ESPN Action Sports
MORE ACTION SPORTS HEADLINES
MOST SENT STORIES ON ESPN.COM