Dany Torres wins X-Fighters Rome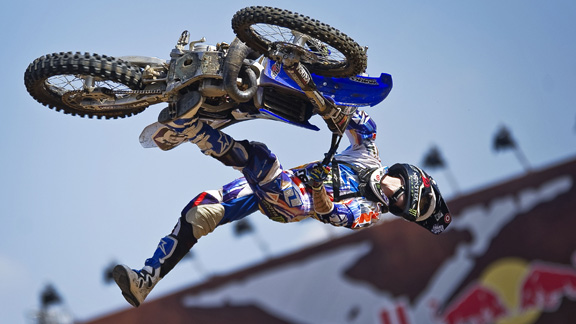 Red BullNate Adams throws a 360 nac on his way to his second consecutive tour title win on the Red Bull X-Fighters tour.
Launch gallery »
23-year-old Spaniard Dany Torres rode flawlessly to take home the event win at the final stop of the 2010 Red Bull X-Fighters World Tour in Rome, Italy.
But it was Nate Adams who was the big winner on the night, wrapping up the win for the X-Fighters World Tour title for the second consecutive year. Coming into Rome, only five points separated Norway's Andre Villa and Adams, making for a cutthroat competition where no mistakes could be made. In the semifinal round, going up against Adam Jones, Villa ultimately gave up the Tour title to Adams after messing up on his last two tricks. Adams finished five points ahead of Villa with 370 points.
Jones -- who won the second round in Giza, Egypt -- rode extremely well, but after making a mistake on an indy flip, settled for second behind Torres.
2010 Red Bull X-Fighters: Rome, Italy
| Rank | Name |
| --- | --- |
| 1. | Dany Torres |
| 2. | Adam Jones |
| 3. | Nate Adams |
| 4. | Andre Villa |
| 5. | Mat Rebeaud |
| 6. | Remi Bizouard |
| 7. | Brice Izzo |
| 8. | Josh Sheehan |
| 9. | Mike Mason |
| 10. | Massimo Bianconchini |
2010 Red Bull X-Fighters World Tour: Final Standings
| Rank | Name |
| --- | --- |
| 1. | Nate Adams |
| 2. | Andre Villa |
| 3. | Dany Torres |
MORE ACTION SPORTS HEADLINES
MOST SENT STORIES ON ESPN.COM