Nate Adams to focus on Supercross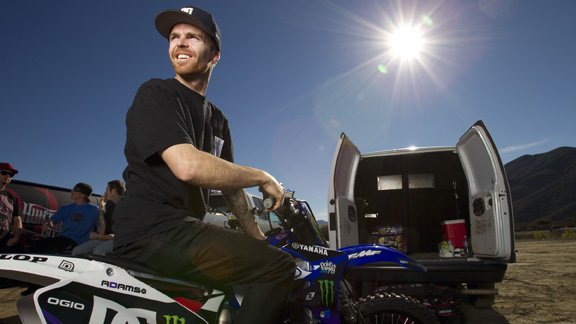 DC ShoesFor 2011, Adams will be racing the Lites class at select Monster Energy AMA Supercross rounds aboard a Honda CRF250, and possibly be competing in FMX aboard the bigger CRF450.
For everything Nate Adams has accomplished on a motorcycle, there is one big item on his "to-do" list that remains unchecked: making a Supercross main event. Adams recently turned down a lucrative deal to return to the Nuclear Cowboyz "Freestyle Chaos" tour in favor of finally pursuing what he calls a long-time goal. He's purchased three new race bikes and is training for the second and third rounds of the Monster Energy AMA Supercross Series in Phoenix (January 15) and Los Angeles (January 22).
"My goal, ever since I was very young, has always been to race Supercross," Adams says. "I started getting away from that dream when I got into freestyle, and Supercross can also be prohibitively expensive, but now that I've got a little money in the bank from the last couple years I want to get back into racing and get back to what I originally wanted to do on my dirt bike."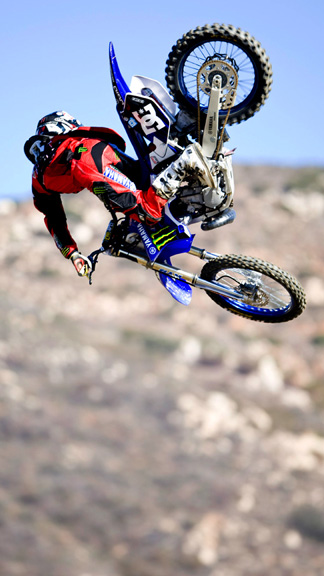 DC ShoesBye, bye blue bikes.

Nate Adams is one of the most decorated athletes in freestyle motocross and is coming off a banner year. He made the podium at nearly every contest he entered in 2010, including the X Games 16 Moto X Freestyle and Speed & Style events, and he won the Red Bull X-Fighters World Tour for the second year in a row. Earlier this month he was named 2010 Lusk Legacy Rider of the Year at the AFMXA Ramp Awards, the sport's highest honor.
A focus on racing isn't the only thing different for Adams in the coming new year. After more than eight years riding Yamahas, news that Adams just added three four-stroke Hondas to his collection -- two CRF250's and one CRF450 -- has been turning some heads in the industry.
"I bought the new bikes for racing but I like them so much I might even ride them for freestyle this year," Adams says. "I haven't had a deal with Yamaha for a few years now and I felt like it was time to switch things up."
Adams says he'll take stock after the planned Supercross races in January, but is hoping to race as much as possible in 2011. Never fear, FMX fans: He's making some serious New Year's resolutions on that front, too.
"I just had a kickass year and I'm as stoked on freestyle as ever," Adams says. "To be named the Lusk Legacy Rider of the Year means your peers approve of you, the fans approve of you, and all the riders say you've got heart. Winning it made me think about Jeremy [Lusk], how much he did for our sport, and how much I miss him. It was a special night and a special award for sure. I'm hoping I can continue to live up to it! In the new year I'll be aiming for a three-peat at X-Fighters and stepping to the top of the podium every chance I get."
ALSO SEE
ESPN.com/Action has FMX covered. Check out more.
Nate Adams Video
More Nate Adams
MORE ACTION SPORTS HEADLINES
MOST SENT STORIES ON ESPN.COM