Ronnie Faisst breaks femur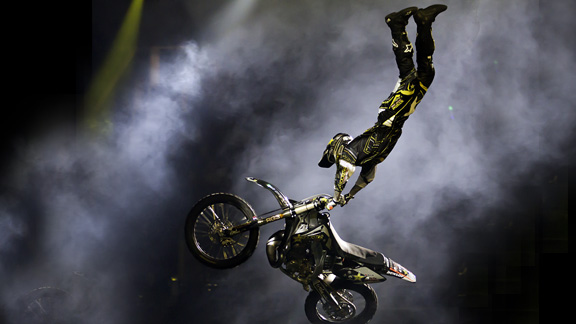 ronniefaisst.comRonnie Faisst pulls a no-footed nac while on the 2011 Nuclear Cowboyz tour.
On March 25, Metal Mulisha rider Ronnie Faisst broke his femur at the Ontario, Calif. stop of the 2011 Nuclear Cowboyz tour. While performing in a head-to-head battle with cast member Adam Jones, Faisst attempted to throw a one-handed nac nac backflip, lost his footing, and was unable to get his bike under control before crashing into the arena wall.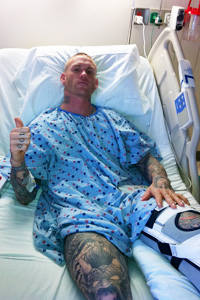 ronniefaisst.comRonnie Faisst will be off the bike for three months.
"I lock my left foot in under my shifter when I do that trick, but this time my foot slid out from underneath my shifter, sending me into something that resembled a double nac one-handed flip," says Faisst. As the flip's rotation came around, Faisst was able to get his hands back on the bike, but his feet remained disconnected. "Once I landed I pulled in the front brake as hard as I could and it sent my bike into a nose manual until I hit the wall, flipping over my bars into the stands."
The wall, normally used for a hockey rink, was unpadded.
Faisst was transported to Lake Arrowhead Regional Medical Center for further evaluation, where it was confirmed that he had broken his left femur. "I decided I wanted to use my local surgeon here in Murrieta, so I had to spend the night in Arrowhead before getting transported Saturday morning to Murrieta," said Faisst. Monday afternoon at 5:30 p.m. Faisst had a successful surgery, getting a rod put in to stabilize the bone.
Despite what is expected to be a three month recovery, Faisst insists he plans to compete in the Speed & Style event at X Games 17 at the end of July. He earned bronze in that event last year, after a memorable race against Jeremy Stenberg.
ALSO SEE

ESPN.com/Action has FMX covered. Check out the latest.
MORE NEWS
FEATURES
VIDEO
PHOTOS
MORE ACTION SPORTS HEADLINES
MOST SENT STORIES ON ESPN.COM