Greg Hartman seriously injured in China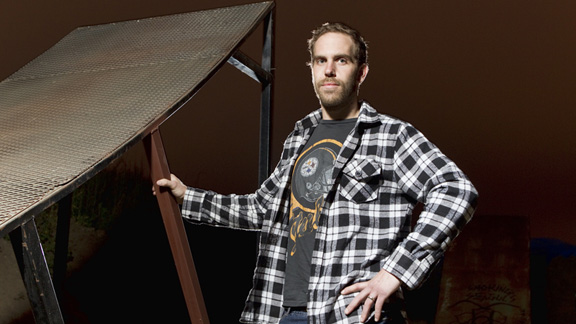 Garth MilanGreg Hartman poses in Orange County just one week before getting injured in Shanghai, China
On Thursday, professional freestyle motocross rider and 2007 X Games Dubai champion Greg Hartman was injured while practicing at the KIA X Games Asia in Shanghai, China. After over-jumping the ramp-to-ramp setup, Hartman was forced to bail off his bike before landing. He was immediately treated by onsite medical staff and transported to Changhai hospital in Shanghai.
Upon further evaluation, it was determined that Hartman suffered a head injury, right femur fracture, right shoulder dislocation, right humerus fracture and multiple finger fractures. Currently in a medically-induced coma, doctors will continue to monitor his injury with CT scans and re-evaluate.
This is not the first head injury for Hartman. In July 2008 he suffered significant head trauma in the form of a brain hemorrhage after crashing on a similar ramp-to-ramp setup at the Cleveland stop of the Dew Tour. Hartman has since fully recovered.
Hailing from Greencastle, Penn., Hartman has been competing since 2001 and has had moderate success in the professional ranks, winning a gold medal in Dubai and a silver medal at X Games Brazil in 2008. He recently finished competing on the FMXonline.com Tour, where he finished in the top three of nearly every event.
ALSO SEE

ESPN.com/Action has FMX covered. Check out the latest.
MORE NEWS
FEATURES
VIDEO
PHOTOS
MORE ACTION SPORTS HEADLINES
MOST SENT STORIES ON ESPN.COM