Adams out of X-Fighters Madrid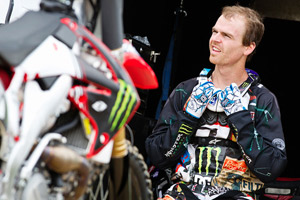 Chris TedescoNate Adams will miss Red Bull X-Fighters Madrid.
One very big name is conspicuously absent at the Red Bull X-Fighters event in Madrid this weekend: Current tour leader and defending champ Nate Adams. He injured his knee and shoulder in a crash at the X-Fighters event last month in Rome, Italy, then injured his hand during practice out at Robbie Maddison's compound last week.
"After the crash in Rome it was still looking like I was going to be able to make Madrid, but I jammed my fingers up and got knocked out for a few seconds when I crashed at Robbie's, so I decided to take some time off and really get my body healed instead of trying to force it," Adams says. "At X-Fighters you get what they call a throwaway -- you can drop your worst finish or skip an event and still end up on top -- so I just decided to take that for the blessing it is. Unfortunately Madrid is one of the most fun events to ride: The crowd is super close to the action there, and super passionate, and I definitely wish I was there right now."
Adams won the X-Fighters stop in Rome in June and the stop in Brasilia, Brazil in May, and went into this weekend's event with 265 points and the overall lead, ahead of Andre Villa, Dany Torres, Robbie Maddison, Blake Williams, and the rest of the field.
The X-Fighters overall championship is determined by allowing rides to throw out their worst result, which means Adams can afford to miss Madrid but now must show well at the remaining stops if he hopes to repeat his 2010 performance as the Red Bull X-Fighters world champion.
"Now I'm just trying to focus on finishing strong in Warsaw, Poland and Sydney, Australia," Adams says. "I can't take those last two stops lightly, because the pressure will definitely be on."
With X Games 17 right around the corner, Adams says he has even more immediate concerns on his mind.
"I'm still a little sore but I've been able to ride and was just out riding today to make sure I stay warmed up, because I'm definitely looking forward to X Games," Adams says. "I've been competing at X-Fighters since March and have been in a bunch of events this year with the X Tour, so, despite the injury, I've been riding and I feel like I have some good runs ready to go. I'm trying not to worry too much and just have the confidence to know that I'll do what I know I can do when I get there. X-Figthers is the only series that gives riders a throwaway like this, so I'm just taking the opportunity to get my body right before these next events and focus on some of the big things happening at Deft Family: We've should have our 2012 product coming in any day now."
ALSO SEE

ESPN.com/Action has FMX covered. Check out the latest.
2011 RED BULL X-FIGHTERS WORLD TOUR
2010 RED BULL X-FIGHTERS COVERAGE
MORE NEWS
FEATURES
VIDEO
PHOTOS
MORE ACTION SPORTS HEADLINES
MOST SENT STORIES ON ESPN.COM