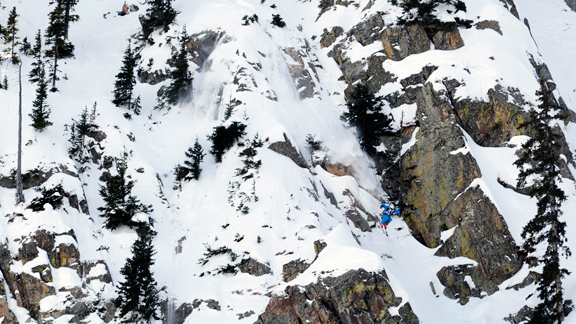 Tom WinterBrandon Clabaugh jumped from 23rd to 4th place with his final run.
Under classic southwestern blue skies, the 2011 Salomon New Mexico Extreme Freeriding Championships wrapped up this weekend with the finals held on Taos' Kachina Peak. Chris Hinkley and Katie Gillen earned victory on the rocky, technical venue.
The competition, now in its eighth year and a qualifer for the Freeride World Tour, was impacted by Taos' less-than-average winter. But on 12,481-foot Kachina, several small features that usually are buried during this time of year added possibilities for the athletes and the high elevation of the peak meant the snow stayed cold and protected.
In the women's field, local Katie Gillen rode the momentum from her top score on day one to take the win ahead of 2010 Freeskiing World Tour overall champion Angel Collinson (2nd) and Andrea Krejci (3rd). "I can't believe I won," said Gillen, who counts Taos' Chocolate Extreme among her sponsors. "It was amazing competing with these women. Now people are talking about the Freeride World Tour, and it doesn't seem real to me."
For the men, Chris Hinkley was able to take his top score from day one on the West Basin through to the finals. His second run on Kachina was fast and agressive with several huge airs, notching up the second highest score of the day on that venue. "I just tried to ski fast and clean," said the athlete from Juneau, Alaska. Other podium finishers for the men included Rob Dickinson (2nd) Amon Barker (3rd).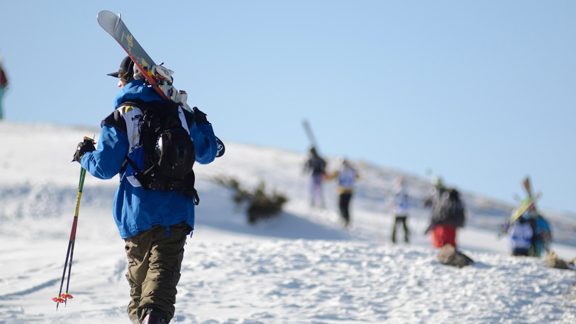 Tom WinterBootpacking to Taos' 12,481-foot Kachina Peak.
The story of the day may have been Brandon Clabaugh. The Colorado-based skier was in 23rd position after day one and on the finals on Kachina he took a highly committed line through exposed cliffs. Ending with a double stage air and straightline to the finish, he claimed the highest score of the final day and jumped into 4th place, also earning himself Taos' coveted Pájaro Loco (Sick Bird) award.
"This was the highest level of competition we've seen in eight years of doing this event," said Taos' Alejandro Blake. "We knew that conditions would be tough this year. The venues were very technical, with little room for error. The athletes really responded, and it was amazing to see how easy they made it all look."
Men's Final Results
| Rank | Name |
| --- | --- |
| 1 | Chris Hinkley |
| 2 | Rob Dickenson |
| 3 | Amon Bakrer |
| 4 | Brandon Clabaugh |
| 5 | Michael Holmquist |
| 6 | Johny Rossman |
| 7 | Luke Nelson |
| 8 | Eric Freson |
| 9 | North Parker |
| 10 | Will Boyer |
Women's Final Results
| Rank | Name |
| --- | --- |
| 1 | Katie Gillen |
| 2 | Angel Collinson |
| 3 | Andrea Krejci |
| 4 | Kaytlin Hughes |
| 5 | Jacqui Edgerly |
| 6 | Clare Burns |
| 7 | Jackie Paaso |
| 8 | Kimber Lopez |
| 9 | Allie Rood |
| 10 | Chelsea Boone |
ALSO SEE

Keep it here for everything you need to know about the latest ski contests.
2012-13 Ski Contest Coverage
2011-12 Ski Contest Coverage
MORE ACTION SPORTS HEADLINES
MOST SENT STORIES ON ESPN.COM