U.S. Freeskiing brand is born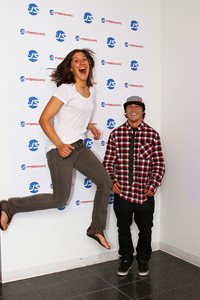 Ian SmithJen Hudak and Simon Dumont with the new logo for U.S. Freeskiing.
Jen Hudak and Simon Dumont just wrapped up a media tour in New York City this week, promoting the launch of U.S. Freeskiing, the newest arm of the U.S. Ski and Snowboard Association. The new branch will encompass the ski halfpipe athletes who the IOC recently admitted to the 2014 Winter Olympics (the IOC has yet to decide if ski and snowboard slopestyle will also be part of the Olympic program).
Hudak and Dumont were on hand this week for the unveiling of U.S. Freeskiing's new brand identity (translation: logo and other marketing materials), designed by New York communications firm DraftFCB. The athletes are also collaborating on the plan for a team structure, coaching, sponsorship, training camps and more.
The U.S. Ski and Snowboard Association announced the launch of U.S. Freeskiing in January, several months before ski halfpipe was officially added to 2014 Olympics in April. "This plan started to accelerate last fall when we felt greater momentum that the IOC was leaning toward naming some if not all of these [freeskiing] disciplines to the Olympic Games," says USSA Chief Revenue and Marketing Officer Andrew Judelson. "We were confident that it would happen."
Apparently, so were potential sponsors: In January, The North Face signed on to an eight-year, multi-million dollar contract as the main partner of U.S. Freeskiing.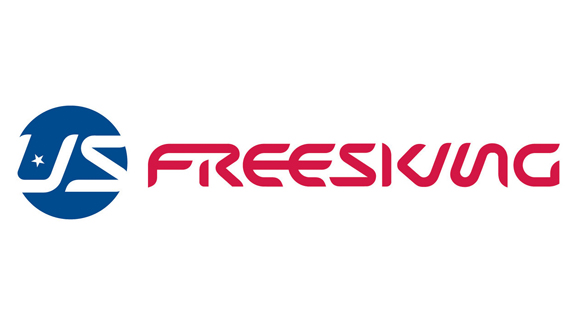 Courtesy of USSABehold the new logo.
By incorporating more athletes in the planning process, including Hudak, Dumont, Tom Wallisch and others, USSA hopes to avoid the backlash they received after bringing snowboarding into the organization's fold in the late 1990s. "We have been working collaboratively with athletes and outside support," says Judelson. "If there were any missteps taken in snowboarding, we were very cognizant of our movements here. I kept challenging my team, saying, 'Are we doing this the right way? Are we going to get resistance to this?'"
So far, the response has been positive. "Having athletes involved in the development process of U.S. Freeskiing was the only way that it was going to work for either the organization or the athletes," said Jen Hudak. "Freeskiing's success is as dependent on the unique lifestyle as it is on the skiing, so we knew there was a level of integrity that was imperative to maintain. U.S. Freeskiing has involved athletes in every aspect of development ... This is going to be an unstoppable formula."
Although no training or coaching program has been set yet for U.S. Freeskiing, it's in the works and for now, ski halfpipe athletes are allowed to work out at USSA's Center of Excellence training facility in Park City, Utah, the same one used by the teams' snowboarders and Nordic, alpine and freestyle skiers.
"For a couple of years, we've been looking at a way to manage these new sports that get added to the Olympic program," said Tom Kelly, USSA's Vice President of Communications. "Moving forward, one of the things we're doing across the entire organization is taking an individualist look at each program and seeing how we can support athletes in each of them. All the sports are different. We don't want to cookie cutter any of them."
Stay tuned to ESPN Freeskiing for a video interview with Simon Dumont for his thoughts on the launch of U.S. Freeskiing.
ALSO SEE

Following ski slope and pipe and snowboard slopestyle's path to the 2014 Olympics.
Freeskiing's Road to the Olympics
Snowboard Slopestyle and the Olympics
Sochi Winter Olympics 2014
---
MORE ACTION SPORTS HEADLINES
MOST SENT STORIES ON ESPN.COM