Bufoni wins Money Cup women's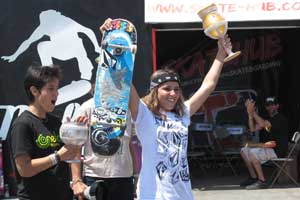 Adam SaloLeticia Bufoni celebrates here big win in the women's division of the Maloof Money Cup Orange County.
In a highly competitive women's division, Leticia Bufoni narrowly outscored last week's X Games gold medal winner, Alexis Sablone to win her second Maloof Money Cup. Bufoni, the young girl from Brazil eked out the win by nailing a few key tricks in her final heat on the biggest obstacles on the course. Though Sablone stuck an impressive, first try kickflip 50-50 down the triple-set hubba ledge and lipslid the 9-stair rail, Bufoni won the judges and the crowd a with a perfect backside Smith grind down the 9-stair rail and a kickflip down the triple set. Rounding out the podium, Marisa Dal Santo showed her diversity with a 50-50 dwon the 9-stair rail and a crooked grind down the 6-stair hubba ledge. Bufoni, for her efforts, took home the Money Cup and $25,000 in prize money.
Women's Street Results
1. Leticia Bufoni 276.33
2. Alexis Sablone 274.33
3. Marisa Dal Santo 269.33
4. Evelien Bouilliart 251
5. Amy Caron 232.67
6. Vanessa Torres 219.67
7. Lacey Baker 212
8. Elissa Steamer 203
9. Katherine Williams 188.67
10. Abisha Alshebaiki 172
ALSO SEE

Keep it here for everything you need to know about skateboarding.
---
More News
---
Features
---
Video
---
Galleries
Skateboarding Blog | ESPN Action Sports
MORE ACTION SPORTS HEADLINES
MOST SENT STORIES ON ESPN.COM