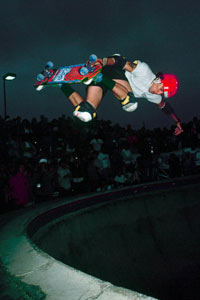 Doug Pensinger courtesy of Getty ImagesMark "Gator" Rogowski backside airs in 1985, long before his heinous crime.
On Feb. 7, former professional skateboarder Mark "Gator" Rogowski was denied parole at his first parole hearing since beginning his sentence in 1992 for the March 21, 1991 rape and murder of Jessica Bergsten. Rogowski, now 44, is 19 years into a 31 years-to-life sentence. It will be seven years before Rogowski is again eligible for parole.
Rogowski was a very popular pro skater in the late-1980s during the last vert skating boom before street skating blossomed in popularity. As the 1990s arrived and vert skating began to wane in popularity, Rogowski struggled to keep up. At the same time, Vision skateboards, Rogowski's primary sponsor and a 1980s mega-company within the skate industry was hard hit by the rise of several startup skateboard brands and the emergence of street skating as the more popular form of the sport.
Rogowski's downward spiral leading to his crime and conviction is well documented in Helen Stickler's 2002 documentary on the subject, "Stoked: The Rise and Fall of Gator."
ALSO SEE

Keep it here for everything you need to know about skateboarding.
---
More News
---
Features
---
Video
---
Galleries
Skateboarding Blog | ESPN Action Sports
MORE ACTION SPORTS HEADLINES
MOST SENT STORIES ON ESPN.COM