LA skatepark opening with Nike SB team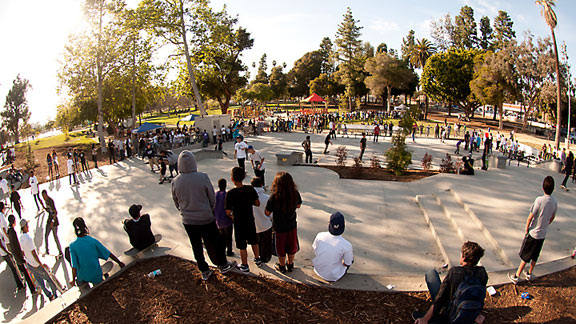 TadashiOn March 5, 2011 the grand opening of Los Angeles County's Lincoln Park Skate Spot was celebrated with a session and autograph signing from the Nike SB team.
Lincoln Skate Spot Opening Gallery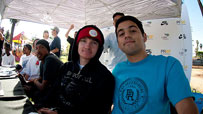 The Nike SB team helps open the Lincoln Park Skate Spot in Los Angeles.
Gallery

On Saturday, Los Angeles was blessed with the opening of yet another amazing skatepark: the Lincoln Park Skate Spot at 3501 Valley Boulevard. Over the past years, parks have been popping up all over Los Angeles County. Stoner Plaza, Carl's Jr. Skatepark, P-Rod Park, North Hollywood skatepark and the Venice skatepark are just a few of the better ones. Many of these skateparks have been spearheaded not only by the city's municipality govenments but by skateboard foundations including the Rob Dyrdek Foundation, Tony Hawk Foundation, LA84 Foundation and the Paul Rodriguez Skate Foundation. Corporations including Nike, Carl's Jr. and 7-11 have chipped in monetarily as well.
This newest park came together with help from Nike SB, LA 84 Foundation, and the Paul Rodriguez Skate Foundation hosted a heavy grand opening. Nike SB team riders including Paul Rodriguez, Omar Salazar, Theotis Beasley, Rodrigo Petersen, Danny Supa, Daniel Lebron, Shane O'Neill and Lance Mountain were in attendance. After a quick session, the team signed autographs and posed for pictures with fans. During that time, kids enjoyed the new park, free food and beverages provided. The new skatepark was designed by Lance Mountain with the help of Paul Rodriguez. The park was built by California skateparks. Like many of the new parks in Los Angeles the Lincoln Park Skate Spot focuses on street obstacles: perfect hubba ledges, rails, a mini double-set, a flatbar and a Euro gap. There is also a quasi snakerun at the top of the design and a few other transition obstacles that help round out the park.
ALSO SEE

Keep it here for everything you need to know about skateboarding.
---
More News
---
Features
---
Video
---
Galleries
Skateboarding Blog | ESPN Action Sports
MORE ACTION SPORTS HEADLINES
MOST SENT STORIES ON ESPN.COM