Clint Peterson: gum enforcer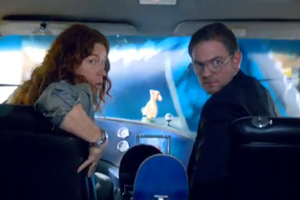 ScreengrabClint Peterson catches a getaway ride with Shaun White in a new commerical for Stride.
How do artists pay the bills? For Stereo Sound Agency pro Clint Peterson, it's by skateboarding. But recently, Peterson took a starring role in, of all things, a gum commercial. ESPN caught up with Peterson to find out how the skateboarding artist landed there alongside Shaun White.
In case you missed it, Peterson is featured as a slick, clean-cut suit donning an over-sized cardboard Stride 2.0 ad. You might not even recognize Peterson. When a mall patron refuses to upgrade to the new gum, Peterson goes on a joyride chasing the perp across the mall on his skateboard. He ollies chairs, maneuvers through bouncy balls and drops in to a steep escalator bank. After he tackles the resistor and replaces his pack of gum, Peterson hops into a nearby van. Low and behold, Shaun White makes an appearance as the getaway driver.
Peterson's smooth skating makes the chase look effortless. He's like Mr. Anderson chasing Neo in the Matrix. But Peterson wasn't sure how he'd pull off director Hoffman Brothers' stunt ideas because the mall was still under construction when he agreed to the plan. "Honestly I was going against my gut when I told them I could do all the stunts. I had never skated anything like what they had in mind," said Peterson. Behind the scenes, there were a few sweat-drenched suits and some hard knocks. He said, "The bouncy balls stressed me out, because I knew that I was going to slam on the marble ground a few times."
Big ad productions aren't Peterson's M.O., so it was the team effort of his friends conspiring together to convince him to try out. We can thank skateboarding videographer Jason Hernandez and casting staff member Hari Leigh for coaxing Peterson to get in front of the camera.
Some may view Peterson as an unexpected choice for the role, but with this spot now under his belt, audiences might see more of him. "I'll get on that when I get back in the fall," he said. In the meantime, Peterson wiil be skating in Europe and then at WESC skate camp in Sweden. "[I've] thought about getting an agent for more work. It pays to upgrade," said Peterson. Memo to agents: Given a choice, he'd like to work with Newman's Own Organics, or Habitat For Humanity.
As far as working with White goes, Peterson said, "I made fun of him for getting fanned off with a Hello Kitty fan. After that, we were buds." White, who declined to comment, signed with Stride in March, and a source tells ESPN that White will have his own line of gum soon. We're guessing here, but surely cinnamon will be in the mix.
ALSO SEE

Keep it here for everything you need to know about skateboarding.
---
More News
---
Features
---
Video
---
Galleries
Skateboarding Blog | ESPN Action Sports
MORE ACTION SPORTS HEADLINES
MOST SENT STORIES ON ESPN.COM