Vail PD offers ski/snowboard registration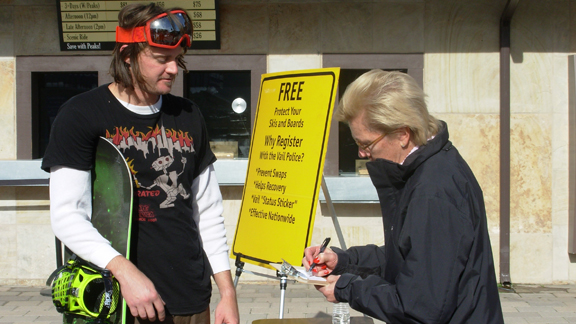 courtesy Vail Police DepartmentA snowboarder registers his equipment on-site at Vail on opening day.
With opening weekends come not only heavy boot traffic, but also an increase in ski and snowboard thefts. One resort town police department is prepared for the upcoming holiday season, offering free ski and snowboard registration to snow enthusiasts in an effort to lessen the number of missing items.
"The registration program has a 50 percent prevention rate," Vail-based code enforcement officer Kurt Mulson said of the Vail Police Department's program, which has been in effect for over 30 years, "I've been a cop up here for three decades and the ski and snowboard thieves I've talked to say they don't take a certain boards because they have registration stickers on them."
The sticker he's referring to is a bright yellow decal you receive once you've registered your sticks or board with the Vail P.D. They take down the serial number, brand and color of your equipment, as well as any "special identifiers" like unique decals or etchings, and your board or skis are entered, not only in Vail P.D.'s system, but also in the sheriff's database of the surrounding, 2,000-square-mile Eagle County, Colo. The registration system is helpful in more than just those areas, though. If stolen equipment is recovered in Denver, for instance, local police know they can call Vail and see if the goods are registered.
But does it work? Vail saw roughly 1.6 million skiers and snowboarders during the 2009-2010 season and reported 91 incidences of stolen items. According to Mulson's math, that number would be closer to 200 without the registration program. Other resorts, like Mammoth, Calif. and Aspen, Colo., also offer equipment registration through their local police departments, as does Park City, Utah, which is also padding their safety levels with two extra security guards this year.
Mammoth's Director of Security, Greg Lonza, recommends writing your driver's license on your equipment, which can more easily identify the board or skis as yours if they turn up somewhere like Los Angeles or San Francisco, where calling Mammoth's police department might not be the most obvious move.
Registration, while preventative, won't necessarily bring stolen equipment back, either.
Snowboarder Nikki Buckley, from Pagosa Springs, Colo., had two boards stolen from nearby Wolf Creek as a teenager. "I would register my board now if there was an efficient way of actually recovering the item, like a tracking device," Buckley says, "Otherwise, registering doesn't help. Snowboards never get turned in."
But Boulder-based rider Samantha Killgore, who had her board stolen at Washington's Mt. Baker, feels differently, "I would definitely register my skis. It was totally heartbreaking to have my board stolen when I was a college student. I couldn't even afford new bindings."
Registration tents will be set up near Vail's Eagle Bahn Gondola during busy holiday periods. You can also register on the police department page of the Town of Vail's website and have your sticker mailed to you.
ALSO SEE

Keep it here for everything you need to know about freeskiing and snowboarding.
---
Snowboarding
---
Freeskiing
---
Mountain, Resort & Snow News
---
Photo Galleries
MORE ACTION SPORTS HEADLINES
MOST SENT STORIES ON ESPN.COM