Jamie Anderson goes street chic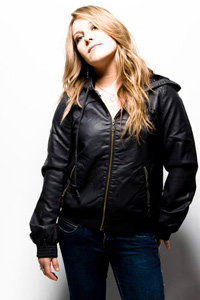 Jamie Anderson for BillabongMore looks like this, dropping in '12.
Renewing her contract with Billabong earlier this month to include a signature streetwear line, Jamie Anderson, 20, now joins a select group of women who have created a market for signature snowlines with big brand companies. "I always felt that Billabong made really cute clothes," says Anderson, "but now I am more involved. I am not just wearing some jacket they give me, I am designing something that fits my style."
For Anderson, who will release her streetwear collection in 2012 and her expanded outerwear collection this fall, one of the best creative freedoms Billabong has given her is choosing her own materials. "It is important to me that we use as many eco-friendly materials as possible, like organic cottons."
There are also the financial perks that come with having your own clothing line versus a standard sponsorship. "If you are designing good products and your product sells," says Anderson, "then you get a percentage of those sales."
Owning a piece of the women's outdoor clothing market is, indeed, a lucrative investment and one that many companies are scrambling to own a piece of. According to the Outdoor Industry Association, 44 percent of outdoor participants are women and that number continues to grow. More importantly, women love to shop.
"In 2010, consumers spent almost $1 billion on snow sports equipment, apparel, and accessories made specifically for women," says Kelly Davis of SnowSports Industries America, "that's $100 million more than in the 2009/2010 season. The women's market is very fruitful." Overall, says Davis, the sale of women's snow sport products doubled in 2010 over 2009.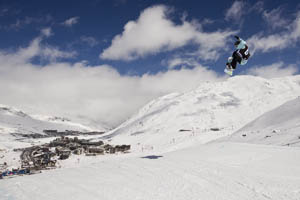 Stef Cande/ESPN ImagesAnderson wins Snowboard Slopestyle Women's Final at Winter X Games France in 2011.
For companies like Billabong, Oakley and Roxy, aligning with athletes such as Anderson, Gretchen Bleiler and Torah Bright gives their brand credibility and image. For the athlete, it signifies the ultimate validation. If women are the ones driving clothing sales, then it is only fair that those proceeds come back around appropriately.
While Anderson is excited about her new role as fashion ambassador, she will continue to do what she does best: snowboard. In between trips to Los Angeles this summer, where she will meet with Billabong's in-house team of designers, Anderson will re-coop from a long ski season at her home in South lake Tahoe, where it continues to snow, this late into June. "This summer, I want to just kind of get refreshed. I am going to do a lot of hiking, biking, and hanging out on the Lake."
And this winter? "I'm definitely going to compete more, and hopefully start doing some backcountry filming."
The girl to beat at every slopestyle event she enters, Anderson owns five Winter X medals, two overall Dew Tour titles (2010 and 2011) and two TTR World Tour titles (2010 and 2011). Not only does she stand on more slopestyle podiums than any other rider in the sport, but these days, she is also one of the best dressed.
ALSO SEE

Keep it here for the latest news in snowboarding and skiing.
Snow News
---
Winter Gear Guide
---
2012 Ski and Snowboard Movies
---
Olympic News
---
ESPN Action Sports »
Freeskiing blog »
Snowboarding blog »
X Games blog »
MORE ACTION SPORTS HEADLINES
MOST SENT STORIES ON ESPN.COM