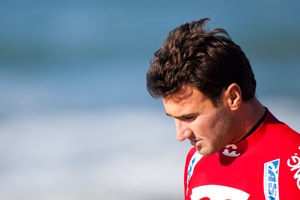 ASPAfter last year's stomach punch, this can't be sitting too well.
Australia's Surfing Life and the ASP are both reporting that Joel Parkinson has suffered a nasty gash under his right foot while freesurfing Snapper Rocks Friday morning. According to witnesses, he tucked into a dredging tube, disappeared, and reappeared in the whitewash in obvious pain. "There were no rocks where he went down to he must have gotten mixed up with his board," photographer Andrew Shield told ASL. Photos on ASL depict Parkinson being tended to on the beach, as well as one graphic image of the cut itself. Needless to say, Parkinson's availability for the Billabong Pro Jeffreys Bay, the competition window for which opens Thursday, July 15, is now in doubt.
UPDATE: According to a post on the official J-Bay website, Parkinson has officially pulled out of the event.
Stay with ESPN Surfing for updates as this story develops.
MORE ACTION SPORTS HEADLINES
MOST SENT STORIES ON ESPN.COM