Coco Ho wins Supergirl Pro Junior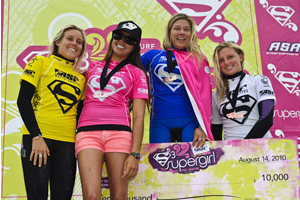 Supergirl Jam Coco Ho stands at the top of the podium.
Coco Ho won the third annual Supergirl Pro Junior in Oceanside, Calif. and took home the largest purse prize in ASP Women's Pro Junior history. Ho battled it out against Malia Manuel in the final but ultimately took home the $10,000 prize. Ho holds the 2008 title from the first-ever Supergirl Pro Junior.
"Malia [Manuel] started out the finals so strong, I thought she had it in the bag," Ho said in a press release. "I'm so glad I got a few good waves."
The rest of the field surfed in an expression session before the finals where Carissa Moore and Amy Nicholl came out victorious, taking home home $500 each.
The Supergirl Pro Junior is the second event in the 2010 Supergirl Jam, an all-girls competition series that allows female action sports starts to compete in skateboarding, snowboarding, and surfing.
Official Results
1) Coco Ho 16.26 points
2) Malia Manuel 15.17 points
3) Lakey Peterson 10.67 points
4) Leila Hurst 10.27 points
ALSO SEE

Keep it here for the latest news in surfing.
---
More News
---
Features
---
Video
---
Galleries
Surfing Blog | ESPN Action Sports
MORE ACTION SPORTS HEADLINES
MOST SENT STORIES ON ESPN.COM