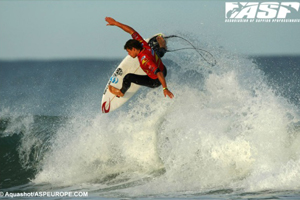 Large swell expected hit for the finals rounds of competition.
The Sooruz Lanacau Pro began in France on Wednesday with clean 3-4 foot surf and light offshore winds. The ASP-sanctioned event offers a $145,000 prize purse and crucial ASP World Tour points. The forecast suggests that better waves are on the way.
Vasco Riberiero and Jay Quinn were standouts in Round 1.
"I watched the guys in the other heats before me," Quinn told the ASP. "In all three heats before me there were lots of waves, and then it just slowed down a bit. There are a couple of peaks out there, so I was just paddling around and seeing if I could pick something off early. I almost got lucky on that first wave, but I missed out on the countdown so that one didn't count for me at the start of the heat."
2009 World Tour surfer Tim Boal will also advance to the second round in hopes of better conditions.
"It was a little slow with not many waves out there, but it was good just to get a couple of waves and get through that heat and make it into tomorrow and hopefully have better waves," Boal said.
The conditions improved slightly as the day went on, and Alex Ribeiro pulled a crowd-pleasing front-side air-reverse on a decent wave, earning a near-perfect score of a 9.4.
The Sooruz Lanacau Pro will continue this week provided the conditions in France continue to improve.
SOORUZ LACANAU PRO ROUND 1 RESULTS
Heat 13: Billy Stairmand (NZL) 14.50, Kiron Jabour (HAW) 13.67, Chad Du Toit (ZAF) 10.13, Vincent Primal (FRA) 6.53
Heat 14: Richard Christie (NZL) 14.17, Shaun Joubert (ZAF) 8.90, Jay Davies (AUS) 8.53, Luca Petersen Guichard (NOR) 7.70
Heat 15: Russell Molony (AUS) 12.33, Ricky Basnett (ZAF) 11.46, Reubyn Ash (GBR) 10.44, Robertson Goncalves (PRT) 5.87
Heat 16: Jay Quinn (NZL) 9.83, Jorge Spanner (BRA) 8.80, Norman Landa (EUK) 8.07, Kyle Lane (ZAF) 7.37
Heat 17: Gordon Fontaine (FRA) 11.97, Klee Strachan (ZAF) 10.33, Beyrick De Vries (ZAF) 6.17, Cody Sammons (USA) 2.10
Heat 18: Adrien Toyon (REU) 11.46, Damien Chaudoy (REU) 8.50, Edouard Delpero (FRA) 8.50, Joao Guedes (PRT) 5.04
Heat 19: Tim Boal (FRA) 11.40, Paulo Moura (BRA) 11.10, Dylan Southworth (MEX) 7.94, Omer Bar (ISR) 6.42
Heat 20: Vasco Ribeiro (PRT) 14.60, Tiago Camarao (BRA) 13.13, Kieran Horn (USA) 8.73, Christophe Allary (REU) 7.97
Heat 21: Brent Dorrington (AUS) 12.80, Vincent Duvignac (FRA) 11.60, David Weare (ZAF) 9.93, Jared Thorne (USA) 5.67
Heat 22: Eneko Acero (EUK) 12.83, Odirlei Coutinho (BRA) 10.64, Bruno Rodrigues (BRA) 7.37, Ricardo Lange (DEU) 5.00
Heat 23: Jatyr Berasaluce (EUK) 13.00, Kevin Sullivan (HAW) 12.10, Oli Adams (GBR) 9.47, Jayce Robinson (GBR) 7.03
Heat 24: Alex Ribeiro (BRA) 16.90, Jihad Khodr (BRA) 14.96, Manuel Selman (CHL) 10.77, Frederico Morais (PRT) 9.00
ALSO SEE

Keep it here for the latest news in surfing.
---
More News
---
Features
---
Video
---
Galleries
Surfing Blog | ESPN Action Sports
MORE ACTION SPORTS HEADLINES
MOST SENT STORIES ON ESPN.COM