6-Star Sooruz Lacanau Pro heats up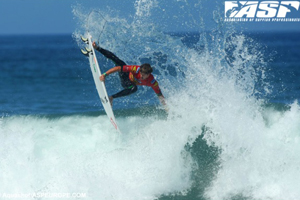 Alejo Muniz boosts into a 9.37.
The Sooruz Lacanau Pro saw excellent 4-to-5 foot conditions for Round Two yesterday. The 25-minute heats were held under clear skies where 96 remaining athletes battled it out for valuable ASP world ranking points. Tour hopefuls competed in front of huge crowds lining the beach.
Alejo Muniz earned a 9.37 for boosting and an aerial set leaving him with the highest single wave score of the day.
"When I paddled into that wave it was good," Muniz told the ASP about the high score. "I knew I would have to do a big air so I just built up as much speed as I could and I pulled the air so it was so exciting for me when I completed the manoeuvre I knew I had a good score so I was stoked."
Former World Tour athlete Mickey Picon earned the highest two wave heat totals with a 16.90.
"I'm stoked with the fun rights I got and my board feels very good on my backhand more than on my forehand so I was happy when I saw those rights. It was a tough heat with Medi (Veminardi) and Gabriel (Medina) because they have been ripping and both are good friends of mine but it was OK because there was a lot of respect and everybody caught their waves and I was lucky I got those rights," Picon said.
The rest of the event is expected to be held under excellent conditions. Round Three will be decided today.
SOORUZ LACANAU PRO ROUND 2 RESULTS
Heat 1: Heitor Alves (BRA) 14.37, Nico Rupp (DEU) 14.20, Andre Silva (BRA) 12.50, Charles Martin (GLP) 9.06
Heat 2: David do Carmo (BRA) 12.50, Hugo Savalli (REU) 12.20, Marcos Giorgi (URY) 10.44, Lincoln Taylor (AUS) 6.12
Heat 3: Mitch Coleborn (AUS) 13.20, Jean Da Silva (BRA) 12.53, Dion Atkinson (AUS) 12.33, Jeronimo Vargas (BRA) 8.94
Heat 4: Sebastien Zietz (HAW) 13.90, Miguel Pupo (BRA) 12.80, Frederic Robin (REU) 8.40, Brandon Jackson (ZAF) 6.43
Heat 5: Alejo Muniz (BRA) 15.97, Marc Lacomare (FRA) 13.90, Masatoshi Ohno (JPN) 11.16, Marlon Lipke (DEU) 9.27
Heat 6: Adrien Valero (FRA) 12.60, Austin Ware (USA) 12.46, Brian Toth (PRI) 9.50, Michael February (ZAF) 9.20
Heat 7: Mickey Picon (FRA) 16.83, Gabriel Medina (BRA) 15.60, Medi Vemenardi (REU) 8.90, Filipe Jervis (PRT) 6.57
Heat 8: Alain Riou (PYF) 13.73, Joan Duru (FRA) 13.36, Maxime Huscenot (FRA) 10.80, Kai Barger (HAW) 8.33
Heat 9: Messias Felix (BRA) 14.87, Tomas Hermes (BRA) 14.57, Pablo Gutierrez (ESP) 11.44, Aritz Aranburu (EUK) 9.23
Heat 10: Jonathan Gonzalez (CNY) 12.90, Pedro Henrique (BRA) 12.26, Alan Stokes (GBR) 7.84, Rhys Bombaci (AUS) 7.14
Heat 11: Dyyan Neve (AUS) 13.07, Rudy Palmboom (ZAF) 12.83, Txaber Trojaola (EUK) 9.56, Leigh McMahon (AUS) 7.73
Heat 12: Shaun Cansdell (AUS) 14.00, Diego Rosa (BRA) 10.24, Gabe Kling (USA) 8.57, Eduardo Fernandes (PRT) 7.86
Heat 13: Raoni Monteiro (BRA) 12.67, Shaun Joubert (ZAF) 11.77, Billy Stairmand (NZL) 11.70, Gony Zubizarreta (ESP) 6.90
Heat 14: Richard Christie (NZL) 15.70, Glen Hall (IRL) 12.10, Kiron Jabour (HAW) 12.06, Nat Young (USA) 11.73
Heat 15: Jayke Sharp (AUS) 14.77, Russell Molony (AUS) 9.36, Rodrigo Dornelles (BRA) 7.18, Jorge Spanner (BRA) 6.53
Heat 16: Adam Robertson (AUS) 14.70, Jay Quinn (NZL) 13.10, Royden Bryson (ZAF) 12.17, Ricky Basnett (ZAF) 8.77
Heat 17: William Cardoso (BRA) 15.63, Junior Faria (BRA) 15.23, Damien Chaudoy (REU) 10.54, Gordan Fontaine (FRA) 5.90
Heat 18: Yadin Nicol (AUS) 15.23, Julian Wilson (AUS) 13.97, Adrien Toyon (REU) 9.63, Klee Strachan (ZAF) 8.87
Heat 19: Tim Boal (FRA) 10.66, Granger Larsen (HAW) 10.50, Tiago Camarao (BRA) 9.27, Yuri Sodre (BRA) 6.53
Heat 20: Josh Kerr (AUS) 15.30, Paulo Moura (BRA) 11.33, Gustavo Fernandes (BRA) 8.66, Vasco Ribeiro (PRT) 7.90
Heat 21: Pablo Paulino (BRA) 16.06, Brent Dorrington (AUS) 15.14, Nathaniel Curran (USA) 14.64, Odirlei Coutinho (BRA) 8.90
Heat 22: Nic Muscroft (AUS) 15.46, Romain Cloitre (FRA) 13.40, Eneko Acero (EUK) 12.87, Vincent Duvignac (FRA) 11.16
Heat 23: Jihad Khodr (BRA) 14.60, Nathan Hedge (AUS) 13.23, Leonardo Neves (BRA) 12.70, Jatyr Berasaluce (EUK) 12.33
Heat 24: Wiggolly Dantas (BRA) 15.50, Alex Ribeiro (BRA) 12.60, Kevin Sullivan (HAW) 11.00, Tim Curran (USA)
ALSO SEE

Keep it here for the latest news in surfing.
---
More News
---
Features
---
Video
---
Galleries
Surfing Blog | ESPN Action Sports
MORE ACTION SPORTS HEADLINES
MOST SENT STORIES ON ESPN.COM