Bestwick earns first BMX Vert four-peat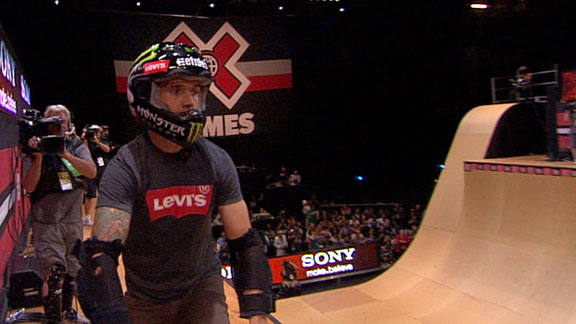 Jamie Bestwick BMX Vert Gold Medal
Jamie had the unprecedented four-peat in BMX Vert.
Jamie Bestwick BMX Vert Gold Medal
Jamie Bestwick has won his seventh gold in BMX Vert, earning the event's first-ever four-peat in the process. As has been the case so often for much of the last decade, Bestwick was nearly untouchable Friday night, throwing a variety of 540 variations, including alley oop 5s in the 11-foot range, double downside tailwhips and downside tailwhip flairs that soared well above most of his other competitors.
Bestwick reflected on his record-setting win after the Final. "Man, what a day. The four-peat is just crazy. I'm happy to have won and made some BMX history."
The contest, which took place on the stage at the Nokia Theater in downtown Los Angeles, was largely a battle for second and third, which ultimately ended in an 80-point tie between Steve McCann and Simon Tabron. The tie was broken by a points deduction, in which the highest score for each was dropped and their totals averaged for a second time.
While some riders, including Coco Zurita, were able to nearly reach heights similar to Bestwick, none could match the technical difficulty of his tricks. And while both Tabron and fourth-place finisher Chad Kagy had technically difficult runs, neither consistently boosted as high as the champ. In addition, Bestwick's freakish ability to avoid crashes was something unique in today's Vert field.
The win gives Bestwick his eighth X Games medal overall.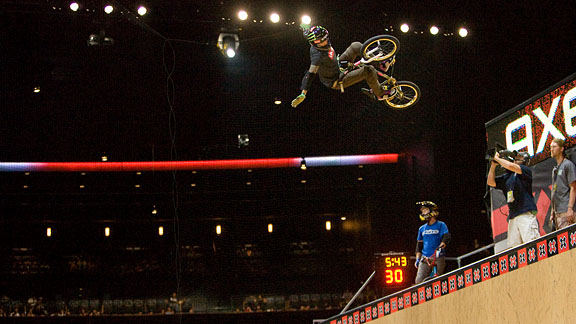 Cody York/ESPN Action SportsJamie Bestwick, soaring to the first BMX Vert four-peat at X.
ALSO SEE

Everything you need to know about X Games 16.
---
Results
---
Daily Coverage
---
Photos
---
BMX Video Highlights
Moto X Video Highlights
Skateboarding Video Highlights
Rally Video Highlights
---
12 skaters. 12 videos. Their vision. Their way. All for X Games gold. This is Real Street.
A new medal event for X Games 16, Real Street is the first contest of its kind. Twelve of the top individual pros in street skating each filmed 60-second video parts on street terrain for X, and all 12 video parts aired on the final day of the X16 telecast. A panel of pros -- Pat Duffy, Ed Templeton, Jamie Thomas and Geoff Rowley -- chose the winning part and awarded $50,000 and an X Games gold medal to Nick Trapasso. You, the fans, picked Zered Bassett as the fan favorite.
---
X16 Previews
---
Past X Games
---
30 For 30 X Games Special
---
More Action Sports
Be sure to check out ESPN.com/Action for all the latest in Skateboarding, Surfing, Snowboarding, Freeskiing, FMX and BMX.
X Games home | Action Sports home
MORE ACTION SPORTS HEADLINES
MOST SENT STORIES ON ESPN.COM