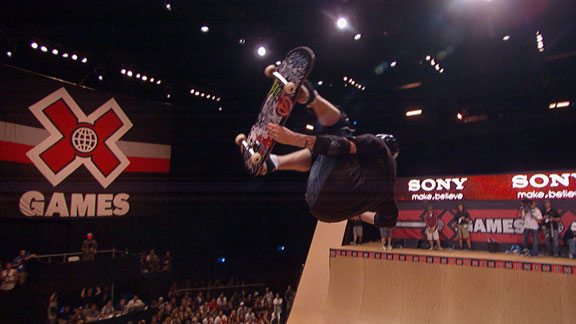 PLG Skate Vert Gold Medal Run
Pierre-Luc took the first Skate Vert three-peat.
PLG Skate Vert Gold Medal Run
Despite Hollywood-level hype surrounding Shaun White's return to skateboard competition Friday night at the Nokia Theater, it was two-time and defending Skate Vert champion Pierre-Luc Gagnon who did what skateboard insiders figured he would all along: win the first ever Vert three-peat in X Games history.
Gagnon, a relentlessly technical skater known for composing entire runs of tricks that many of his competitors can't even do, was initially put in a corner by White, who threw the first stellar run of the evening on his fourth attempt of the final jam session. In a run peppered with back-to-back 540 variations, he ended with a frontside heelflip 540 body varial -- a trick never seen at X Games. The run scored a 44 to put White in the lead.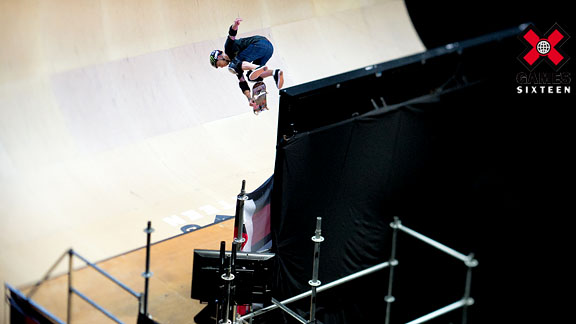 Mark Kohlman/ESPN Action Sports
Pierrre-Luc Gagnon
won the first-ever Skate Vert three-peat at X Games 16 Friday night.
It was in the fifth round of runs that Gagnon, who had already garnered a 47 in his fourth run, put the hammer down. In a run that included a variety of 540s, he not only put down a 720 kickflip body varial; he adjusted the board mid-air just microseconds before returning to the transition, saving what appeared to be a certain crash. The run earned him a 46, for a total of 93 points -- eight ahead of White.
Needing a near-perfect 49 to retake the lead, and with the clock on the jam session ticking down, White dropped in one last time, but failed to complete his run.
"I felt really good in practice, nailing it every try," Gagnon said afterward, of the trick that earned him the win. "I knew it didn't matter if I didn't make the first few, but I'm super psyched I pulled it off."
The medal is Gagnon's sixth gold and fifteenth overall.
ALSO SEE

Everything you need to know about X Games 16.
---
Results
---
Daily Coverage
---
Photos
---
BMX Video Highlights
Moto X Video Highlights
Skateboarding Video Highlights
Rally Video Highlights
---
12 skaters. 12 videos. Their vision. Their way. All for X Games gold. This is Real Street.
A new medal event for X Games 16, Real Street is the first contest of its kind. Twelve of the top individual pros in street skating each filmed 60-second video parts on street terrain for X, and all 12 video parts aired on the final day of the X16 telecast. A panel of pros -- Pat Duffy, Ed Templeton, Jamie Thomas and Geoff Rowley -- chose the winning part and awarded $50,000 and an X Games gold medal to Nick Trapasso. You, the fans, picked Zered Bassett as the fan favorite.
---
X16 Previews
---
Past X Games
---
30 For 30 X Games Special
---
More Action Sports
Be sure to check out ESPN.com/Action for all the latest in Skateboarding, Surfing, Snowboarding, Freeskiing, FMX and BMX.
X Games home | Action Sports home
MORE ACTION SPORTS HEADLINES
MOST SENT STORIES ON ESPN.COM