Sheckler wins third X Games gold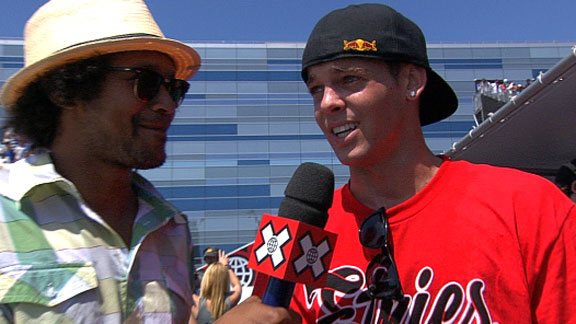 Ryan Sheckler Skate Street Gold
Ryan Sheckler beat out some of the young(er) guns for the Skate Street gold.
Ryan Sheckler Skate Street Gold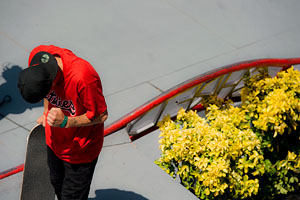 Mark Kohlman/ESPN Action SportsAfter an ankle injury took him out at X in 2009, Sheck is back to form.
Ryan Sheckler has won his third X Games gold, edging Nyjah Huston by less than one point as the clock ticked down on Saturday's Super Final. Sheckler took the lead in his first of five runs, in what was essentially a warmup -- albeit a warmup that included a kickflip backside boardslide on the rail, backside kickflip down the gap, a huge switch kickflip that he barely landed and a backside tailslide down the ledge that earned him a 90.33.
With skaters given 45 seconds or two crashes per run, Sheckler appeared to have a solid hold on things until the third run, when Huston popped off a run that included a 360 flip up the gap, a switch heel to manual down the ledge, and a backside 270 boardslide. The run earned him a 91.33.
While both Chaz Ortiz and Ryan Decenzo threw a variety of bangers in their runs, both were plagued by untimely crashes that kept them from fully challenging Sheckler or Huston.
At his next opportunity, Sheckler seized the moment, stringing together a kickflip to boardslide, a big frontside air in the tea cup, a backside flip up the gap, a cab 360 lipslide down the rail into a frontside blunt in the little tea cup transition. The run garnered a 92.00 -- cementing the podium despite Huston and Ortiz each having one last shot at Sheckler's lead.
Sheckler acknowledged that he wanted redemption after last year's X Games, when he sustained an ankle injury that derailed most of the last year. "I chose X Games because I got hurt here last year and wanted to prove to myself I could come back and get a gold," he said, taking time to also acknowledge the rabid fan base that was evident in the crowd.
"They're yelling the whole time," he continued. "You don't want to let them down, so you skate your heart out and do the best you can do."
ALSO SEE

Everything you need to know about X Games 16.
---
Results
---
Daily Coverage
---
Photos
---
BMX Video Highlights
Moto X Video Highlights
Skateboarding Video Highlights
Rally Video Highlights
---
12 skaters. 12 videos. Their vision. Their way. All for X Games gold. This is Real Street.
A new medal event for X Games 16, Real Street is the first contest of its kind. Twelve of the top individual pros in street skating each filmed 60-second video parts on street terrain for X, and all 12 video parts aired on the final day of the X16 telecast. A panel of pros -- Pat Duffy, Ed Templeton, Jamie Thomas and Geoff Rowley -- chose the winning part and awarded $50,000 and an X Games gold medal to Nick Trapasso. You, the fans, picked Zered Bassett as the fan favorite.
---
X16 Previews
---
Past X Games
---
30 For 30 X Games Special
---
More Action Sports
Be sure to check out ESPN.com/Action for all the latest in Skateboarding, Surfing, Snowboarding, Freeskiing, FMX and BMX.
X Games home | Action Sports home
MORE ACTION SPORTS HEADLINES
MOST SENT STORIES ON ESPN.COM