Chad Kagy wins BMX Big Air Final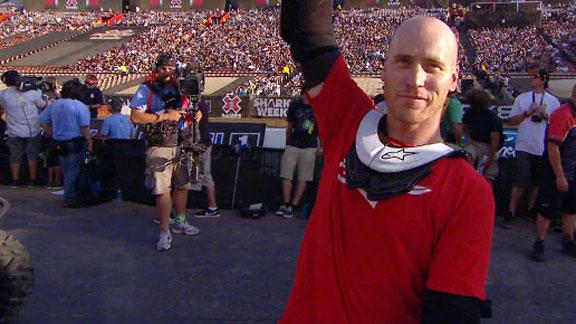 BMX Big Air Chad Kagy Gold Medal
Kagy wowed the crowd on the mega ramp for his second Gold in the event.
BMX Big Air Chad Kagy Gold Medal
VIDEO PLAYLIST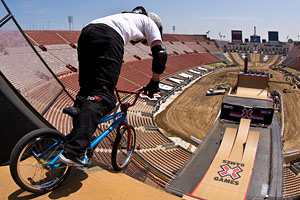 Lucas Gilman/ESPN Action SportsChad Kagy, rolling in to Big Air gold Saturday night at the Los Angeles Coliseum.
2008 BMX Big Air champ Chad Kagy has returned to the top of the podium after relinquishing the spot to Kevin Robinson last year. In an event marked by progressive moves over the mega ramp gap and spectacular crashes on the quarterpipe, Kagy didn't need any more than he used to win the event the last time around: a tail whip backflip over the gap to a flair whip 13 and a half feet out of the quarterpipe. He put it down on his first run and spent the rest of the night watching the field fail to best it.
The biggest story of the night was the double frontflip -- a move pioneered last year by Anthony Napolitan, who pulled the trick out unexpectedly but failed to medal due to his lack of a follow up on the quarter. Nevertheless, he was clearly influential, as two more competitors brought the double to the Los Angeles Coliseum Saturday night.
In addition to Napolitan, both Vert silver medalist Steve McCann and Big Air rookie Andy Buckworth successfully completed the trick at least once, although none could follow it with a big enough trick on the quarterpipe to take down Kagy.
McCann, who sat in second after the first run, ultimately padded his position on the fourth and final run, throwing a double front to double whip. Buckworth and Napolitan finished in a tie for third, with Buckworth winning the tiebreaker on the strength of his second-highest run.
"It was nice to be able to land that first run. It's a real motivation boost to put it under your belt and build on top of that -- just waiting to see what everyone else was doing," Kagy said afterward. "The way we run this, one run counts, so at any given moment any of those guys could have won."
ALSO SEE

Everything you need to know about X Games 16.
---
Results
---
Daily Coverage
---
Photos
---
BMX Video Highlights
Moto X Video Highlights
Skateboarding Video Highlights
Rally Video Highlights
---
12 skaters. 12 videos. Their vision. Their way. All for X Games gold. This is Real Street.
A new medal event for X Games 16, Real Street is the first contest of its kind. Twelve of the top individual pros in street skating each filmed 60-second video parts on street terrain for X, and all 12 video parts aired on the final day of the X16 telecast. A panel of pros -- Pat Duffy, Ed Templeton, Jamie Thomas and Geoff Rowley -- chose the winning part and awarded $50,000 and an X Games gold medal to Nick Trapasso. You, the fans, picked Zered Bassett as the fan favorite.
---
X16 Previews
---
Past X Games
---
30 For 30 X Games Special
---
More Action Sports
Be sure to check out ESPN.com/Action for all the latest in Skateboarding, Surfing, Snowboarding, Freeskiing, FMX and BMX.
X Games home | Action Sports home
MORE ACTION SPORTS HEADLINES
MOST SENT STORIES ON ESPN.COM