Reynolds goes three for three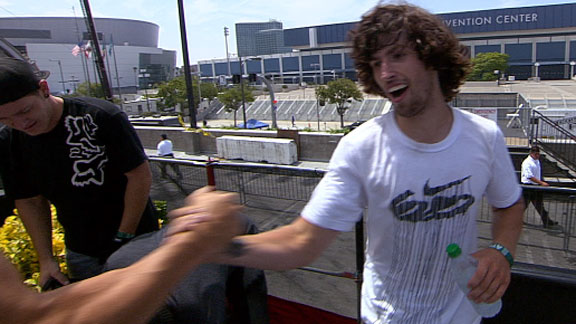 BMX Street Garrett Reynolds Gold
Garrett grabbed yet another Gold in BMX Street.
BMX Street Garrett Reynolds Gold
VIDEO PLAYLIST
Garrett Reynolds has three-peated in BMX Street, ringing up his highest score of the Final in his last of four runs. Reynolds led throughout and was never seriously challenged by the rest of the field, finishing more than six points ahead of Dennis Enarson in second and more than eight points ahead of Brian Kachinsky in third.
Reynolds has thoroughly dominated street competitions over the past few years with a combination of technical superiority and consistency that his competitors have not yet cracked. His final run included a smith up ledge to hard 180 barspin on the ledge, a smith up to 360 out on the same ledge, and a barspin to icepick down the rail -- and that was just on the technical features. He also gapped the stairs with a tailwhip and did both a barspin 540 and a double barspin 360 to fakie in the big transitions of the tea cup feature.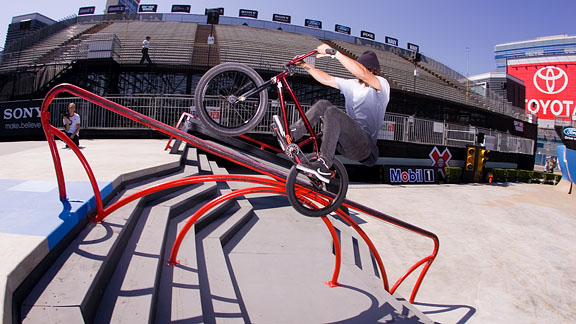 Cody York/ESPN Action SportsGarrett Reynolds, X Games 16 BMX Street three-peat on Sunday in L.A.
Enarson, who earned his first medal of the Games when he took second in Saturday's Park Final, was dwelling in fifth place before a blown tire forced him to trade wheels with Aaron Ross, who failed to advance out of the morning's first heats. The wheel helped, allowing him to beat Kachinsky in the battle for second. As for Kachinsky, a relative newcomer to X Games despite being 28 years old, the bronze is his first medal in three tries.
"I didn't feel much pressure," Reynolds said afterward. "I liked the course, and it's fun when you get a couple of chances at it. You get a few things going, that gets you psyched, and then you want to just keep going."
ALSO SEE

Everything you need to know about X Games 16.
---
Results
---
Daily Coverage
---
Photos
---
BMX Video Highlights
Moto X Video Highlights
Skateboarding Video Highlights
Rally Video Highlights
---
12 skaters. 12 videos. Their vision. Their way. All for X Games gold. This is Real Street.
A new medal event for X Games 16, Real Street is the first contest of its kind. Twelve of the top individual pros in street skating each filmed 60-second video parts on street terrain for X, and all 12 video parts aired on the final day of the X16 telecast. A panel of pros -- Pat Duffy, Ed Templeton, Jamie Thomas and Geoff Rowley -- chose the winning part and awarded $50,000 and an X Games gold medal to Nick Trapasso. You, the fans, picked Zered Bassett as the fan favorite.
---
X16 Previews
---
Past X Games
---
30 For 30 X Games Special
---
More Action Sports
Be sure to check out ESPN.com/Action for all the latest in Skateboarding, Surfing, Snowboarding, Freeskiing, FMX and BMX.
X Games home | Action Sports home
MORE ACTION SPORTS HEADLINES
MOST SENT STORIES ON ESPN.COM