Mike Metzger released from hospital
Updated:
July 30, 2011, 4:42 PM ET
By
Colin Bane
| ESPN.com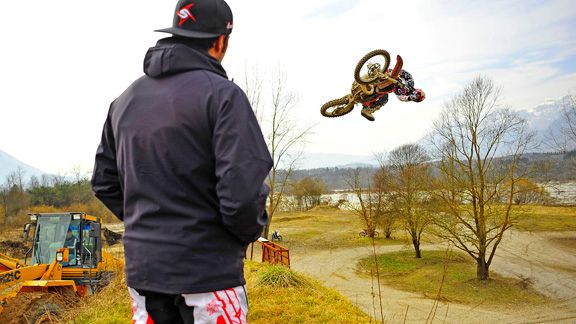 Ricky MontiMetz throws down at Alvaro Dal Farra's ride park in Belluno, Italy while preparing for X Games 17.
Mike "The Godfather" Metzger was released from the hospital on Wednesday after a 10-day stay spent stabilizing three broken vertebrae in his neck, a lacerated liver, and an erupted kidney. Metzger crashed on a ramp at his home compound in Menifee, Calif. on July 18 while training for this Saturday's Moto X Speed & Style event at X Games 17, just five weeks after fracturing 10 ribs, a collarbone, and his scapula in a previous crash at the Sony Ericsson FMX Jam in Bratislava, Slovakia.
"After that accident in Europe I knew that if I was going to have a chance at making it to X Games I was going to have to take it easy for a few weeks and heal up, but I also knew I was going to have to get back out there and get some riding in," Metzger says. "When I finally decided I was gonna hit my ramp, I felt healthy. I hit it a couple times and I was feeling pretty confident, like, 'Cool, I'm gonna make it to X Games.' Then after a couple more jumps it all went wrong. That's the way the sport is: Sometimes you hit the ground and you get right up, and sometimes you hit the ground and you don't even know what happened."
Initial reports that he may have injured his spinal cord turn out to have been incorrect, and Metzger says he's relieved to have been able to get up and walk around over the last few days.
"It's definitely good to be alive and to be on the move again," Metzger says. "It took me a while to get out bed in the hospital, but it was more because of the internal damage I did to my liver and kidney than because of the neck injury. I'm happy just to be alive and be breathing. I've got a lot of fans who have my back and I just want to say thanks to everyone for all their posts on Twitter and Facebook telling me to heal up and take care of myself."
Metzger, a three-time X Games gold medalist and one of the originators of the sport of freestyle motocross, says he's looking forward to watching this year's motocross competitions with his kids from his parents' house, where he'll be spending the next several weeks in recovery. He'll be rooting for his friend and MOB Syndicate teammate Matt Buyten, the defending champ in tonight's Moto X Step-Up competition and a contender in the Speed & Style event Metzger had been hoping to compete in himself.
"It's pretty crazy to see how far the X Games has come and how much it's grown in those 17 years," Metzger says. "I tried my best to get back out there this year, and it turned out that I tried a little too hard."
Don't count Metzger out for next year's competition: "My doctors say I could be back out on my bike within a couple of months," says Metzger, true to his reputation as one of the toughest and most resilient guys in action sports.
RELATED CONTENT
X Games 17 is a wrap. Here's what went down.
X Games 17 home »
X17 in Review
Photo Galleries
Skateboard
BMX

Moto X

Rally

X Games 17 on ESPN.com

Year-round X Games news and info

---