McCann wins BMX Freestyle Big Air
Updated:
July 30, 2011, 4:43 PM ET
By
Devon O'Neil
| ESPN.com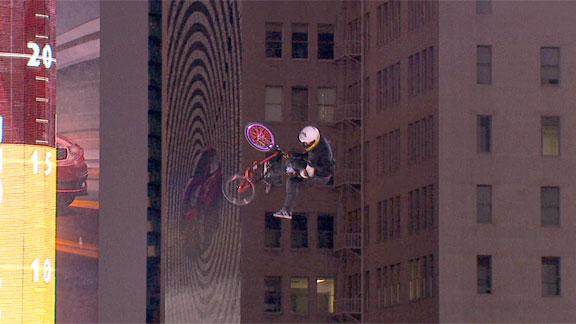 Steve McCann BMX Big Air Gold
Steve McCann BMX Big Air Gold
NEXT VIDEO
High-flying veteran Steve McCann won a dramatic gold medal in BMX Big Air on Thursday night, sealing his first X Games victory on the final run of the competition. McCann edged fellow Australian Vince Byron to win one of the most carnage-filled contests in recent X Games memory with a score of 91.66. Byron, an X Games Big Air rookie, took silver with 90.66 points despite missing his last two runs due to a broken handlebar.
"I can't even tell you how good this feels," said McCann, 28, who has competed at X since 2001 and won Big Air silver twice, including last year. "Everyone rode like champions."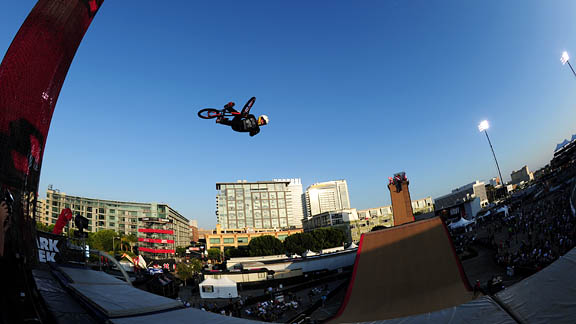 Joshua Duplechian/ESPNThis is the first X Games BMX Big Air gold for Steve McCann.
McCann's fourth and final run included a double front flip to a massive double tailwhip on the quarterpipe, where he flew more than 15 feet off the lip. The dramatic finish came after reigning gold medalist -- and Thursday's third-place finisher (89.33) -- Chad Kagy was carted off via stretcher with an apparently serious leg injury. Kagy landed a no-handed double front flip on the MegaRamp but flailed wildly as he plummeted out of the night sky off the quarterpipe, exploding on impact. He lay motionless for nearly 10 minutes as medical staff tended to his leg. Over the course of the evening, it became almost difficult to watch as competitor after competitor slammed into the hardwood, making spectators wonder which of them would not get up.
"We all know the risks involved," McCann said. "I was at the top peeling off skin from my earlier crash, hoping that Kagy would be OK."
Byron, meanwhile, watched most of the event from the sidelines after sticking his second run, a backflip double flipwhip to no-handed 540. Kagy offered the 21-year-old a spare handlebar but Byron opted to sit out the rest of the competition, saying he wouldn't feel comfortable using the foreign part on his bike.
Check out the full results.
Writer, Action Sports
O'Neil was raised in the Virgin Islands before dropping anchor to ski, write, and combine the two for profit. He now lives in Breckenridge, Colo.
RELATED CONTENT
X Games 17 is a wrap. Here's what went down.
X Games 17 home »
X17 in Review
Photo Galleries
Skateboard
BMX

Moto X

Rally

X Games 17 on ESPN.com

Year-round X Games news and info

---