Burnquist wins Skateboard Big Air
Updated:
July 30, 2011, 4:36 PM ET
By
Devon O'Neil
| ESPN.com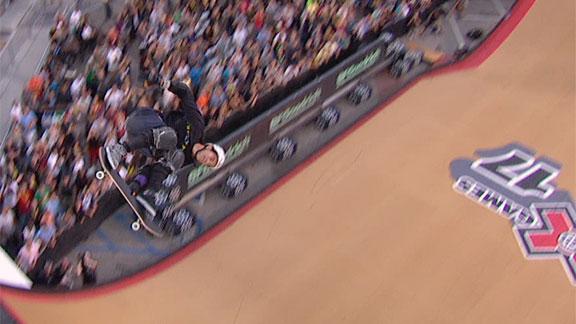 Bob Burnquist Skateboard Big Air Gold
Burnquist fourth run brought him back to the top of the Big Air podium after being upset by Jake Brown the last two years
Bob Burnquist Skateboard Big Air Gold
NEXT VIDEO
Brazilian legend Bob Burnquist returned to the top of the Skateboard Big Air podium Friday night, winning his third gold medal in the discipline and first since 2008.

Adam Taylor claimed silver and Edgard Pereira won bronze for their first X Games medals, while 14-year-old, 95-pound Mitchie Brusco's much-anticipated debut ended with him taking fifth out of seven skaters. Brusco, one of just six skaters in history to land a 900, stomped a stock run on his first effort but fell on all four subsequent attempts over the gap and never got to throw the 900 on the quarterpipe.

Burnquist, 34, posted the two highest scores of the night, a 92.66 on his fourth run and a 92.33 on his second. His winning run featured a switch frontside 540 over the gap and a unique, lien-to-frontside grab 540 on the quarterpipe, when he switched hands on his board at the height of his jump. Burnquist later said the run was all he'd hoped to land going into the event.

"I thought, I'll keep doing it until I make it because I already had gotten a run in," he said. "And then I made it [the switch stale 5] but then I popped way too high and way too hard on the lien rodeo. I could have slammed but it worked and my dream run was done."

Burnquist, one of just four athletes to compete in all 17 X Games, ties skater Andy Macdonald for the second-highest medal total in X Games history, with 21 (including eight golds). BMX legend and Rally driver Dave Mirra holds the all-time record with 24.

Jake Brown's attempt at a three-peat ended in a sixth-place finish, but he didn't seem to mind after the event. He hugged Burnquist and tossed his helmet into the large crowd next to the venue.

On a night of near-misses, none was more gut-wrenching to watch than Elliot Sloan's final-run 900 attempt on the quarterpipe. Sloan actually landed on the transition and appeared to be under control, but his downward momentum pitched him off his board just as he reached the flatbottom.

Check out the full results.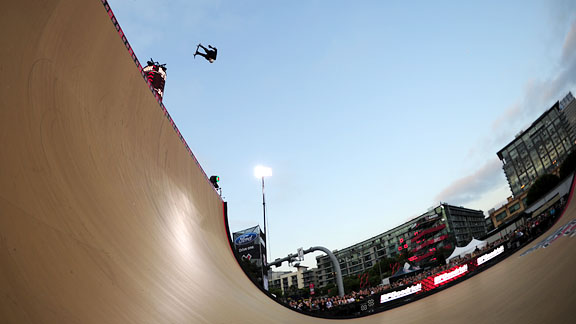 Joshua Duplechian/ESPN Burnquist is now tied for the second-highest medal total in X Games history.
Writer, Action Sports
O'Neil was raised in the Virgin Islands before dropping anchor to ski, write, and combine the two for profit. He now lives in Breckenridge, Colo.
RELATED CONTENT
X Games 17 is a wrap. Here's what went down.
X Games 17 home »
X17 in Review
Photo Galleries
Skateboard
BMX

Moto X

Rally

X Games 17 on ESPN.com

Year-round X Games news and info

---