March, 11, 2014
Mar 11
8:00
AM ET
Retired inside linebacker
Rolando McClain
is reportedly
targeting a return
to the NFL, but you have to wonder if his comeback will be with the
Baltimore Ravens
, who still own his contractual rights.
I didn't like the Ravens' decision to sign McClain 11 months ago, and I wouldn't recommend keeping him now with the team's recent off-the-field troubles.
McClain
The Ravens had three players arrested in a 22-day span. McClain was arrested three times in an 11-month span. This isn't exactly the right time for the Ravens to take on a reclamation project. Actually, it would be the worst time for the Ravens to bring in someone who has so many red flags in regards to character.
It's definitely tempting to allow him to come to minicamps and training camps to see what he can do. McClain is 24 years old. He was the No. 8 overall pick of the 2010 draft. He's a bargain at a one year and $700,000. From a football standpoint, it makes perfect sense to suit him up.
From an image standpoint, it's a gamble to keep McClain considering every big story involving the Ravens over the past month (besides the
Dennis Pitta
signing) has been linked to the police blotter. Some suggest McClain just needs to stay out of his hometown of Decatur, Ala., where all three of his arrests happened in less than a year. But you have to wonder why he continually went back to the one place where trouble occurred. If anything, you have to question his decision-making.
McClain has been arrested for firing a gun next to someone's head, writing an expletive on a police citation instead of his real name and inciting a crowd by shouting expletives at police. His last arrest came 10 days after signing a contract with the Ravens last year.
He decided to retire
in May because he was worried he would do something he would regret.
"I felt like
Aaron Hernandez
, like I just wanted to kill somebody," McClain said in an interview with
ESPN The Magazine
.
Now, 10 months later, a source close to McClain told the Carroll County (Md.) Times that the linebacker "is in a better place mentally."
Hopefully, this is true. Hopefully, McClain has got his life back in order. But the Ravens don't need to that risk, especially after running back
Ray Rice
was arrested in a domestic violence incident and backup guard
Jah Reid
was arrested on two misdemeanor counts of battery following an altercation at a strip club.
If everything goes according to plan, the Ravens aren't in desperate need of an inside linebacker. Baltimore is banking on
Daryl Smith
re-signing and second-round pick
Arthur Brown
stepping into a starting role in his second season. Both backups,
Albert McClellan
and
Josh Bynes
, have experience as starters.
Perhaps if this was a year or two down the road, the timing might be better for the Ravens and McClain. Right now, the timing couldn't be worse.
March, 10, 2014
Mar 10
11:30
PM ET
PITTSBURGH -- It made sense for the Steelers and
Ike Taylor
to get a deal done that will work for both sides.
The Steelers could not afford to lose a cornerback --- even one whose best days are behind him -- and Taylor did not want to finish his career anywhere else.
Taylor
Presto, the contract that saves the Steelers $4.25 million in salary-cap money this year and allows Taylor to play his entire career in Pittsburgh, one that started after the Steelers unearthed a project out of Louisiana-Lafayette in the fourth round of the 2003 NFL draft.
It's tempting to wonder where Taylor would rank among the all-time Steelers' defensive backs -- and how many Pro Bowls he would have made -- had his hands cooperated as much as his coverage skills did while shadowing opponents' wide receivers.
Even with only 14 career interceptions in 11 regular seasons -- and let us not forget the pick against the Seahawks that helped Pittsburgh win Super Bowl XL -- Taylor's place in Steelers history is secure.
And he is not quite done yet.
A source told ESPN.com that Taylor had no interest in leaving the Steelers and that he wanted to do whatever he could to stay with the organization and help it return to Super Bowl contender status following back-to-back 8-8 seasons.
Hence the pay cut that satisfies both sides.
It is no secret that Taylor has an incredibly close relationship with chairman emeritus Dan Rooney, who is on a short list of candidates for a Steelers Mount Rushmore.
But his new contract is more a product of practicality than nostalgia, and Taylor gets one more season to add to his Steelers legacy -- while also serving as a bridge to the cornerbacks it is incumbent upon Pittsburgh to sign or draft.
Or both.
March, 10, 2014
Mar 10
5:15
PM ET
CINCINNATI -- Brace yourselves,
Cincinnati Bengals
fans. As the hours start flying by between now and the start of free agency Tuesday afternoon, it is beginning to look more and more as though losing
Anthony Collins
and
Michael Johnson
will be a real possibility.
Collins, the backup offensive tackle who has starter's potential, and Johnson, the formerly franchise-tagged defensive end who is entering free agency with him, are likely too expensive for the Bengals to keep. Reports have already indicated that Collins could command between $6-7.5 million per year from the teams that have courted him during this soon-to-expire three-day legal tampering period.
[+] Enlarge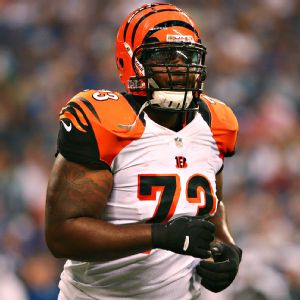 Mark Zerof/USA TODAY SportsThe Bengals are well positioned to absorb the loss of Anthony Collins.
Johnson could be looking at slightly better numbers that the Bengals just won't be able to match.
In the event they sign elsewhere, where would that leave the Bengals? Would all hope be lost for the franchise that exhausted as much time and effort as it could at re-signing the pair? Not at all.
Truthfully, the Bengals are in the envious situation of bringing back a roster that is full of veterans. Even their young players have had significant playing time across the past three seasons. Because the overall depth on the team is solid, particularly at Collins' and Johnson's positions, the Bengals ought to have very little to worry about if they aren't able to re-sign either player.
Let's focus on offensive tackle first.
If they are able to re-sign Collins, the Bengals are setting themselves up for a rather tenuous situation on the left side of their offensive line, one that Collins may not want to go through another couple of seasons, let alone one more.
With Collins back in the rotation at left tackle, the Bengals will have to decide whether they will allow him to start permanently or continue to have him come off the bench as needed. Although he only started seven games last season, Collins still was used quite extensively as a backup to Pro Bowl left tackle
Andrew Whitworth
and right tackle
Andre Smith
. If Collins returns and the Bengals start him, it would mean Cincinnati was moving Whitworth from left tackle to left guard, forcing previous starting left guard
Clint Boling
to the bench. Boling started 12 games last season until an ACL injury early in the Week 13 game at San Diego ended his season. To replace him, the Bengals moved over Whitworth and started Collins.
From a financial standpoint, the only way Collins would return to Cincinnati is if the Bengals could match an offer that would pay him close to $6 million a year. That's a lot of money to pay him to ride the bench again, so team officials would have to think long and hard about how much they wanted to shake up the lineup with his return. It wouldn't necessarily be a bad decision to have.
The reasons for such free-agency frugality are many. Among them include the team's hopes of re-signing each of its three tendered restricted free agents, keeping several of its other less pricy unrestricted free agents, making pushes to extend quarterback
Andy Dalton
, receiver
A.J. Green
and linebacker
Vontaze Burfict
a year early, and just trying to balance the books. Even with a salary cap that's about $7 million more than expected, so much of the nearly $30 million the Bengals have in cap space will be eaten by other budgetary obligations before some $15 million miraculously appears for Collins and Johnson to get paid.
Speaking of Johnson, a logjam similar to what Collins could be facing might be staring at Johnson and his fellow defensive ends if he re-signs.
After placing the franchise tag on Johnson last March, the Bengals re-signed defensive ends
Robert Geathers
and
Wallace Gilberry
and drafted
Margus Hunt
in hopes of building up their depth and talent at the right end spot. Their thinking last offseason was to simply get the position group ready in the event they were unable to re-sign Johnson this offseason. Geathers' season-ending elbow injury in Week 2 helped the Bengals avoid any playing-time issues at the position last season.
Coupled with an expected healthy
Geno Atkins
at defensive tackle and
Carlos Dunlap
at defensive end, the rotation of Geathers, Gilberry and Hunt should give the Bengals a measure of freshness and relief at Johnson's old spot.
Life in Cincinnati without Collins and Johnson also could include draft picks in May as the Bengals start looking even further into their future for replacements for veterans like Whitworth, Geathers and Gilberry. With draft picks coming and what Cincinnati already has in place, it's a future that's not as dark and morbid as many might want to believe.
Yes, Collins and Johnson were the big metaphorical fish they had hoped to land once again.
But get ready, Bengals fans, because you may soon have no choice but watch your organization adapt to life without them.
March, 10, 2014
Mar 10
4:31
PM ET
The
Cleveland Browns
made a bit of a head-scratching behind-the-scenes move Friday.
The team decided to part ways with Aaron Shea, the team's Player Engagement Director. Shea was a Browns draft pick in 1999 and a productive player. He spent six years in the organization, the last three as Player Engagement Director (a job some teams call player development). His departure appears to be the fallout from the change in GM and coach.
A coach and GM often want their own guy. That's fair, and Shea probably understands that.
But when a team lets go of an employee who handled his job as adeptly and well as Shea it creates a need that didn't exist.
The team is not commenting extensively on the decision.
"The Browns would like to thank Aaron for his years of service to the team," a team spokesman said. "The organization is going to be moving in another direction with the player-engagement role."
The Browns do lose something with this move. They lose continuity, an established way of doing things, and a way that worked. Shea did that good a job. As the
Richie Incognito
-
Jonathan Martin
issue developed in Miami, I started to think about why it happens with some teams and not others. So I started to ask trustworthy folks, with and not with the team, about the Browns. Folks who would know.
They all said the most overlooked person in the Miami situation was the player-engagement person. That person is in the locker room as much as anyone, they said, and he is the one who should notice what's taking place and make sure the coach addresses it.
SI.Com's Greg Bedard confirmed this
in a recent story, when he wrote that many in the league wondered about the player development guy in Miami. As one player said: "That's the guy we all go to when we have any problems. If they can't help us [themselves], we know they're going to get us the help we need with no repercussions."
I asked a few of the Browns players about Shea. Starters, backups, rookies, veterans ... all said he did a tremendous job and, combined with the character of the team's leadership, kept a lid on issues. Guys from
Ahtyba Rubin
to
Joe Thomas
to
T.J. Ward
all spoke glowingly of him.
Player development has morphed into a multi-task job. It entails things as varied as making sure players find housing to players being on time for meetings. He also monitors the locker room culture. With the Browns, rookies had to earn their way, but there wasn't the usual hijinks of shaved heads and other over-the-top nonsense.
It was not a coincidence.
If the Browns wanted to make this move, there was nothing stopping them. They could. But as we often teach our kids, just because you can doesn't mean you should.
A team takes a hit when it gets rid of good people who do good jobs.
March, 10, 2014
Mar 10
3:20
PM ET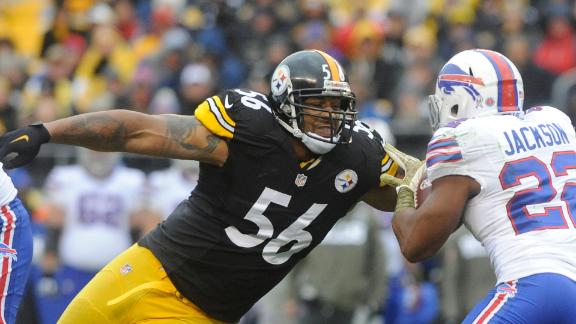 PITTSBURGH --
LaMarr Woodley
's
Pittsburgh Steelers
career will officially end with a thud Tuesday when the organization sweeps up after one of its bigger mistakes in recent memory.
The
release of Woodley
, the highest-paid defensive player in franchise history, means the Steelers are all-in on outside linebacker
Jason Worilds
.
It also caps a rather stunning turn of events at one of the glamour positions on the Steelers' defense.
Worilds, who signed a one-year, $9.54 million contract last week and is in line to parlay an eight-sack season into a lucrative long-term deal with the Steelers, lost his starting job to a rookie after the first game of 2013.
His days in Pittsburgh appeared to be numbered, but Worilds reclaimed his starting job at right outside linebacker after
Jarvis Jones
struggled. Worilds blossomed when a nagging calf injury sidelined Woodley and provided an opening at left outside linebacker.
Seven of Worilds' sacks came in his final eight games, and he played so well at left outside linebacker that Woodley moved to the right side for the two games in which he played after returning from yet another soft-tissue injury.
Worilds' rise coincided with Woodley's fall from grace and the trust from the organization that went down with him.
Make no mistake, Woodley's impending release is as much about what he didn't do as it is about Worilds' emergence after he got an opportunity to start on a regular basis.
The Steelers went all-in on Woodley in August 2011 when they signed him to a six-year, $61.5 million contract, and he initially justified their enormous faith in him.
Woodley dominated the month of October like no other pass-rusher, recording 7.5 sacks during a four-game tear. But he injured his hamstring while chasing
Tom Brady
at the end of the month and hasn't been the same since.
Woodley missed 14 out of 49 games following that injury. In the 35 games that he did play, Woodley managed just 9.5 sacks, compared to 50.5 sacks in 68 games, including the postseason, prior to the injury.
That kind of return proved to be unacceptable for a team that relies so heavily on its outside linebackers to get after the quarterback.
Woodley's weight -- listed at 265 pounds but probably playing between 280 and 290 later in his career -- likely contributed to the injuries that plagued him since 2011. One anonymous teammate ripped his work ethic last year in a Pittsburgh Post-Gazette story.
Woodley turns 30 in November, and the Steelers clearly felt he was on the downside of his career, as well as a player they couldn't count on staying healthy.
The post-June 1 release of Woodley clears around $8 million in salary-cap space this year and puts them in excess of $11 million under the cap. It also allows them to spread Woodley's dead money ($14.17 million) over the next two years; another anticipated spike in the salary cap next year will help soften that financial blow.
Just as significant as the financial benefits the Steelers reap by cutting ties with the seventh-year veteran: They can now clean up the mistake they made when they valued Woodley as one of the premier pass-rushers in the NFL.
March, 10, 2014
Mar 10
3:00
PM ET
General manager Ozzie Newsome said adding "a more athletic safety" was among the top priorities for the
Baltimore Ravens
this offseason. After the Ravens used a first-round pick on
Matt Elam
, it seems more likely that Baltimore will sign an experienced free safety in free agency. It would be a risky venture to have two young players as your last line of defense.
On the eve of free agency, let's gauge the free-agent safety class:
Bethea
Antoine Bethea, Indianapolis
Designation:
Unrestricted free agent
Comment:
Bethea is a reliable defender who has good range. He is extremely dependable and hasn't missed a game since 2007. The downside is he turns 30 before the season begins. Bethea isn't known for being much of a playmaker with a total of two interceptions the past three years.
Bill Polian's grade:
A
Chances of signing with Ravens:
On one hand, I can see the Ravens signing Bethea because he will likely come at a good value. But I believe the Ravens are looking for someone who makes more plays than Bethea.
---
Bailey
Champ Bailey, Denver
Designation:
Salary-cap cut
Comment:
Bailey is open to switching from cornerback to safety, which is the best way to extend his career. The Ravens couldn't sign someone with a better résumé: 52 career interceptions and 12 Pro Bowl selections. But Bailey is 35 and was limited to three starts in the regular season because of a nagging foot injury.
Bill Polian's grade:
D (as a cornerback)
Chances of signing with Ravens:
My knee-jerk reaction is the Ravens wouldn't sign Bailey after dealing with another future Hall of Fame defender on the decline (
Ed Reed
). That being said,
Rod Woodson
was 34 when the Ravens converted him from cornerback to safety. The Ravens would make this move only if they were confident Bailey can stay healthy.
---
Byrd
Jairus Byrd, Buffalo
Designation:
Unrestricted free agent
Comment:
He is clearly the top available safety. The three-time Pro Bowl defender is the type of playmaker who would make the Ravens' defense a top-10 one again. Byrd has 33 combined interceptions and forced fumbles in just 73 career games. His biggest weakness is the lack of ideal speed, which he offsets with instincts.
Bill Polian's grade:
B-minus
Chances of signing with Ravens:
There's a report Byrd is seeking
$9 million per season
. The Ravens spend that type of money to keep their own players, not to get other teams' free agents. It would be out of character for them to make this move. The
Miami Dolphins
,
St. Louis Rams
and
Cleveland Browns
are more likely destinations.
---
Clemons
Chris Clemons, Miami
Designation:
Unrestricted free agent
Comment:
He is a very underrated defender. Clemons is a hybrid who played strong safety last season but is equally as effective in pass defense. Not many knew Clemons was the ninth-best safety in coverage, according to Pro Football Focus. That's one spot behind the more well-known Byrd.
Bill Polian's grade:
B
Chances of signing with Ravens:
Clemons would be at the top of my wish list. Only 11 completed passes were credited against Clemons all season. This tells me that he's a difference-maker.
---
Delmas
Louis Delmas, Detroit
Designation:
Salary-cap cut
Comment:
What stands out is he is 26, comes up with big plays and has graded out as a top-25 safety by Pro Football Focus. The drawback is his history with knee injuries.
Bill Polian's grade:
C-minus
Chances of signing with Ravens:
The injury history is a big concern. Coach John Harbaugh doesn't like players who miss practice. It's probably a red flag that Delmas remains unsigned after visiting the Steelers, Dolphins and Saints.
---
Jenkins
Malcolm Jenkins, New Orleans
Designation:
Unrestricted free agent
Comment:
The former first-round pick has always shown great potential as a playmaker, but he has been inconsistent at times in pass coverage and as an open-field tackler. Jenkins is often described as a cornerback-safety tweener, which basically means he's versatile enough to play both spots but doesn't excel in either one. He is just 26, so there is a chance he can deliver a breakthrough season.
Bill Polian's grade:
D
Chances of signing with Ravens:
Jenkins has a lot of qualities that the Ravens covet. He is a hard worker and a leader (the Saints' defensive captain the past two seasons). His ability to play deep, cover the slot and blitz occasionally would make him a good fit for the Ravens' style of play. It's his up-and-down play that causes concern.
---
Mitchell
Mike Mitchell, Carolina
Designation:
Unrestricted free agent
Comment:
The former second-round pick went from a backup with the Raiders to a starter in his first season with the Panthers. Mitchell makes good reads and has a knack for being around the ball. He is 26 and has intriguing upside.
Bill Polian's grade:
B-minus
Chances of signing with Ravens:
It's too much of a risk to go with someone who has just one year of starting experience. Plus, Mitchell lacks the type of range the Ravens want for that position.
---
Reed
Ed Reed, New York Jets
Designation:
Unrestricted free agent
Comment:
Reed looked old and slow last season. The Texans decided to part ways with him 10 weeks into the season after giving him $6 million guaranteed. He landed with the
New York Jets
and had three interceptions in his final four games. But he gave up big plays, including a 66-yard touchdown pass at M&T Bank Stadium.
Bill Polian's grade:
D
Chances of signing with Ravens:
The only time the Ravens should re-sign Reed is for a one-day contract when he decides to retire.
March, 10, 2014
Mar 10
2:00
PM ET
INDIANAPOLIS -- The
Indianapolis Colts
want to improve on being 26th in the league in stopping the run last season.
There's no better place to start than at nose tackle.
Aubrayo Franklin
is a free agent after starting there last season.
The Colts are still high on
Josh Chapman
, but that's a position where you need multiple bodies.
A name to keep an eye on once free agency starts Tuesday at 4 p.m. ET is
Baltimore Ravens
defensive tackle
Arthur Jones
. Colts coach Chuck Pagano is familiar with Jones from when he was defensive coordinator of the Ravens.
Jones had a career-high 53 tackles to go with four sacks last season. Franklin and Chapman combined for 44 tackles and zero sacks last season.
The Colts have the salary-cap space to pay Jones, who is only 27 years old.
"He has definitely put himself in a position that teams could definitely bid on him very high because if you put the tape on, they're going to like him a lot," Ravens coach John Harbaugh told reporters during the NFL scouting combine last month. "… It's probably the one contract that he'll have a chance to sign, a real big one. Guys that sign two big contracts, that's very unusual. Three almost never happens, so you never feel bad about a guy getting an opportunity."
Here's a look at some other defensive tackles who will be on the market:
March, 10, 2014
Mar 10
1:20
PM ET
PITTSBURGH -- The Steelers are targeting cornerbacks in free agency, having reached out to representatives for at least three of them during the period that teams and agents of prospective free agents are allowed to talk but not consummate any deals.
The Steelers have inquired about Tennessee's
Alterraun Verner
, Carolina's Captain Munnerlyn and Miami's
Nolan Carroll
, according to multiple sources, and it looks like they are serious about replenishing one of the thinnest positions on their roster through free agency as well as the draft.
Pittsburgh has only three cornerbacks on the roster with meaningful NFL experience. And Ike Taylor's future is uncertain with the 11th-year veteran scheduled to make $7 million in base salary in 2014.
Verner is one of the top cornerbacks in the free-agent class, and the fourth-year veteran is set to cash in after intercepting five passes and making the Pro Bowl last season. Verner, who has ties to Steelers assistant coaches Mike Munchak and Carnell Lake, will probably be too pricey for the Steelers, who are less than $4 million under the cap but can create more room by releasing Taylor.
Munnerlyn and Carroll may be the more realistic options for the Steelers from an economic standpoint, as neither is among the cornerbacks who will command top dollar on the open market.
The 5-foot-8, 195-pound Munnerlyn, who turns 26 next month, recorded 73 tackles and three sacks while also intercepting two passes last season for Carolina. The 6-1, 205-pound Carroll recorded 47 tackles and intercepted three passes last season for the Dolphins, and he is young, having turned 26 in January.
The Steelers are familiar with Carroll having hosted him for a pre-draft visit in 2010. The Dolphins picked Carroll in the fifth round that year while Munnerlyn was a seventh-round pick by the Panthers in 2009.
The free-agent signing period starts Tuesday at 4 p.m. ET, and that is when teams are also allowed to host free agents for visits.
March, 10, 2014
Mar 10
10:00
AM ET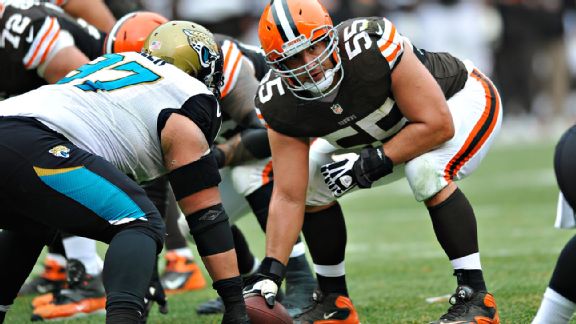 AP Photo/David RichardCleveland Browns center Alex Mack is the top free agent in the AFC North.
It's not a particularly strong free-agent class in the AFC North, although the top ones rank among the best in the NFL.
The free-agent group in the division took a hit when tight end
Dennis Pitta
, outside linebacker
Jason Worilds
and linebacker
D'Qwell Jackson
all signed before the official start of free agency.
So who's left? ESPN's four team reporters in the division -- Scott Brown, Coley Harvey, Jamison Hensley and Pat McManamon -- compiled a list of the top 15 free agents in the AFC North.
The
Baltimore Ravens
have the most free agents on this list with eight players. The
Cleveland Browns
have two of the top three free agents in the division, and the
Cincinnati Bengals
have two of the top five. The
Pittsburgh Steelers
placed one free agent in the top 10.
Here are the top 15 free agents in the AFC North:
1. Alex Mack, Browns center:
At 28, the two-time Pro Bowler is in the prime of his career. Mack was so coveted by the Browns that they placed a $10 million transition tag on him. It will be interesting whether another team can pry him away from Cleveland.
2. Michael Johnson, Bengals defensive end:
He was better in 2012 (11.5 sacks) than he was in 2013 (3.5 sacks). Still, his size, athleticism and age (27) will make him one of the most coveted pass-rushers this offseason.
3. T.J. Ward, Browns safety:
Considered one of the top 10 safeties in the NFL, Ward will draw interest from teams looking to get more physical in the secondary. He makes an impact on run defense and has improved in coverage.
4. Eugene Monroe, Ravens offensive tackle:
Some believe Monroe is the top offensive tackle in free agency, but ESPN's Bill Polian has five tackles ranked ahead of him. His athleticism and upside will command a big-money contract even though he's never been to a Pro Bowl.
5. Anthony Collins, Bengals offensive tackle:
He is an underrated left tackle who didn't allow a sack last season. The question mark with Collins is how he'll play as a full-time starter. He made seven starts last season and has 25 starts in six seasons in Cincinnati.
6. Jacoby Jones, Ravens receiver-returner:
He was one of the top playmakers in the Ravens' 2012 Super Bowl run, and he ranked among the top five returners in the league last season. Jones is inconsistent and one-dimensional as a wide receiver, but he made a lot of clutch plays for the Ravens in two seasons.
7. Art Jones, Ravens defensive end:
His impact as a run defender and interior pass-rusher makes him one of the top defensive tackles available. Teams, though, have to wonder whether he'll be the same type of player without
Haloti Ngata
drawing double-teams next to him.
8. Daryl Smith, Ravens linebacker:
He was quietly one of the NFL's top comeback stories. In his first season with the Ravens, Smith led the team with 123 tackles and finished with five sacks, three interceptions, 19 passes defensed and two forced fumbles. His age (32 this month) could be a drawback.
9. Michael Oher, Ravens offensive tackle:
His play never reached the expectations placed on a first-round pick. Oher is a throwback type of player whose strengths are durability and toughness. The biggest knocks against him are mental mistakes and pass protection.
10. Emmanuel Sanders, Steelers wide receiver:
He is almost 27, brings a lot of quickness and is coming off a season where he dropped just two passes (according to ESPN Stats & Information). What works against Sanders is the fact that he's never had more than 740 yards receiving in a season and averaged a career-low 11 yards per catch last season.
11. Jameel McClain, Ravens inside linebacker:
He isn't among the most talented linebackers, but he prides himself on outworking others. Even though he came back from a spinal cord contusion last season, some teams will be wary of a player who had such a serious injury.
12. James Ihedigbo, Ravens safety:
Known more for his special-teams play, Ihedigbo finished as the team's second-leading tackler. He'll try to find a team that will give him an opportunity to play defense now that the Ravens moved
Matt Elam
to his strong safety spot.
13. Ziggy Hood, Steelers defensive lineman:
He never became the difference-maker the Steelers envisioned when they drafted him in the first round, but it would be unfair to call him a bust. One of the strongest players on the team, Hood lost his starting job to
Cameron Heyward
last season.
14. Corey Graham, Ravens cornerback:
He was a starter on the Ravens' 2012 Super Bowl team and led Baltimore with four interceptions last season. Graham has proved to be a dependable nickelback, but he doesn't have the size or speed to be a full-time starter.
15. Brett Keisel, Steelers defensive lineman:
He had four sacks last season and 26 quarterback pressures, third most on the Steelers, despite missing four games and playing sparingly in another because of a nagging foot injury. His age (35) will scare away a lot of teams.
March, 10, 2014
Mar 10
8:00
AM ET
Less than a week ago, The Baltimore Sun reported that the
Baltimore Ravens
and free-agent offensive tackle
Eugene Monroe
remained far apart in negotiations. On Sunday, sources tell
The Sun
that there is "optimism" that an agreement can be reached.
What changed? It looks like Monroe lost the offensive tackle's version of musical chairs. According to the paper, Kansas City's
Branden Albert
is expected to sign with the
Miami Dolphins
, St. Louis'
Rodger Saffold
is headed for the
Oakland Raiders
, Oakland's
Jared Veldheer
is being targeted by the
Arizona Cardinals
and Cincinnati's
Anthony Collins
is likely to go to the
Tampa Bay Buccaneers
.
The Ravens couldn't have asked for a better scenario, if it works out this way. It would take out Miami and Arizona, two teams who were expected to spend top dollar for a left tackle, and it could lower Monroe's price tag for the Ravens. After what has been a
troublesome offseason
, perhaps the Ravens are due for some good luck to start free agency.
Here's the rest of your wake-up caw …
John Eisenberg, of the team's official website, expects the Ravens to make a bigger splash than usual early in free agency. "I'm not saying the Ravens are going to wade into the melee waving fistfuls of cash and shouting "Who wants to come and get it?! That's not their style. I don't care how much cap room they have," Eisenberg wrote. "But there's going to be more action than usual, maybe quite a bit more."
Wide receiver Torrey Smith addressed the Ravens' recent arrests -- three in less than a month -- with Fox TV in Baltimore, saying, "In the off season these are grown men with their own families. Unfortunately not everyone makes great decisions all the time and there's consequences for it. We'll be there to support them and their families whatever case may be and we hope they come about better from it and learn from their mistakes."
The Ravens reached a two-year deal with backup linebacker Albert McClellan, according to The Sun. McClellan led the Ravens with a career-high 12 special teams tackles last season. This allows the Ravens to avoid giving McClellan a one-year tender of $1.4 million as a restricted free agent.
March, 9, 2014
Mar 9
5:15
PM ET
A source confirmed the
Pittsburgh Steelers
have expressed interest in cornerback
Alterraun Verner
, who could be one of the most sought after players when the free-agent signing period begins on Tuesday.
Jim Wyatt of the Tennessean first reported the Steelers' interest in the Titans cornerback.
Verner
It makes a ton of sense for the Steelers to at least inquire about Verner during the period in which teams are allowed to talk to agents of impending free agents but not consummate any deals (wink, wink) with them.
The Steelers have a serious need at cornerback, and Verner is coming off a Pro Bowl season in which he intercepted five passes for the Titans, including one against the Steelers. The 5-foot-10, 187-pounder is only 25, and he has played every game in his four NFL seasons.
What's more, the Steelers have more familiarity with Verner than most teams.
New offensive line coach Mike Munchak was Verner's head coach in Tennessee for three seasons. Defensive backs coach Carnell Lake was Verner's position coach his senior year at UCLA.
Working against the Steelers when it comes to Verner is dollars and sense.
The market will not be an accommodating one for cornerback-needy teams that don't have much room under the salary cap like the Steelers (they are about $3.7 million under the cap, according to ESPN roster management).
Sam Shields
established the price range for the top available cornerbacks when he signed a four-year, $39 million contract that will keep him in Green Bay.
That is a big number, and the price could be higher for Verner, becausre a handful of teams reportedly have already expressed interest. The Steelers could find a way to sign Verner given how effective they are at massaging the salary cap, and with increases in the spending ceiling anticipated over the next couple of years.
But can they afford to invest so much in one player, even one as talented as Verner, when they have so many other needs as well on defense?
I would be surprised if the Steelers engage in a bidding war for Verner, and with the start of free agency almost here, that might be the only way they can land him.
March, 9, 2014
Mar 9
3:50
PM ET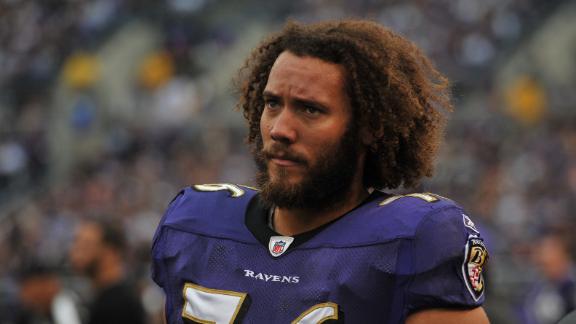 Another arrest, another black mark on the
Baltimore Ravens
' image.
The arrest of backup offensive lineman
Jah Reid
on
two misdemeanor battery charges
was the third involving a Ravens player in 22 days. That is nearly one per week since the middle of February.
Embarrassing? Without question. Have the Ravens become the NFL's bad boys again? You could make that argument.
All you have to do is bring up
Ray Rice
's TMZ video and the mug shots for Reid and wide receiver
Deonte Thompson
. Some will say it's unfair to put that label on the Ravens because two of the three players are backups and might not be on the team when the 2014 season kicks off. But the casual football fan will remember "three Ravens arrested in less than a month" and not the names of those players.
The Ravens have made significant strides to repair their image since the days of Ray Lewis pleading guilty to a obstruction of justice charge in a double murder and Jamal Lewis going to jail on a federal drug charge. I remember going to games in 2005 and seeing fans at opposing stadiums wearing orange jump suits with the name "Lewis" on back of them.
Coach John Harbaugh made it a focus to make over the Ravens' bad boy persona, even going as far as shelving the all-black uniforms to avoid "playing into everyone's stereotypical thinking." In Harbaugh's first six seasons, only four Ravens had been arrested. None were starters, and linebacker Rolando McClain was arrested before even putting on a Ravens uniform.
Even though there has been a spike in arrests, it's hard to blame Harbaugh, because he can't be following 53 players to Atlantic City or Florida. It's also difficult to blame the Ravens, because Rice, Thompson and Reid had never been arrested before in their NFL careers. It's not like you can accuse the Ravens of keeping repeat offenders.
But it's hard to alter the national perception when the headlines have been about another Ravens player arrested. Bad news is bad news. This was already going to be a challenging offseason for the Ravens, who were coming off their first non-winning season under Harbaugh. The Ravens have to rebuild their offense, part of their front seven on defense, and now their image.
The Ravens were atop the football world a year ago as Super Bowl champions. Now, it feels like their image is at the bottom of it.
March, 9, 2014
Mar 9
3:35
PM ET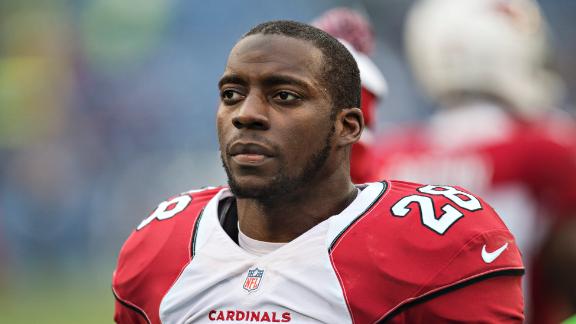 That
Rashard Mendenhall
is walking away from football when he is only slightly north of the age usually required to rent a car is anything but surprising.
To say Mendenhall was different, even when he was at the pinnacle of a short-lived career, one that saw him rush for 1,273 yards and 13 touchdowns in helping the
Pittsburgh Steelers
make the Super Bowl in 2010, is an understatement.
Mendenhall had a wide array of interests outside of football, from reading and writing and delving into the kind of deep philosophical subjects and debates that made him seem better suited for a college lecture hall or a coffee shop than an NFL locker room.
His decision to retire at age 26 offers confirmation that Mendenhall didn't love football -- or love it enough once it became his full-time job after the Steelers took the former Illinois star with the 23rd overall pick in the 2008 draft.
What has surprised me is some of the backlash I have seen since news broke about Mendenhall's decision to pursue a career as an author after just six NFL seasons.
I expected the tweets that took a dig at Mendenhall's infamous and widely unpopular tweets in the aftermath of the killing of Osama bin Laden, which even drew a public reproach from Steelers president Art Rooney II.
Of course there were the shots at Mendenhall's fumbling issues as some Steelers' fans never got over the one he lost against the
Green Bay Packers
at a critical juncture of Super Bowl XLV, as well as the spin moves that he relied too much on at times.
The kind of reaction I take issue with when it comes to Mendenhall is the misguided notion that he is somehow throwing something away by opting to leave the game while he is still in his prime.
First of all, the average NFL career is between three and four seasons, so Mendenhall exceeded that, and he took a fair pounding along the way. Mendenhall overcame a broken shoulder blade and a torn ACL among other injuries in the five seasons he spent with the Steelers. Turf toe hampered Mendenhall the one season he played for the Cardinals.
He knows his body better than anyone, and maybe Mendenhall is walking away from football while he is still physically able to do so.
He doesn't owe it to anybody to continue playing football, and if writing fulfills Mendenhall more than football does, more power to him for the decision that he has made.
Maybe Mendenhall got out of the game what he wanted all along -- a free education and the financial security that now allows him to pursue what has long been his true passion.
If that is the case, he should be cheered rather than jeered.
It is, after all, his life.
March, 8, 2014
Mar 8
2:45
PM ET
CINCINNATI -- Chalk up a win for Hue Jackson and his plans of establishing a more physical
Cincinnati Bengals
offense.
From the time the new offensive coordinator was introduced in mid-January until now, the talk surrounding his unit has centered around his desire to make the Bengals more intimidating offensively by running powerfully and efficiently, while using a punch-first mentality to open up play action and other passing options downfield. The news Saturday that the Bengals have re-signed guard
Mike Pollak
was a clear sign that Jackson's plans are beginning to take shape.
Rule No. 1 in structuring a physical offense: take care of your offensive line.
Pollak's re-signing begins what will be a tedious, rumor-filled next few weeks. With a three-day window this weekend in which teams are permitted to talk to certified agents of free agents, the NFL's signing season has unofficially started.
While defensive end
Michael Johnson
and offensive tackle
Anthony Collins
will dominate the Bengals' free agency news cycle, there are other meaningful signings that deserve attention, too. Namely, those like Pollak's, that have to do with building depth on Cincinnati's front lines. One of three free agent offensive linemen, Pollak had been considered one of the Bengals' more important unsigned players. Offensive tackle
Dennis Roland
also is up for a new contract, and could get one as the Bengals continue strengthening their line.
Pollak, a six-year veteran, missed nearly half the 2013 season because of a knee injury, but returned just in time to contribute to some of the Bengals' better offensive performances of the year. He either started or received significant action in each of the final six games of the regular season, originally coming in off the bench to relieve starting right guard
Kevin Zeitler
who hurt a foot at Baltimore in Week 10.
Even when Zeitler was healthy enough to return, Pollak remained in the starting rotation. He averaged 49 snaps per game across the final six games, and gave the Bengals a relatively fresh extra blocker as the season came to an end.
"Very simply, we are just glad to have Mike back," Bengals offensive line coach Paul Alexander said in a news release. "He's a veteran you can count on. When some injuries provided him an opportunity last year, he came through with flying colors for us."
The insertion of Pollak into the primary rotation coincided with some of the Bengals' best rushing performances and most prolific scores of the season. In the six games when Pollak saw significant action, they rushed for more than 100 yards four times, including the 164-yard effort in a win at San Diego, and the 155-yard showing in a win the next week against Indianapolis. That win over the Colts was one of three in the end-of-year stretch that saw Cincinnati scoring 40 or more points. The Bengals also scored 49 in a 40-point win over the Jets in Week 8. Pollak played just six snaps in a backup capacity during that game.
The point here is that Pollak's bump in playing time overlapped with the contests in which the Bengals' offense played some of its most physical and complete games last season. Other offensive line changes came around that time, too, including Pro Bowl tackle
Andrew Whitworth
's move to left guard to replace an injured
Clint Boling
, and Collins' addition from the bench as the starter at Whitworth's old left tackle spot. Each of those changes came early in Week 13's 17-10 win over the Chargers.
If the Bengals are to institute the type of aggressive offense that Jackson envisions, they'll need to mimic much of what went right in the last six weeks of the regular season. Few games provide the type of blueprint Cincinnati is seeking than that late-season Bengals-Chargers game. The Bengals had their most balanced offensive attack of the year in that game, and prominently featured a heavy dose of their rushing offense.
When asked earlier this offseason about Jackson's plans on offense, Whitworth praised his new coordinator's wishes. Yes, he knows that putting a greater emphasis on the run is important to Jackson, but the veteran lineman also believes that attitude and willpower are at the heart of what Jackson will soon be asking his players to do.
"It's more about an attitude and a confidence and about imposing your will on another team," Whitworth said. "That could be done in the air or on the ground. That's more of what [Jackson] is talking about. He knows to be able to do that, you're going to have to run the ball successfully."
He also knows that a team will need a strong and deep offensive line to get that done.
With Pollak back on board, the framework of Jackson's looming physical system has started taking shape.