December, 25, 2014
Dec 25
8:00
AM ET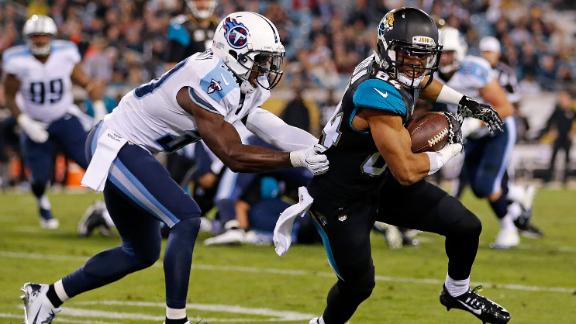 When:
1 p.m. ET, Sunday
Where:
LP Field, Nashville
TV:
CBS
NASHVILLE, Tenn. -- The
Indianapolis Colts
are eager to clean things up and feel more ready for the playoffs. The
Tennessee Titans
are eager to end a miserable season and move on.
The NFL fills its final week with divisional matchups in hopes of finding more meaningful games. It works overall, but in this instance it pairs teams that are at opposite ends of the AFC South.
Indianapolis (10-5) crushed Tennessee (2-13) at Lucas Oil Stadium on Sept. 28 by the score of 41-14. They wrap the regular season at LP Field on Sunday.
ESPN.com Colts reporter Mike Wells joined Titans reporter Paul Kuharsky to discuss the game.
Wells:
It's been a long time since these two teams have met -- Week 4 -- and it's been nine weeks since the Titans won a game. What has been their biggest problem this season?
Kuharsky:
Name it. They don't convert third downs to extend drives, they don't run the ball well, and they haven't had any continuity at quarterback. Defensively, they don't stop the run -- this could be the long-awaited week where
Trent Richardson
busts out -- and they don't tackle well. They do OK pressuring the quarterback, but it's virtually all blitz-generated.
Speaking of blitz-generated ... do the Colts blitz a lot to make up for not having a great rusher? They got to Titans QB
Charlie Whitehurst
three times in the first meeting.
Wells:
Blitzing is the best chance the Colts have at getting after the quarterback, because their defensive front is not good enough to apply consistent pressure. That goes back to the earlier comment about the Colts' inability to have success against most pocket-passing quarterbacks. Blitz
Tom Brady
and
Peyton Manning
, and they will pick you apart. Sit back in a zone, and those quarterbacks will have plenty of time to decide where they want to throw the ball. The Colts have spent the season hoping somebody would step up to help fill the void left by Robert Mathis' absence. That hasn't happened, which is why they've had to spend a lot of time blitzing this season.
I assume it's safe to say the injured
Jake Locker
is not the answer at quarterback. Do you believe the Titans will look at drafting a quarterback -- possibly
Jameis Winston
-- with their pick in the first round?
Kuharsky:
Locker's deal is up and he will land elsewhere. The Titans have blown a No. 3 pick on Vince Young and a No. 8 pick on Locker in a span of six years. Those failures are a big part of why they are where they are. My guess is that they will keep
Zach Mettenberger
(also injured) and try to find someone he has to beat out for the job. But Oregon's
Marcus Mariota
needs to run around some to be his best, and Titans coach Ken Whisenhunt is a pocket-passer devotee. Winston's baggage has to be a concern. It seems it would be ideal if they landed a top-two pick and then dealt it to a team that wants one of the top quarterback prospects. With more quality picks, they could address a number of areas where they aren't good enough.
Indianapolis' defense is very much middle-of-the-pack. How have the Colts managed to be so good on third down?
Wells:
A lot has to do with the opponent. In the Colts' 10 victories, their D held opponents to a 24.9 percent success rate on third down. In four games, the opposition converted only one third down. The only team the Colts have beaten that has locked up a playoff spot is Cincinnati, and the Bengals were 1-of-13 on third downs against Indianapolis in October. Things have been drastically different for the Colts in their five losses. Teams that have beaten the Colts have converted 53 percent of their third downs. The common theme for the teams that have beaten the Colts is that all their quarterbacks are pocket passers, a serious area of concern for the Colts.
What is the window on Whisenhunt as coach? Will the Titans' front office give him a fair chance to get things turned around?
Kuharsky:
Tommy Smith, who heads the ownership group and is the team president and CEO, has publicly backed both Whisenhunt and general manager Ruston Webster. I don't see a change coming at either spot, but the tide needs to start changing in a hurry, or they could both be done after the 2015 season. Whisenhunt was entirely too inflexible in his first season, failing to bend his system to fit what he inherited. Webster's 2014 draft class was pretty good, but his record with free agents beyond
Delanie Walker
and the injured
Bernard Pollard
is horrific.
I saw the Colts hand off three times in their first possession in Dallas before punting. Are they still of the thinking that they must run and find balance? If so, why is that? Why don't they turn QB
Andrew Luck
loose and take their chances?
Wells:
Colts coach Chuck Pagano said this week that his team has to be able to run the football in the playoffs. The reality is, any chance for the Colts to have a successful running game ended on the night of Nov. 16, when running back
Ahmad Bradshaw
was lost for the season with a fractured fibula. Things were working well with the Bradshaw-Richardson duo. The Richardson-
Boom Herron
duo? The same can't be said. That was evident when the Colts rushed for 1 yard -- yes, 1 yard -- against the
Dallas Cowboys
on Sunday. That means Luck will have to lead the Colts if they expect to have any chance of making a run in the playoffs. And at this moment, the Colts don't even appear to be a team that can win its wild-card playoff game.