September, 18, 2014
Sep 18
3:10
PM ET
ENGLEWOOD, Colo. -- As they approach a Super Bowl rematch in Seattle that isn't really a second chance at a Super Bowl, the
Denver Broncos
find themselves trying to find the right balance between past and present.
Between remembering the sting and embarrassment of a 35-point loss on the league's biggest stage, and simply moving on to try to create another opportunity to make it right.
"Yeah, you don't forget what happened and also, you set the standard by playing against the Super Bowl (winners)," said Broncos defensive tackle
Terrance Knighton
. "They've earned the right to talk how they talk and we'll just speak with our pads and show up on Sunday. Obviously we still have a bad taste in our mouths from the Super Bowl, but it's a new season and we want to get back to that point and obviously win it. But playing against the team that won the Super Bowl and actually having a chance at a rematch really will show how far we came as a team and if we improved or not."
[+] Enlarge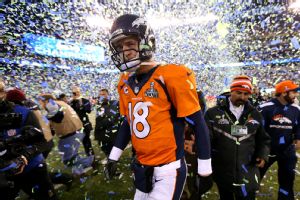 AP Photo/Ben Liebenberg"I think naturally you're motivated anytime you play a team that beat you last year," Peyton Manning said. "But being motivated, or being mad doesn't mean anything if you don't go out there and execute and do your job."
Sunday will be the Broncos' first regular-season trip to Seattle, a former division foe from 1978-2001. Everybody knows the numbers: The Seahawks have gone 18-1 in their last 19 regular-season home games and the last time these two teams met in a game that counted, the Seahawks won Super Bowl XLVIII by 35 points.
And in the social media world, a team that loses the Super Bowl by 35 points somehow doesn't finish second. Broncos executive vice president of football operations/general manager John Elway has said "people don't see you as a team that was a runner-up because of what happened."
The Broncos have lived with being called soft, intimidated and unable to play to the moment in the title game. That's all fodder to wind a team up.
Asked if he had ever been more excited to play in a regular-season game, Knighton said; "No. No I haven't been this excited … Saturday, when we get on that plane, a lot of guys' adrenaline will start boosting. It'll be a hostile environment and that's just the way we like it -- with our back against the walls."
But it's also, for both the Broncos Seahawks, Week 3 of a season with plenty of miles to go before another shot at the postseason. In that vein Broncos head coach John Fox has tried to emphasize, at least publicly, Sunday's game is indeed the kind of stage any Super Bowl hopeful would want to be on, but not the end-all, be-all of the new season.
Quarterback
Peyton Manning
even took a far simpler approach.
"Yeah, I think naturally you're motivated anytime you play a team that beat you last year,'' Manning said. "But being motivated, or being mad doesn't mean anything if you don't go out there and execute and do your job … so I still think you have to try to simplify it in some ways and try to find a way to protect the ball, score some touchdowns in the red zone and stay out of a lot of third-and-longs. I think if you don't do those things, it's tough to be a good football team."
So, whatever errors the Broncos made this past February, the opportunity that was lost, it's all a part of history's stew. Almost half of the players currently on the Broncos' roster weren't with the team in MetLife Stadium, and the team will likely start at least seven players on defense Sunday who didn't even play in the Super Bowl, so how it all turns out this time around will depend on how the current Broncos seize the day.
"I think we've got to caution ourselves from trying to make this a revenge for the Super Bowl game,'' said tight end
Julius Thomas
. "This is the 2014 season, but we're still playing a very tough opponent -- probably what a lot of people consider one of the better teams in this league. When you're going up against a playoff team three weeks in a row, you've got to keep on making a statement to everybody else in the league about what type of team we're going to be this year."
"You've got to stay in your (playbook) and just work on your fundamentals and get better each week and watch your opponent as much as possible without getting riled up and feeding into all the talk -- you know, the bulletin board stuff, all the quotes they got,'' Knighton said. "But we just keep it simple."