September, 23, 2014
Sep 23
10:15
AM ET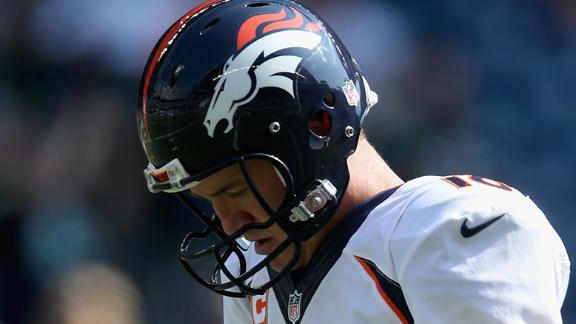 Let's take our weekly deep dive into the Sunday performance of five NFL quarterbacks, using data supplied by analyst Jacob Nitzberg via ESPN Stats & Information. After all, the numbers don't always speak for themselves.
WEEK 3
CMP: 31
ATT: 39
PCT: 79.5
YDS: 370
TD: 4
INT: 0
WHAT YOU MISSED
Luck threw 39 passes and only three were judged via video analysis to be overthrown or underthrown. He completed 31 throws, had three dropped and two knocked away by the Jacksonville Jaguars' defense. These were not easy throws, either. He attempted six that traveled at least 20 yards downfield and completed all of them, the first time an NFL quarterback has thrown at least five without an interception since at least 2006. Luck completed 14-of-15 on first down and 9-of-10 on third down, eight of which converted first downs. Against the Jaguars' blitz, he completed 8 of 10 passes for 120 yards and two touchdowns.
FINAL ANALYSIS
This was as good of a pure passing game as we've seen from a quarterback this season. Luck was accurate from all levels, completing a career-high 79.5 percent of his passes overall, and did not commit a turnover.
WEEK 3
CMP: 21
ATT: 28
PCT: 75.0
YDS: 234
TD: 2
INT: 0
WHAT YOU MISSED
For one week, at least, Manning was a true West Coast quarterback in the New York Giants' new offensive scheme. He attempted only three passes that traveled more than 15 yards downfield and all three fell incomplete, his lowest such figure since Week 14 of the 2012 season. Of his 21 completions, 19 traveled 10 or fewer yards downfield. He also released the ball an average of 1.97 seconds after the snap, his quickest in a game since at least the start of the 2011 season. Manning also reacted well when the Houston Texans blitzed a defensive back, completing 5 of 6 passes for 67 yards and a touchdown in those situations.
FINAL ANALYSIS
Manning is being asked to remake his style at the age of 33 in this new scheme. Week 3 was the first time we've seen any evidence that the transition is taking. In the big picture, that's not an unreasonable time frame.
Denver Broncos
WEEK 3 vs. SEA:
L, 26-20 (OT)
WEEK 3
CMP: 31
ATT: 49
PCT: 63.3
YDS: 303
TD: 2
INT: 1
WHAT YOU MISSED
The Seattle Seahawks limited Manning through the first three quarters primarily through a standard four-man (or fewer) pass rush that he normally dominates. He had completed 12 of 20 passes against it for just 78 yards, an average of 3.9 yards per attempt, when the fourth quarter began. (Against the blitz, he had completed 6 of 9 passes for 63 yards). But in the fourth quarter, Manning completed 12 of 17 passes for 148 yards against the Seahawks' standard rush. Why? By necessity, he pushed the ball downfield more. Before the start of the fourth quarter, Manning threw only one pass that traveled at least 20 yards downfield. In the fourth, he threw three, completing two, including the final touchdown.
FINAL ANALYSIS
The Broncos had an uncharacteristically meek game plan against the Seahawks' elite defense, and they didn't really get going until Manning started driving the ball downfield. Before that point, he attempted seven screen passes (his most since joining the Broncos in 2012) and completed six -- for a grand total of 5 net yards. Manning will look at this game and wish he had been more aggressive sooner.
WEEK 3
CMP: 16
ATT: 27
PCT: 59.3
YDS: 162
TD: 1
INT: 0
WHAT YOU MISSED
The Lions stymied Rodgers largely by playing coverage and relying on their front four to provide pressure. Rodgers faced four or fewer pass-rushers on 25 of his 29 dropbacks, but he completed only 58.3 percent of the resulting passes at an average of 5.8 yards per attempt. Both were career lows for Rodgers against the Lions. (In his career, Rodgers has completed 67.7 percent and averaged 8.15 yards per attempt against standard rushes.) Rodgers did not attempt a single pass of at least 20 yards downfield for the first time since Week 3 of 2011, and he managed just one completion on passes thrown at least 15 yards.
FINAL ANALYSIS
The Lions game put an exclamation point on what has been an unexplosive start for Rodgers and the Packers' offense. After averaging 6.0 yards per attempt Sunday, he is averaging 6.8 for the season. In 2013, he ranked No. 2 in the NFL at 8.7 yards per attempt and 8.24 yards in his career as a starter before this season. Some of that slip can be tracked to Rodgers' inaccuracy; he has overthrown or underthrown 11 percent of his passes, more than twice his career average, based on video analysis.
WEEK 3
CMP: 18
ATT: 33
PCT: 54.5
YDS: 244
TD: 2
INT: 0
WHAT YOU MISSED
Stanton's average pass Sunday traveled 14.91 yards past the line of scrimmage, the highest mark in the NFL for Week 3 and a quantitative illustration of Stanton's aggressiveness in Bruce Arians' downfield passing offense. Against the San Francisco 49ers, he threw 13 passes that traveled at least 15 yards past the line of scrimmage and 10 of more than 20 yards. Both touchdown passes traveled at least 15 yards in the air. Stanton also completed 7 of 10 third-down throws, with all seven converting a first down, and converted three first downs on all three of his non-kneeling runs.
FINAL ANALYSIS
Arians brought Stanton with him from Indianapolis for a reason: He was confident Stanton had both the arm strength and the mindset to push the ball downfield. There was no denying that fact Sunday.