March, 5, 2015
Mar 5
9:15
PM ET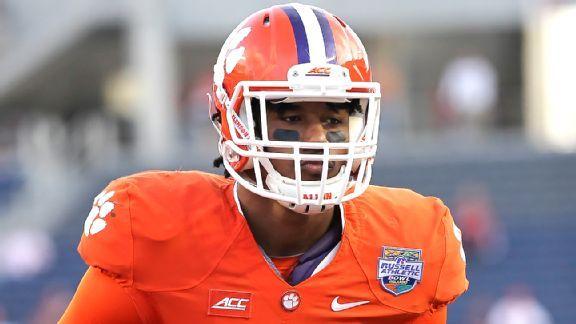 CLEMSON, S.C. -- When
Vic Beasley
addressed the media during this year's NFL combine in Indianapolis, the Clemson pass-rusher couldn't hide his affection for his hometown
Atlanta Falcons
.
After spending time talking to new Falcons coach Dan Quinn at the event, Beasley walked away even more impressed with his favorite team.
"Coach Quinn, just his whole demeanor, he's a very influential coach," Beasley said during Clemson's pro day on Thursday. "He pushes his players. I can tell that just by the way he speaks and the way he carries himself."
Beasley met various members of the organization, including owner Arthur Blank, but Quinn is the only one Beasley huddled with extensively. The two talked about how Beasley would fit in the Falcons' scheme, specifically in regard to the "Leo" hybrid defensive end/rush linebacker position. Quinn runs a 4-3 under defense with some 3-4 personnel tendencies.
"He just said that he had guys like [current Seattle Seahawk]
Bruce Irvin
and other similar guys to me that could play that Leo position," Beasley said. "That's kind of where we connected right there. I fit the Leo position because a guy like Bruce Irvin, we're similar body types. And we have similar games. We're both great edge-rushers."
The question is, after his outstanding combine performance will Beasley be available if the Falcons stand pat with the eighth overall pick? ESPN draft analyst Mel Kiper Jr. has Atlanta selecting Beasley in
his latest mock draft.

Beasley, who is tentatively scheduled to visit the Falcons on March 30, naturally wants to be the first pass-rusher off the board. At the same time, he can't help but envision the possibility of playing for the Falcons.
"It's a high possibility, and that would be like a dream come true," Beasley said. "But whatever team I go to, I'm going to be exceptionally happy and treat that team like it's the Falcons, like I grew up rooting for them.
"But as far as the Falcons, Dan Quinn is a great guy. I saw him build that defense in Seattle, and I think he plans to do the same in Atlanta."
The Falcons already understand the type of quality player they would get in Beasley. Those most familiar with him would tell you he's equally a high-quality person.
An example of such occurred prior to Thursday's pro day at Clemson. Beasley lost his uncle to cancer and was back home in Adairsville, Georgia, for the funeral this week. He spent time with his family and left at 4 a.m. Thursday morning to get back to Clemson in time for a 7 a.m weigh-in session, carrying a heavy heart. Beasley kept his emotions in check as he cordially greeted scouts and coaches, then answered every question from the media.
"I'm just more proud of who he is as a man," Clemson coach Dabo Swinney said. "He's just a great person. He's a very serious, focused guy. He's very committed to being great, and when I say committed I'm talking about what he puts in his body and what he allows in his mind; how he trains in the weight room, how he studies the game. He's just fully committed.
"And off the field, you don't notice him. He's quiet, but he plays loud. He plays really loud. He's not a rah-rah guy. He's not a crowd guy. He's just a guy who's going to show up every day. ... Whoever gets him is going to get a guy that's going to handle himself like a pro from the day he gets there because that's how he is right now and has been that way."