December, 29, 2014
Dec 29
3:51
AM ET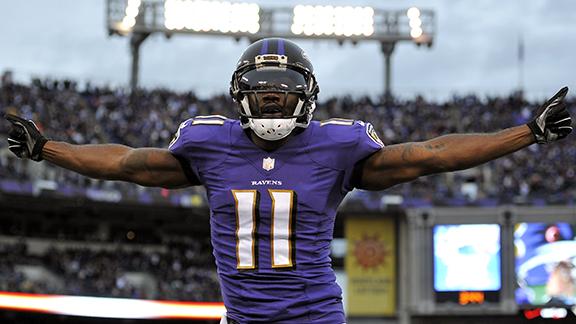 There are plenty of things to like about this year's AFC playoff field, especially if you love quarterback play. In a league driven more than ever by the pass, the AFC offers more compelling storylines than ever. The most obvious involves New England's Tom Brady and Denver's Peyton Manning. Their clashes have been must-see TV in the NFL over the past 14 seasons, and there will likely be another meeting before this postseason ends.
Along with Brady and Manning, Baltimore's Joe Flacco returns to the postseason -- he missed last year after winning MVP honors in Super Bowl XLVII. Pittsburgh's Ben Roethlisberger, who already has two Super Bowl rings, is back following a two-year absence by the Steelers. Indianapolis' Andrew Luck and Cincinnati's Andy Dalton both have made the playoffs every year since entering the NFL. They're also both trying to find a way to reach the AFC Championship Game.
But this year's AFC postseason won't be entirely about the quarterbacks. There are too many well-rounded teams for them to dominate the spotlight. Instead, it will be about who gets hot at the right time and, just as importantly, who can answer the questions that arise at this time of year.
Here are 10 of the most pressing issues worth discussing as the playoffs begin.
1. How worried should the Broncos be about Manning? Extremely. Despite his typically gaudy numbers -- 4,727 yards, 39 touchdowns, a 66.2 completion percentage -- Manning has been far from himself over the last month. He has thrown just three touchdown passes with six interceptions in his past four games. He threw for more than 300 yards only once in the past six games. Manning also saw his 51-game streak of tossing at least one touchdown pass end in a 24-17 win over Buffalo. The easy spin on this story is that Denver has become more balanced as running back C.J. Anderson
December, 29, 2014
Dec 29
2:20
AM ET
PITTSBURGH -- Three things to know about the
Pittsburgh Steelers
' 8:15 p.m. ET matchup Saturday against the
Baltimore Ravens
in an AFC wild-card game at Heinz Field:
1. The Le'Veon Bell watch:
The Steelers running back -- and team MVP -- left a 27-17 win over the
Cincinnati Bengals
on Sunday night with a hyperextended right knee. Bell did not do a whole lot in the Steelers' 43-23 win over the Ravens on Nov. 2, the last time the AFC North rivals met at Heinz Field. But Bell, who had 58 yards from scrimmage and a touchdown in that game, does not have experienced depth behind him.
Dri Archer
and
Josh Harris
, the only other running backs on the Steelers' 53-man roster, have 19 NFL carries between them.
2. Expect close game:
History strongly suggests the renewal of one of the NFL's fiercest rivalries will produce a tightly contested game, despite the fact the Ravens beat the Steelers by 20 points in Baltimore early in the season only to lose in Pittsburgh by the same margin almost two months later. The five games the teams played prior to this season were decided by a total of 14 points. The Steelers are 2-0 against the Ravens in playoff games at Heinz Field.
3. Big Ben on a roll:
Quarterback
Ben Roethlisberger
tied his Steelers record for touchdown passes in a season with 32. Six of those scoring passes came against the Ravens at Heinz Field, where he also threw for 240 yards. Roethlisberger threw for 317 yards and two touchdowns against the Bengals on Sunday night to share the NFL passing title with New Orleans'
Drew Brees
(4,952 yards).
December, 28, 2014
Dec 28
11:40
PM ET
Three things to know about Saturday night's
Baltimore Ravens
-
Pittsburgh Steelers
wild-card game at Heinz Field:

1. Focus on Big Ben:
With Steelers running back
Le'Veon Bell
hurting his right knee Sunday night, the Ravens will put all of their attention into slowing down quarterback
Ben Roethlisberger
. Of course, that's easier said than done with a Ravens' secondary that has started seven cornerbacks and four safeties this season. It was
nine weeks ago
when Roethlisberger ripped apart the depleted Ravens for six touchdowns, which surpassed his total in the previous five meetings with the Ravens (five touchdowns). In that game, the Ravens allowed touchdown passes of five, 19, 47, 54, 18 and 33 yards.
2. Protecting Joe Flacco:
There was little time for Flacco to throw in the previous meeting with the Steelers. He was sacked four times and hit a total of eight times. It's going to be a challenge for the Ravens to protect Flacco if they're without both starting tackles (
Eugene Monroe
was inactive Sunday with an ankle injury and
Rick Wagner
was placed on injured reserve last week). When Flacco has been sacked multiple times, the Ravens are 0-4 this season.
3. Winless at Heinz Field in postseason:
The Ravens have had success in Pittsburgh during the regular season, but it has been only heartbreak in the playoffs against their fiercest rival. Baltimore is 0-3 in the postseason against Pittsburgh, and all three losses have come at Heinz Field. The previous postseason meeting came four seasons ago, when Rashard Mendenhall's 2-yard touchdown with 1:33 remaining lifted the Steelers to a
31-24 win
in the divisional playoffs. In those three postseason losses, the Ravens have turned the ball over 11 times and forced only four Steelers turnovers.
December, 28, 2014
Dec 28
9:00
PM ET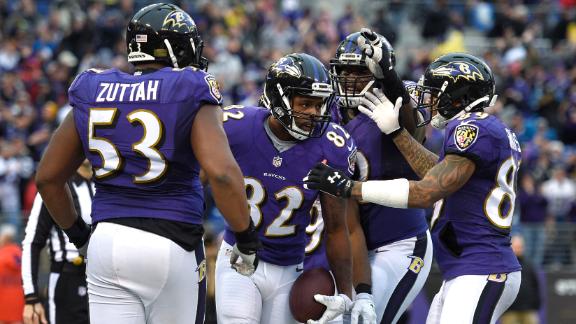 BALTIMORE -- The
Baltimore Ravens
were tied with the Cleveland Browns at halftime when something unusual happened just before the players left the locker room. Quarterback
Joe Flacco
spoke.
"Let's just go win the [expletive] game," he said.
It wasn't anything close to a Ray Lewis rant. It was, however, a powerful message from someone who rarely speaks up, which got the attention of everyone in the room and proved poignant in what became a near-flawless finish.
Letting loose in the fourth quarter, Flacco rallied the Ravens to a
20-10 comeback victory
over the Browns and guided them to a playoff berth for the sixth time in seven seasons.
With the season on the line -- and knowing a win would clinch a postseason berth with a
San Diego Chargers
loss -- Flacco delivered his most clutch performance of the year in completing eight of his final nine passes for 161 yards and two touchdowns. His passer rating in the final quarter was a perfect 158.3.
"When Joe is hot, he's tough to handle," wide receiver
Torrey Smith
said. "That's on us at times to get him hot and our offensive line to do a great job of protecting him. When you get him hot, we've seen what he can do."
The Ravens will play at the Pittsburgh Steelers in the first round of the playoffs on Saturday night, and how far they go ultimately rests on the strong arm of Flacco.
When Flacco is off his game -- as he was last week and for the first three quarters Sunday -- the Ravens are going to lose to fourth-string quarterback
Case Keenum
and trail undrafted rookie quarterback
Connor Shaw
.
When he is on target, Flacco can carry an offense that is missing both starting offensive tackles, lacking a No. 1 wide receiver and starting a journeyman running back.
The Ravens won a Super Bowl two years ago because Flacco delivered one of the best postseasons in NFL history. If they want to make a deep run, they will need Flacco to put this team on his back again.
"I'm not going to be surprised if, three weeks from now, we're sitting here and still playing," Flacco said. "I think when I say anything can happen -- or if I was to say that -- that's implying we don't deserve to win any games in the playoffs. Like I said, there's a reason there's six teams from each [conference] in the playoffs. We played a tough year, had a lot of ups and downs, but obviously enough ups to give us a chance to go win it, and that's what we're going to do."
The scary part for the Ravens is they don't know which Flacco will show up. It varies from week to week, quarter to quarter.
In the first three quarters Sunday, he mishandled two snaps and nearly had two passes picked in the end zone (Steve Smith broke up one interception). Then, when the scoreboard showed the Chargers were losing in the fourth quarter, it was like Flacco went from feeling the pressure of a must-win game to throwing the ball downfield as if he had nothing to lose.
The Ravens took a 13-10 lead in the fourth quarter, when Flacco hit Torrey Smith for a 53-yard pass and connected with him for a 16-yard touchdown one play later. It helped that the Browns only blitzed Flacco once in the fourth quarter after doing so 34 percent of the time in the first three quarters, according to ESPN Stats & Information.
Asked if the 21st game-winning drive of his career was the type of big moment that defines a quarterback, Flacco essentially shrugged his shoulders. "I have no idea," he said. "[If] we go win the Super Bowl, I guess it will be."
The Ravens have a shot at their second Vince Lombardi Trophy in three years because of Flacco. Not only did he speak up at halftime, but he backed up his words in a critical fourth quarter.
"You can't expect anything long from Joe, but the delivery was powerful," Smith said. "You all act like Joe is the most boring guy in the world. He has some fire to him."
The Ravens' postseason success depends on how long Joe Cool can remain hot.
December, 28, 2014
Dec 28
7:45
PM ET
The
Baltimore Ravens
will play their first-round game at either the
Pittsburgh Steelers
or
Cincinnati Bengals
.
The Ravens' path will officially go through one of their AFC North rivals after the
Denver Broncos
routed the
Oakland Raiders
. The Bengals play at the Steelers on Sunday night for the AFC North title.
"I'll probably be watching a little TV tonight," coach John Harbaugh said. "It'll be fun to watch. It's a lot more fun to watch TV after a win than it is after a loss."
The Ravens were winless at both Cincinnati and Pittsburgh this season. On Oct. 26, the Ravens lost to the Bengals, 27-24, at Paul Brown Stadium. A week later, the Ravens fell to the Steelers, 43-23, at Heinz Field.
December, 28, 2014
Dec 28
6:15
PM ET
BALTIMORE -- Observed and heard in the locker room after the
Baltimore Ravens
' 20-10 victory over the
Cleveland Browns
:
Joe Flacco understands the boos
: It's not often that a team fighting for a playoff berth hears boos from its home crowd in the regular-season finale. That's what happened at M&T Bank Stadium, where the crowd let its dissatisfaction known in the third quarter when the Ravens trailed 10-3.
Flacco
"It's the name of the game, man," Flacco said. "These guys want to be sitting on the couch having parties and cheering for us in a week. They don't want to be watching anybody else and everybody else playing and listening to their buddies talk about how good their team is. They want to watch the Ravens play. They want to watch the Ravens win. They want to root."
Flacco added, "So, when we're out there and we're not playing well, that's what happens. They want to see us do well, and believe me, we want to do well. We want to win the game. Like I said, it's just the name of the game, and whereas it's not great, it's just how it is. As football players, it's our job to not really worry about that and continue to play the game and do our best to have the outcome the way it was today."
Emotional rollercoaster
: The Ravens were devastated last Sunday when they lost in Houston and lost control of their playoff destiny. A week later, they were celebrating a come-from-behind win over the Browns and another trip to the postseason by outscoring the Browns 17-0 in the fourth quarter. "Just a crazy finish to a crazy season," tight end
Owen Daniels
said. "I'm not really good with emotions when it comes to football but you obviously go through a lot in a situation like this."
Ravens ready to welcome back Haloti Ngata
: With the Ravens getting into the playoffs, defensive tackle Haloti Ngata can play again, returning from a four-game suspension for violating the NFL's performance-enhancing drug policy. His return is more significant after his replacement,
Timmy Jernigan
, injured his left foot and didn't return. "It's great to get my brother back, to get one of the leaders of this team back," linebacker
Terrell Suggs
said. "That's huge for us."
December, 28, 2014
Dec 28
6:03
PM ET
December, 28, 2014
Dec 28
5:30
PM ET
Here are the
Baltimore Ravens
' home and away opponents for the 2015 season:
Home
:
Cincinnati Bengals
,
Cleveland Browns
,
Pittsburgh Steelers
,
Kansas City Chiefs
,
San Diego Chargers
,
St. Louis Rams
,
Seattle Seahawks
and
Jacksonville Jaguars
.
Away
: Cincinnati Bengals, Cleveland Browns, Pittsburgh Steelers,
Denver Broncos
,
Oakland Raiders
,
Arizona Cardinals
,
San Francisco 49ers
and
Miami Dolphins
.
The dates and times will be announced by the NFL in April.
December, 28, 2014
Dec 28
4:07
PM ET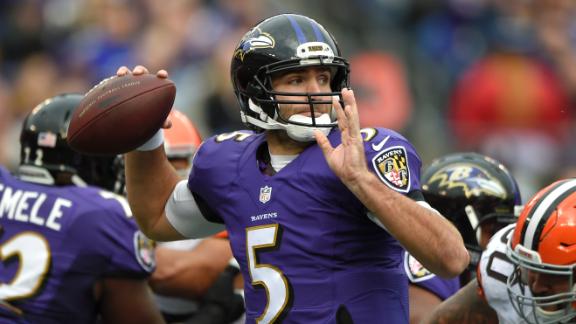 BALTIMORE -- A few thoughts on the
Baltimore Ravens
'
20-10 victory
Sunday against the
Cleveland Browns
at M&T Bank Stadium:

What it means:
The Ravens (10-6) had to sweat it out, but everything eventually fell into place for them to punch their ticket to the playoffs. They edged the Browns (7-9) in a tougher-than-expected game, and the
Kansas City Chiefs
beat the
San Diego Chargers
. The Ravens, who are the AFC's No. 6 seed, will play at the
Cincinnati Bengals
,
Pittsburgh Steelers
or
Denver Broncos
in the first round. Even though the Ravens struggled for most of the game, they did enough in the fourth quarter to earn a postseason berth for the sixth time in seven seasons.
Flacco flourishes in fourth quarter:
After three poor quarters, quarterback
Joe Flacco
carried the Ravens into the playoffs with a scintillating finish. In the fourth quarter, he completed 8 of 9 passes for 161 yards and two touchdowns. His passer rating in the fourth quarter was a perfect 158.3. Flacco set a career high with 27 touchdowns this season and fell 14 yards short of his first 4,000-yard season.
Defense remains stingy:
Outside of a 49-yard pass on a blown coverage (which set up the Browns' only touchdown), it was another stifling effort by the Ravens defense. The Ravens sacked undrafted rookie
Connor Shaw
four times and forced two turnovers. They have allowed only two touchdowns in the last 15 quarters.
Stock watch:
Rising -- wide receiver
Torrey Smith
. He turned around the game with two catches in the fourth quarter. His 53-yard catch put the Ravens in the red zone, and his 16-yard touchdown put the Ravens ahead 13-10. Smith has scored three of the Ravens' last four touchdowns.
Game ball:
Running back
Justin Forsett
. He was the Ravens' most valuable player by delivering a career year when Baltimore had a major void at running back after abruptly releasing Ray Rice. Forsett gained 119 yards against the Browns, which is significant. The Ravens are 7-0 when Forsett produces more than 70 yards in a game. His 17 runs over 20 yards this season set a team record.
What's next:
The Ravens will have to wait until tonight to find out where they are headed. As the No. 6 seed, the Ravens will play the Bengals, Steelers or Broncos in the first round.
December, 28, 2014
Dec 28
12:05
PM ET
December, 28, 2014
Dec 28
8:00
AM ET
BALTIMORE -- Here are three predictions that I guarantee (well, feel very strongly) will happen when the Baltimore Ravens (9-6) play host to the Cleveland Browns (7-8) at 1 p.m. ET Sunday at M&T Bank Stadium.

1. The Ravens won't reach the playoffs:
The Ravens will do their part in handling a Browns team without its top two quarterbacks (
Johnny Manziel
and Brian Hoyer) and No. 1 wide receiver (Josh Gordon). There's not as much confidence in the
Kansas City Chiefs
beating the San Diego Chargers, which also has to happen in order to get the Ravens into the postseason. With how
Philip Rivers
has been delivering these fourth-quarter comebacks, this feels like his year. If the Chargers win, the Ravens are eliminated from the playoffs.
2. The Ravens will gain over 130 yards rushing:
The Ravens have struggled to run the ball the past two games, but there are indications that they'll break that slump. The Browns have allowed an average of 167.1 yards on the ground in their eight losses, and the Ravens are averaging 130 yards rushing in their wins at home this season.
3. Defense will force multiple turnovers:
The Ravens have caused only 20 turnovers in 15 games, and only nine teams have forced fewer. But the Ravens are going against undrafted rookie Connor Shaw, who is making his first NFL start. Under coach John Harbaugh, the Ravens are 10-3 against rookie quarterbacks with 19 interceptions.
How did my predictions fare last game?
Prediction:
Torrey Smith
will catch a touchdown of at least 20 yards.
Result:
Correct. Smith scored a 20-yard touchdown with just under six minutes left, although it's not exactly what I was thinking. Instead of catching a deep pass, Smith took a quick pass from Flacco and ran it in.
Prediction:
Arian Foster
will end the Ravens' 100-yard rusher streak.
Result:
Wrong. Foster gained 96 yards, which allowed the Ravens to extend their streak to 25 games without giving up 100 yards to a running back. But Foster probably would've cracked 100 yards if he got a carry in the final 4:25.
Prediction:
Elvis Dumervil
records more sacks than J.J. Watt on Sunday.
Result:
Horribly wrong. The thinking here is the Ravens would have more success rattling
Case Keenum
, and it was the other way around. Watt frequently collided with
Joe Flacco
, recording one sack and four quarterback hits. Dumervil had one quarterback hit.
December, 27, 2014
Dec 27
1:52
PM ET
ESPN.com news services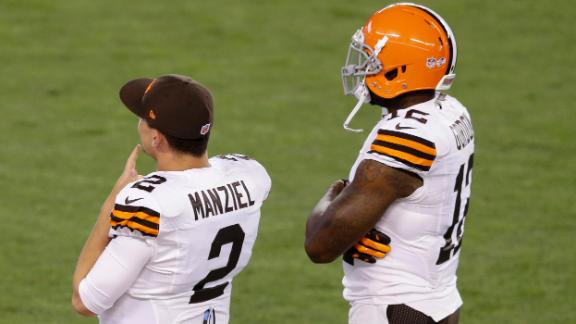 The Cleveland Browns have suspended wide receiver Josh Gordon for an unspecified violation of team rules one day before their season finale against the Baltimore Ravens.
The Browns announced the suspension in a release Saturday. Wide receiver Phil Bates has been promoted from the practice squad to replace Gordon on the active roster. The team later announced that Bates did not even make the trip to Baltimore and would not play on Sunday.
Both Gordon and rookie quarterback Johnny Manziel were absent from the Browns' walk-through Saturday morning, and the team had trouble locating them, a source close to the team told ESPN's Pat McManamon.
Gordon also was late getting onto the practice field Friday and emerged from the team's facility for the outdoor workout wearing teammate Travis Benjamin's jersey.
The Browns did not mention Manziel in their release, and Manziel made the trip to Baltimore with the team, a source told ESPN's Jeremy Fowler. Manziel was placed on injured reserve after suffering a hamstring injury in last week's loss to Carolina.
Manziel had to be present for either the walk-through or, since he was on injured reserve, treatment for his injured hamstring. When he did not show for either, the team had to search for him. Browns security on Saturday morning visited Manziel's home in Cleveland to check on the rookie quarterback about his treatment, sources told ESPN.