September, 21, 2014
Sep 21
10:35
PM ET
PROVIDENCE, R.I. -- While forward Reilly Smith remains unsigned, the Boston Bruins have a "Help Wanted" sign for the right-wing position on the team's second line.
At some point, Smith will sign but after the team's Black and Gold scrimmage Sunday night at the Dunkin' Donuts Center, Bruins general manager Peter Chiarelli had no update on negotiations with Smith or fellow entry-level free agent defenseman Torey Krug.
Boston's second line of Smith, Patrice Bergeron and left winger Brad Marchand was the one unit coach Claude Julien planned on keeping intact this season. Without Smith in the mix, the Bruins are giving Seth Griffith an opportunity to prove what he can do.
[+] Enlarge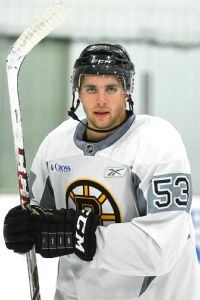 Cal Sport Media via AP ImagesAfter posting 20 goals and 30 assists in 69 games with Providence last season, Seth Griffith held his own on a line with Patrice Bergeron and Brad Marchand.
So far, he's been solid.
The 21-year-old forward is only in his second pro season. He impressed during his first season with the Providence Bruins, posting 20 goals and 30 assists for 50 points in 69 games during 2013-14.
Griffith played well during the recent national rookie tournament in Nashville, and he's continued that trend during main camp. Chiarelli has been impressed that Griffith has been able to keep up with Bergeron and Marchand, both of whom, as the GM described, are playing better now than they have in training camps past.
"Bergy and Marchy are a half step ahead of where they've been before," Chiarelli said. "They're playing well, so it's about keeping up with those two. It's about getting them pucks the right way and it's about shooting, and Griff can do all that stuff. He's had a really good year [in Providence] for his first year as a pro last year."
Chiarelli compared Griffith's play last season with the P-Bruins to the play of Marchand and David Krejci when they first turned pro and played in the AHL.
"Griff had a really good year," Chiarelli said. "He makes good plays. He makes smart plays. He doesn't have to hang onto the puck a lot, which Marchy and Bergy, they like to move in small spaces, and Griff does that. Three days in and I thought he's acquitted himself well tonight. He made some good little plays and I thought he was fine."
During Sunday's scrimmage, Griffith never looked out of place.
"He's definitely a smart player and makes the right plays out there. He wants to learn and that's definitely a great sign," Bergeron said. "He's definitely showing some great things out there."
Marchand concurs.
"He's a good player, really smart," Marchand said. "He's very skilled and you can see that every time he has the puck. He sees the ice well and he's a really good player."
Keeping up with the veteran forwards hasn't been a problem for Griffith in the early going of training camp.
"I think it's just a matter of getting used to playing with one another and it's always like that when you start with a new linemate," Bergeron said. "It's about finding the tendencies of one another. Me and Marchy, we have that going on for ourselves, but it's about making sure the three of us find that together."
Boston selected Griffith as its third pick (131st overall) in the 2012 draft. At 5-foot-9, 192 pounds, he's shown a keen hockey sense and completely understands his opportunity.
"It's pretty surreal playing with those two guys," Griffith said. "They can make plays every shift and that's the kind of stuff I like to do as well, so playing with them is just pretty surreal and hopefully I can make some plays with them.
"Obviously they have some confidence in me to put me with them during training camp, so hopefully I can continue to show them what they have and get a little chemistry going with them and show them I can make the next jump."
There are four forward positions up for grabs during training camp and Griffith has an chance to earn one of them. Regardless of when Smith returns to the team, Griffith quickly has made a name for himself; it's only a matter of time before he'll have the opportunity to become a full-timer in the NHL.
"He's had a good camp so far," Julien said. "I've seen him in Providence [last season] and he's got some good skill, can shoot the puck well and he's got good hockey sense too. He can make great plays and when you look at who he's playing with, that certainly helps as well. He's off to a good start."