Draft profile: Lance Stephenson
June, 23, 2010
6/23/10
10:55
AM ET
The ninth in a series of profiles of players that might be of interest to the Boston Celtics during Thursday's NBA Draft:
Lance Stephenson could be a reach at No. 19, but the Celtics will have to consider him if they hone in on a shooter with the top pick. Questions about his mental makeup may have hurt his stock, but it's unlikely a possible attitude issue will detour Boston from taking the best player available. In a locker room full of personalities and egos, he might just fit right in.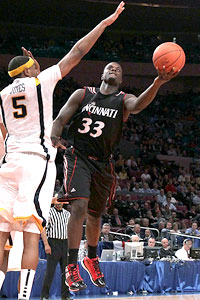 Jim McIsaac/Getty Images
From ESPN's Player Evaluation:
Projection:
Late first to early second
Positives:
Big, physical guard ... Terrific scorer ... Great midrange game ... Powerful finisher at the basket
Negative:
Has a terrible reputation for being selfish ... Not an elite athlete ... Lacks deep range on his jump shot ... Questionable shot selection
Ford's analysis:
Stephenson continues to impress NBA teams after a strong combine. "As far as guys who just know how to play, he's it," one NBA scout said. "He's going to be great in 'iso' situations in the league. If all the red flags about him weren't there, I'm pretty sure this kid's a lottery pick. He's going to tempt a lot of people."
Forsberg's take:
Stephenson is floating under the radar in the second tier of shooting guards, somewhere at the end of a list that includes previously profiled players like Jordan Crawford, Avery Bradley and James Anderson. But he's got nice size and can flat-out score. As we mentioned with other players labeled "selfish," that's not necessarily a bad thing for a rookie scorer coming to Boston. Stephenson, a high school phenom from Brooklyn, seems to be able to create for himself and teammates, but could be the pure shooting guard the Green seek off the bench.
Click
HERE
to view all previous draft profiles.
PODCASTS
Paul Solotaroff, NFL
Play Podcast Men's Journal's Paul Solotaroff weighs in on the characterization of Richard Sherman, the relationship between Sherman and Patrick Peterson and expectations for Darrelle Revis.
Baseball Tonight - Dominant Pitching
Play Podcast Adnan Virk talks to Tim Kurkjian about dominant pitching performances and the search for the next commissioner. Plus, Arash Madani on if the Blue Jays can make the playoffs.
Greg Cosell, NFL
Play Podcast NFL Films' Greg Cosell weighs in on whether the Browns should start Brian Hoyer or Johnny Manziel, the Jets' QB situation, Ryan Mallett's abilities and Robert Griffin III's development.