Give Shaq a new nickname!
August, 4, 2010
8/04/10
9:25
AM ET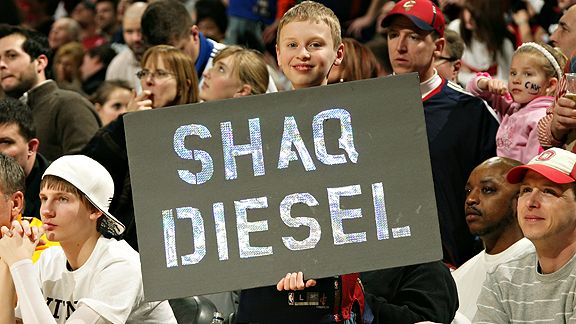 David Liam Kyle/NBAE/Getty ImagesShaq needs a new nickname in Boston.
Yes, Shaquille O'Neal has officially joined the Celtics, so it's time to start thinking of a new nickname for the enigmatic big man. In the past, Shaq has been dubbed The Big Aristotle, The Diesel and The Big Shaqtus (in Phoenix) among others. Let's welcome him to Boston by coming up with a new moniker: The Big Leprechaun? The Big Shamrock? The Green Giant?
Shaq has even asked for your help, posting the following message to his Twitter followers:
"hello green town. ok what u got 4 nicknames? make um good"
Post your suggestions in the comments section of this blog entry and vote for your favorite in the survey below.
PODCASTS
Peter King, NFL
Play Podcast Sports Illustrated's Peter King weighs in on the Patriots' offensive line, the outlook for New England, Jim Harbaugh's relationship with his team and the Cowboys' success.
Opening Rant, 9/30
Play Podcast Colin Cowherd shares his thoughts on the state of the Patriots, New England's offense and Brady Hoke's future at Michigan.
First Take
Play Podcast Skip Bayless & Stephen A. Smith debate if the Patriots dynasty is over, if the 49ers have stopped listen to Jim Harbaugh and more. Plus, they make their World Series predictions.