Breaking down Green's 43-point night
March, 19, 2013
3/19/13
12:13
AM ET
By
ESPN Stats & Information
From our friends at ESPN Stats and Info: Jeff Green finished with 43 points, seven rebounds, four blocks, two steals, and two assists in defeat for the Celtics on Monday night.
Over the past five seasons, only two other players have reached all of these levels in a game: Dwyane Wade (2009 against the Knicks) and LeBron James (2010 against the Nuggets).
And only one player has done the 43-7-4 combo against the Heat -- Hakeem Olajuwon in 1989.
Green's 43 points are the second-most scored against the Heat by a player in a game over the last three seasons. The only player with more was Paul Millsap, who had 46 for the Utah Jazz in 2010.
One other note: A player has scored at least 31 points against the Heat nine times this season. That player's team is 0-9 in those games.
A graphic look at Jeff Green's 43-point night: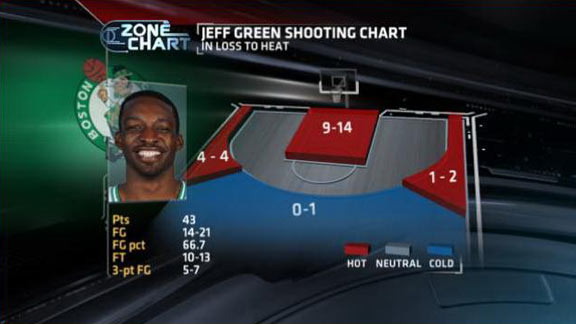 ESPN
PODCASTS
Adam Schefter, NFL
Play Podcast ESPN NFL Insider Adam Schefter weighs in on the Panthers' WR situation, Julian Edelman's future with the Patriots, Vince Wilfork's decision to ask for his release and more.
Spanning the Globe: 3/13
Play Podcast "Spanning the Globe" features ESPN Boston's Mike Reiss, Yahoo! Sports' Eric Edholm and ESPN LA 710's Mark Willard.
John Farrell, Red Sox
Play Podcast Red Sox manager John Farrell talks about whether he expected his team to make such a turnaround in one season, his relationship with his players, fans' expectations for the squad and more.