C's uncertainty deeper than Doc
June, 12, 2013
6/12/13
8:35
PM ET
BOSTON -- In what appears to be a standoff to prevent a drastic roster overhaul, Boston Celtics coach Doc Rivers seemingly has pushed all of his chips to the center of the table and challenged president of basketball operations Danny Ainge to call his bluff.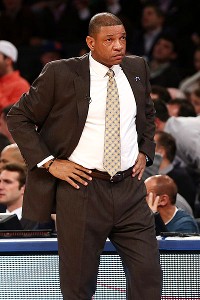 Debby Wong/USA TODAY SportsIf Doc Rivers leaves, everything changes for Boston.
What happens next could leave the Celtics looking radically different moving forward.
For much of the past five weeks, Boston fans have been able to dismiss the idea of Rivers walking away as overhyped speculation. His indecision easily could be chalked up to a coach who has readily admitted to being "pretty much unlivable" during the season and annually needs an offseason detox to rekindle his desire.
May be time for a change.
That's what a source told ESPN that Rivers believes as he remains publicly noncommittal about spending a 10th season on the Boston bench.
Are the Celtics and Rivers breaking up? If Ainge holds firm to a desire to reshape a team that he strongly suggested is not championship caliber (and seemingly has little flexibility to become so this offseason), then a divorce that would have far-ranging collateral damage could loom.
Without Rivers, there is no Kevin Garnett. Without Garnett, there is no Paul Pierce. Without a veteran core, there'd be reason to explore trading Rajon Rondo, particularly if management determined that he's not a building block for the future. In essence, the Celtics could be completely stripped in order to be rebuilt.
New coach, new core, new start.
Hop
HERE
to read the full story.
PODCASTS
Bill Simmons, NBA
Play Podcast Grantland's Bill Simmons discusses the state of the Lakers, Phil Jackson's future, the perception of Rajon Rondo, Doc Rivers' impact on the Clippers and more.
Baseball Tonight
Play Podcast Buster Olney chats with Jayson Stark about Ken Griffey Jr.'s uncomfortable interview with Linda Cohn and the value of spring training. Plus, Mike DiGiovanna on the Angels and Derrick Goold on Matt Carpenter's negotiations with the Cardinals.
John Farrell, Red Sox
Play Podcast Red Sox manager John Farrell talks about whether he expected his team to make such a turnaround in one season, his relationship with his players, fans' expectations for the squad and more.