Smith thinks Stevens will thrive
July, 7, 2013
7/07/13
6:15
PM ET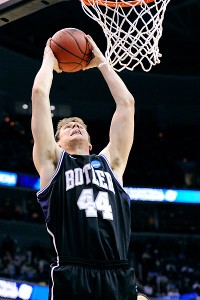 AP Photo/Nick WassAndrew Smith played for Celtics coach Brad Stevens at Butler.
ORLANDO -- Add Andrew Smith to the growing list of former Butler players who are certain Brad Stevens will thrive at the NBA level.
Smith, at the Orlando Summer League this week competing for the Oklahoma City Thunder's entry, gushed Sunday about Stevens' coaching talents and believes he will thrive at the next level, particularly dealing with professional players.
"I think he'll be great [with the players]," said Smith. "That's one of his best [attributes]: Dealing with different situations. It might take him a little bit of time to get adjusted -- college is a lot different than the NBA -- but with a talent like him, it's only a matter of time before he's able to figure it out."
Smith moved to Zionsville, Ind. in his early teens and said it was Stevens -- even before delivering Butler deep into the NCAA tournament -- that left the 6-foot-11 center looking for a walk-on opportunity with the Bulldogs. He crafted a relationship with Stevens, who began following Smith on the AAU circuit, and ultimately led to a scholarship opportunity.
Smith said he was always certain that Stevens' loyalty to the Butler program would make the NBA his only logical destination.
"I thought that would be his next step," said Smith. "I didn't think he would ever leave Butler for another school. He was pretty committed to us and I know he's had a couple of opportunities to go to some pretty big schools and turned them down. So I thought the NBA would be the only thing he would move on for."
Smith, who played on the two Butler teams that advanced to the NCAA title game, admitted the news that Stevens was departing still came as a surprise, but stressed that players understood the opportunity that awaited in Boston.
"I've talked to all the guys on the team, they said that locker room meeting was pretty emotional," said Smith. "A situation like that is tough, but we're all excited for him. We know this is a pretty unique opportunity and he'd be pretty foolish to pass it up."
PODCASTS
Adam Schefter, NFL
Play Podcast ESPN NFL Insider Adam Schefter weighs in on the Panthers' WR situation, Julian Edelman's future with the Patriots, Vince Wilfork's decision to ask for his release and more.
Spanning the Globe: 3/13
Play Podcast "Spanning the Globe" features ESPN Boston's Mike Reiss, Yahoo! Sports' Eric Edholm and ESPN LA 710's Mark Willard.
John Farrell, Red Sox
Play Podcast Red Sox manager John Farrell talks about whether he expected his team to make such a turnaround in one season, his relationship with his players, fans' expectations for the squad and more.