Rapid Reaction: C's out of limelight
August, 6, 2013
8/06/13
9:35
PM ET
The NBA schedule makers offered their take on the new-look
Boston Celtics
with an
82-game schedule
that opens north of the border, features minimal national exposure and gives the Green coal on Christmas Day, hammering home the notion that this is viewed as a team in transition.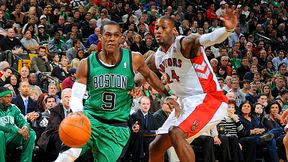 Brian Babineau/NBAE/Getty ImagesOpening night: Celtics at Raptors.
The Celtics open the 2013-14 season by visiting the
Toronto Raptors
(a team that won 34 games a year ago) on Oct. 30, then come to TD Garden for their home opener against the
Milwaukee Bucks
(a team that won 38 games a year ago) on Nov. 1. That's a departure from the usual glitzy opening-night dance with
LeBron James
that has seemed to greet each new season in recent years.
A handful of thoughts on the schedule and games that we have circled on Boston's upcoming slate:
*
HOME FOR CHRISTMAS
: Christmas Day might be the NBA's biggest stage and the Green were a familiar presence on that day during the Big Three era. This year? The Celtics get a five-day holiday break (and don't have the usual immediate post-Christmas trek out west). Boston is off from Dec. 23-27 before a Saturday matinee against the visiting Cavaliers on Dec. 28.
*
THE RETURN OF KG, PIERCE
: There's that pesky exhibition game on Oct. 23, but the first honest-to-goodness visit from the
Brooklyn Nets
-- and old friends
Kevin Garnett
and
Paul Pierce
-- happens on Jan. 26. It's a Sunday night (6:30 p.m.) matchup on ESPN and one of the few times the Celtics will find themselves in a national spotlight (it's also the Super Bowl bye week). The other Celtics-Nets meetings: Dec. 10 and March 21 in Brooklyn; March 7 in Boston.
*
DOC'S RETURN
: Speaking of that Dec. 10 meeting -- the first regular-season game between the Celtics and Nets -- it's followed the very next night by Doc Rivers' return to Boston as the Clippers invade TD Garden on Dec. 11. After being freed from his contract to coach the Clippers, it will be interesting to see the reaction Rivers gets after a decorated decade in Boston. The Celtics visit Rivers and the Clippers out west on Jan. 8.
*
THE RIVALRY
: Regardless of the status of the Celtics and Lakers, those two matchups always get circled. The Lakers visit TD Garden on Jan. 17 and the Celtics invade the Staples Center on Feb. 21. That's part of the ever-strenuous trade deadline trip (a four-game trek from Phoenix to LA to Sacramento to Utah from Feb. 19-Feb. 24).
*
THE OTHER (DIMINISHED) RIVALRY
: The Celtics and Heat -- last year's marquee opening-night matchup -- gets lackluster treatment this season. Boston visits Miami for a Saturday night tilt on Nov. 9, then treks there again on Jan. 21. The Heat make their only Boston visit on March 19.
*
THE BACK-TO-BACKS
: Boston plays ... oh wait, that's not such an issue any more with a bunch of 20-somethings on the roster. The Celtics still have plenty of them (20), including a whopping six in November as those young legs get an early workout. The Celtics do have a lot of daunting road closes to those back-to-backs, which make them a bit more daunting.
*
STEVENS IN INDY
: New coach Brad Stevens returns to his native Indianapolis for the first time on Dec. 22 for a matchup with the Pacers. Boston returns there on March 11.
*
THE NATIONALS
: Boston does not have a TNT game on its schedule. The national TV schedule at the moment features three ESPN games (Dec. 6 vs. Denver; Jan. 26 vs. Brooklyn; Feb. 21 vs. Lakers) and three NBA TV tilts (Dec. 16 vs. Minnesota; Feb. 9 vs. Dallas; March 9 vs. Detroit).
*
TICKET INFO
: For those interested in Celtics home games: Individual game tickets for the 2013-14 season will go on sale Sept. 5. Game plans go on sale Wednesday and include some of the most popular visiting opponents.
PODCASTS
Baseball Tonight
Play Podcast Buster Olney chats with Jayson Stark about Ken Griffey Jr.'s uncomfortable interview with Linda Cohn and the value of spring training. Plus, Mike DiGiovanna on the Angels and Derrick Goold on Matt Carpenter's negotiations with the Cardinals.
John Farrell, Red Sox
Play Podcast Red Sox manager John Farrell talks about whether he expected his team to make such a turnaround in one season, his relationship with his players, fans' expectations for the squad and more.