Summer Forecast: Early end in sight
August, 15, 2013
8/15/13
8:00
PM ET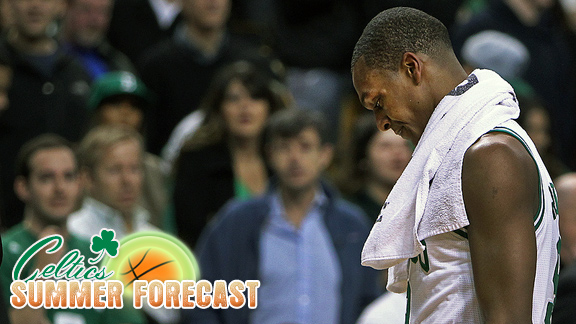 Jim Davis/The Boston Globe/Getty ImagesHow will the 2013-14 season end for Rajon Rondo and the Celtics?
Each weekday for a three-week span, our summer panel of prognosticators -- a motley crew featuring our friends in the Celtics blogging community -- will join forces to tell you how the 2013-14 season will play out for Boston. We'll gaze into our crystal balls and attempt to answer all your questions before this year's team even hits the floor together for the first time. Today's Celtics Summer Forecast topic:
Predicting how the 2013-14 season will end
.
In past years, this exercise was reserved for trying to predict how far Boston would march in the postseason. This year? It's a bit redundant with our regular-season record prediction to start the series because most of our prognosticators believe the Celtics will miss the playoffs for the first time in seven years.
In fact, only one member of our summer panel had Boston even sneaking into the playoffs (hey, the East
is
weak), while the majority pegged the Celtics to land toward the back of the pack in the conference. A couple others believe it's straight to Tankville for Boston, projecting the Celtics to end up with a top pick in next year's draft.
My best guess?
The Celtics will be competitive at times next season and finish somewhere in spots 9-12 in the East
. There's enough remaining talent in Boston -- particularly in that young nucleus of
Rajon Rondo
,
Jeff Green
,
Avery Bradley
and
Jared Sullinger
-- that the Celtics will scrap their way toward 30 wins. But Rondo's uncertainty for the start of the season, a first-year head coach, and a brutal November schedule lead me to believe that this team will endure many of its lumps early, then make some strides later in the year.
The question, of course, is whether it's prudent to gun for as many losses as possible to better Boston's draft standing. There's a notion that, if you're going to lose games, lose a whole bunch of them. But I do believe there's something to be said for finishing the year strong. If Rondo can get healthy, if Brad Stevens can get his feet wet and install his system, and if the Celtics can determine the players who will serve as building blocks, then that might benefit them more than shuffling a pick or two higher if they string together some wins later in the year.
---
Jay Ouellette, Red's Army (Tankville, bottom three in East)
I wouldn't necessarily classify it as "Tankville" because I don't think they'll need to actively tank to lose. It's not an attack on the team, it's just the reality of
everything we talked about on Wednesday
. My guess is that Rondo will be held out for at least the first brutal (and game-heavy) month of November, and the record will take care of itself.
---
Jeff Clark, CelticsBlog (Competitive, 9-12 in East)
Rondo & Co. are too good to be terrible, but something tells me that
Danny Ainge
will make a move or two during the year that "positions them better for the future" ... at the expense of this year's record. Tanking isn't allowed for the players or coaches, but the front office has longer-term goals to keep in mind.
---
Mike Dyer, Celtics Life (Competitive, 9-12 in East)

In my "NBA summer power rankings" column I actually had the Celtics finishing 9th in the East, although that is much more to do with the complete trash that the bottom of the East has to offer than it does with anything the Celtics have done this offseason. The East has 5 teams well above the rest of the field in Miami, Indiana, Brooklyn, Chicago and New York, and then the Pistons and Cavs look like pretty good bets to make the playoffs. But after that? Sheesh. I like what the Wizards have done and give them an edge to grab the eight seed, but them, the Celtics, Atlanta, Toronto and Milwaukee are all in the same boat as bad teams with enough talent to stay pseudo-competitive. The bottom of the East is going to be interesting as teams find themselves deciding between making a run at the final playoff spot and making a run at Andrew Wiggins as the trade deadline approaches.
---
Jon Duke, Celtics Stuff Live (Competitive, 9-12 in East)
The Celtics will be destined for Tankville were it not for a late season run, but that won't be enough to knock them out of a Top 6 pick. Though the media and fans will be calling the team's early season struggles a Tank job, in fact schedule and adjustment to a new coach will be causes for the dismal start. Despite the Tankville calls in the early seas, it will be late season criticism of those hoping for a Tank job which will draw the most attention. They'll end up wondering why this team is ruining its shot at Andrew Wiggins.
---
Matt Rury, CLNS Radio (Competitive, 9-12 in East)
Looking at the East as a whole I think the conference has improved, but that doesn't mean the Celtics don't have the talent to compete with a handful of other teams. Cleveland will be better and there is a lot of talk about the
Washington Wizards
, who I expect the Celtics to be better than. I also think the Celtics will be better than their Atlantic Division rival in Canada as well as the stripped down
Milwaukee Bucks
. Boston will miss the playoffs by a hair and Cleveland grabs the 8th spot.
---
Blasts from our bench
*
Michael Pina, CelticsHub (Tankville, Bottom three in East)
: If everybody on the payroll is 100 percent healthy, this team isn't that bad. They aren't good enough to make the playoffs, but they're talented enough to compete for the last spot. Fortunately, Boston's front office is smart enough to bungle the operation if things get a little too competitive. If players like Brandon Bass, Courtney Lee, or Kris Humphries are producing above their heads, Danny Ainge won't hesitate to ship them out of town.
*
John Karalis, Red's Army (Competitive, 9-12 in East)
: I think the East will have some DOGS. Boston will be better than Philly, Charlotte, and probably Orlando. I think they can be better than Toronto. That puts them at 11th. From there, it's a matter of who's playing well at the right time. They could go as high as 10th.
*
KWAPT, Red's Army (Early playoff exit)
: Boston is going to scrap, fight and claw its way to 30-plus wins, but will be ushered out of the playoffs in the first round again this year, I'm afraid.
---
Your Turn
: We hope you join the conversation. Vote in our poll and sound off in the comments with your prediction for how you believe the 2013-14 season will end. Hop
HERE
to read the full Summer Forecast series.
---
(Chris Forsberg can be reached at espnforsberg@gmail.com or on Twitter @ESPNForsberg. Hop HERE to submit a question for his Celtics Mailbag.)