Green means go time
September, 26, 2013
Sep 26
10:05
PM ET
Two circles join together to form the digit "8" that Jeff Green wears on the back of his Boston Celtics jersey. But the way Courtney Lee sees it, those circles have multiplied and nested this offseason, taking on a different appearance.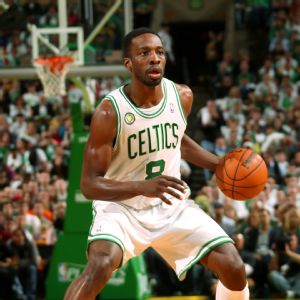 Nathaniel S. Butler/NGetty ImagesJeff Green feels ready to assume a starring role.
"The target is on Jeff's back," said Lee. "Last year, we had [Kevin Garnett], Paul [Pierce] and you knew those guys were going to be the go-to guys. And you had [Rajon] Rondo who was going to make the play. Jeff is that guy that came along and just showed everybody what he's capable of doing. Now, I think everybody in the NBA knows that now, so he's going to have a big target on his back."
And, unlike last season, there's no Garnett or Pierce -- both off to Brooklyn as part of Boston's roster overhaul this summer. At the start of the season, there's unlikely to be any Rondo, either, as he completes his rehab from ACL surgery in February.
No, it's just the much-scrutinized Green leading a young Celtics team and trying to prove that his late-season emergence last season wasn't an aberration.
"Talking with him, I think he's up for that challenge," said Lee.
By now you know the story with Green: For his first 5½ seasons in the league, his per-36 numbers were staggeringly static, to the point where his very vocal pundits wondered if there was another level to his game. His critics dubbed him a complementary player, the sort who excelled only when he had the likes of Kevin Durant or Pierce ahead of him on the depth chart.
After being somewhat unremarkable for the first half of his first season back from heart surgery, Green found another gear and finished the 2012-13 season with a flourish.
There was a March outburst highlighted by a big effort against the Heat; a couple of game winners in Indy and Cleveland (the latter in front of his heart surgeon, no less); and then an excellent playoff showing against the Knicks in which he shouldered much of Boston's offensive load (leading the team at 20.3 points per game).
The debate this summer has hinged on whether Green is capable now of stepping into a starring role for new-look Boston, or if that late-season glimpse was simply a career outlier.
(
Read full post
)
PODCASTS
Jeff Saturday, NFL
Play Podcast ESPN NFL analyst Jeff Saturday dishes on what Peyton Manning is like, Patriots-Ravens, the Cowboys' game management during the Packers' comeback and more.
Ron Jaworski, NFL
Play Podcast ESPN NFL analyst Ron Jaworski weighs in on Packers-Cowboys, the scrutiny of Tony Romo, Marc Trestman's decision to start Jay Cutler, Patriots-Dolphins, the Chiefs' offense and more.
Cris Carter, NFL
Play Podcast ESPN NFL analyst Cris Carter covers the criticism of Tony Romo after the Cowboys' loss to the Packers, the Giants' struggles, Tom Coughlin's future in New York, the state of the AFC and more.