Video: SC conversation with Stevens
October, 23, 2013
10/23/13
12:05
PM ET
Boston Celtics coach Brad Stevens sat down with ESPN basketball insider Jeff Goodman to talk about the label of being a "college coach," acclimating to the city of Boston, and supporting the World Series-bound Red Sox. They also talk about his relationship with point guard Rajon Rondo.
"Rondo and I have a lot of similarities in some of the things that we want to see as far as our team getting better, as far as guys getting better, as far as how he can best impact guys," said Stevens, noting he shares books, videos, and other tidbits with Rondo that stress the process and being great every single day.
"I told [Rondo] the other day in my office that he has a chance -- you know, there are some great Celtics leaders of all-time -- and this is a unique opportunity for him to be in that mix down the road. He is our clear-cut leader, he is our clear-cut best player, and this is a great opportunity for him. I think he's really anxious about that challenge."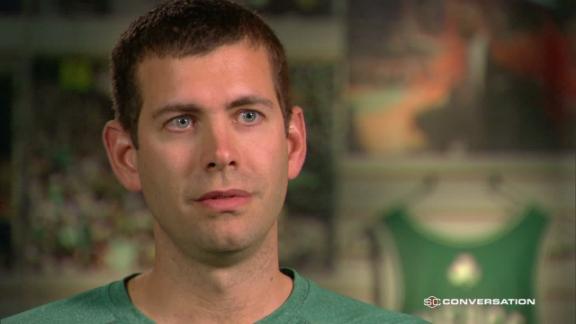 PODCASTS
Paul Solotaroff, NFL
Play Podcast Men's Journal's Paul Solotaroff weighs in on the characterization of Richard Sherman, the relationship between Sherman and Patrick Peterson and expectations for Darrelle Revis.
Baseball Tonight - Dominant Pitching
Play Podcast Adnan Virk talks to Tim Kurkjian about dominant pitching performances and the search for the next commissioner. Plus, Arash Madani on if the Blue Jays can make the playoffs.
Greg Cosell, NFL
Play Podcast NFL Films' Greg Cosell weighs in on whether the Browns should start Brian Hoyer or Johnny Manziel, the Jets' QB situation, Ryan Mallett's abilities and Robert Griffin III's development.