January, 31, 2015
Jan 31
5:00
AM ET
Before the
New England Patriots
play a game, we will attempt to predict the team's inactive players.
Our best guess for Super Bowl XLIX:
Boyce
WR Josh Boyce
-- Second-year player was promoted from the practice squad before the season finale and will look to make his mark in 2015.
OL Jordan Devey
-- Of the Patriots' nine linemen, Devey is closest to No. 9. This could be a game where the Patriots dress eight offensive linemen (instead of seven) to account for
Bryan Stork
's knee injury and
Cameron Fleming
's value as a sixth blocker up front in the power package.
RB Jonas Gray
-- This was the toughest call of the week and came down to Gray vs. cornerback
Malcolm Butler
. With this projection of keeping eight offensive linemen on the roster, something has to give. The Patriots seem to have more confidence in LeGarrette Blount at this time.
DE Zach Moore
-- The sixth-round draft choice out of Concordia shows promise for the future.
Tyms
WR Brian Tyms
-- It's a bit risky entering the game with just three receivers, but the Patriots did it in the AFC title game and spots on the 46-man roster are at a premium.
DT Joe Vellano
-- Promoted from the practice squad prior to the AFC title game, he filled in and played well for injured
Chris Jones
(elbow), who we project to return for the Super Bowl.
RB James White
-- The rookie was active for just three games this season, and the Patriots are well-stocked at running back with
Shane Vereen
,
LeGarrette Blount
, Gray, and
Brandon Bolden
.
ACCOUNTABILITY CHECK:
A 6-for-7 effort
, as defensive tackle Chris Jones (elbow) was the only miss.
January, 30, 2015
Jan 30
9:50
PM ET
TEMPE, Ariz. -- The following is the pool report from the
New England Patriots
' practice on Friday, via reporter Jarrett Bell:
The New England Patriots concluded their practice preparations for Super Bowl XLIX on Friday, with coach Bill Belichick sensing that his team had accomplished its mission with three practices at the
Arizona Cardinals
' training facility.
Belichick has determined that he will cancel plans to conduct a walk-through session on Saturday.
"We're just going to meet, take a team picture," Belichick said of the Saturday itinerary after putting his team through a light, soggy practice on Friday.
[+] Enlarge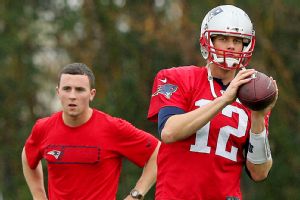 Elsa/Getty ImagesThe Patriots practiced in the rain Friday before deciding to cancel their Saturday walkthrough.
"This is it," Belichick added. "Practice-wise, we're done. We're as ready as we're going to be."
It won't mark the first time the Patriots don't have a walk-through on the day before the Super Bowl. That was also the case before their last Super Bowl appearance, four years ago in Indianapolis.
"We'll just meet in the morning, take the team picture and that's it," Belichick said.
The meetings and picture will take place at the team's hotel in Chandler.
Despite intermittent rain showers, Belichick had the Patriots practice outdoors for about an hour -- excluding a 28-minute "halftime" break -- rather than move the session to an indoor bubble.
"I thought about going inside," Belichick said, "but not for long."
In Belichick's mind, the wet weather in typically dry Arizona provided a bonus of increasing difficulty.
"Make it tougher in practice than it will be in the game," Belichick said.
One key player, though, caught a break. All-pro cornerback
Darrelle Revis
watched the bulk of team drills from the sideline, which Belichick said was not due to an injury.
"We backed a lot of guys off," Belichick said. "He took a lot of reps yesterday and Wednesday."
Asked if there are any injury concerns that have popped up, Belichick responded, "No. We're all good to go."
The Patriots devoted significant time on the kicking game with half-speed, noncontact reps on Friday. As on the previous days this week, the team ran a fair number of plays with the offensive and defensive units working in a variety of situations against scout teams.
As was the case all week, Patriots chairman and CEO Robert Kraft was joined by a couple of his sons and grandsons at practice, including Patriots president Jonathan Kraft and Dan Kraft.
About halfway through the practice, the players left the field and returned to the locker room. They returned about a half-hour later, which mimicked the extended, 28-minute halftime during the Super Bowl that is more than twice as long as the typical 12-minute NFL halftime.
"We've done it before," Belichick said of the simulation.
Belichick said he's pleased by his team's mental state as the Super Bowl looms.
"These guys have worked hard," he said. "I think they're ready to go. We're playing a good team, so we're going to have to play well."
Final preparations before Sunday will include settling on the script of plays for the offense.
"We've talked about a lot of things over the course of the week," Belichick said. "Now we've got to boil it down to the most important thing -- the plays that we're going to start the game with, the way we want to start the game, so they can really focus on that. We've got a lot of plays in the game plan. But we can only call so many to start the game. So it's, 'Here's the ones we're going to call. Let's see if we can get them right.'"
January, 30, 2015
Jan 30
8:00
PM ET
PHOENIX --
New England Patriots
owner Robert Kraft's absence from NFL commissioner Roger Goodell's
annual Super Bowl news conference
was noted in this space, in part because Kraft publicly expressed his displeasure with the league's handling of the investigation into underinflated footballs as it relates to leaks in the media. Kraft is usually in attendance at Goodell's news conference.
I've learned more about Kraft's absence.
Kraft decided to stay back with the Patriots, who had a team meeting scheduled at that time Friday. Kraft also went to practice after the team meeting.
Kraft's decision to forgo Goodell's news conference reflects how he is approaching this Super Bowl experience, looking to maximize the time with his players and coaches.
January, 30, 2015
Jan 30
7:15
PM ET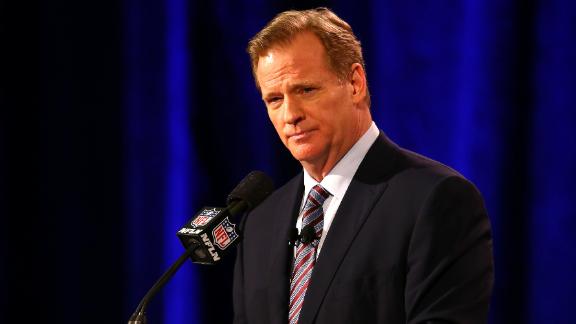 PHOENIX -- Moments after NFL commissioner Roger Goodell completed his annual Super Bowl press conference, ESPN analyst Bill Polian cut to a crucial flaw in the presentation.
"Everyone wanted to hear about domestic violence," Polian said. "Everyone wanted to hear about Deflategate. Everyone wanted to hear about the major issues that have affected the league outside of the normal realm of the game. And he led off with the extra point!"
Indeed, Goodell mentioned the ongoing discussion about the length and difficulty of extra points before referencing any specifics about an ongoing investigation into the integrity of the AFC Championship Game. We have plenty of coverage on what Goodell did say about the
New England Patriots
' deflation issue, so let's consider his ill-placed but still notable remarks on other issues -- starting with the basic definition of a "conflict of interest."
1. Perception vs. reality
Goodell bristled at two questions in particular.
[+] Enlarge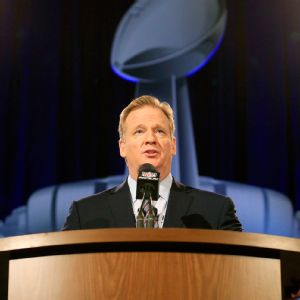 Cliff Hawkins/Getty ImagesRoger Goodell hit on many key points during his press conference on Friday, but the timing of some of them was a bit curious.
One referenced the league's hiring of outside attorneys it pays to provide independent investigations. (Former FBI director Robert Mueller, who investigated the league's response to the Ray Rice domestic violence matter, worked at the same law firm as
Baltimore Ravens
president Dick Cass.) The other question referred to his attendance at a party hosted by Patriots owner Robert Kraft the night before the AFC Championship Game shenanigans.
Goodell's response was, in essence, that no conflict of interest existed because the people involved all have "uncompromising integrity." That might be true, but that isn't the full point of a conflict of interest. It's not simply whether impropriety occurred as a result of an interconnected relationship. It's whether the relationship creates the perception that an impropriety could occur.
Did Mueller take it easy on the NFL given his firm's relationship with Cass? Will investigator Ted Wells exonerate the Patriots because Goodell partied with Kraft a couple weeks ago? Unlikely. Is it possible to conceive? Of course.
No matter what might or might not have happened, Goodell would be well served to step away from anything that could provide even the appearance of a conflict. His defiance remains a hurdle in publicly moving past the issues of this season.
2. That troublesome extra point
Goodell:
"Fans want every play to have suspense. But the extra point has become virtually automatic. We have experimented with alternatives to make it a more competitive play and we expect to advance these ideas through the competition committee this offseason."
Seifert:
NFL place-kickers converted 99.3 percent of their extra-point attempts in 2014 (1,222 of 1,230), a year after hitting 99.6 percent. The league experimented by moving the kick back to 33 yards during the preseason and then narrowed the goal posts for the Pro Bowl. It seems likely the league will push some form of a change through its competition committee in the coming months.
3. Expanded playoffs
Goodell:
"The possibility of expanding the playoffs has also been a topic of discussion for a number of years. There are positives to it, but there are concerns as well, among them being the risk of diluting the regular season and conflicting with college football in January."
Seifert:
This change has seemed certain for the better part of a year, and Goodell said recently he expected a vote during the league's owners meeting in March. The "concerns" Goodell mentioned Friday represented at least a tapping of the brakes. A cynic would say Goodell was acknowledging objections simply to placate outnumbered opponents.
4. Officiating changes
Goodell: "
We are looking at other ways to advance replay and officiating. That includes potentially expanding replay to penalties if it can be done without more disruption to the face of the game. We are discussing rotating members of the officiating crews during the season as a way to improve consistency throughout our regular season and benefit our crews in the postseason."
Seifert:
Vice president of officiating Dean Blandino said Thursday that multiple teams have already submitted proposals to expand replay in various ways. It seems unlikely the league will allow all plays to be reviewed, as the Patriots proposed last year, but a slower expansion is a realistic possibility.
Rotating officials, meanwhile, might help dissipate the penalty disparities among crews
that we have documented for the past two seasons
. It would also devalue the chemistry and familiarity that season-long crews develop.
5. Over-the-top telecast
Goodell:
"We are aggressively pursuing the streaming of a regular-season game with our first over-the-top telecast. It would be carried on broadcast stations in both team markets, but also reach a worldwide audience, including millions of homes that don't have traditional television service."
Seifert:
At the moment, this is a win-win for everyone. All games would remain available over-the-air while the NFL and its chosen partner experiment with streaming. Some day, of course, the NFL could offer some games exclusively via streaming, most likely at a cost to consumers.
January, 30, 2015
Jan 30
7:15
PM ET
PHOENIX --
New England Patriots
starting center
Bryan Stork
, who injured his right knee in the divisional-round win over the
Baltimore Ravens
, is officially listed as questionable for Super Bowl XLIX.
Stork
A questionable designation gives a player a 50-50 chance to play.
Stork is the only player whose status is at that level. Defensive end
Akeem Ayers
(knee), quarterback
Tom Brady
(ankle), linebacker
Dont'a Hightower
(shoulder), defensive tackle
Chris Jones
(elbow) and defensive tackle
Sealver Siliga
(foot) are listed as probable. A probable designation reflects a virtual certainty that the player will be available.
One other note from the Patriots' participation report Friday: Cornerback
Darrelle Revis
was limited for non-injury reasons, with rest in mind.
January, 30, 2015
Jan 30
6:50
PM ET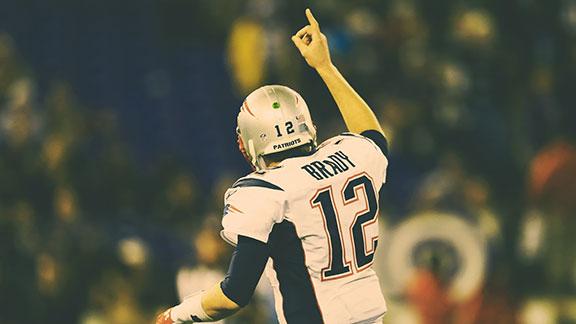 PHOENIX -- If Tom Brady and the New England Patriots beat the Seattle Seahawks on Sunday in Super Bowl XLIX, Brady will match Joe Montana and former Pittsburgh Steelers quarterback Terry Bradshaw's mark of four championships, reigniting the debate over Brady's legacy and his rightful place in football history.
Brady leads the parade of most career playoff wins (20), with Montana (16), Bradshaw (14) and Elway (14) rounding out the top four. He and coach Bill Belichick have combined to post the highest winning percentage as a coach and quarterback since the 1970 merger with a 160-47 mark (.773). Former Oakland QB Kenny Stabler and coach John Madden are second at 60-19-1 (.756). Everyone has their own idea about what criteria should be used to determine excellence. Bradshaw's Steelers won their four championships in six years (1975-80). Montana won his four over a nine-year span.
If Brady and Belichick win Sunday, the gap between their first Super Bowl triumph and this one would be 14 years. It is a remarkable run of sustainability and consistency provided by an invested owner, a single-minded coach and a franchise player who have remained entrenched in their belief that the Patriot Way works.
No wonder that 848 miles away in Texas, the San Antonio Spurs, the gold standard of consistency in professional basketball, watch closely as the Patriots approach another potential championship. New England's football team has long been the topic of discussion internally in the Spurs' offices as a franchise that mirrors their own.
January, 30, 2015
Jan 30
3:45
PM ET
PHOENIX – NFL commissioner Roger Goodell held his annual Super Bowl news conference and here are the takeaways as it relates to the league's investigation into
New England Patriots
underinflated footballs used in the AFC Championship Game:
Kraft not present.
It caught my attention that Robert Kraft, one of the league's most influential owners, was not in attendance. Kraft was believed to have another obligation, but one follow-up question from this perspective is: What could be more important than the once-a-year "state of the NFL" news conference when you're already in town? Kraft had called out the NFL on Monday as the Patriots arrived at Super Bowl XLIX and it would be easy to connect the dots that perhaps his lack of attendance was tied to that. But for context, ESPN's Sal Paolantonio noted that there weren't many owners in attendance (maybe a half-dozen). Kraft, who hasn't always attended, is most often on hand for this address.
[+] Enlarge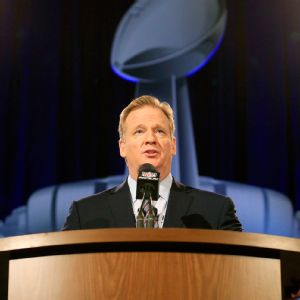 Cliff Hawkins/Getty ImagesRoger Goodell said he admires Robert Kraft but won't do anything to 'compromise the integrity of the league.'
No knowledge of past in-game testing.
Asked if the NFL has tested the air pressure in footballs during a game in the past, and how important that is as a frame of reference in the ongoing investigation, Goodell said he didn't know the answer and that attorney Ted Wells will look into that as part of the investigation. From our viewpoint, this answer warrants scrutiny based on the magnitude of the NFL's investigation and the media firestorm it has created. How could Goodell not know?
Response to Kraft's remarks.
When asked about Kraft's remarks requesting an apology from the NFL if it couldn't find conclusive evidence that footballs were tampered with, Goodell responded by saying he is simply doing his job. "This is my responsibility, to protect the integrity of the game, I represent 32 teams," he said. "All of us want to make sure that the rules are being followed and if we have any information that potentially those rules were violated, I have to pursue that; I have to pursue that aggressively."
Two areas in focus
. Goodell narrowed the focus of the investigation to two areas: 1) Why were some footballs used in the game that were not in compliance with the rules; 2) Was that a result of deliberate action? Later, Goodell said, "Whether a competitive advantage is actually gained or not is secondary, in my mind, to whether that rule was violated. That's the integrity of our game. When those rules are violated, we will take that seriously."
No judgments made
. Goodell said, "I want to emphasize, we have made no judgments on these points and we will not compromise the investigation by engaging in speculation." Goodell did not address leaks to reporters, nor was he asked by those selected by public relations staffers in the news conference.
Goodell's ties to Kraft
. Asked how he responds to remarks from Seahawks cornerback
Richard Sherman
about his close ties to Kraft and how Sherman
doesn't think the Patriots will face discipline
, Goodell explained how his presence at Kraft's home before the AFC Championship Game was tied to an event with sponsors and how it's something he does on a regular basis. He also pointed out that he works closely with most owners, pointing out that Kraft's involvement on the broadcast and finance committees naturally links them. "I also admire him, respect, and think very highly of him on a personal level," he said. "There's no hiding from that standpoint. He knows me and that I'm not going to do anything to compromise the integrity of the league. I think he has no doubt that I'll do the right thing for the NFL." We are left to wonder how much Kraft's confidence in Goodell, based on this investigation, has been affected.