October, 25, 2014
Oct 25
5:00
AM ET
FOXBOROUGH, Mass. --
New England Patriots
rookie quarterback
Jimmy Garoppolo
has proved to be a quick study on the field. That extends to off the field as well.
One example came this week when Garoppolo, who grew up in Arlington Heights, Illinois, was asked his favorite team growing up as part of the weekly "football journey" series.
"Is this a setup?" a smiling Garoppolo asked in the days leading up to Sunday's game against the
Chicago Bears
.
No setup, Jimmy, just a standard question as part of the "football journey."
And with that Garoppolo laughed and talked about his love for the Bears growing up, how he admired the hard-charging running of Anthony "A-Train" Thomas and experienced heartbreak when Chicago lost to the Colts in Super Bowl XLI.
"Devin Hester returning that opening kickoff [was a top memory], and then it was all downhill from there," he recalled. "That was a heck of a year to be a [Bears] fan."
But at the same time, Garoppolo wanted to make something clear -- his allegiances have fully shifted to his current team.
And with that, he shares his "football journey" as part of our weekly feature:
[+] Enlarge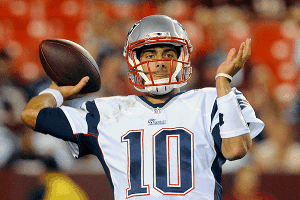 AP Photo/Richard LipskiDespite being a Bears fan as a kid, Jimmy Garoppolo's favorite player growing up was Brett Favre.
When he first started playing football:
"Fifth grade. My two older brothers played. My parents wouldn't let us play until we got big enough. We were soccer kids growing up, and once we got to fifth grade, we were allowed to play."
First positions:
"A little bit of everything really. I was linebacker, tight end, receiver, running back. When I was younger, I was mainly running back and tight end."
Favorite players growing up:
"It sounds weird but I always liked Brett Favre, even though he was on the Packers."
Role models growing up:
"My parents [Tony and Denise] definitely. Seeing what they went through, having four kids, always busy running from game to game. Then my two older brothers obviously. Just being number three of four, you look up to them and want to do what they did."
Top football memories at Rolling Meadows High:
"Definitely winning conference. Sophomore year, I got moved up and we were No. 1 in the state and everything. Senior year we won conference again. It's just being with all your friends; I think that's the coolest thing about high school. You grew up with all these guys since you were little and you play with them."
Why he chose to attend Eastern Illinois:
"Eastern, Illinois State and Montana State all gave me scholarships. Bigger schools wanted me to walk on but I didn't want to do that. I went with Eastern, which was a great opportunity to play because their quarterback had just graduated. I went on a visit and fell in love with it."
Top memories at Eastern Illinois:
"The whole last two years were just unbelievable. Freshman and sophomore year were fun. We struggled on the field, but those last two years we really became a team. Those were some great memories."
One game that stands out:
"When we beat Illinois State my senior year, it was a pretty good whipping (57-24). They were our in-state rival and we don't like each other very much."
When he knew the NFL might be possible:
"Probably around sophomore year. My quarterback coach at the time, Coach [Roy] Wittke, was getting it in my head. I had progressed a lot from freshman to sophomore year, and he gave me the idea. He told me if I kept progressing the way I was, good things would happen."
Reaction to being selected by the Patriots in the 2014 second round (62nd overall):
"Stunned. That is how it would have been anywhere, but to come to such a good organization, looking up to a great guy in front of me right now, it's picture perfect."
Life as a Patriot:
"Busy, especially as a rookie. There is not much off time. But this is what you love to do and I wouldn't have it any other way. I wouldn't want to work a job or anything; this doesn't feel like work to me. I go out and enjoy it every day."
[+] Enlarge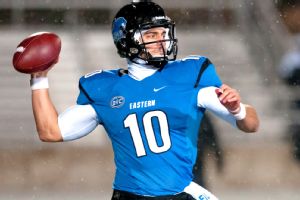 Bradley Leeb/USA TODAY SportsAfter his senior season at Eastern Illinois, Jimmy Garoppolo won the Walter Payton Award, given to the top FCS player.
Transitioning from Football Championship Subdivision to the NFL:
"People are going to make a big deal out of it; I knew that as soon as I started getting into the draft talk and all that stuff. Going to the two All-Star Games -- the East-West and the Senior Bowl -- really helped clarify some things. It's a different level, that's for sure, but once you break it down, players are players, we're all the same age coming out together, all talented."
What he prides himself on as a football player:
"Just being the hardest-working guy. I want to go out there and bust my butt every day and get after it. You don't want to have any regrets at the end of the day."
What he loves about the game of football:
"Everything. Being with the guys and building these relationships that you'll have forever. It's a very unique job, not many people get to do it, so you might as well enjoy it while you're doing it."
Highs and lows in football:
"Hopefully the highest point hasn't come yet. Lowest point? I don't know if there was one. We had a couple rough years at Eastern the first two years. Other than that, it's football. You get to go out there and work hard, grind with the guys, and enjoy every second of it."
Summing up his football journey:
"Unbelievable. If you told me in fifth grade that all of this was going to happen, I don't know if I would have believed you. I was a baseball kid growing up, I thought that was what I was going to do. Things worked out and I became a quarterback junior year. I wouldn't have it any other way."