November, 20, 2014
Nov 20
5:55
PM ET
BOSTON -- While free-agent pitcher
Jon Lester
was in Atlanta on Thursday, listening to the
Atlanta Braves
make their pitch, free-agent third baseman
Pablo Sandoval
was still waiting to receive an offer from the
Boston Red Sox
, according to his brother and co-agent, Michael Sandoval.
[+] Enlarge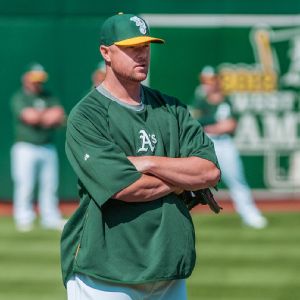 Ed Szczepanski/USA TODAY Sports With the Braves pushing for Jon Lester, the only apparent certainty is he won't return to Oakland.
The Braves, like the Red Sox, have prioritized starting pitching for an upgrade. Earlier this week, they traded star outfielder
Jason Heyward
to the
St. Louis Cardinals
for right-hander
Shelby Miller
(the best man in Sox pitcher
Joe Kelly
's wedding) and top pitching prospect Tyrell Jenkins.
Their interest in Lester, a major league source said, goes beyond cursory inquiry. They scouted Lester extensively before the trading deadline (along with reliever
Andrew Miller
) and came away impressed not only with his stuff and performance, but his leadership qualities. He also comes without draft-pick compensation, which adds to his appeal.
Lester maintains his offseason home in suburban Atlanta, another potential selling point for the Braves.
Lester already had met with the Red Sox and
Chicago Cubs
, with the Sox making an offer for six years in the $110 million to $120 million range, according to the Boston Globe, with columnist Dan Shaughnessy citing a source who was in the room when the offer was made. That offer has not been confirmed, although the most notable component of the offer is Boston's evident willingness to offer six years, making Lester an exception to the Sox's reluctance to offer contracts of that length to players past the age of 30.
The salary amount offered, if accurate, would seem to fall well below market projections. For example,
Max Scherzer
turned down a six-year, $144 million offer from Detroit in spring training, while ESPN.com's Jim Bowden has projected a six-year, $138 million deal and the website MLBtraderumors.com, in a posting Thursday, predicted a six-year, $158 million deal for the left-hander.
[+] Enlarge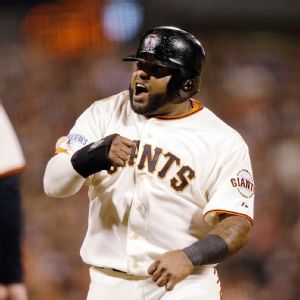 Ezra Shaw/Getty ImagesPablo Sandoval could pick the team he will play for before Thanksgiving.
Still, it doesn't add up that the Sox would lowball Lester again (they offered a four-year, $70 million package that was rejected in March). That would hardly represent a face-saving move for an organization already widely criticized for not making a deal with Lester before he hit free agency. A more plausible explanation is that the Sox signaled to Lester and his agents, Seth and Sam Levinson, that they were open to negotiating the dollar figure, with the six-year offer buying them a seat at the table while both sides gather additional information on where the market is headed.
Seth Levinson on Wednesday said that the Sox had shown "great respect to Jon." Given the pitcher's declaration that he would like to return to Boston, that would suggest further dialogue is likely.
Sandoval, meanwhile, arrived in Boston on Monday night, had dinner with
David Ortiz
, according to a club source, then met with Sox officials on Tuesday before leaving the next day. Sandoval was told to expect an offer from the Red Sox, his brother Michael said, but as of Thursday afternoon the third baseman had not yet received it.
Meanwhile, San Francisco Chronicle reporter Henry Schulman, who covers the Giants, said he spoke with Giants assistant GM
Bobby Evans
on Thursday, and Evans told him that Sandoval had asked the Giants to submit their best offer, which suggests a decision could come soon. Sandoval, 28, is expected to get at least a match to the five-year, $90 million deal the Giants gave outfielder
Hunter Pence
, though agent Gustavo Vasquez has said the player is looking for a six-year deal, which would suggest a deal of at least $100 million.
Evans said he believes the Giants were "right in the middle" of the bidding for Sandoval, and that the player's strong ties to San Francisco could still work in their favor.
"I think the interest is sincere," Evans told the Chronicle. "I think Pablo loves this fan base as much as any player loves a fan base and that could go a long way."