October, 18, 2014
Oct 18
11:30
PM ET
BOSTON -- Beyond introductions when he first arrived, I had not spoken with
Boston Red Sox
outfielder/first baseman
Allen Craig
, other than in a group, until the early September night in New York when he struck out four times against the Yankees.
He was on his way out when I stopped him in the middle of the clubhouse. He had every right to brush me off and might have been inclined to do so, but instead he hung in there for a few brief responses after what had to be one of his most disheartening nights in the big leagues.
[+] Enlarge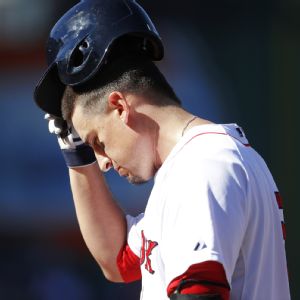 AP Photo/Steven SenneAllen Craig had a rough go of it in 2014, especially after he got traded to the Red Sox.
I thought of that night after the last game of the season, when I stopped by Craig's locker and asked if he was happy to close the book on 2014 -- by far the worst season of his career.
"I don't know if those are the right words for it," he said. "I didn't go into the year thinking it would be like this. Sometimes things just turn out not how you want them to, and you just have to deal with it. That's kind of where I'm at."
Based on his .128 average in 29 games played for the Sox after they acquired him and pitcher
Joe Kelly
in a deadline deal with St. Louis for
John Lackey
, Craig would seem to have a tenuous place at best in Boston's future plans.
But that would be ignore that Craig finished seventh in the National League batting race in 2012 with a .307 average, was eighth with a .315 average in 2013 and hit a remarkable .454 with runners in scoring position for a Cardinals team that went to the World Series in '13.
It also doesn't take into account that both the player and team insist the Lisfranc fracture in his left foot, which hobbled him this past fall and wrecked his offseason workout regimen the past winter, does not require further attention, or that Craig is signed to an extremely team-friendly contract that pays him $25.5 million over the next three years, with a club option of $13 million in 2018.
Maybe it's unclear now, with the Sox outfield as crowded as it is and first base and designated hitter both spoken for in 2015, but Craig might yet be regarded as something more than a poor return for Lackey. He is still only 30, and with
Mike Napoli
's ongoing health issues and
David Ortiz
turning 39, the Sox have reason to not dispose of Craig's bat too readily.
Craig has consistently refused to blame his foot injury for his subpar performance in '14, which started well before his arrival in Boston, as he batted just .237 in 97 games for the Cardinals. But it's a "huge positive," he said, that he won't have to address the foot medically this winter.
"I feel that this will be the first time in a little while I haven't had an offseason dealing with something," he said.
"I've been extremely lucky to be part of very good teams the last few years. I've had some injuries and battled and continued to battle this year. The numbers aren't where I would like them to be, obviously, but I know I'm a better player than that. I still know what I'm capable of, and [I'm] glad to have this offseason to do what I need to do.
"I've always been able to hit. I've been productive in my time in the big leagues and have gone deep into the playoffs. I definitely have that to fall back on. Every year is a new year. I learned a lot this year from my struggles and know what I have to do."
[+] Enlarge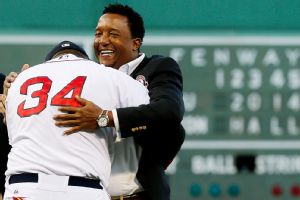 Jim Rogash/Getty ImagesWill David Ortiz, set to try his hand at broadcasting, be able to match Pedro Martinez's gift for gab?
•
Pedro at the mike
The star of the 2014 postseason? That's easy, according to Matthew Leach on SportsonEarth.com, who said he'll miss Pedro Martinez on TBS now that the World Series is switching over to Fox Sports.
"Pedro is as good as it gets in the broadcast booth, much as he was as good as it gets on the mound,"
Leach raved
. "As funny and honest as Charles Barkley, as insightful as Cris Collinsworth, as accomplished in his playing career as Shaquille O'Neal, Pedro is practically the perfect broadcaster.
"I would like to be as good at one thing in my life as Pedro is at his second career -- a career, by the way, which he practices in his second language. He is, simply, must-watch."
Possibly in hopes of something like that Martinez magic, FOX is adding David Ortiz to its Series coverage. Big Papi, who will be making his broadcast debut, will be on the pregame and postgame shows starting Tuesday night.
Ortiz with a live mike also invites some anticipation, as noted by @PollyfromBoston when she tweeted:
@Bagodonuts76 @GordonEdes Yeah, they may regret it when he says, "This is our f*cking World Series show." LOL #BigPapi

— Paulette Darcey (@PollyfromBoston) October 16, 2014
•
Plotting the future
Don't miss Kiley McDaniel's exhaustive and illuminating breakdown of the Sox farm system
on FanGraphs
. McDaniel ranks left-hander Edwin Rodriguez as the second best prospect in the system, which might ease the sting for Sox fans lamenting the departure of
Andrew Miller
, given his phenomenal postseason run with the Orioles. Rodriguez was the pitcher the Sox received from Baltimore in exchange for Miller.
McDaniel writes of Rodriguez:
"Rodriguez was a projection lefty with inconsistent but above average stuff his whole career; he sat 90-93 and would hit 95 mph with a slider and changeup that would both flash above average at times. A couple months into the season, the projectable lefty's velocity spiked, sitting 93-96 mph with his slider and changeup both flashing plus. The slider and changeup never flashed plus in the same game, but the changeup got higher peak grades (one scout put a 70 on it), so both of those pitch grades could be conservative."
Adds FanGraphs editor Dave Cameron: "The Red Sox have been on a roller coaster over the last few years, sandwiching two last-place finishes around a World Series title. From here, though, 2015 looks like it should bring a strong rebound, as the team has positioned themselves to be hyper-aggressive in player acquisition this winter. Their significant financial resources, combined with an enviable depth of valuable trade chips, give the Red Sox the ability to add multiple impact pieces this winter.
"With most of the roster projecting to improve on mediocre 2014 performances, adding in a few more established stars should be enough to return the Red Sox to the top of the hill, and as long as they don't overreact to the struggles of a few key young players, they should maintain a strong base of talent to build around for the foreseeable future."