November, 25, 2014
Nov 25
2:34
PM ET
The Red Sox rolled out the red carpet -- and the panda paraphernalia -- for
Pablo Sandoval's introduction at Fenway Park
on Tuesday afternoon.
The team welcomed the man (and third baseman) known as Kung Fu Panda with a message on the Fenway JumboTron, a locker with a panda poster, and the ultimate photo op: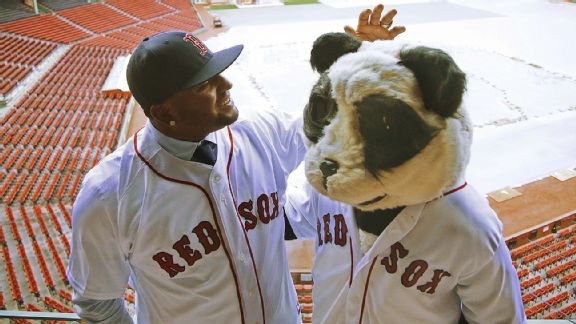 AP Photo/Stephan Savoia
At his introductory news conference, Sandoval was (of course) asked whether he would keep his moniker even though he switched teams. His answer was a marketer's dream:
"Ben [Cherington] knew when he signed me it's a two-for-one deal," he said with a smile. "The Panda is with me. He came to Boston."
The scene at Fenway pic.twitter.com/tADejhqGhu

— Kyle Brasseur (@KyleBrasseur) November 25, 2014
New addition to the clubhouse =<. Yup, this locker works. Welcome @KFP48! pic.twitter.com/NbyAJPAdix

— Boston Red Sox (@RedSox) November 25, 2014
November, 25, 2014
Nov 25
11:47
AM ET
BOSTON --
Boston Red Sox
fans are crying foul over an innocuous tweet that the team acknowledges was ill-timed.
The Red Sox tweeted: "So how was everyone's Monday?" The tweet went out a minute after a Missouri prosecutor announced a grand jury decided not to indict a white Ferguson police officer in the death of Michael Brown, an unarmed black 18-year-old.
Hundreds of people pounced, accusing the Sox of being out of touch with a seminal national event.
The franchise deleted the tweet immediately. On Tuesday, Red Sox spokeswoman Zineb Curran said the team's "hearts go out to all who are suffering."
Earlier this month, the New England Patriots apologized after sending out a tweet that thanked a follower with a racist Twitter handle.
November, 25, 2014
Nov 25
12:46
PM ET
ESPN.com news services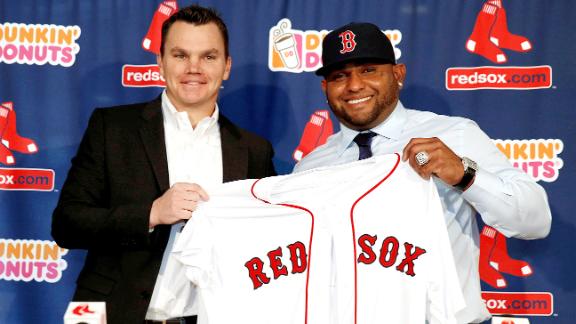 The Red Sox have finalized their contract with Pablo Sandoval, one of two big signings aimed at boosting Boston's offense after a last-place finish in the AL East.
Sandoval's five-year deal is worth $95 million and includes a sixth-year club option worth $17 million, with a $5 million buyout, a source told ESPNBoston.com's Gordon Edes.
Sandoval was introduced Tuesday at a news conference at Fenway Park, where the switch-hitting third baseman was joined by Red Sox general manager Ben Cherington and president/CEO Larry Lucchino.
"Pablo was a primary target of ours to start the offseason," Cherington said. "He really embodies a lot of what we care about."
The Red Sox also are expected to hold a news conference later Tuesday to unveil free-agent acquisition Hanley Ramirez, who agreed to a deal with Boston on Monday, a source confirmed to Edes.
The moves give the Red Sox a potent batting order that includes two of the past three World Series MVPs, Sandoval and David Ortiz.
"I'm going to enjoy this ballpark," Sandoval said. "It was one of the things I was thinking about in my decision."
Sandoval, who helped the Giants win three World Series championships in the past five years, reportedly chose Boston's offer over those from San Francisco and the San Diego Padres.
"It was a tough decision for me," Sandoval said. "The Giants gave me the opportunity to be in the big leagues."
November, 24, 2014
Nov 24
10:09
PM ET
While the Red Sox will introduce Hanley Ramirez and Pablo Sandoval at a press conference Tuesday at 1 p.m., David Ortiz sent out a tweet Monday night welcoming the pair to Red Sox Nation:
Welcome to #RedSoxNation @HanleyRamirez @KFP48.....bout to give pitcher nightmares!!!! pic.twitter.com/nVmpMlvyyH

— David Ortiz (@davidortiz) November 25, 2014
And Sandoval himself checked in on his future teammate on Instagram:
November, 24, 2014
Nov 24
8:10
PM ET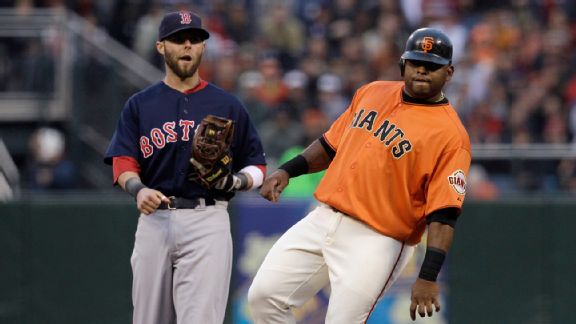 AP Photo/Jeff ChiuPablo Sandoval will be joining Dustin Pedroia this coming season in Boston.
The
Boston Red Sox
produced all these position-player prospects, and the moment most of them were ready for the majors they have now gone and signed two of the best free-agent position players on the market,
Hanley Ramirez
and now
Pablo Sandoval
. I'm not even sure it's a bad move, but it is awfully strange.
Too much
coverage of Sandoval
focuses on his weight, when his skill set, while uncommon today, makes him a valuable player most of the time. He has great bat speed and plate coverage, rarely striking out and using the whole field well, just not hitting for the power we expect from most third basemen. He's an average to slightly above-average third baseman, with fringy range but good hands and a plus arm.
The difference between him and a star-caliber player
November, 24, 2014
Nov 24
8:38
PM ET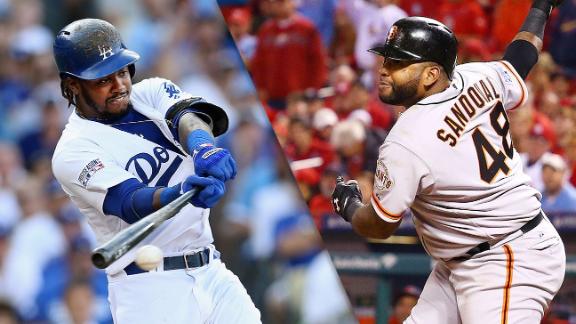 BOSTON -- Mere months after insisting they were cut from a more modest cloth, the Boston Red Sox are back in the potentate business. Turns out they really weren't Sam's Club kind of guys, after all. What's the point of owning an American Express black card unless you use it?
One-hundred-ten million dollars over five years (including a vesting option) for Hanley Ramirez, even though he's turning 31, will most likely be playing an unfamiliar position -- left field -- and has been on the disabled list five times since the start of the 2011 season. One hundred million or so over five years for Pablo Sandoval, a 28-year-old switch-hitting third baseman with a quick bat and glove, deft feet and an expandable waistband sewn into his uniform pants.
That was just the loose change in John W. Henry's left pocket. Still tucked away in Henry's back pocket is a blank check for ace free-agent pitcher Jon Lester, still the object of the Red Sox's most fervent desire even if it means blowing through the luxury-tax threshold, plus a forget-me-not card from elite reliever Andrew Miller, whom the Sox believe will give them the courtesy of last call before he signs anywhere else.
The good news is that by most measures, Ramirez and Sandoval represent the most prolific bats on the free-agent market and should do wonders for an offense that scored 219 fewer runs in 2014 than it did when winning the World Series in 2013.
November, 24, 2014
Nov 24
7:52
PM ET
By
Mark Simon, ESPN Stats & Information
AP Photo/Alan Diaz
Pablo Sandoval is adept enough to blow bubbles and field ground balls at the same time.
Disregard the girth when it comes to making judgments about
Pablo Sandoval
's defense.
Sandoval may match up size-wise with
David Ortiz
, but he's shown himself to be more than capable of playing a creditable third base.
Sandoval ranked among the top three third basemen in defensive runs saved about midway through last season. He dipped a bit in the last two months, finishing with four defensive runs saved in 2014, meaning he was a slightly above-average third baseman.
Presuming Sandoval isn't out of shape heading into spring training, you'll notice a definite difference between how he mans the position compared to
Will Middlebrooks
(-13 Defensive Runs Saved in 154 games at third base over the last two seasons).
"He came into spring training in better condition and that brings out his athleticism," said Giants bench coach Ron Wotus when we talked to him at length about Sandoval in July. "Pablo is someone who has always worked extremely hard on his defense and he pays a lot of attention to detail. He's very athletic for his body type. He's always had the skills."
In 2011
, Sandoval ranked second among third basemen in the majors and first in the NL with 15 defensive runs saved. But his total slipped to minus-5 defensive runs saved in each of the past two seasons, with added pounds perhaps playing a role. We're guessing there was some personal motivation to do better in 2014, and he did.
What does Sandoval do that makes him good? Simply put, he covers his ground well and gets to balls that others don't.
Sandoval ranked second among third basemen with 50 "Out of Zone" plays in 2014, trailing only
Kyle Seager
(who won the Gold Glove award and coincidentally agreed to a seven-year contract with the Mariners on Monday). "Out of Zone" plays are outs gotten on balls hit into areas in which a third baseman nets outs less than half the time.
Film review
Baseball Info Solutions does video review of every play of every game, categorizing plays into 30 groups of good fielding plays (GFPs) and about 60 categories of defensive misplays and errors, providing the data to teams and media.
Good fielding plays for third basemen include things such as an outstanding diving stop that merits a Web Gem, starting a double play quickly or cutting off a ball hit down the line to yield only a single instead of a double.
Sandoval finished 2014 with 60 Good Fielding Plays and 30 Defensive Misplays & Errors. His Good Play/Misplay ratio of 2-to-1 was second-best in the majors, trailing only
Josh Harrison
of the Pirates.
The average third baseman has a ratio only slightly better than 1-to-1.
Watch a little bit of the
Sandoval highlight reel
and the thing that jumps out is his reflexes. We're taking an educated guess here, but we'd wager that if someone kept track of the rate of a player's successful dives for balls to diving attempts made, Sandoval would be at the top of the list.
"His hand-eye coordination is off the charts," "Baseball Tonight" analyst Alex Cora said earlier this year. "You can see that in how he hits balls over his head and balls in the dirt. His best tool on defense is that hand-eye coordination because there's not a lot of time to read the angles of the ball coming off the bat at third base."
Sandoval ranked tied for second among all players for Good Fielding Plays awarded for ground-ball outs on diving stops and charges on slow rollers with 36. He's also cut back on throw-related misplays and errors from 13 last season to only eight in 2014.
A pitcher's best friend
Wotus noted that one advantage Sandoval had with the Giants is that he knows the tendencies of his pitchers, since the likes of
Tim Lincecum
,
Matt Cain
,
Madison Bumgarner
and
Ryan Vogelsong
were with the team for a while. The Giants ranked second in the majors in turning ground balls into outs (76 percent of the time) and that could be part of the reason.
"When the Braves had their run [with Tom Glavine, Greg Maddux and John Smoltz], they had the same pitchers going every night, and all their fielders seemed to know exactly where to be," Wotus said in July.
But the new guys also have learned that Sandoval performs better than he looks.
"I've been very impressed with him," Giants starter
Tim Hudson
told ESPN's Jerry Crasnick. "Because he's a bigger guy, you don't think he's very athletic by looking at him. But he's pretty agile. He'll get to balls in the hole and some balls down the line. He runs in on the ball pretty well too. I've been pleasantly surprised with his range and how nimble he is at third."
If he continues to perform this way, Red Sox fans will be as well.
November, 24, 2014
Nov 24
12:48
PM ET
We're not sure what the final numbers will be yet, but the Red Sox just shelled out close to $200 million (or more) to bring
Pablo Sandoval
and
Hanley Ramirez
to Boston. Is there any money left for
Jon Lester
, who by all indications was the team's No. 1 offseason priority?

Yes, the Red Sox are still financially equipped to ink Lester (thanks in large part to the Dodgers taking nearly $30 million off their hands in 2012). But what if there are unforeseen ripples from the addition of Sandoval and Ramirez that might impact their ability to bring back Lester?
It appears, for example, that the Giants might use the money they had earmarked to retain Sandoval and pursue it on Lester, sources told ESPN's Buster Olney.
The Giants and Red Sox, of course, are not alone in their interest in Lester. The Sox made an initial offer (thought to be in the $100-120 million range) last week to Lester, who subsequently paid visits to the Cubs and Braves. There were six teams who expressed interest in Lester at the GM meetings two weeks ago, according to an industry source. The Royals, Cardinals and Blue Jays have all been said to have expressed at least preliminary interest in Lester, and always lurking in the background are the
New York Yankees
.
November, 24, 2014
Nov 24
1:41
PM ET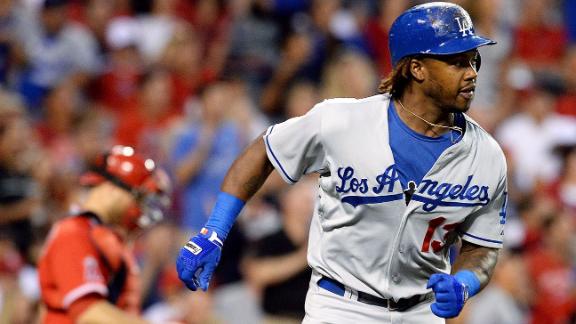 The Boston Red Sox agreed with Hanley Ramirez on Monday on a four-year, $88 million deal with a vesting fifth year for an additional $22 million, according to a major league source.
Ramirez, who will turn 31 on Dec. 23, has primarily played shortstop throughout his 10-year career but has also told teams he would be willing to change positions.
Ramirez was originally projected as a fall-back plan for the Red Sox in the event they were unable to sign the switch-hitting Pablo Sandoval. Sandoval reached agreement with the Red Sox on Monday, sources told ESPN, after choosing among offers from Boston, the San Francisco Giants and San Diego Padres. All three offers were believed to be for five years and at least $90 million.
Ramirez rejected the Los Angeles Dodgers' $15.3 million qualifying offer earlier this month to become a free agent. Ramirez won the 2009 batting title and led the NL with a 1.040 OPS in 2013 (among hitters with at least 300 plate appearances).
Ramirez's defense at shortstop has suffered in recent years, which makes it highly implausible the Red Sox would give up on 22-year-old shortstop Xander Bogaerts, who is regarded as highly as Ramirez was after he signed with the Red Sox in 2000, as a teenager in the Dominican Republic.
The Red Sox already have a logjam in the outfield, though, with potential starters in Yoenis Cespedes
November, 24, 2014
Nov 24
12:20
PM ET
By
Mark Simon
| ESPNBoston.com
AP Photo/David Zalubowski
Hanley Ramirez has reportedly agreed to a four-year deal with the Boston Red Sox
The
Boston Red Sox
are wasting no time revamping their lineup, reportedly agreeing Monday to a four-year, $88 million deal with
Hanley Ramirez
. There is a fifth-year vesting option worth an additional $22 million.
The Red Sox also have an agreement in place with third baseman
Pablo Sandoval
, according to ESPN sources and a CBSSports.com report.
Ramirez, who was traded by the Red Sox to the
Miami Marlins
nine years ago Monday, has ranked among the game's top players, but his future success will likely be determined by how he holds up health-wise.
What he brings: Impressive bat, injury-prone
Ramirez has been effective, but oft-injured of late. He averaged a .277/.351/.464 the past four seasons with the Marlins and Dodgers, but in only an average of 116 games per season. He hit .283 with 71 RBIs in 128 games in 2014 with the Dodgers.
Defense is not Ramirez's strong suit. He contributed minus-37 Defensive Runs Saved in the past four seasons, though a position change could be in order, given the composition of the Red Sox roster and some future moves.
Even with the struggles in the field, Ramirez has been worth 8.9 Wins Above Replacement the past two seasons, and that's despite playing in only 66 percent of his team's games.
Where does he play?
Ramirez could see time at shortstop, third base, or even in left field with a potential trade of
Yoenis Cespedes
.
The Red Sox have had four players serve as their primary shortstop the past four seasons:
Marco Scutaro
,
Mike Aviles
,
Stephen Drew
and
Xander Bogaerts
. The highest OPS among them was Scutaro's .785 in 2011. Bogaerts finished 2014 on a high note with an OPS of .806 and four home runs in September.
November, 24, 2014
Nov 24
11:52
AM ET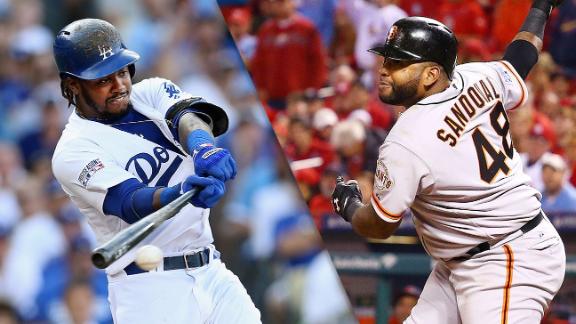 ESPNBoston.com reporter Gordon Edes was on SportsCenter on Monday morning to discuss the Red Sox landing both
Hanley Ramirez
and
Pablo Sandoval
.

"You talk about the proverbial shoes to drop, I think they're waiting for a closet of shoes to drop here," Edes says when asked what's next for the Sox. He continues:
"Where things stand right now it's unclear where Hanley Ramirez even fits in the Red Sox lineup. Sandoval is your third baseman. You've got a young, highly touted shortstop in
Xander Bogaerts
, I can't imagine they're moving him. It would appear that Hanley is going to move to the outfield, perhaps left field, which would suggest that the Red Sox have to move an outfielder.
Yoenis Cespedes
, who has a year left on his deal before he hits free agency, would be the most obvious chip that the Red sox would trade. There's also been some talk that the Red Sox might consider moving first baseman
Mike Napoli
, primarily because this team is so right-handed. … He's a very important part of this clubhouse makeup for this team, but with one year left on his deal, I suppose there's a possibility they could move Ramirez over to first base or deal for another left-handed bat."
More from Edes:
"And you have to remember, the Red Sox still have to address their primary need, which is starting pitching. That's where a Cespedes may come into play, use him as a trading chip. And despite the amount of money that we're talking about for Ramirez and Sadoval, do not count the Red Sox out of the Lester Sweepstakes. They are still very much a player for
Jon Lester
."
November, 24, 2014
Nov 24
11:40
AM ET
By
Mark Simon
| ESPNBoston.com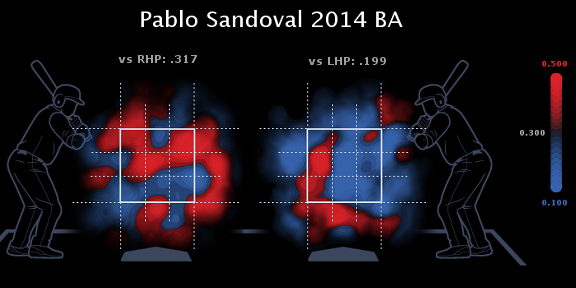 The
Boston Red Sox
and third baseman
Pablo Sandoval
have an agreement in place, according to ESPN sources and a CBSSports.com report. Here are the top stats to know on the signing.
Capable at the corner
Sandoval played a steady third base last season, finishing with four defensive runs saved. His performance at the position has fluctuated, having shown the potential to be both very good (15 runs saved in 2011 ranked second among third baseman) and not so great (minus-10 in 2012 and 2013 combined).
He's done enough to rank among the upper-end third basemen. Sandoval ranks sixth among third basemen in wins above replacement over the last four seasons, with 14.3.
Postseason greatness
Sandoval owns three World Series rings and has been an integral part of two title-winning teams.
Sandoval's .344 postseason batting average is the third highest among active players with at least 75 postseason plate appearances, trailing only James Loney's .354 and Ichiro Suzuki's .346.
He is a .426 career hitter in the World Series and went 8 for 16 in the last four games of the 2014 series against the Royals.
Strength: Plate Coverage
Sandoval has been one of baseball's best bad-ball hitters. He's led the majors in hits against pitches out of the strike zone in each of the last two seasons, netting 58 in 2013 and 70 in 2014. His .265 batting average against those pitches this season was fourth highest in the majors.
Sandoval had 35 batted balls that registered as "hard-hit" by our video-review system on pitches out of the strike zone, tied with
Victor Martinez
for the most in the majors.
Weakness: Hitting left-handed pitching
Sandoval hit .281, .299 and .270 against left-handed pitching from 2011 to 2013, but plummeted to .199 last season.
A big deal
Sandoval received the second-largest free-agent contract for a third baseman in terms of total value. The only one that's bigger is Alex Rodriguez's $275 million deal with the Yankees. Adrian Beltre's five-year, $80 million deal with the Rangers previously ranked second.