July, 24, 2014
Jul 24
4:23
PM ET
ESPN.com news services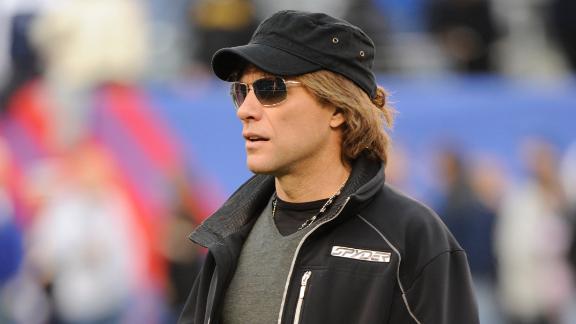 A Buffalo Bills prospective ownership group that includes rocker Jon Bon Jovi has conducted a feasibility study into buying the NFL franchise and building a stadium in Toronto, a person close to the situation told The Associated Press.
The study identified at least three potential stadium sites, two in Toronto, including one on the waterfront, and another in the suburb of Mississauga, the person told The Associated Press on Thursday. The person spoke to the AP on condition of anonymity because Bon Jovi and his partners, Larry Tanenbaum and the Rogers family, have not publicly revealed details of their plans to purchase the team.
Andy Bergmann, responsible for overseeing the Bon Jovi group's stadium plans, confirmed Thursday in an email to the AP that his company has conducted stadium studies, "but nothing related to any specific site."
"We have undertaken engineering and design studies," wrote Bergmann, co-founder of Toronto-based Wessex Capital Partners, a growth equity investment firm that specializes in architecture, design and engineering services. "All of our work has been about a generic site and whether it was more rural or urban. We are aware of potential sites in the western NY and southern Ontario region, and are in fact meeting with two Buffalo area developers next week.
"No feasibility studies have been undertaken on any site to date."
Tanenbaum is chairman of Maple Leaf Sports and Entertainment, which controls the NBA's Raptors and NHL's Maple Leafs. The Rogers family includes Edward Rogers, deputy chairman of Rogers Communications, the Toronto-based communications giant.
The Bills are being sold following the death of Hall of Fame owner Ralph Wilson in March.
Under terms of the team's lease with the state and county, the Bills -- including Wilson's estate -- are not allowed to negotiate with anyone, who to their knowledge, has an intention of relocating the team before the end of the 2022 season, when the lease ends.
The feasibility study was commissioned about 18 months ago and overseen by an investment bank, the person said, adding that one of the stadium construction costs was between $800 million and $900 million.
The Bon Jovi group has not said it would relocate the team, and the Toronto Sun reported Saturday