December, 20, 2013
Dec 20
10:00
AM ET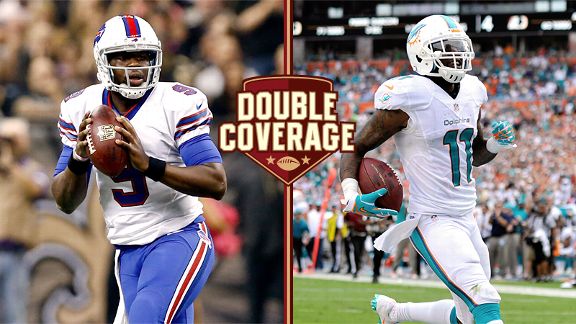 USA TODAY SportsThad Lewis and the Bills will look to thwart the playoff hopes of Mike Wallace's Dolphins.
It was Dec. 22, 1990, when the
Buffalo Bills
defeated the
Miami Dolphins
in a cold rain at Ralph Wilson Stadium (or Rich Stadium, as it was called then) to lock up their third consecutive AFC East title.
On Dec. 22, 2013, the Bills (5-9) will again host the Dolphins (8-6) in a cold rain, but this time around it's Miami that has playoff aspirations. With a win Sunday, the Dolphins will simply need to win next week to secure a postseason berth.
That game 23 years ago -- which capped off a perfect home record for Buffalo -- was seen by a crowd of 80,325. That won't be the case Sunday. The Bills could have as many as 16,000 empty seats for their home finale, which has been blacked out on local television.
ESPN.com Bills reporter Mike Rodak and Dolphins reporter James Walker discuss the matchup:
Mike Rodak:
James, the Dolphins are one of the hottest teams in the NFL, having won their last three games. What has gone right for them lately, and how important is Sunday's game in their quest to make the playoffs?
James Walker:
This game is vital for Miami. Truthfully, the playoffs started for the Dolphins on Dec. 1. They were a 5-6 team still alive for the postseason, but few viewed them as a serious threat. Three consecutive wins later, Miami controls its own destiny and just needs to beat Buffalo and the
New York Jets
in back-to-back weeks. It's certainly doable if the Dolphins maintain focus -- and that has been the biggest key.
The stink, to some degree, has worn off from the
Jonathan Martin
-
Richie Incognito
bullying scandal. Miami has been able to focus mostly on football since NFL investigator Ted Wells left its training facility a few weeks ago. I credit quarterback
Ryan Tannehill
's play down the stretch as a key reason. He saved his best football for the end of the season, with passer ratings of 94.2, 95.5 and 120.6 during the three-game winning streak.
However, Tannehill struggled in the first game against the Bills. He had three turnovers off two interceptions and one lost fumble. How does Buffalo plan to defend Tannehill and Miami's offense a second time around?
Rodak:
They will bring a whole lot of pressure. We saw the effect that the Bills' pass rush had in October, when
Mario Williams
' strip-sack of Tannehill set the table for
Dan Carpenter
's game-winning field goal. The Dolphins' offensive line came into that game shaky, and it doesn't appear that has changed. Miami has allowed 51 sacks, the most in the NFL. Meanwhile, the Bills
have
49 sacks, the most in the NFL.
It's been more than just Williams. Three other Bills -- defensive tackles
Kyle Williams
and
Marcell Dareus
and defensive end
Jerry Hughes
-- have set career highs for sacks. Hughes, in particular, has come on strong in the second half of the season. The pressure on Tannehill will be coming from all angles Sunday.
James, the last time these teams met,
Cameron Wake
was working his way back from an injury and
Dion Jordan
was off to a slower start than expected. Have they picked it up since? Are the Dolphins happy with what they're getting from their pass rush?
Walker:
The pass rush has been solid over the past month. The Dolphins have gotten contributions from various players, including Wake,
Olivier Vernon
and Jordan. Miami got only one sack last week against the Patriots. But
Tom Brady
gets rid of the ball quickly and the quarterback pressures were satisfactory, according to Miami defensive coordinator Kevin Coyle.
A lot of people have asked about Jordan. It's clear he will just have a reduced role this year, and that won't change. Jordan makes an impact in his limited reps, but he will need to wait until next season, or for an injury, to get a bigger role.
Mike, it looks like backup quarterback
Thad Lewis
has a shot to ruin the Dolphins' season. The Miami native beat the Dolphins in Week 7. What can we expect from Lewis this week?
Rodak:
I think he could again pose a challenge for Miami. While
EJ Manuel
's QBR (42.3) is significantly better than Lewis' (19.1), Lewis has completed a higher percentage of his passes and has a better passer rating. When Lewis played for three games in October, we saw a quarterback with a strong arm who wasn't afraid to take deep shots. Those could be harder to convert if it's raining Sunday, but the Dolphins' banged-up secondary needs to be aware of that. On the other hand, Lewis has shown to be prone to fumbles. He fumbled six times in three games. He'll also need to get better protection than he did in his first stint as the starter, when he was sacked 13 times.
James, weather could be a factor Sunday. Cold rain is expected, or even a wintry mix, with temperatures in the mid-30s. If this slows down Tannehill and the Dolphins' passing game, can their running game carry the load?
Walker:
Miami's running game has been strangely inconsistent. The Dolphins are ranked 24th in rushing. But I usually don't get the sense Miami
can't
run the ball. I just think the Dolphins aren't dedicated to the run. There are games such as Pittsburgh, Cincinnati and, to some degree, New England in which the Dolphins proved they can run effectively and efficiently. But in many weeks, Miami gets discouraged too easily and loses balance on offense.
Lamar Miller
and
Daniel Thomas
are not dynamic tailbacks. But Miami has enough receiving threats where it just needs a running back to pick up five yards when his number is called. Miami's offense can be physical when needed, and this will be one of those games if inclement weather plays a factor.
Finally, Mike, what is considered a successful season for Buffalo? There are still two games left. Has this year's team met your expectations?
Rodak:
Bills CEO Russ Brandon was on the radio this week and called it a disappointing season since the Bills didn't make the playoffs. I would agree. I think that, even as a rebuilding team, the bar needs to be set high. Recent history has shown that it's hardly impossible to turn it around quickly; the Colts went from 2-14 to 11-5 after drafting
Andrew Luck
, for example.
The Bills have impressive speed on offense and talent on defense. It just didn't come together for them this season. That's not to say I was expecting the Bills to make the playoffs -- I predicted a 6-10 record in the preseason -- but I'm not sure that I see progress from the time the season started until now.
December, 20, 2013
Dec 20
8:20
AM ET
Earlier this week, we noted that
Buffalo Bills
receiver
T.J. Graham
played 32 percent
of the snaps in Sunday's win in Jacksonville, the least he's been on the field since Week 4.
Goodwin
Graham
With top receiver
Stevie Johnson
not expected to play Sunday against Miami, it could provide Graham with an opportunity to have a bounce-back performance.
In the past three games, Graham's production has been down. But he hasn't been alone; rookie speedster
Marquise Goodwin
has also been quieter than usual.
Combined, the two young receivers have been targeted 11 times in the past three games and have no catches.
Here's a look at their contributions this month:
Graham
Snaps vs. Atlanta: 66 percent
Targets vs. Atlanta: 2
Catches vs. Atlanta: 0
Snaps vs. Tampa Bay: 69 percent
Targets vs. Tampa Bay: 3
Catches vs. Tampa Bay: 0
Snaps vs. Jacksonville: 32 percent
Targets vs. Jacksonville: 2
Catches vs. Jacksonville: 0
Goodwin
Snaps vs. Atlanta: 36 percent
Targets vs. Atlanta: 4
Catches vs. Atlanta: 0
Snaps vs. Tampa Bay: 39 percent
Targets vs. Tampa Bay: 0
Catches vs. Tampa Bay: 0
Snaps vs. Jacksonville: 20 percent
Targets vs. Jacksonville: 0
Catches vs. Jacksonville: 0
So why is the duo struggling to produce? Part of that is the quarterback play --
EJ Manuel
had his worst game of the season against Tampa and got off to a slow start in Jacksonville. Some of it may be penalty flags. While neither has a catch in December, both have drawn defensive pass interference calls.
There is also the idea that Graham and Goodwin may be one-dimensional receivers at this point in their careers. Both have breakaway speed but have been
used sparingly
as underneath receivers, where precise route-running and catching ability are more important.
December, 19, 2013
Dec 19
4:58
PM ET
ORCHARD PARK, N.Y. -- It's December in Western New York, and as the last week or two has proven, snow is a fact of life.
But for Sunday's game at Ralph Wilson Stadium, it will likely be rain -- not snow -- that will make the playing conditions difficult. The
latest forecast
calls for temperatures in the low-to-mid 50s with a 90 percent chance of rain.

Marrone
The
Miami Dolphins
might actually catch a break with the weather forecast, which is now warmer than previously anticipated. However, Bills coach Doug Marrone said Thursday that it's the wind -- not the temperature -- that can give opponents fits at the Ralph.
"I think what's difficult about this stadium, now having been here for a year, it's really not to get used to the cold like most people would think," he said. "A lot of us have played in the cold or somewhere along the line and really when you're out there, you have heaters on the sidelines and you're really not out there long. The thing that I think where we benefit from being out there and the biggest difference is no doubt the wind."
After playing their past three games either in a dome or in Florida, the Bills returned to practicing outdoors this week, which Marrone said has paid off.
"That's the one thing that it's different. There's no doubt about it, of any place that I've ever been," he said. "You can tell that, from practicing out there with our players, we're getting used to that. That's important, and I think that's going to give us a great advantage."
While the conditions might favor the Bills, the home crowd will be more sparse than usual. The Bills have 16,000 unsold tickets for the game, which has caused it to be blacked out.
"Yeah, I don't really put much thought into it," Marrone said of the blackout. "I know this: The fans that are there, we need them. We have played much better at home. I'd like to think it's because of the coaching and all the other things, but never lose sight that the fans have done an outstanding job and have been a part of the reason why we've played better there."
The Bills are 3-3 at Ralph Wilson Stadium this season.
December, 19, 2013
Dec 19
2:16
PM ET
ORCHARD PARK, N.Y. --
Buffalo Bills
running back
Fred Jackson
(ribs) was limited in his return to practice Thursday.
Jackson did not practice Wednesday in what coach Doug Marrone characterized as a rest day.
Meanwhile, linebacker
Arthur Moats
was excused from Thursday's practice for personal reasons. He will play Sunday against the
Miami Dolphins
, Marrone said.
Here's the Bills' full injury report from Thursday:
DID NOT PARTICIPATE
QB
EJ Manuel
(knee)
CB
Aaron Williams
(ribs)
WR
Stevie Johnson
(personal)
LB Arthur Moats (personal)
LIMITED PARTICIPATION
RB Fred Jackson (ribs)
FULL PARTICIPATION
DT
Marcell Dareus
(ankle)
DT
Kyle Williams
(Achilles)
CB
Brandon Smith
(ankle)
December, 19, 2013
Dec 19
11:45
AM ET
When
Thad Lewis
started three games earlier this season in place of
EJ Manuel
, there was a noticeable drop-off in production by receiver
Robert Woods
.
The second-round pick had come out strong in the early going and was among the nominees for NFL Offensive Rookie of the Month in September. Through the first four games, Woods caught 11 passes for 201 yards and two touchdowns.
But once Lewis took the helm, Woods' numbers dipped. It's a topic
we explored
back in October, and one that's worth revisiting now that Lewis has been named the starter for Sunday's game against the
Miami Dolphins
.
Here's a look at Woods' production in the nine games with either Manuel or backup
Jeff Tuel
as his quarterback:
Targets per game:
6.6
Receptions per game:
3.3
Yards per catch:
15.0
Total touchdowns:
3
And here's Woods' statistics in Lewis' three games as the starter:
Targets per game:
4.7
Receptions per game:
2.0
Yards per catch:
6.7
Total touchdowns:
0
December, 19, 2013
Dec 19
5:00
AM ET
The latest injury to
EJ Manuel
has created some buzz around the
Buffalo Bills
' quarterback situation entering next season.
With 10 days left until the Bills' season finale, the offseason is right around the corner, so it's worth exploring the position a little deeper.
Here is a snapshot look at the Bills' quarterback position from a contract standpoint:
Player:
EJ Manuel
Age:
23
Signed through:
2016
2014 base salary:
$808,877
Player:
Kevin Kolb
Age:
29
Signed through:
2014
2014 base salary:
$2,000,000
Player:
Thad Lewis
Age:
26
Signed through:
2014
2014 base salary:
$645,000
Player:
Jeff Tuel
Age:
22
Signed through:
2015
2014 base salary:
$495,000
Base salaries are not guaranteed unless stipulated by the contract. In the Kolb's case, ProFootballTalk.com reported in April that he is also due a $1 million roster bonus on the third day of the 2014 league year, which begins in March.
The Bills also have 28-year old
Dennis Dixon
on their practice squad. He can sign a contract for the 2014 season as early as Dec. 30.
December, 18, 2013
Dec 18
6:55
PM ET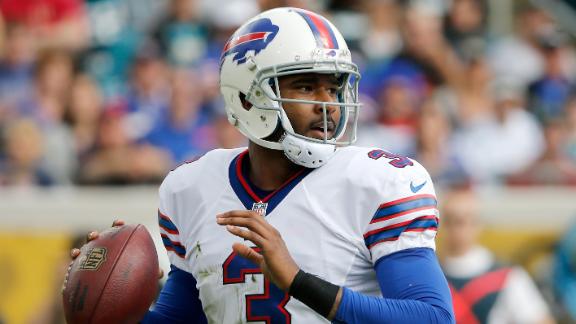 Once or twice might have been a coincidence, but three times is a trend that should trouble the
Buffalo Bills
.
EJ Manuel
has now been sidelined three times this season with knee injuries, casting some doubt on the durability of the Bills' presumed franchise quarterback and highlighting the need to find some insurance behind the rookie next season.
Both Manuel and coach Doug Marrone were ready for the question that came Wednesday: Is it fair to label Manuel as injury-prone?
"People are going to think that and write that. I totally understand that. But my personal opinion is this: He's not injury-prone," Marrone said.
"You obviously don't want to get the tag as 'injury-prone' or 'soft' or things like that, and I know I'm not that," Manuel said.
[+] Enlarge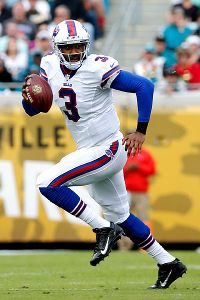 Sam Greenwood/Getty ImagesEJ Manuel's third knee injury this season ought to have the Bills thinking about a backup plan.
Manuel isn't being accused of being soft, but questions about his durability are legitimate. He has now experienced swelling in his left knee twice this season. The first instance, in the preseason, required minor surgery. This time it won't, Marrone said Wednesday.
Still, it's hard to write off Manuel's latest ailment as minor. He played through a knee sprain Sunday, but once the Bills returned to practice Wednesday, Marrone knew something wasn't right.
"You saw a guy drop back and he threw OK dropping back," he said. "But when you saw it after when he went with his fakes and his stability from side to side, you would go, 'He doesn't look too good there.'"
At times, Manuel hasn't looked too good even when he's been healthy. His high ceiling as a prospect was evident in the Bills' win over the
New York Jets
last month, when he passed for 245 yards and two touchdowns, and again Sunday when he completed 71 percent of his passes while defeating the
Jacksonville Jaguars
.
But the Bills still need to hedge their bets with Manuel. He has looked downright awful at points this season -- and that has been when he's able to stay on the field. Manuel's three injuries have forced the Bills to turn to backups
Thad Lewis
or
Jeff Tuel
in five games this season, and while both have performed well as pinch hitters, neither has the physical skills to be the long-term solution at the position.
It would be good business for the Bills to invest in another quarterback this offseason. That's not to write off Manuel; it's simply to add insurance at quarterback, which has proven to be a make-or-break position in the NFL. If a team doesn't have talent at that spot, they're not going far in this league.
Could the Bills draft a quarterback in the first round next May? It's unlikely, but it could be a wise move. There are several quarterbacks with first-round grades, and the Bills are currently projected to draft ninth overall, giving them an opportunity to dip into this class of signal-callers.
It would double Buffalo's chances of finding a franchise quarterback, and really, does a little competition really hurt? Drafting another offensive lineman, wide receiver or linebacker in the first round would help, but quarterback play is still paramount in today's NFL.
If the Bills don't go that route, and instead choose to keep just Manuel, Lewis and Tuel, it puts them in a precarious position. More inconsistent play -- or Manuel being injured again -- sets them down the same path that has left them at 5-9 this season.
The more immediate question for the Bills is whether it's smart to play Manuel in their season finale against the
New England Patriots
. On Wednesday, Marrone was adamant that Manuel would be ready and the team wouldn't consider "shutting him down" to preserve his health.
If you consider Manuel's shaky play at some points this season, giving him the added experience is important. But if Manuel still isn't physically right, what's the point? Take the offseason to rest and start fresh in July.
There will be plenty of questions surrounding Manuel when the Bills open training camp next summer. After Wednesday's developments, Manuel's durability can be added to that list.
December, 18, 2013
Dec 18
5:14
PM ET
Few players have a tougher adjustment to make in transitioning from college to the NFL than those in coverage. Look at a talented rookie who has struggled, such as Dee Milliner with the New York Jets. There are advanced technical aspects to coverage in the NFL that must be learned, scheme-specific skills that must be honed, and then there's just the reality that every week you're facing a wide receiver who is as good as any receiver you might have faced in college. You just can't ever let your guard down.
To continue reading this article you must be an Insider
December, 18, 2013
Dec 18
4:35
PM ET
ORCHARD PARK, N.Y. -- For the second time in two months, the Federal Communications Commission has proposed eliminating their sports television blackout rule.
Due to the rule, which remains in effect, the
Buffalo Bills
' game Sunday against the
Miami Dolphins
will not be shown on local television since 16,000 tickets to the contest remain unsold.
In
a statement
released Wednesday, the FCC said that the sports landscape has changed in the 40 years since the rule has been in effect.
"Changes in the sports industry in the last four decades have called into question whether the sports blackout rules remain necessary to ensure the overall availability of sports programming to the general public," the FCC said in its proposal. "In this proceeding, we will determine whether the sports blackout rules have become outdated due to marketplace changes since their adoption, and whether modification or elimination of those rules is appropriate."
However, the FCC said its aim is to "eliminate unnecessary [government] regulation" and that blackout rules could still be maintained by professional sports leagues and television networks.
The FCC released a similar proposal on Nov. 1.
December, 18, 2013
Dec 18
4:10
PM ET
ORCHARD PARK, N.Y. --
Buffalo Bills
wide receiver
Stevie Johnson
is not expected to play in Sunday's game against the
Miami Dolphins
after being excused from the team.
Johnson
Johnson's mother died unexpectedly last Saturday, but he played in Sunday's win over the
Jacksonville Jaguars
.
"I don't believe that he will be available for our game on Sunday," coach Doug Marrone said. "Our thoughts and our prayers are with Stevie and his family."
The status of safety
Aaron Williams
, who left Sunday's game with an injury to his ribs, is up in the air.
"I think Aaron is going to be 50-50," Marrone said. I can't really say right now either way, so we're going to be monitoring that situation and going through that treatment process."
Veterans
Fred Jackson
(ribs) and
Kyle Williams
(Achilles) were both held out of Wednesday's practice for extra rest.
Here is the Bills' full injury report from Wednesday:
DID NOT PARTICIPATE
S Aaron Williams (ribs)
DT Kyle Williams (Achilles)
RB Fred Jackson (ribs)
WR Stevie Johnson (personal)
LIMITED IN PRACTICE
CB
Brandon Smith
(ankle)
DT
Marcell Dareus
(ankle)
QB
EJ Manuel
(knee)
December, 18, 2013
Dec 18
2:22
PM ET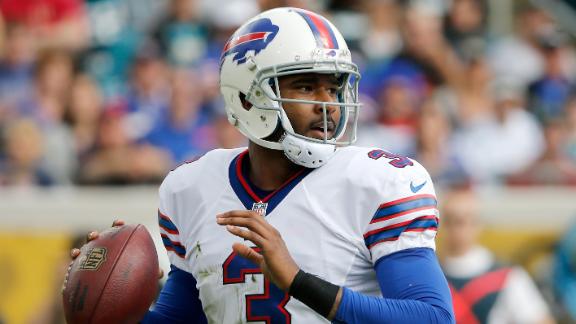 ORCHARD PARK, N.Y. -- Buffalo Bills quarterback EJ Manuel will not play Sunday against the Miami Dolphins after swelling in his sprained left knee limited the rookie early in Wednesday's practice.
"We were not able to get that swelling to respond to the treatments the way we wanted," coach Doug Marrone said. "He was able to throw the ball in the pocket, but the stability in that knee, with the swelling, he does not have the escapability or the ability to run after the fake or zone read or those type of things that we feel is important to us to win."
Thad Lewis, who started three games when Manuel was sidelined with a separate knee injury earlier this season, will start again for Manuel on Sunday. Lewis has a 1-2 record as the starter, defeating the Dolphins in the teams' first meeting Oct. 20.
The Bills also will be without wide receiver Stevie Johnson, who has been excused to be with his family in California after the death of his mother.
Marrone said he is "110 percent confident" that Manuel will play in the Bills' season finale at New England and that the team will not consider "shutting down" its rookie quarterback.
"Every snap, every time we can get him in there, that type of experience, the better and better he gets," Marrone said. "I don't even think of [shutting him down]."
December, 18, 2013
Dec 18
12:22
PM ET
By
ESPN Insider
| ESPN.com
The 5-9 Bills won't make the postseason, but look to have a potential franchise QB in 2013 first-round pick
EJ Manuel
and what appears to be a very strong 2013 class overall. Second-round pick
Kiko Alonso
has solidified the middle of the defense, while wide receivers
Robert Woods
(second round) and
Marquise Goodwin
(third round) have been weapons on the outside. Buffalo has been competitive most of the season, even with Manuel missing a month due to a knee injury, but the defense hasn't lived up to expectations.
So who should the Bills draft in 2014?
Todd McShay released his
first 2014 mock draft
Wednesday, and in doing so identified the biggest areas of need for the Bills: offensive tackle, safety and defensive end. Here's who McShay believes will provide the best fit for Buffalo in Round 1.
To continue reading this article you must be an Insider