August, 29, 2014
Aug 29
12:58
AM ET
CLEVELAND -- Veteran
Santonio Holmes
' odds of making the
Chicago Bears
' 53-man roster increased on Thursday when the wide receiver turned a routine slant route into a 32-yard second-quarter touchdown reception, a sequence that proved Holmes still has the ability to make impact plays at the NFL level.
"It was a slant route and I felt the coverage of the defender; he was playing a little over the top," Holmes said. "I made a couple good plays afterwards and finished the play off."
Holmes
Holmes admits he hasn't mastered the entire Bears' playbook since he signed with the team two weeks ago, but the former Super Bowl MVP gives the team experience and flexibility, not just on offense, but also on special teams. Holmes followed up his touchdown with a 30 yard punt return, one of the few bright spots in the return game for the Bears all preseason.
"We saw the punt return. Obviously, he did a good job with that," head coach Marc Trestman said. "How far along is he in the offense? Is he really ready to play enough plays to help us in that regard as we start the season? Can he catch some punts? It looks like he can. So we'll have that discussion and try to put it all together over the weekend to get us going moving forward Monday and into practice on Wednesday."
Holmes excelled in the return game early in his NFL career, but generally speaking, accomplished older players tend to lose their zest to field punts and kickoffs over time. However, Holmes' versatility could be a serious asset to the Bears after the team lost numerous core special teams players since the end of last season.
"I wouldn't say I would lobby for it [a role in the return game]," Holmes said. "If the opportunity and the spot opens up and coach wants me to play as a returner; I'll do whatever I can to help the team.
"I really felt in my heart that I can continue playing. Given this opportunity to play again, I just really take advantage of the opportunity. And the opportunity came today with me making a big play for the team."
Bears players are scheduled to report to Halas Hall for a weight lifting session at 1 p.m. on Friday, where the team will begin to trim the roster from 75 to 53 in advance of Saturday afternoon's deadline.
Does Holmes anticipate sweating out the final cuts?
"I still don't think I'm going to be concerned," Holmes said. "I'll leave it up to the coaches. If they want me here, I'll be here. If not, hopefully I'll land a job somewhere else."
August, 28, 2014
Aug 28
11:11
PM ET
Associated Press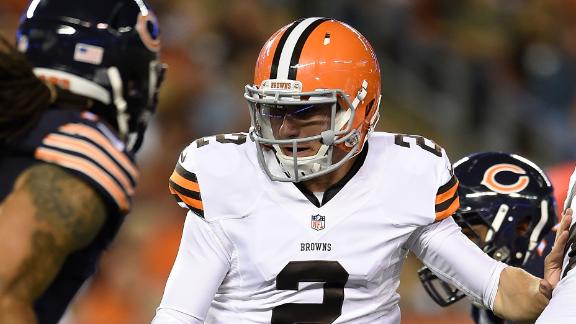 CLEVELAND -- Brian Hoyer drove Cleveland's starting offense to a rare preseason touchdown before turning things over to rookie Johnny Manziel in the Browns' 33-13 exhibition win over the Chicago Bears on Thursday night.
Hoyer and Cleveland's offensive starters needed a boost after struggling in the preseason as they learn a new system. Hoyer went 6 of 8 for 69 yards on the opening drive against Chicago's backups before Ben Tate scored on a 1-yard run.
It was just the second TD for Cleveland's first-team offense this summer and a confidence builder for Hoyer, who barely beat out Manziel for the starting job.
Manziel threw a TD pass, finished 6 of 17 for 83 yards, ran for 55 and did some typical Johnny Football improvising.
Bears wide receiver Santonio Holmes caught a 32-yard TD pass from rookie David Fales and returned a punt 30.
---
AP NFL website: www.pro32.ap.org and www.twitter.com/AP-NFL
August, 28, 2014
Aug 28
11:02
PM ET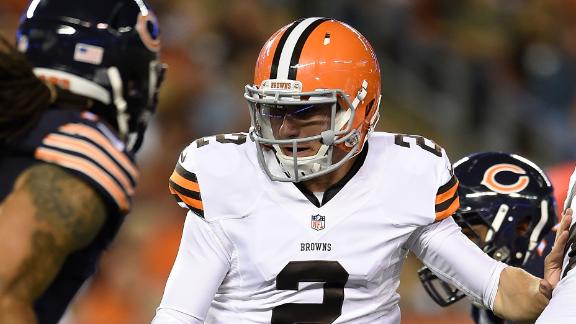 Chicago's starters received the night off, prompting the club to point the spotlight Thursday night on a group of backups comprised mostly of players not likely to survive final cuts.
Squaring off against Cleveland's starters, the Bears reserves held their own for two quarters in playing to a four-point deficit at the half, before eventually falling to the Browns
33-13
.
Here are some other thoughts on the club's final preseason game:
Santonio Holmes quashed any question of whether he can still play against the Browns, taking in his only catch of the night from David Fales for a 32-yard touchdown in the second quarter. After hauling in the back-shoulder throw from Fales, Holmes spun outside and eluded Browns first-round pick Justin Gilbert en route to the score. Upon arriving at the sideline, Holmes gave the ball to Fales. "You see the explosion in him," Bears coach Marc Trestman said. "He caught a short throw, turned and ran, separated from the defense. That's a good sign." Later in the quarter, Holmes fielded a punt and stumbled between a pair of tacklers to reel off a 30-yard return. It's probably safe to say Holmes' name won't be called for final cuts as the Bears saw what they needed to see. That's probably why Holmes came out after halftime no longer wearing pads. Now, the Bears need to work overtime to get Holmes up to speed to fill the No. 3 receiver role along with Josh Morgan.
Speaking of erasing doubts, it appears Fales did just that against the Browns. Starting in place of Jay Cutler, Fales completed 13 of 24 passes for 146 yards and a touchdown to Holmes. Fales made good decisions for the majority of his snaps in the first two quarters. What's more is Fales executed well against Cleveland's starters, as it played mostly first teamers in the first half. Chicago's brass will have a difficult choice to make, and -- depending on how much the team likes Fales -- might be forced to go into the season with three quarterbacks. If the Bears decide to waive Fales and bring him back to the practice squad, that plan could backfire as the quarterback would draw plenty of interest from other teams. Fales led the Bears to scores on three of their five first-half drives, but wasn't as sharp in the second half.
Josh Bellamy made Chicago's pending decision about which receivers to keep on the roster more difficult by the way he performed against the Browns. Bellamy caught four passes for 78 yards and drew a 37-yard pass interference penalty against Leon McFadden that provided the bulk of Chicago's yardage during its opening drive, which ended on a Robbie Gould 39-yard field goal.
With the regular-season opener against Buffalo on the horizon, the Bears held out the starters on both sides of the ball. The club kept out key reserves as well such as Morgan and Micheal Spurlock, along with running back Ka'Deem Carey, defensive end Trevor Scott, and defensive tackle Ego Ferguson. Second-team guard Eben Britton made his preseason debut against the Browns after missing a good portion of training camp and the preseason with a pulled hamstring. Safety Chris Conte (concussion) traveled with the team, but did not play as he continues to work through the league's concussion protocol.
The Bears must trim the roster from 75 players to 53 by Saturday at 3 p.m. CST.
August, 28, 2014
Aug 28
9:45
PM ET
CLEVELAND -- Here are five things we learned in the first half of the
Chicago Bears
' preseason finale versus the Browns.
1. 53-man roster mostly set before game:
The Bears offered up a fairly complete picture of the final roster when they decided to sit numerous reserve players like:
Josh Morgan
,
Ka'Deem Carey
,
Brock Vereen
and
Michael Spurlock
. Unless the Bears find better alternatives over the weekend; all four appear to be in decent shape as the final cut date looms on Saturday. However, the decision to rest Carey and Vereen is somewhat curious. Outside of their draft status as fourth-round picks, neither did much to stand out over the summer. And no,
Shea McClellin
was never going to be cut. The Bears have not abandoned hope of salvaging the career of the former first-round draft choice.
2. David Fales knows the offense:
Fales lacks ideal arm strength, but he does come across as a smart quarterback who understands where the ball is supposed to go. He did a decent job under intense pressure, and showed serious courage by throwing the ball deep on several occasions. The Bears are probably better off keeping only two quarterbacks on the active roster, but Fales showed enough smarts in the preseason to warrant a spot on the practice squad, if he clears waivers as expected.
3. Santonio Holmes can help Bears:
Holmes proved he still has some juice left when he broke a tackle to score a 32-yard touchdown, followed by a 30-yard punt return. Granted, Holmes accomplished this against Cleveland backups, but he made the most of the opportunities presented to him. Holmes has too much experience to let walk away.
Josh Bellamy
had himself a solid first half with two catches for 43 yards in the opening quarter, but Holmes seems a smart choice to be the No. 4 wideout behind
Brandon Marshall
,
Alshon Jeffery
and Morgan, with Spurlock also in the mix. We'll see how/if
Marquess Wilson
's injury complicates the situation when it boils down to determining the 53.
4. FirstEnergy video screens a nice touch:
The Browns installed two giant video screens in the upper decks behind each end zone, a move that greatly enhances the in-stadium experience in Cleveland. The Bears need to strongly consider adding similar technology at Soldier Field, because the current video setup is below average for a stadium built in the last 11 years. The fans would love it. And it opens up tons of marketing and sales opportunities for the club. That's a win-win for everybody involved.
5. Browns took it seriously:
Cleveland needed starting quarterback
Brian Hoyer
to orchestrate a touchdown drive. The Browns are desperate for good vibes heading into Week 1. We all know Cleveland will probably stink again, but this is a franchise that is trying to sell hope to its tortured fan base. They call this place the "Factory of Sadness" for a reason. But the home fans actually seemed upbeat after the first 30 minutes, especially when
Johnny Manziel
fired a touchdown pass. Mission accomplished for the Browns.
August, 28, 2014
Aug 28
8:04
PM ET
CLEVELAND -- The
Chicago Bears
are taking a conservative approach to the preseason finale.
With the regular season opener 10 days away, the Bears appear to be resting all of their starters and several key reserves in the fourth preseason games against the
Cleveland Browns
.
The Bears made no official announcement except that rookie
David Fales
will start at quarterback in place of
Jay Cutler
, but nearly every member of the first-team offense and defense participated in pregame warm-ups without pads or helmets.
That list of players included: linebackers
Jon Bostic
and
Shea McClellin
, and right tackle
Jordan Mills
, who missed the first three preseason games with a foot injury.
Even certain backups seem to be getting the night off.
Wide receiver
Josh Morgan
, running back
Ka'Deem Carey
, wide receiver
Micheal Spurlock
, defensive end
Trevor Scott
and defensive tackle
Ego Ferguson
wore baseball caps instead of helmets while teammates went through pregame drills.
Safety
Chris Conte
(concussion) made the trip to Cleveland, but is not expected to play.
However, veteran guard
Eben Britton
is scheduled to make his preseason debut.
The Bears must reduce their roster from 75 to 53 by Saturday afternoon.
August, 28, 2014
Aug 28
12:07
PM ET
Chicago Bears
receiver
Brandon Marshall
's ranking improved from No. 23 in 2013 to No. 15 in this year's edition of our
#NFLRank project
, in which ESPN ranks the Top 100 players around the league on both sides of the ball.
The latest rankings grouped players between Nos. 20 through 11.
Marshall
Marshall ranked one spot behind Seattle's
Marshawn Lynch
and one slot ahead of New England's
Rob Gronkowski
. But No. 15 seems a tad low considering Marshall's 10 touchdown catches thrown in the end zone tied with
Dez Bryant
(No. 13) for the most in the NFL, according to ESPN Stats & Information.
Alshon Jeffery
was one of 23 players on offense to make his debut in the 2014 #NFLRank project, checking in at No. 31.
Coming off arthroscopic hip surgery in 2013, Marshall spent the 2013 offseason rehabbing instead of training, and missed time during training camp. In fact, Marshall probably didn't hit his stride in 2013 until about halfway through the season.
Yet Marshall caught a career-high 12 TD receptions last season, finishing with 100 catches for the fifth time in his career for 1,295 yards. Marshall's fifth 100-catch season ties
Andre Johnson
and
Wes Welker
for the most in NFL history.
Marshall was targeted 23 times in the end zone last season, which ties for
A.J. Green
for the most in the NFL, according to ESPN Stats & Information.
Serving as a mentor to Jeffery, Marshall acknowledges he grew off the field, too, in 2013, saying last season was the first in his career in which he was truly unselfish. Marshall also claims that 2014 will be his Michael Jackson "Thriller" year.
"Last year I grew spiritually, and that was the first time I was able to step outside myself on this spiritual journey and be able to say, "You know what, I don't know what's gonna happen. But I'm gonna serve
Alshon Jeffery
. I'm gonna serve
Martellus Bennett
." Because I know there's something bigger. I'm a part of something greater. I can't wait to see what it is," Marshall said.
August, 28, 2014
Aug 28
12:00
PM ET
The
Chicago Bears
(2-1) face the
Cleveland Browns
(0-3) in the preseason finale at FirstEnergy Stadium:
No. 3 receiver battle: This competition remains in the forefront as the Bears hope to take one last look at Josh Morgan and Santonio Holmes, who should now be a little more comfortable with the offense. Morgan caught three of the five balls thrown his way last week against Seattle for 48 yards, while Holmes hauled in one pass for 7 yards. Morgan has shown he's perfectly capable of handling the No. 3 job while Marquess Wilson continues to heal from a fractured clavicle. Holmes could potentially add a dynamic element in the slot.
David Fales in extended action: The Bears plan to play Fales the entire game to find out whether he's truly worth spending the time and resources to develop. Fales played sparingly in the exhibition opener against Philadelphia, but hasn't taken any snaps since this preseason. So this will be an opportunity for Fales to earn a spot on the 53-man roster as opposed to being waived and brought back later to the practice squad. Fales hit on 5 of 7 passes for 68 yards in his only brief action of the preseason. Bears coach Marc Trestman likes what he's seen so far from Fales, who flashes superior anticipation skills.
Return of injured players: The starters typically don't play in the fourth exhibition game, but an exception could be made for starting right tackle Jordan Mills, considering he hasn't played a single snap this preseason. Mills returned to practice Monday and could use a little full-speed work against the Browns as the Bears prep for the season opener against Buffalo. Trestman isn't sure whether Mills will play. Eben Britton also returned to practice this week, and he'll need to show what he can do against Cleveland to keep a roster spot because Michael Ola and Dennis Roland have come on during his absence. Like Mills, Britton hasn't participated in any games this preseason.
August, 28, 2014
Aug 28
2:44
AM ET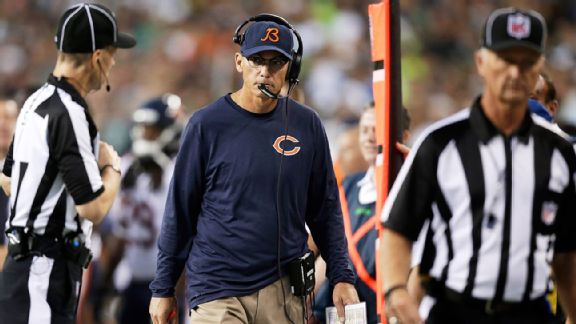 AP Photo/Stephen BrashearDoes second-year Bears coach Marc Trestman have the pieces in place for a playoff contender?
Typical of the Information Overload Age we live in, when it comes to the Chicago Bears as the regular season opens next week, we know everything and we know nothing.
From free agency through training camp, the Bears' offseason was covered with a fervor reserved for a presidential primary race. But the end result remains constant, like all previous seasons. We have ideas, based on knowledge, intuition and past experiences, on what to expect when the regular season begins, but with so many variables, oracles are few and far between.
Of course, that is exactly how the NFL likes it. It's why this sport crushes its competition. That's why the Bears are the undisputed kings of the Chicago sports landscape.
Yes, even over Jackie Robinson West.
The Bears provide weeklong drama, and we're all hooked. It's why tens of thousands of Chicago households will watch a meaningless fourth preseason game against the Cleveland Browns on Thursday night.
Every year, football fans talk themselves into believing their team is a Super Bowl contender. In Chicago, it is always "Cloudy With a Chance of Meatballs" visions of a 14-2 season.
This season is no different.
On one hand, there's cause for real optimism with new Sports Illustrated (regional) cover boy Jay Cutler, looking like a scruffy Patrick Bateman, as the ringleader of a respectable if, dare I say it, dangerous offense.
August, 27, 2014
Aug 27
2:30
PM ET
The first half of this team's
schedule
fits that description, considering the Bears play five of their first seven outings on the road against the 49ers, Jets, Panthers, Falcons and Patriots. If the Bears go into their Nov. 2 bye relatively healthy with a record of at least .500, the rest of the schedule sets up nicely, with just three road games remaining and the rest set for the frigid winter conditions at Soldier Field, a definite home-field advantage during the latter portion of the season.
Complete Bears season preview
.
August, 27, 2014
Aug 27
11:37
AM ET
Chicago Bears
running back
Matt Forte
improved his standing from a year ago in our
#NFLRank project
, moving from No. 48 to No. 29 in the latest edition, in which ESPN ranks the top 100 players in the league on both sides of the ball.
Forte
The latest rankings grouped players between Nos. 30 through 21. Receiver
Alshon Jeffery
was one of 23 players on offense to make his debut in the 2014 #NFLRank project,
checking in at No. 31
Forte finished last season ranked third in the NFL in total yards from scrimmage (1,933 yards) on the way to being named to his second Pro Bowl. Forte rushed for 1,339 yards, carrying the ball on 71.5 percent of the team's rushes, which ranked as highest in the league, according to ESPN Stats and Information.
Since 2008, Forte ranks third in the NFL in yards from scrimmage (9,585), behind
Chris Johnson
and
Adrian Peterson
.
Forte ranked one spot ahead of San Diego quarterback
Philip Rivers
and one slot behind Pittsburgh quarterback
Ben Roethlisberger
.
None of Chicago's defenders made Wednesday's offering in the #NFLRank project.
August, 26, 2014
Aug 26
5:15
PM ET
LAKE FOREST, Ill. -- The
Chicago Bears
waived cornerback
Isaiah Frey
on Tuesday along with guard
James Brown
to get down to the NFL-mandated 75 players.
The subtraction of Frey leaves just two players -- linebacker
Shea McClellin
and receiver
Alshon Jeffery
-- remaining on the roster from general manager Phil Emery's first draft class (2012).
A sixth-round pick in 2012, Frey played all 16 games last season as the club's nickel corner and started in six contests. Frey contributed 62 tackles and two pass breakups, but failed to force any turnovers as he played the majority of the season with a broken hand.
Frey was the seventh pick of a class which included Jeffery and McClellin along with safety
Brandon Hardin
, tight end
Evan Rodriguez
and cornerback Greg McCoy.
The Bears parted ways with Hardin after the 2013 preseason finale after he suffered a fractured scapula. Emery admitted to miscasting Hardin as a safety, despite him spending his college career at Oregon State as a cornerback. The club cut Rodriguez in June 2013 on the heels of his second offseason arrest.
McCoy, meanwhile, was let go during final cuts in 2012.
Brown was also a part of the 2012 class, but joined the Bears as an undrafted free agent out of Troy. Brown played in five games for the Bears in 2012 and started the final three outings at left guard, but was inactive last season for all 16 contests.
August, 26, 2014
Aug 26
4:51
PM ET
LAKE FOREST, Ill. -- The NFL's decision to expand practice squads around the league to 10 players increases the likelihood that Thursday's preseason finale in Cleveland won't be the end of
Jordan Lynch
's association with the
Chicago Bears
.
Preseason opportunities have been limited for Lynch. The former Northern Illinois star and Heisman Trophy finalist is supposed to see time on offense and special teams at Browns Stadium.
"I expect you'll see quite a bit of him [Lynch]," Bears head coach Marc Trestman said. "I'm sure he'll have an opportunity to carry the football, to do a little bit of what he did a couple of games ago when he got a couple of reps and did very well running the football. So it'll be a good opportunity for him to get out there and show what he's learned and how he's improved over the last month of playing a completely new position. That'll involve pass protection as well, you know this is a team that brings the blitz, so he'll have an opportunity to get in the pass protection as well, and catch some balls outside the pocket and stuff like that. I'm excited for him and his opportunity."
Lynch carried the ball seven times for 24 yards in the preseason opener, but hasn't touched the football in the last two games. He played five snaps on special teams versus Jacksonville on August 14.
"It's a very exciting week, now I get to actually go out there and kind of showcase my talent," Lynch said. "I'm really excited. I'm prepared for this and I just love football. I get a chance to go out there fly around and have fun.
"I just focus on playing. That's all your guys' job, trying to figure that whole thing out. I just go out there and play and just have fun."
NFL rosters must be reduced to 53 players by Saturday afternoon. Clubs may establish a 10-man practice squad on Sunday.
August, 26, 2014
Aug 26
4:05
PM ET
LAKE FOREST, Ill. -- The
Chicago Bears
held five players out of their final full practice before Thursday's preseason finale in Cleveland: safety
Ryan Mundy
, offensive lineman Brian de la Puente, wide receiver
Marquess Wilson
, fullback
Tony Fiammetta
and safety
Chris Conte
.
Cornerback
Isaiah Frey
also missed the workout due to a sore hamstring, but Frey and guard
James Brown
were later waived to trim the Bears' active roster down to 75 active players before the 3 p.m. CT deadline.
Generally speaking, the first-team plays very little, if at all, in the fourth preseason game.
However, an argument can be made that certain veterans would benefit from some playing time versus the Browns. Among that group is
Jordan Mills
. A foot injury forced the starting right tackle to miss the first three preseason games. Mills did return to practice on a full-go basis on Monday and probably would relish the opportunity to knock off some of the rust before the regular-season opener against Buffalo.
"That's a good question," Bears head coach Marc Trestman said regarding Mills' availability. "He did practice today. I haven't talked to the trainers about that situation. We really haven't made any decisions on those types of situations. We're still working on who is going to play and who is not. But Jordan did practice today, which was a good thing."
Veteran offensive lineman
Eben Britton
also practiced on Tuesday and should make his preseason debut in Cleveland, although his roster spot is far from assured. Britton's hamstring injury early in camp opened the door for
Michael Ola
and
Dennis Roland
to impress the coaching staff and potentially earn a spot on the final 53-man roster.