July, 11, 2014
Jul 11
7:10
PM CT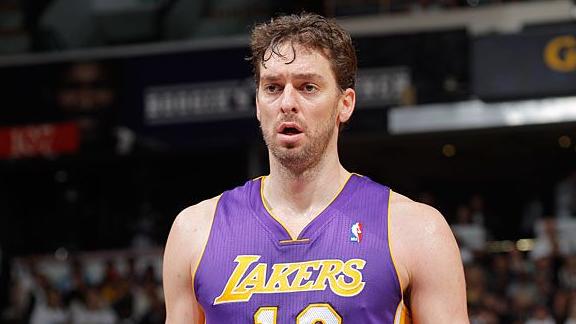 The Chicago Bulls and the San Antonio Spurs have emerged as the two leading contenders to land prized free-agent big man Pau Gasol, according to sources close to the process.
Sources told ESPN.com that Gasol is giving strong consideration to signing with defending champion San Antonio -- despite the Spurs' limited financial resources with such a deep roster -- in the event that the Bulls can't strike a sign-and-trade arrangement with the Lakers for Gasol.
The Bulls are making Carlos Boozer widely available in trade discussions, but sources say the Lakers have shown a reluctance in talks with Chicago to take on Boozer's contract unless they also receive a young asset back from the Bulls as well.
Oklahoma City has been pursuing Gasol as hard as anyone, but sources indicated Friday that the Spurs have joined the Bulls ahead of the Thunder in Gasol's pecking order.
The Thunder have a $6.5 million trade exception that expires Friday night at 11:59 p.m., that they hoped to use in their own sign-and-trade with L.A.
The Lakers, meanwhile, appear resigned to seeing Gasol exit after a successful six seasons together. Prior to Friday, the Lakers offered Gasol two deals: two years worth $23 million, and three years worth $29 million, a league source told ESPNLosAngeles.com's Dave McMenamin. Gasol turned down both offers, according to the source.
July, 11, 2014
Jul 11
3:01
PM CT

By Jon Greenberg
ESPNChicago.com
Archive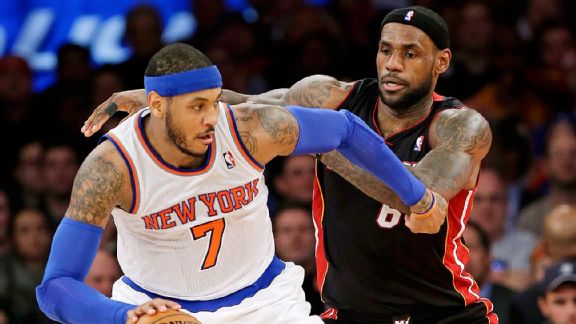 AP Photo/Frank Franklin IIWill LeBron James' decision to return to the Cavs make it easier for Carmelo Anthony to return to the Knicks?
Tom Thibodeau rarely cops to focusing on one player or one game.
All wins are equal, he says.
So he probably won't admit that the
Chicago Bulls
have to build their team in reaction to
LeBron James
' league-shaking announcement that he's returning to Cleveland.
With James going back to the Central Division, the Bulls have to combat James' presence only four times a year. But those four games will be epic and could very well decide important playoff seeding.

Joakim Noah
is getting excited for those playoff trips to Cleveland already.
Maybe I'm getting ahead of myself. The Cavs are a much younger, unproven team than the past four Heat teams, but with a few veteran additions (
Mike Miller
, maybe
Ray Allen
), they should be the favorites in the East. David Blatt is a strong coach and
Kyrie Irving
should be an All-Star second banana. If the Cavs get, say,
Kevin Love
, as the rumor du jour hints, well, the Bulls are in serious trouble.
So how do the Bulls combat this new threat?
Well, first they're waiting on
Carmelo Anthony
. By the time you read this, we might know his choice, which is reportedly
down to New York and Chicago
, a factoid we knew all along.
I know the popular response to James' decision is to say Anthony should sign with the Bulls, because his arrival would leapfrog Miami in the all-important preseason buzz race.
But I'm thinking this decision spurs Anthony to make the decision he's been leaning toward all along: Stay in New York. After all, if James is essentially going at it alone (in terms of veteran SuperFriends) in a place he feels most comfortable, why can't Anthony do the same and hope Phil Jackson draws some All-Star talent in the coming year?
So back to my question: What do the Bulls do? Does adding the Spanish Armada in
Pau Gasol
and Nikola Mirotic make the Bulls good, or tough enough to handle the new Cavs? Or do the Bulls need to add more brawn? Thibs would probably say "both." He wants scoring and toughness, and about 80-82 wins.
So who's out there?
Does
Lance Stephenson
, too wild for Gar Forman's and
John Paxson
's usual tastes, become a serious target? The blowing-in-LeBron's-ear kerfuffle made Stephenson look like an idiot, but I love the spirit behind it. He's not afraid of anyone, and his arrival -- combined with Noah's popularity in Cleveland -- would ratchet up the rivalry.
Stephenson fits the Bulls, as a player, and as Jeff Van Gundy said on ESPN Chicago 1000's "Waddle & Silvy" show Friday, "Tom Thibodeau would play a serial killer if it meant he could win games."
I've resisted touting Lance as an option, because I just don't see the BoringBulls front office going for him, and he'll take up most of their salary-cap space, but maybe now they should get aggressive and mix it up.
Taj Gibson
and Noah, fellow New Yorkers, could mentor him. Thibs would love Stephenson's defense.
Or how about good ol'
Luol Deng
? I haven't given his "return" much credence, after being disrespected (in his eyes) by the Bulls' take-it-or-leave-it offer last season. But he's had experience, and some success, going shoulder-to-shoulder with James.
People will talk about
Dwyane Wade
having a homecoming, but I don't see it. If he needs another full-season maintenance program, it's not worth it.
Is backup center a luxury anymore for the Bulls? The Cavs don't have much size as currently constituted, and the Bulls need to plan for their weaknesses. Hey, maybe the wild Aussie rookie
Cameron Bairstow
really will play this season!
One thing is for sure, LeBron James in Cleveland changes the complexion of the league and gives the Bulls a lot to think about in the coming days, weeks, months and years.
It's good to have you back in the Midwest, LeBron.
July, 11, 2014
Jul 11
1:16
PM CT
CHICAGO --
Joakim Noah
had better get used to seeing Cleveland a lot more in the spring again.
The Bulls always knew they were going to have to get past
LeBron James
in order to win a championship. Now they'll just have to do it by going through Cleveland the next few years.
[+] Enlarge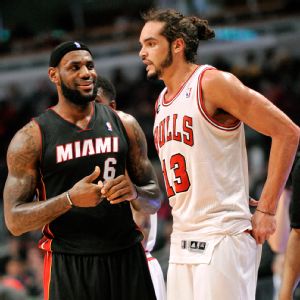 Rob Grabowski/USA TODAY SportsJoakim Noah will have to deal with LeBron James a lot more now that he is returning to the Cavaliers.
With James'
decision to return to the Cavaliers
, the Bulls must hope against hope that
Carmelo Anthony
will turn down almost $60 million in guaranteed money from the
New York Knicks
, or find some way to work out a sign-and-trade. The Bulls got encouraging news in the aftermath of James' announcement, when sources told
ESPN's Stephen A. Smith
that Anthony had eliminated the Lakers and is deciding between the Bulls and Knicks.
If the Bulls don't land Anthony, they are looking at the very real possibility of heading into next season as the third-best team in their own division. James' choice makes the Cavaliers the new favorite in the Central. The
Indiana Pacers
, despite all their dysfunction at the end of the season, still have
Paul George
and a core that has been to the Eastern Conference finals the past couple of seasons.
If
Lance Stephenson
decides to sign elsewhere, that will change the dynamic within the division, but it won't change the fact that James' presence in Cleveland remains the biggest roadblock facing the Bulls.
James' decision has other ramifications on the Bulls -- namely, the backup plan of trying to acquire
Kevin Love
from the
Minnesota Timberwolves
. Sources told
ESPN.com's Marc Stein
that Love is "intrigued" by the possibility of playing with James, and would be open to signing a long-term deal with the Cavs.
If the Bulls don't land Anthony, the next best option is to continue calling Timberwolves president and coach Flip Saunders to see if they could work a deal to bring Love to Chicago.
The Bulls' offer figured to include
Jimmy Butler
,
Taj Gibson
and/or Nikola Mirotic along with a future draft pick or two. If the Cavaliers offer
Andrew Wiggins
, the first overall pick in last month's draft, along with a few other assets, will that be too good of a deal for the Timberwolves to pass up? Gibson and Butler are great defenders and solid players, but they don't have the potential star power of Wiggins.
No matter what happens in the coming days in free agency, the Bulls know that James remains in their path more than ever. Like it did in Miami during his first season there, it's going to take him some time to learn the intricacies of playing with new teammates like
Kyrie Irving
and company, but James is the type of player who makes everyone around him better.
The Bulls have the same kind of talent in
Derrick Rose
-- a player who opens up space for everyone else on the floor -- but Rose has played in only 49 games in the past three seasons because of various injuries. James' move doesn't change much in that regard. Rose must continue to work on his game and hope his body can withstand the grind of a long NBA season. Until he can prove that he is healthy -- and playing at the same level -- it's foolish to believe the Bulls are a serious contender to win a championship. Even if Anthony signs in Chicago, the Bulls still need an elite-level Rose to be a serious title contender.
The key for the Bulls becomes simple now. They must hope that Anthony signs with them, which would give them the superstar scorer they've been missing throughout the Tom Thibodeau era.
Anthony's presence would take a lot of pressure off Rose and the rest of the team, and it would be an antidote for the intense defense James has played against Rose in the past. The Bulls have to hope that Anthony remembers what their pitch was -- that Chicago offers him the best chance to win right away.
The Knicks can offer the most money, but they are still selling hope. Anthony must buy into the notion that the Knicks' new kingpin, Phil Jackson, can turn around the roster in summer 2015, when he'll be working with a lot more cap space.
The Bulls have to hold onto the belief that Anthony knows that the best way to get through Cleveland and to a championship is to join forces with Rose and Noah. The reality for all parties is that they are much better equipped to do that together, not apart.
July, 11, 2014
Jul 11
12:53
PM CT
ESPN.com news services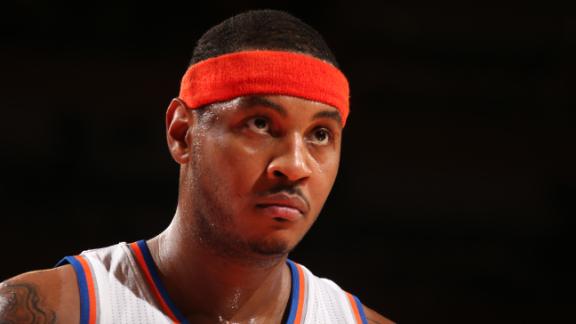 Carmelo Anthony has narrowed his options to the New York Knicks and Chicago Bulls, and is no longer considering the Los Angeles Lakers, sources told ESPN's Stephen A. Smith.
Knicks president Phil Jackson said Thursday that he hadn't heard from Anthony in recent days but remained confident the All-Star forward would re-sign with the Knicks. Jackson said the Knicks have made five different contract offers to Anthony, one of which is believed to be a maximum deal of $129 million over five years.
Knicks coach Derek Fisher seems to be on the same page as Jackson.
"I haven't heard anything different than that," Fisher said Friday after the Knicks started Las Vegas Summer League play with a 76-64 victory over the Dallas Mavericks. "We talked all this week about the fact that it's not our decision."
The first-time coach stressed that point.
"Decisions as free agents are never as easy as they seem," he said. "A lot of focus is on the contract size or the amount of money and the years, but oftentimes, guys are thinking on a much larger level."
"It's not just about basketball. Guys have wives, families, kids. Moving is tough."
As of Friday afternoon, the Lakers had yet to be informed they were out of the running for Anthony, a league source told ESPNLosAngeles.com's Dave McMenamin.
Anthony's agent, Leon Rose, told ESPN.com on Wednesday afternoon that his client "hasn't made a decision yet."
Information from ESPNNewYork.com contributor Fred Katz was used in this report.
July, 11, 2014
Jul 11
10:00
AM CT
By D.J. Foster
Special to ESPN.com
Archive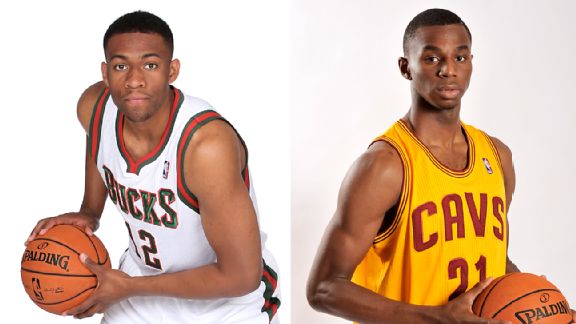 Getty ImagesJabari Parker and Andrew Wiggins, the draft's top two, will get their first taste of NBA ball in Vegas.
There's something for everyone at Las Vegas Summer League. For the prized rookies in the 2014 draft class, it's a chance to get their feet wet. For the prospects who haven't found luck in the league yet, it's an opportunity to jump-start a career. For others, it's simply a shot at getting on the radar.
The following is our annual "back of the envelope" guide to the Las Vegas Summer League teams, highlighting some of the more promising and intriguing prospects who will take the floor. The East guide is below, and the West guide is
here
.
Atlanta Hawks
Adreian Payne:
Stretch big men are here to stay, and the Hawks continued to hoard them by drafting Payne, a dangerous pick-and-pop threat with legitimate 3-point range. It's rare to see this kind of size, skill and athleticism in one player, but Payne might be limited to a smaller role because of a lung condition that affects his ability to play long stretches and big minutes.
Dennis Schroder:
Watching Schroder run the point is an adventure. He applies legitimate full-court pressure on ball handlers nearly every time up the court, and he's not bashful about trying to thread the needle through traffic for perfect dimes on the other end. There's no fear here, and there's rarely a dull moment, either.
Walter Tavares:
It's stranger than fiction, but Taveras was completely off the basketball radar until a German tourist in Cape Verde recruited him to try out. He had never even touched a basketball until 2010, but at 7-foot-3 with a reported 7-foot-9 wingspan and
traffic signal-sized hands
, he has what can't be taught.
---
Charlotte Hornets
Noah Vonleh:
His draft-night fall was plenty fortuitous for Charlotte, as it would ultimately need a stretch 4 to pair with
Al Jefferson
, with Josh McRoberts now committed to the
Miami Heat
. Vonleh is a little reminiscent of
Chris Bosh
offensively, and his length and mobility defensively will cover up for mistakes while he learns the ropes. He could be the steal of the draft.
Cody Zeller:
Last year's fourth overall pick surprised a lot of folks by shooting jumpers and playing on the perimeter during last year's summer league, but it didn't pay dividends when the real games started. Zeller shot just 27 percent from 16 feet and out as a rookie, and it's still unclear what his role will be at the NBA level. He's a great athlete and very active, but Charlotte will need more than that justify his draft slot.
Roberto Nelson:
The name might ring a bell if you've read George Dohrmann's
excellent book "Play Their Hearts Out."
It's a testament to Nelson's drive that he's made it to this point despite some well-documented efforts by AAU sharks to submarine his career. Here's hoping he gets some minutes to show his stuff.
---
Chicago Bulls
Doug McDermott:
In this strange setting where
Anthony Randolph
and Adam Morrison have looked unstoppable, McDermott might not quiet concerns of his ability to keep up in the NBA, regardless of how well he plays. That said, he made mincemeat of college competition for four straight years at Creighton, so he's a strong bet to win MVP in Vegas. For your own sake, though, don't bet on summer league.
Tony Snell:
After an incredibly disappointing rookie campaign wherein Snell had a PER of 8.0 and shot 38.4 percent from the field, he'll be looking for some redemption. You get the feeling Tom Thibodeau would have never played him if it wasn't out of total necessity, but the scoring wing could earn some trust going forward with a more assertive offensive performance in Vegas.
Cameron Bairstow:
A former teammate of Snell's at New Mexico, Bairstow exploded on to the draft scene after Snell's touches started to go his way. Bairstow is a serious inside-outside threat offensively, and if he expands his range on his jumper out to the 3-point line, he'll be a nice weapon for Thibodeau to utilize off the bench.
---
Cleveland Cavaliers
Anthony Bennett:
After missing out on the opportunity to play in front of UNLV fans last year at summer league because of rotator cuff surgery, Bennett should draw a big crowd even if the hype balloon has deflated some after a rough rookie season. It's about baby steps at this point with Bennett, though, and showing that he's at least in shape and playing fast will calm some nerves in Cleveland.
Andrew Wiggins:
Another year, another first overall pick from Canada. Wiggins is the wing defender Cleveland desperately needs now, and perhaps he'll be much more than that down the line. He's not a stranger to big expectations, but the first days on the job always leave you under the microscope. If his college career foretold anything, no one in Vegas will have his performances more closely scrutinized.
Matthew Dellavedova:
He was one of the only players Mike Brown could get consistent effort from last season, which led to more playing time than expected in his rookie season. With
Jarrett Jack
off to Brooklyn and Kyrie Irving's shaky injury history, Dellavedova might be thrust into serious action again next season. These could be important reps.
---
Miami Heat
Shabazz Napier:
Kobe Bryant isn't even following poor
Kendall Marshall
on Twitter, but
LeBron James
wasn't bashful about giving Napier his stamp of approval even before the two were teammates. While that confidence from the best player in the world is great to have, it also puts a big, red bull's-eye on his back. LeBron called him
the best point guard in the draft
, after all, so now it's on the former UConn guard to start proving it.
James Ennis:
This is just what Miami needs, right? Ennis is an athletic, 3-and-D wing who opted to play professionally in Australia after being drafted in the second round by Miami last season. He has glue guy written all over him, and with
Shane Battier
stepping away, Ennis could potentially have a role in Miami next season.
Justin Hamilton:
He received plenty of burn in the Orlando Summer League (Miami is double-dipping this year along with the
Houston Rockets
and
Philadelphia 76ers
), and after playing very well in the D-League last season, the former LSU big man could win a roster spot, particularly if he continues to shoot the ball well from distance. If you haven't caught on yet, that's a niche every team wants to fill.
---
Milwaukee Bucks
Giannis Antetokounmpo:
The "Greek Freak" was Cirque De Soleil on a basketball court last season, and now he's reportedly 2 inches taller and presumably even more capable of ridiculous feats. Few players in this setting will illicit this level of reaction -- you'll drop your jaw, you'll yell, you'll jump out of your seat. He's big fun.
Jabari Parker:
The Bucks might be the hottest ticket in Vegas. Parker, the second overall pick of this year's draft, was touted as being the most "NBA-ready" prospect out there, and he'll get plenty of chances to show why that is. Milwaukee doesn't have to get too cute offensively –- just get Parker the ball and get the heck out of the way.
Nate Wolters:
It never hurts to have a steady hand at point guard, especially since summer league is basketball's Wild West. Shots fly everywhere and guys scramble all over the place, but Wolters has shown he'll stay cool in less-than-ideal circumstances. In 58 played games in hi3s rookie season, Wolters had more than one turnover only 13 times. He'll be a sight for sore eyes.
---
New York Knicks
Shane Larkin:
The speed merchant might end up being the key to the
Tyson Chandler
trade despite the fact that he's coming off a shaky rookie season. Triangle point guards are typically bigger and more physical than Larkin, but he should provide a drastic change of pace to
Jose Calderon
when he comes off the bench, at the least.
Cleanthony Early:
Is he a 3, a small-ball 4, both or neither? Tweener forwards rarely have it easy in the early stages of their careers, but Early is an impressive athlete with a nice stroke that caught a lot of eyeballs during Wichita State's superb season. His lack of ballhandling skills and ability to score off the dribble probably limit him to being a role player for now, but that's not the worst thing.
Thanasis Antetokounmpo:
He's one of the few siblings of an NBA player who actually belong here. Nepotism runs wild at summer league, but Giannis' older brother earned his spot by playing very well in the D-League last season as a defensive specialist capable of wreaking havoc in transition. He's a legitimate prospect, even if he needs more seasoning offensively.
---
Philadelphia 76ers
Nerlens Noel
: There's some debate over whether Noel will play in Vegas after performing well in Orlando, but maybe that's just Philadelphia keeping its best-kept secret under wraps a little longer. Don't forget about the shot-blocking big man in the rookie of the year race this season -- he's got a leg up on knowing Brett Brown's playbook (hint: run!), and he'll get plenty of playing time and opportunities throughout the season.
Jordan McRae:
Be still, Jay Bilas' heart. McRae has a 7-foot wingspan despite being just 6-foot-5. Although the Tennessee grad and second-round pick isn't an insane athlete, those long arms and his decent burst allow him to sneak up on opponents at the rim on drives. He'll need to hone in on one transferable skill and bulk up that lanky frame, but he's a whole lot of limbs coming right at you.
Scottie Wilbekin:
Being one of the best college players doesn't always translate to NBA success, and Wilbekin's lack of size will have him fighting an uphill battle. System-less basketball isn't always kind to guys who excel at getting their team into sets and managing the game, so it will be interesting to see how the Florida point guard can perform in the chaos.
---
Toronto Raptors
Bruno Caboclo:
He should start a support group with Mickael Pietrus (the "French Michael Jordan") after being dubbed the "Brazilian Kevin Durant" by Fran Fraschilla on draft night. Caboclo has a 7-foot-7 wingspan and a prayer at ever getting anywhere close to Durant's level, but performing well against legitimate competition right away could help justify the boldest pick of the draft.
Lucas Nogueira:
The Bebe and Bruno show should give Brazilians a nice distraction from their World Cup hangover, as there should be plenty of highlight moments to go around. Nogueira won a lot of fans last year in summer league with his energy and
amazing hair
, and opposing guards should proceed with caution while he's patrolling the paint.
Dwight Buycks:
Lots of players are fighting just for a camp invite, but Buycks has a little more on the line. If he's not waived before July 22, which is right after the end of summer league, the point guard's contract for next season becomes guaranteed. After a performance last season that really put him on the radar, he'll be scrapping to keep his status this time around.
---
Washington Wizards
Otto Porter Jr.:
It's been a rough 365 days for last year's third overall pick, as his awful debut in summer league led right into a completely unproductive rookie season. Truthfully, it would have been a bigger deal had Anthony Bennett not absorbed all the ire, but Porter has to put it all behind him. The Wizards might need the jack-of-all-trades forward to play a big role next season with
Martell Webster
out three to five months for another back surgery and
Trevor Ariza
still an unrestricted free agent.
Glen Rice Jr.:
They'll be teammates here, but they might be battling for the same playing time. Rice Jr. barely played last season, but his 3-point stroke could come in handy for the Wizards. He's been pretty solid as a shooter and scorer in the D-League, so he'll get plenty of chances, especially if Porter looks out of place once again.
Khem Birch:
We'll see how the UNLV faithful treat him; he was very productive and won Mountain West Defensive Player of the Year two seasons in a row, but he also left after his junior year only to go undrafted. Birch should win neutral fans and general managers over anyway, as he's a good hustle player and an active athlete at the 4.
D.J. Foster is an NBA contributor for ESPN.com, ClipperBlog and others. Follow him, @fosterdj.
July, 10, 2014
Jul 10
4:26
PM CT
By
Ian Begley
and
Fred Katz
| ESPN.com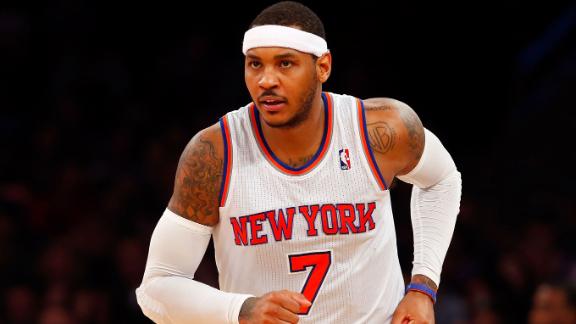 New York Knicks president Phil Jackson said Thursday that he hasn't heard from free agent Carmelo Anthony in recent days but remained confident that the All-Star forward would re-sign with the Knicks.
Jackson's optimism stems in part from the rapport he's established with Anthony through the Knicks' meetings with the free agent forward.
"I felt really good about my conversation with Melo," Jackson said. "We really struck a chord. The two of us, I think, feel really passionately about what we're trying to get accomplished. It's his ability to stay, be patient, lead and watch us develop a winner. There's no instantaneous winner that we think is going to happen to the Knicks right now, but we're going to be a lot better."
Jackson said the Knicks have made five different contract offers to Anthony, one of which is believed to be a maximum deal of $129 million over five years.
Anthony's agent, Leon Rose, told ESPN.com on Wednesday afternoon that his client "hasn't made a decision yet."
"No decision yet," another source said. "Still up in air."
Anthony visited the Chicago Bulls, Dallas Mavericks, Houston Rockets and Los Angeles Lakers last week in addition to meeting with Jackson and the Knicks in Los Angeles.
July, 10, 2014
Jul 10
11:53
AM CT
Perception is reality. It can change in the blink of an eye or change steadily over time.
In the case of
Derrick Rose
, the change in public perception of the
Chicago Bulls
star has been drastic.
[+] Enlarge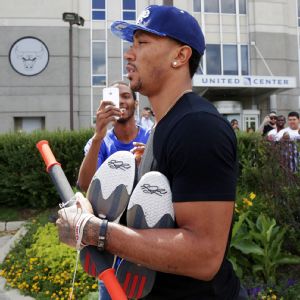 AP Photo/M. Spencer GreenDerrick Rose's reluctance to recruit has only added to the negative perception many have of the Bulls star over the past three years.
Almost exactly four years ago, Rose stood inside the Cox Pavilion in Las Vegas preparing for the first day of Team USA's training camp as it prepared for the world championships. The 21-year-old was admittedly surprised that
LeBron James
and
Chris Bosh
had not signed with the Bulls during that offseason, but he didn't seem to care. He was determined to show the world that he could lead his team to a title.
"I want to be that guy," Rose told ESPNChicago.com at the time. "I want to be the reason why the Bulls are back to what they were 10, 12 years ago or something like that."
Rose took pride in the fact that he was becoming the new face of the organization. He believed in himself and his new teammates. He was confident that the Bulls would come together, and he didn't worry much about whether he should have better recruited James to Chicago. He and James texted a few times, and Rose figured that was enough. He figured his team and his city were enough to sell anyone on joining the Bulls.
"If anyone knows me, especially in my hometown, they know that I don't like being in the public like that or getting all the attention like that," he said. "To me I think it was a no-brainer, [but] he made the decision."
Rose was praised for that us-against-the-world attitude. Four years later, Rose is being crushed by many fans who used to love him. He's being second-guessed in his hometown. Once universally beloved in Chicago, Rose has found himself at the center of much public scorn.
How does the most popular athlete in town lose the benefit of the doubt in his own city? Several factors are in play here, but the biggest is, of course, that he was injured.
A torn ACL in his left knee in the 2012 playoffs went from devastating to frustrating for Bulls fans as Rose elected to sit out the entire 2012-13 season, even though the organization expected to have him back in the second half of the year. Between the ACL injury and a torn meniscus in his right knee that kept him out of all but 10 games last season, Rose, his camp and the Bulls have been plagued by PR missteps. His brother Reggie openly criticized the organization for failing to put better players around Rose.
The organization has kept its most important star mostly cloaked in secrecy throughout the past few years during his rehab phases. What has exacerbated the issues is that Rose has shown the same reluctance and indifference toward recruiting free agents while teammate
Joakim Noah
has emerged as a salesman, doing his best to persuade
Carmelo Anthony
to come to Chicago. Instead of receiving a pass from most fans because of the attitude, Rose is being questioned yet again.
Times have changed for Rose and the league. It's one thing to maintain that stance when you're producing at an MVP level, but it's another to keep that feeling when you've played only 49 games in the past three seasons.
To win back the fans' trust, Rose must play and perform at a high level. But it goes deeper than that for Rose and the Bulls.
As it pertains to the recruiting, players want to be wanted. They want to hear what stars in the NBA have to say about their team. Rose hasn't played much in three years, but players still respect his game and what he has already accomplished. He's still a star, and they want to hear from him.
Whether it's a member of his inner-circle or a member of the Bulls organization, somebody has to get through to him that he is best served by playing the PR game, even if it's uncomfortable for him. The more Rose shows publicly that he is willing to be part of these pitches, the more he will start to win back some fans.
Rose can't do anything about the fact that he was injured. It happens to almost all athletes at some point in their career, and Rose has had more bad luck than most. His contract doesn't require him to recruit players, he's just required to perform on the floor. Since he hasn't been able to do that for much of the past three seasons, Rose has to take it upon himself to find other ways to help.
Rose is the same person he was before -- shy, introverted, cautious -- he's just not the same player. Nobody knows if Rose will look like his old self when he hits the floor again this season, and nobody knows if his body will be able to hold him if and when he does. The only way to win back that trust is to play again -- and play at a high level for an extended amount of time. He doesn't want to recruit, but he still badly wants to win. It's up to those closest to Rose to make sure he understands this as he heads into the season.
It's also important to understand that Rose still wants to be the player who delivers a championship to his city.
"It makes me feel a little bit better that they really believe in me and have trust in me about decisions that they make," Rose said on that July day in 2010, in regards to the faith the Bulls organization had placed upon him. "It just means a lot, man. A little guy coming from the South Side of Chicago got his own team. It shows that just hard work and dedication really pays off."
Rose never wanted to leave Chicago. But now a portion of Chicago seems to want to turn its back on him. It's crazy how quickly things can change.
It's up to Rose to make the decisions to turn things in a positive direction once again.
July, 9, 2014
Jul 9
5:22
PM CT
I know what you're asking: Doolittle, who will you be watching during the Las Vegas Summer League?
In general, the answer is that I'll be watching the same guys as everyone else. But there are some situations I'm more anxious to check out than others. So here's a guide to what's happening on the court during the next couple of weeks. That is, if the big free agents make up their minds and allow us to veer our attention away from Twitter and the newswire.
---
First look: The Rookies
Dante Exum, Utah Jazz: Perhaps no player in Vegas will garner as much interest as Exum, the Australian mystery kid who skipped college ball and spent the past year preparing for the draft. We've seen sparse video of Exum, and what exists is hard to judge, given the caliber of competition. He sparkled in international events, but that was against fellow kids. Now Exum will be exposed to a few bona fide NBA players for the first time, and we'll get a feel for how he compares athletically. Fellow Jazz guard Trey Burke is also on the summer league roster for Utah, so we should get our first taste of them working in tandem.
July, 9, 2014
Jul 9
11:01
AM CT
[+] Enlarge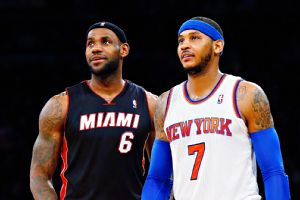 Jim McIsaac/Getty ImagesCarmelo Anthony is waiting on LeBron James to decide where he'll play next season before committing to a free-agent deal, according to sources.
A number of rival teams increasingly believe that New York Knicks star Carmelo Anthony plans to hold off on announcing any decision about his future until LeBron James reveals where he'll be playing next season, according to sources close to the process.
Sources told ESPN.com that Anthony, whose decision was widely expected before a resolution to James' situation when free agency began, has kept the Knicks, Los Angeles Lakers and other suitors waiting at least in part to see where James goes and whether there would be any option to join his close friend.
Sources say that the Knicks thought they'd know by Monday if Anthony was prepared to commit to new team president Phil Jackson for the long term or sign with the Lakers instead. The Knicks can offer Anthony a five-year maximum deal valued at $129 million, with the Lakers' max offer topping out at $96 million over four years.
The Lakers' pitch to Anthony included a conversation with Hall of Famer Magic Johnson, according to ESPN. Johnson called from his European vacation because, as one source put it, "He will always be a Laker. If he was in town, he'd have been in the meeting."
Los Angeles is determined to wait on James and Anthony before moving on in its pursuit of other free agents. James and Anthony are the Lakers' main targets, but with each passing day, the franchise gets antsy about potentially missing on other free-agent targets such as Pau Gasol
July, 8, 2014
Jul 8
7:37
PM CT
By
Ian Begley
| ESPNNewYork.com
[+] Enlarge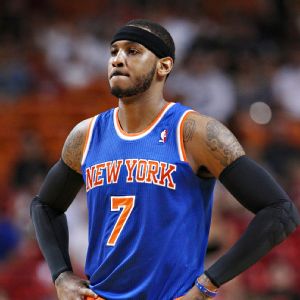 David Santiago/El Nuevo Herald/MCT/Getty ImagesCarmelo Anthony wants to win -- and new Knicks coach Derek Fisher says that can happen in New York next season.
One of Carmelo Anthony's goals in free agency is to put himself in position to compete for an NBA championship.
That would appear to be one knock against the New York Knicks' pursuit of Anthony. The Knicks won just 37 games with Anthony last season.
But Knicks head coach Derek Fisher said Tuesday that he has assured Anthony that the Knicks will be "a better basketball team" than they were last season, according to published reports.
Fisher, team president Phil Jackson and general manager Steve Mills met with Anthony and his representatives in Los Angeles last Thursday to offer their sales pitch to the free agent.
Fisher, speaking in Las Vegas at the team's summer league practice on Tuesday, said he gathered during the meeting that one of Anthony's top priorities is to put himself in a winning situation. And the first-year coach made it clear to Anthony that he felt the Knicks could turn things around in 2014-15.
July, 8, 2014
Jul 8
3:49
PM CT
First-round pick
Doug McDermott
will lead the
Chicago Bulls
summer league team into action as it begins play on Saturday in Las Vegas.
The Bulls' summer league roster was announced Tuesday and includes last year's first-round pick
Tony Snell
and this year's second-round selection
Cameron Bairstow
. Bulls assistant
Adrian Griffin
will be the head coach with assistants Andy Greer, Ed Pinckney, Mike Wilhelm and Coby Karl.
Bulls coach Tom Thibodeau said on draft night that he expected
Derrick Rose
to practice with the summer league team, but he wouldn't play. The Bulls open the summer league slate on Saturday night against the
Los Angeles Clippers
.
July, 8, 2014
Jul 8
1:04
PM CT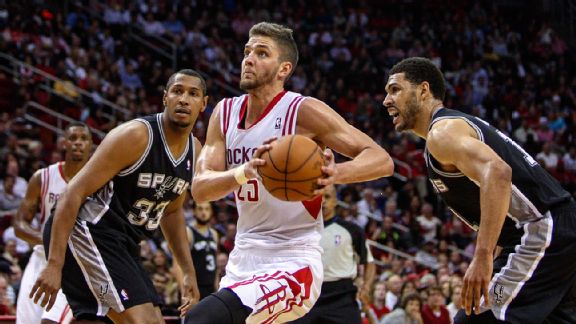 Troy Taormina/USA TODAY SportsChandler Parsons, a second-round pick in 2011, is in for a big payday this summer.
As the basketball world awaits a decision from the top stars in the NBA, the
Chicago Bulls
have to continue planning for the future despite the uncertainty of the present.
If
Carmelo Anthony
does not sign in Chicago, the Bulls are going to have a lot of choices to make in a short amount of time. Like many teams, the Bulls have money to spend but there is a lot of competition to land second- and third-tier free agents. Once the first big dominoes of free agency fall when
LeBron James
and Anthony make their decisions, everything else will come down quickly.
The Bulls have several contingency plans in order and they must act decisively if they are left at the alter by Anthony.
With that in mind, here are a few of the options Gar Forman and John Paxson will have to consider if Anthony passes on the Bulls:
It always seemed like Houston would end up matching whatever offer materialized for the restricted free agent. But if the Rockets end up landing
Chris Bosh
, maybe the game changes for a team like the Bulls. At 25, Parsons is sure to have many suitors -- the interesting aspect of his deal, as my colleague
Tim MacMahon from ESPNDallas.com noted
, is that any team that signs Parsons to an offer sheet may then have to wait three full days to see if the Rockets would match the offer.
If James still hasn't made his decision in a few days and Bosh is waiting to see what happens, would a team like the Mavericks or Bulls be willing to gamble on signing Parsons to the offer sheet, in the event that Anthony picks a team?

There are a lot of moving pieces in this scenario, but it's hard to envision the Bulls making that choice knowing that they may not end up with any of their targets if they tie up their money in the offer for three days and then Houston ends up matching anyway.
Parsons would fill a huge need for the Bulls in the form of outside shooting, but would the Bulls be willing to create enough cap space to land him? According to ESPN capologist Larry Coon, the Bulls would have about $13 million in available cap space if they use the amnesty provision to eliminate the final year of
Carlos Boozer
's deal and trade
Mike Dunleavy
. With Nikola Mirotic's arrival looming on the horizon, the Bulls wouldn't even come close to offering Parsons a competitive offer if Mirotic wants somewhere between $6 million and $8 million.
As Coon noted, the Bulls can't offer Parsons the same kind of "poison pill" contract the Rockets offered former Bull
Omer Asik
because Parsons has already been in the league for three years and is not bound to the same contract restrictions. Plus, if the Mavericks, or another team swoop in to sign Parsons to a big offer sheet, then the Bulls are out of contention anyway. Parsons is a close friend of Bulls center and fellow Florida product
Joakim Noah
, but that tight bond probably isn't going to be enough to bring him to Chicago.
Gasol
Gasol's name has been on the Bulls' radar for a while. The front office flew out to meet with Gasol last week in Los Angeles and he seems to be at the forefront of any non-Anthony contingency plan. As with Parsons, there are a lot of teams contending for his services. The Bulls don't figure to offer Gasol nearly as much as the Lakers will, but they can sell playing on a team that believes it has a legitimate chance to contend next season in the much weaker Eastern Conference. Still, landing Gasol is going to be tough because of the quality of suitors in the hunt for him.
Stephenson
The mercurial 23-year-old Pacers swingman has already turned down a five-year, $44 million deal from Indiana and
ESPN.com's Chris Broussard reported
Monday that the two sides are still "far apart on a deal." I still don't believe the Bulls will make a serious run at Stephenson because of his documented ability to upset a locker room, but if they whiff on other names, he remains a possibility, especially if the Pacers can't come to terms with him.
Deng
Don't hold your breath for a Deng reunion with the Bulls. Deng already turned down a three-year, $30 million deal last season. He and his camp were not happy with how the Bulls approached the contract process and there are still lingering feelings on both sides. Plus, adding Deng after potentially missing out on Anthony & Co. would not satisfy a fan base that already knows what kind of team the Bulls are with Deng in the fold.
Ariza
The
Washington Wizards
swingman would fit into the Bulls' system on many levels. He is a solid defender and can knock down open jumpers -- as evidenced by some of his performances in the Wizards' first-round playoff win over the Bulls. Washington would still like to re-sign him, but he could be an answer if the Bulls are willing to splurge a little.
As the Bulls' front office tries to filter through all the scenarios, the big problem they have is the same one every team is dealing with. Many organizations have a lot of money to spend this summer.
As the Bulls learned in the past with Carlos Boozer, and others, teams usually have to overpay in free agency. That's why it's more imperative than ever for the Bulls to target one big free agent and lock him up right away if Anthony isn't ready to come to Chicago. The Bulls aren't going to have time to wait and see what happens in a crowded marketplace.
July, 7, 2014
Jul 7
5:51
PM CT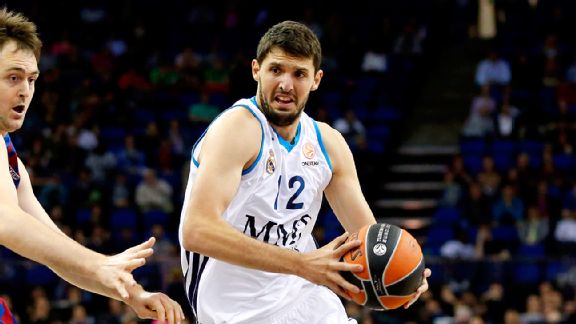 AP Photo/Lefteris PitarakisWhen asked for an NBA comparison, Fran Fraschilla likened Nikola Mirotic to a young Hedo Turkoglu.
CHICAGO -- Nikola Mirotic isn't ready to become the next
Dirk Nowitzki
, according to ESPN analyst Fran Fraschilla, but he is still a solid player who would have been a top-four selection in this year's draft had he been available.
"I think he would have been the guy like we said with
Jabari Parker
, he's the most ready to play in an NBA game right now," Fraschilla said on ESPN 1000's "Waddle and Silvy Show" on Monday. "And we might have even made the statement
Andrew Wiggins
may have the most upside, but I honestly think he would have been in the top [few picks]. Let's assume a healthy
[Joel] Embiid
, you're definitely talking about [Mirotic being] a top-four pick."
Mirotic, who was picked up by the
Chicago Bulls
in a draft day deal in 2011, has worked out a buyout to get out of his deal with Real Madrid, according to reports out of Europe. As the Bulls wait for
Carmelo Anthony
to make a decision as to where he will play next season, they're also trying to figure out just how much it will take to land Mirotic, who is not bound to the rookie scale because he was drafted three years ago.
When asked for an NBA comparison, Fraschilla compared Mirotic to a young
Hedo Turkoglu
, a player who can space the floor for
Derrick Rose
and knock down jumpers. But he also noted that fans should not expect too much too quickly.
"I think the Bulls are getting a really solid player here," Fraschilla said. "But they're not getting Dirk Nowitzki, certainly not at this stage of his career."
Fraschilla used a baseball reference to illustrate his point.
"Playing at the level he has for the last four years, he's hitting .330 in Triple-A," Fraschilla said. "And now you're bringing him up to the big leagues. If you're the
Chicago Bulls
, for example, you're hoping he's going to be a .290 hitter right off the bat."