January, 16, 2015
Jan 16
10:49
PM CT

By Jon Greenberg
ESPNChicago.com
Archive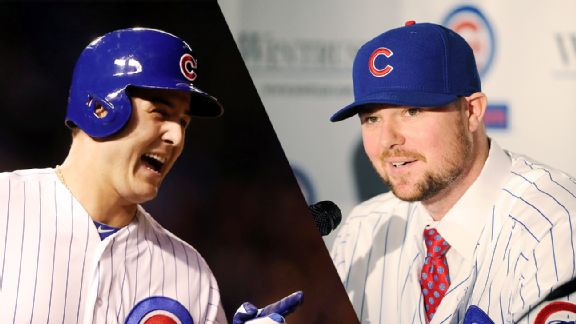 USA TODAY Sports, Getty ImagesAnthony Rizzo must back up his NL Central guarantee, but having Jon Lester along will help, too.
CHICAGO --
Anthony Rizzo
made the guarantee heard 'round the National League Central on Thursday.
Now all the
Chicago Cubs
first baseman, and his teammates, have to do is back it up this season and win the damn division.
Easier said than done, of course, but it's sure better than the alternative of guaranteeing half the team will be gone come August.
Rizzo guaranteeing a 2015 NL Central title means nothing, but it gave us something to talk about going into the 30th annual Cubs Convention. So we're grateful to him.
And it'll be a fun statement to pin on him every time he goes 0-for-4 and the Cubs get drilled.
"Rizzo, who guaranteed a division title in January, struck out four times in a 10-2 loss to St. Louis."
I guess that's my guarantee to you, Cubs fans.
But I like Rizzo's moxie. The Cubs need some moxie. A little chutzpah wouldn't hurt, either. As a veteran, Rizzo should speak up, just as long as the 25-year-old shows up.
After all, this isn't international politics. It's just Cubs baseball.
After the past three years, and 286 losses, there is legitimate, reasonable hope for the 2015 season, and there's nothing wrong with selling it in January.
And there's no better place to peddle hope, or blue-and-red Mardi Gras necklaces, than at the Cubs Convention, the Midwest's premier conclave of superfans wearing tucked-in Ryne Sandberg jerseys.
Cubs fans packed the main ballroom at a downtown hotel Friday night for the opening ceremonies to indulge in their wildest fantasies, only some of which involve team president Theo Epstein staring into the distance.
They stood shoulder to shoulder for a chance to applaud new Cub
Jon Lester
, the team's prized $155 million investment, and the face of the rebuild.
Before the hoopla, Lester met the media and was asked about Rizzo's guarantee. While Lester, the former
Boston Red Sox
ace, isn't much of a promise-maker, he doesn't see why one would stop at the division.
"Obviously, that's a bold statement," the left-hander, 31, said. "Obviously we're all pulling on the same rope. I don't think the end-all goal is the division. For me, every year, it's obviously nice to win the division. It's obviously nice to make the playoffs. Obviously, the end-all goal for everyone in that clubhouse, I'd imagine, is the World Series."
Obviously.
[+] Enlarge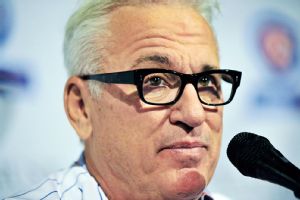 David Banks/Getty Images"When they earn that right," Joe Maddon said of the Cubs' touted prospects getting to the majors, "they have to be able to stay there."
"By no way, shape or form am I predicting a World Series win," Lester said. "But that's the goal."
Goals are good. The Cubs don't need to snow their fans anymore. This team can compete this season. I don't think they'll be printing division-champs shirts, but the goal is for the team to be interesting in August.
For Cubs fans, it has to be gratifying to root for a team whose goals are now more ambitious than flipping veterans for prospects and gracing Baseball America covers.
Winning now and building for later is that parallel-fronts thing Epstein promised when he was hired in 2011. As with the rebuilding of the Wrigley Field bleachers, the parallel fronts have been delayed a bit. Unlike the bleachers, they might be visible in April.
Winning now, or at least trying to, is why Epstein pushed one-year manager Rick Renteria out of the moving car when Joe Maddon's RV pulled up.
Maddon isn't here to wait.
"I'm glad [Rizzo] feels that strongly about it, because I feel the same way," Maddon said Friday. "I'm here to support everything that he said."
Maddon's a steadfast positive thinker, which is perfect for this franchise. By historical standards, that won't last. But there aren't many managers like him. His personality bodes well for the challenges ahead.
Maddon said he was in Chicago all week watching tape of Cubs prospects with the minor league coordinators. He loves the talent -- some players, such as
Kris Bryant
, ready for the majors, some a year or two away.
As with any good manager, he also sees the risks in selling youth in a sport that rewards patience.
"The challenging component is the accountability side," he said. "Young player comes up, all of a sudden he comes to the big-league level and gets a chance to become a Major League Baseball player and I don't like the entitlement program, so to speak. You have to earn that moment. So when our young guys get up there, they're going to understand they have to earn it. And when they earn that right, they have to be able to stay there."
I know what you're thinking. Sounds great. When is Bryant coming up, again?
It sounds silly, and very Cub-like, to talk about battling high expectations for a team that hasn't accomplished anything yet. But that's reality. After three years of building, fans want to see a finished product. The Cubs have serious talent, so it's not just marketing.
But most of the talent is unproven. Few players have a track record.
Unlike the Cubs' blogging community, Maddon said he hasn't fiddled with potential lineups yet.
"I'm not that guy," he said.
Naturally, I immediately asked him where Bryant is hitting. He stammered to media laughter, "I, Kris, I'm not that guy."
Maddon said he's coming in without any preconceived notions on the returning talent, and his main job as first-year manager of this club is building "relationships and trust" with the players. He's a devotee of analytics, so that helps in setting lineups. He also wants to get a feel for them as players.
"Once I'm able to do that, we can have a free flow of constructive criticism back and forth," he said.
Maddon has already talked to Lester about his role as the big-ticket addition. A guy like Lester can say he has already pitched in Boston or that he's not worried about pressure, but failing at Wrigley Field is unlike failing anywhere else in baseball. Because people expect it.
There's a fait-accompli feeling there and, when combined with high expectations, weird things tend to happen.
While Maddon isn't concerned with bad juju of Clark and Addison, he knows baseball players. He doesn't want Lester getting bogged down in the idea of being Jon Lester, $155 million savior.
"My request to Jon was do what's comfortable to you," Maddon said. "Sometimes you get a veteran player and you want to lay too much on his lap. Jon's main requirement right now is to get in shape and get ready to pitch well as Jon Lester does."
Lester, to his credit, is more of a lead-by-example guy. He's not pining for cameras or building a personal brand. He wanted the money, sure, but he seems comfortable in his own skin.
"I'm not a very vocal guy," he said. "I'm not going to walk in there the first day and say young guys need to follow me. By no means do they need to follow me. I just try to put my head down and do my work."
Talk is one thing, and it's good that Rizzo is taking that responsibility.
But Lester should provide the kind of quiet leadership the Cubs can get behind. Just put your head down and do your work.
If the Cubs have a Way, that should be it. We'll handle the hype from here.