December, 15, 2014
Dec 15
7:58
PM CT

By Jon Greenberg
ESPNChicago.com
Archive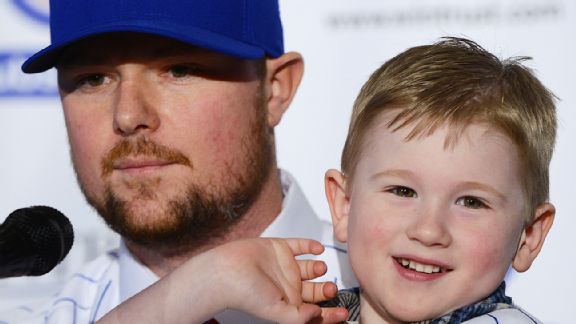 AP Photo/Paul Beaty"That's the biggest thing for us" with Jon Lester, Theo Epstein said -- "the comfort level."
CHICAGO -- For the rest of his career,
Jon Lester
's name will be synonymous with his contract.
As in, "Jon Lester, who signed a $155 million deal in 2014 ... "
When you're Lester, who agreed last week to a six-year, $155 million contract with the
Chicago Cubs
, that's what happens.
Poor guy, right? If we all had those kinds of problems on our shoulders. I'd take that kind of stress for several fewer zeroes.
But being the $155 million ace for the Cubs is real pressure, and there are outsize expectations that come with such a grandiose amount of money -- and those aren't imaginary. Being the face of the much-touted rebuilding process only adds more layers.
For all the talk about the "new" Cubs, the organization has made this season -- and the ensuing ones -- an all-or-nothing chase for a World Series, or, as Cubs president Theo Epstein put it Monday, "the single greatest pursuit left in sports." When you dump three seasons to build up from the studs, there is an expected payoff.
So Lester has to be a $155 million pitcher, a $20 million-plus-per-year pitcher. Some guys can't handle that. Some think they can, but they can't.
Lester, a serious man with a serious mien, doesn't seem to be worried.
"I played in Boston for eight years," he said at his introductory news conference at the Spiaggia restaurant on North Michigan Avenue on Monday afternoon. "I think I'm pretty prepared for a lot of things. You just have to accept it. I can't change it now. It's obviously next to my name, it'll always be next to my name, whether it's a good start or bad start. It's how I go about my work. I just have to believe I'm going to be prepared for every start, and that's all I can control."
Lester has won two World Series rings, but that's in the past. He's in Chicago now, where people expect the worst and always, always follow the money. But Epstein and general manager Jed Hoyer go way back with Lester from their Boston days.
[+] Enlarge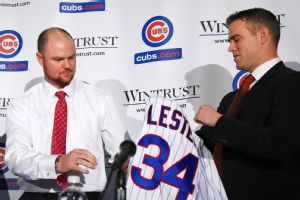 David Banks/Getty Images"I like to win," new Cubs ace Jon Lester said. "People who know me know I'm not very happy when we lose or I lose."
"There won't be any surprises," Epstein said. "That's the biggest thing for us, with the comfort level. Sooner or later, someone was going to have to put their trust in us, we were going to have to put our trust in someone. To do it with someone you know well, there won't be any surprises off the field, there won't be any surprises in the clubhouse, there won't be surprises on the field. He is who he says he is."
That's a sentence that stuck with me.
He is who he says he is.
"I like to win," Lester said. "People who know me know I'm not very happy when we lose or I lose."
Lester said Epstein and Hoyer convinced him the Cubs were ready to win in 2015, which has been the new organizational mantra since the end of the 2014 season. I agree, if winning means 82 games. But I like the attitude, and if you want someone to project you're for real, Lester is the guy.
Lester said he enjoys talking to teammates about former teams. He talked to
Jeff Samardzija
in Oakland about the Cubs' ascent, and said Ryan Dempster, a former Boston teammate now working as special advisor to Epstein, gave it to him straight.
What did he ask Samardzija?
"If everything I was hearing was true, as far as about winning," he said. "Are these guys close? That was my question to Jeff. Are they close? Are they there?"
Obviously, Lester said, the answer was a good one.
When you ask Epstein about the lefty, he ticks off words like "serious" and "driven" to illustrate his character.
"He's at his best in the most important moments, I think because he's so driven and focused and not swayed by outside variables like pressure or tension, things of that nature," Epstein said.
But it's not just about character. No one signs a pitcher and calls him a flake or a doofus. It's about talent. Can Lester, who had a fantastic contract year for Boston and Oakland last season, maintain his level of performance through his 30s?
"He's really, really good," Epstein said. "Let's start with that as a baseline."
But he also will be 31 when he throws his first pitch as a Cub. The Cubs are in fantastic financial shape, with a slew of young, cost-controlled hitters with the team or in the minor leagues. Still, $155 million is $155 million.
Did I mention his deal is $155 million?
Throughout the past couple months, Epstein has described free-agency chases of this magnitude as a high-stakes game of poker, not for "the faint of heart." But as would any professional gambler, the Cubs crunched the numbers. They know the percentages and think they will work out in their favor.
Lester did his research, and so did the Cubs.
"Historically, nine-figure deals for starting pitchers in their 30s haven't worked out," Epstein said. "So you're looking for ways to make the best bet in an inherently risky endeavor. There are a lot of mitigating factors in there, but I'm not going to say it's without risk, because it's not without risk. Contracts like this always carry risk. Jon, we've been around him since he's 18. So I know exactly what shoulder program he's been on since he was 18. I know how well he's executed that shoulder program, how diligent he was. I know what his MRIs look like.
"He's left-handed, and left-handed pitchers tend to perform better throughout their contracts than right-handed pitchers," Epstein continued. "He's got the right kind of pitch mix that will allow him to age gracefully. He doesn't get hitters out just one way, especially now that his curveball is back in the mix, where he's working both sides of the plate. The cutter is a weapon that ages very well. If you look at Andy Pettitte, he aged extremely well through his 30s. He's a reasonable [comparison]. The second half of Jon Lester's career you want to look like Andy Pettitte."
When people talk about the next stage of using advanced analytics to predict performance, it's all about forecasting health, specifically pitching health.
"There's a lot of time and money spent to figure out a way to keep a pitcher 5 percent healthier," Epstein said. "That could mean tens of millions of dollars."
The Cubs made their bet on Lester staying healthy, and he made his bet on them being able to win. Is he the right man for the job? At $155 million, he better be.