July, 27, 2014
Jul 27
6:48
PM CT
COOPERSTOWN, N.Y. -- Showing a heart that was just as big as any of the eye-popping numbers he produced in a storied career,
Frank Thomas
was moved to tears during his Hall of Fame induction speech Sunday.
Thomas was, in fact, the only inductee to shed tears, losing it early at the mention of his late father Frank Sr., who passed away in 2001.
[+] Enlarge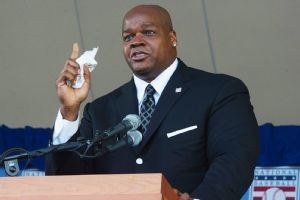 Gregory J. Fisher/USA TODAY SportsIn an emotional speech that went almost eight minutes over the allotted time limit, Frank Thomas made sure to thank everyone who ever had an impact on his life, including the city of Chicago and White Sox chairman Jerry Reinsdorf.
"Frank Sr., I know you're watching and smiling from heaven," Thomas said to a crowd of 48,000 gathered on a grass field just south of the Hall of Fame doors. "Without you, I know 100 percent I wouldn't be here in Cooperstown today. Thanks for pushing me and always preaching to me: You can be someone special if you really work at. I took that to heart, Pops. Look at us today."
At that moment, the tears began to flow as Thomas was at the outset of a 17-minute, 45-second speech that was big on thank yous.
Thomas went to every corner of his life to make sure those who helped make him the person and player he was were recognized. He concluded with a rapid-fire list of 138 former teammates Thomas insisted on including, even though he was well over his allotted time limit.
With all of his family in attendance, including his mother Charlie Mae, who hadn't left Columbus, Georgia, in 15 years, Thomas recalled his high school baseball days, as well as his time as a football and baseball player at Auburn.
He thanked agents, coaches, friends, business associates and anybody else who touched him over his adult life. After his family, he reserved the warmest comments for White Sox chairman Jerry Reinsdorf.
"Jerry, thanks for a long and wonderful ride in that
Chicago White Sox
uniform," Thomas said. "You did a lot for me and you still mean a lot to me. Thank you, my friend."
Often criticized for being a me-first player, especially because of his extreme interest in statistics and league-leader lists, Thomas' speech was the antithesis of that. He showed a vulnerability that added to the emotion as well.
Sitting next to fellow inductee Joe Torre long after his speech was completed, Thomas finally looked at peace after an anxious weekend that had him anticipating his address to the overflow crowd. Torre smiled as Thomas spoke of the reverence he has for his father.
"It was rough," Thomas said. "Some of the closest people in my life are gone. When you get to that, it's a lot of emotion. My father meant so much to me, and he's not here today. I probably won't get over this until the day is over. It was a special moment. This was my grand finale. I wanted to thank all the people who touched me. I thanked everyone who got me to this point. I definitely didn't get here alone and I'm proud of that."
Ozzie Guillen also received significant mention. Guillen and Thomas had a unique bond, with Guillen often antagonizing Thomas. In turn, Thomas admitted he was able to use any anger or frustration he had toward Guillen and Joey Cora and turn it into success on the field.
"And a special thanks to Ozzie Guillen, 11 years as a teammate, three years as a manager, and I can thank you for getting me my only ring, because we had that special bond for many years," Thomas told the crowd. "I thank you, Ozzie, thank you very much."
If the years weren't correct, the sentiment hit right on target. Thomas and Guillen were teammates for just seven years and Guillen managed Thomas for just two seasons.
Thomas went on to thank trainers and doctors for getting him back on the field each day, reserving plenty of love for longtime White Sox trainer Herm Schneider.
After naming as many teammates as he could pack into a short amount of time, Thomas's speech circled back to White Sox fans.
"In closing I would like to say thank you to the city of Chicago," he said. "You guys made the Big Hurt who he was in the greatest sports town in America. I know I'm biased but I thoroughly enjoyed playing for you all. Thank you from the bottom of my heart. Oakland, Toronto, I thank you for great fan bases and also for making me feel at home. It was short-lived, but I appreciate the love from both of you great cities."
Playing in the heart of the Steroid Era, Thomas prided himself on not using performance-enhancing substances during a 19-year career, but he declined to get steroids-heavy in his speech. But he did close with a little advice to young athletes everywhere.
"To all you kids out there, just remember one thing from today: There is no shortcuts to success," Thomas said. "Hard work, dedication, commitment. Stay true to who you are. God bless you all and I thank you."
Thomas said afterward that a Hall of Fame speech wasn't the place for a discussion on steroids.
"It wasn't thought," Thomas said afterward. "This is a special weekend. I just didn't think that stuff was necessary. We all know what has happened over the last 15 years in baseball. Today is a bright stage among heroes.
"I wanted to get that out to the kids. Don't take the shortcuts. Don't do what other people say is cool or because it's going to make you better. Believe in yourself, hard work and determination -- stay true to yourself is something I wanted to get out there."
While players with great numbers are on the outside looking in at Cooperstown, Thomas was able to speak in front of 50 Hall of Famers and five fellow inductees Sunday to talk about his road to greatness.
"I would also like to thank my parents for working so hard to instill core values to make the best of life," Thomas said. "We didn't have much but my parents worked tireless for me and my four siblings."
July, 27, 2014
Jul 27
5:37
PM CT
Associated Press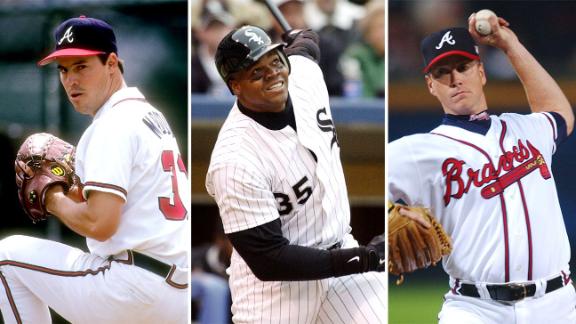 COOPERSTOWN, N.Y. -- Frank Thomas choked back tears, Joe Torre apologized for leaving people out of his speech and Tony La Russa said he felt uneasy.
Being enshrined in the Hall of Fame can have those effects, even on the greats.
Thomas, pitchers Tom Glavine and Greg Maddux, and managers Bobby Cox, Torre and La Russa were inducted into the baseball shrine Sunday, and all paid special tribute to their families before an adoring crowd of nearly 50,000.
"I'm speechless. Thanks for having me in your club," Thomas said, getting emotional as he remembered his late father. "Frank Sr., I know you're watching. Without you, I know 100 percent I wouldn't be here in Cooperstown today. You always preached to me, 'You can be someone special if you really work at it.' I took that to heart, Pop."
"Mom, I thank you for all the motherly love and support. I know it wasn't easy."
The 46-year old Thomas, the first player elected to the Hall who spent more than half of his time as a designated hitter, batted .301 with 521 home runs and 1,704 RBIs in a 19-year career mostly with the Chicago White Sox. He's the only player in major league history to log seven straight seasons with a .300 average, 20 homers, 100 RBIs and 100 walks.
Ever the diplomat as a manager, Torre somehow managed to assuage the most demanding of owners in George Steinbrenner, maintaining his coolness amid all the Bronx craziness while keeping all those egos in check after taking over in 1996. The result: 10 division titles, six AL pennants and four World Series triumphs in 12 years as he helped restore the luster to baseball's most successful franchise and resurrected his own career after three firings.
Torre, the only man to amass more than 2,000 hits (2,342) and win more than 2,000 games as a manager, was last to speak, and in closing delivered a familiar message.
"Baseball is a game of life. It's not perfect, but it feels like it is," said the 74-year-old Torre, who apologized afterward for forgetting to include the Steinbrenner family in his speech. "That's the magic of it. We are responsible for giving it the respect it deserves. Our sport is part of the American soul, and it's ours to borrow -- just for a while."
"If all of us who love baseball and are doing our jobs, then those who get the game from us will be as proud to be a part of it as we were. And we are. This game is a gift, and I am humbled, very humbled, to accept its greatest honor."
The day was a reunion of sorts for the city of Atlanta. Glavine, Maddux and Cox were part of a remarkable run of success by the Braves. They won an unprecedented 14 straight division titles and made 15 playoff appearances, winning the city's lone major professional sports title.
"I'm truly humbled to stand here before you," Cox said. "To Tom Glavine and Greg Maddux, and I have to mention the third member of the big three -- John Smoltz
July, 27, 2014
Jul 27
4:56
PM CT
COOPERSTOWN, N.Y. -- Frank Thomas delivered what figures to be the most memorable speech at Sunday's National Baseball Hall of Fame induction ceremony with an address that was both emotional and full of thanks.
At the tail end of the speech, Thomas named 138 former teammates in rapid-fire succession. The list included players from the
Chicago White Sox
,
Oakland Athletics
and
Toronto Blue Jays
.
Inductees were limited to a 10-minute speech and by the time Thomas gets to the teammates portion he had already reached the 15-minute mark.
July, 27, 2014
Jul 27
4:25
PM CT
Associated Press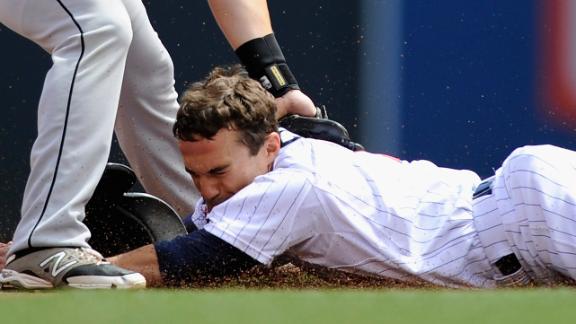 MINNEAPOLIS -- Sam Fuld hit a tiebreaking, two-run single off Javy Guerra in a three-run seventh inning, and the Minnesota Twins defeated the Chicago White Sox 4-3 Sunday to avoid a four-game sweep.
Danny Santana had two RBIs for the last-place Twins, who won for just the 11th time in their last 30 games.
Chicago led 2-1 in the seventh when Minnesota loaded the bases against Ronald Belisario (3-7) on walks to Josh Willingham and Eric Fryer around a single by Chris Parmelee.
Guerra relieved and retired Eduardo Escobar on a foulout, and Santana hit a tying sacrifice fly just deep enough to left-center field. Fuld followed with a line-drive single up the middle and was thrown out at second when he tried to advance.
Adrian Nieto homered in the eighth off Casey Fien, Nieto's first in 76 career big league at-bats. All-Star Glen Perkins retired Gordon Beckham on a bases-loaded flyout for his 25th save in 28 chances.
July, 27, 2014
Jul 27
1:20
AM CT
By Stacey Gotsulias
ESPNChicago.com
Archive
Saturday was one of those days when baseball fans looked at MLB's schedule, perused the pitching matchups and more than likely became very excited because a bunch of aces were slated to start. So in case you missed what happened, here is your roundup:
• Chicago's
Chris Sale
was simply dominant against the sliding
Minnesota Twins
en route to a 7-0 win at Target Field. It was the 10th win of the season for White Sox's ace, and it makes him the first Sox starter to win 10 of his first 11 starts since
Mark Buehrle
accomplished the same feat back in 2005. Sale lasted eight innings, gave up five hits -- all singles -- and walked two while collecting 12 strikeouts.
The biggest threat from Minnesota's offense came against Sale during the second inning, after he walked
Kurt Suzuki
, who advanced
Josh Willingham
to second base. After that, Sale barely broke a sweat. He had three innings in which he set down the batters in order, and he recorded at least one strikeout in every inning he pitched.
According to Brooks Baseball, Sale was averaging 95.3 mph on his fastball while dialing it up to 97.3 mph when needed. He threw his two-seamer 63 times while sprinkling in his changeup (30) and slider (19). Seven of Sale's 12 strikeouts were of the swinging variety. He got nine swings on misses on his changeup, and four of the singles came off his fastball, while one came off his changeup. The Twins could not do anything against his slider.
•
Sonny Gray
, the ace of the Oakland Athletics, faced the lowly
Texas Rangers
in Arlington. While he picked up the win, which was Oakland's 64th of the season, Gray wasn't as dominant as you'd want your ace to be against the worst team in baseball. Gray lasted 6 2/3 innings and surrendered one earned run on seven hits, but he walked four and struck out five. His season ERA is now 2.65.
Gray favored his fastballs (two-seam, four-seam) and curveballs equally and got the most swings on the four-seamer. He also got the most strikes on the curve. It was his 12th win of the season, and he moved his strikeout total up to 121 on the season.
• Longtime Cy Young front-runner
Justin Verlander
didn't fare well against the resurgent
Los Angeles Angels
of Anaheim. He picked up his ninth loss of the season but wasn't exactly that bad. For other pitchers, a seven-inning, three-run performance could earn them a victory, but that didn't happen for Verlander. Unfortunately for him and the Tigers, they ran into
Matt Shoemaker
, who pitched a gem -- seven innings, three hits, five strikeouts and no walks.
Verlander's record is now at .500 (9-9), and his ERA is a robust 4.79. While he's been struggling to put something good together all season, Detroit fans should be relieved about his velocity going back to more Verlander-like levels; on Saturday night his fastball was sitting around 96 mph.
• In Cincinnati,
Johnny Cueto
and
Gio Gonzalez
of the Nationals were locked in a pitcher's duel that was ultimately won by the Reds' ace thanks to a seven-inning, four-hit, nine-strikeout performance. Cueto, who saw his season ERA drop to a 2.08, threw 103 pitches -- 67 for strikes. The 28-year-old Cueto now leads the National League in innings pitched (155.2) and looks to be a front-runner for the NL Cy Young. He also has held opponents to a .184 batting average and has a WHIP of 0.93. He has 163 strikeouts on the season along with 11 wins.
Unlike Sale, Cueto used a bigger variety of pitches to get to the Nationals. According to Brooks, while Cueto favored his four-seamer -- he threw it 36 times -- he also sprinkled in 21 two-seamers, 16 cutters, 13 sliders and 11 changeups. He recorded a three-up, three-down inning in the third and struck out all three batters (two swinging).
• Last, but certainly not least in any sense of the word, we have another NL Cy Young front-runner,
Clayton Kershaw
of the Dodgers, who did Clayton Kershaw things against the
San Francisco Giants
in one of those games you don't want to say is big because it's still only July, but in actuality, it is pretty big.
So what exactly did Kershaw do? He only pitched a complete-game shutout while giving up two hits and striking out seven. The poor Giants just didn't have an answer for Kershaw, who picked up his 12th win of the season and lowered his ERA to 1.76. He favored his four-seam fastball and threw 68 of them while tossing 113 pitches overall. He set down the Giants in order during the first four innings of the game. The win helped the Dodgers pull ahead of the Giants in the NL West standings.
Stacey Gotsulias writes for It's About The Money, a blog about the New York Yankees. You can follow her on Twitter.
July, 26, 2014
Jul 26
9:02
PM CT
Associated Press
MINNEAPOLIS -- Chris Sale tied a season high with 12 strikeouts in eight dominant innings, Alexei Ramirez hit his 10th homer, and the Chicago White Sox beat Minnesota 7-0 on Saturday night for their third straight win over the Twins.
Sale (10-1) scattered five hits -- all singles -- and became the first White Sox starter to win 10 of his first 11 decisions in a season since Mark Buehrle in 2005. It was also Sale's 15th career game with 10 or more strikeouts, moving him into a tie for second on the team's all-time list with Juan Pizarro.
Twins starter Logan Darnell (0-1) struggled in his first major league start, giving up seven runs and 11 hits while striking out seven in five innings.
Daniel Webb pitched a scoreless ninth for Chicago, which has won seven of its last 10 games.
July, 26, 2014
Jul 26
6:09
PM CT
COOPERSTOWN, N.Y. -- The end to his days as
Chicago White Sox
manager isn't something Tony La Russa will embrace, but the overall memories of his first managing job remain satisfying.
Using a style considered cutting edge when he took the White Sox job in 1979, the Tampa, Florida, native and fringe major leaguer wasn't everybody's cup of tea.
[+] Enlarge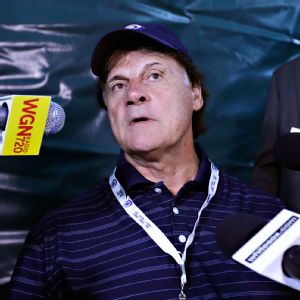 AP Photo/Mike GrollTony La Russa led the White Sox to the playoffs in 1983, the first postseason appearance for the team since 1959.
La Russa did it his way, and in 1983 his way delivered a 99-win season and the White Sox's first postseason berth since 1959. But by 1986 he was gone after short-lived general manager Ken "Hawk" Harrelson fired him.
With his induction into the National Baseball Hall of Fame about to go down Sunday, most White Sox fans in town to see the ceremony are focusing more on 1983 than 1986.
"I've heard it [all] along, but here in the last four or five months I'm getting a lot of comments," La Russa said of interaction with White Sox fans. "I think our fans, I run into them all the time. They remember '83. They enjoyed it. We all enjoyed it. It was something special."
The joy wouldn't last back then. Harrelson left the broadcast booth in 1985 to take over as GM and La Russa's days were as good as numbered.
"We had played pretty good in '85 so he was stuck with me," La Russa said. "I think if he had his own guys, I don't know that his ideas wouldn't work. I just know they didn't [that year]. We fought him. We tried to work 'em, but we had to fight 'em."
Harrelson and La Russa didn't talk again until they broke the ice in 1992. They have stayed good friends since.
Broadcaster Harry Caray was another La Russa critic, and unlike the feud he ended with Harrelson, that one never was repaired.
"Hell no," La Russa said. "The first [shot] he took was, 'Bill [Veeck] was too cheap to hire a real manager.' There's probably a lot of truth to that. Harry liked to pick on the lambs and I was a lamb."
He left the White Sox to manage the
Oakland Athletics
and
St. Louis Cardinals
, and that lamb turned into a wolf. In 33 seasons as a manager, La Russa won 2,728 games, the third-highest total all time behind Hall of Famers Connie Mack and John McGraw. La Russa ended up winning three World Series.
But it all started in Chicago.
"First Bill Veeck, the way he would ask questions and get you involved with the great scouts, that was like going to graduate school night school and work on weekends," La Russa said. "It was just work, work, work. Then here comes new owners Jerry [Reinsdorf] and Eddie [Einhorn]. They loved the game of baseball so it was a great atmosphere. Then you had Roland Hemond as the GM. How much better can it get than that?"
July, 26, 2014
Jul 26
4:46
PM CT
COOPERSTOWN, N.Y. -- Frank Thomas came to the plate more than 10,000 times in his career, yet Sunday's march into the spotlight will be the most pressure-packed of his career.
Maybe he should wear his spikes and take a bat up to the dais when he makes his approximately 14-minute Hall of Fame induction speech in front of a crowd that could total 40,000 or more, not to mention those watching on television. For the record, the speech is four minutes longer than requested.
[+] Enlarge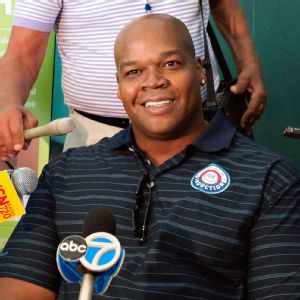 Gregory J. Fisher/USA TODAY SportsFrank Thomas is proud of playing baseball the right way and of the longevity and success he achieved, even after he left Chicago.
"It's reality, but it's very stressful -- trust me," Thomas said Saturday in advance of his induction, along with former players Greg Maddux and Tom Glavine and former managers Bobby Cox, Tony La Russa and Joe Torre.
"It's been a long week, man. This is like, wow. It's the finale, but a lot goes into this finale. This is big-time stuff. Going over and seeing how big that field is, [and] they are expecting it to be filled. I'm looking forward to it, man. I'm just overjoyed. But the nerves are there."
It seems silly, given that dealing with pressure was Thomas' forte. He is one of only four players in major league history with a career .300 batting average, 500 home runs, 1,500 RBIs, 1,000 runs scored and 1,500 walks. Mel Ott, Babe Ruth and Ted Williams are the other three who can match those numbers.
Thomas is also only one of 12 players to ever win back-to-back MVP awards, in 1993 and 1994. He won the '93 award unanimously.
He even knew how to pick himself back up and dust himself off, and he won the American league comeback player of the year award not only in 2000 but in 2006 as well.
Making things feel as though they've come full circle for Thomas is that this is not only a Chicago celebration in Cooperstown, with he, La Russa and Maddux being enshrined, but it's an even bigger Atlanta celebration with Maddux, Glavine and Cox being honored. Thomas is a Georgia native.
"Going in with these historical guys -- two of the managers, Bobby and Torre, managed my hometown team, and I got to watch those guys manage my hometown team, the
Atlanta Braves
-- it's weird, man," Thomas said. "It's a big finish because of the Chicago crowd, with Greg Maddux and myself, the Atlanta and Georgia crowd and just being around. Oakland is going in. It's crazy."
July, 26, 2014
Jul 26
4:16
PM CT
By Sahadev Sharma
Special to ESPNChicago.com
Archive
CHICAGO -- A.J. Pierzynski spent eight seasons with the
Chicago White Sox
. He won a World Series in his first year with the team and made an All-Star appearance. Pierzynski, who is joining his sixth team after signing with the
St. Louis Cardinals
on Friday night, said the team he identifies with most in his career are those White Sox.
"We won a World Series, so it's hard to top that," Pierzynski said before the Cardinals played the
Chicago Cubs
on Saturday. "All the time I spent here, the people here and the fans always in Chicago have been great. Obviously the White Sox is kinda where it's at."
Pierzynski was in Cooperstown with his family to watch his former teammate Frank Thomas' be inducted into the Hall of Fame when he got the call from his agent that the deal with the Cardinals was done.
"He had a big party on Thursday night and it was kind of a surpise, he didn't know who was showing up," Pierzynski said of Thomas. "He was excited to see myself, [Aaron] Rowand, Jermaine Dye and some other guys who were there. He was really happy and excited, it was fun to see Frank like that. Usually when you see Frank, he's a little tense and uptight sometimes, so it was fun to see him happy. I mean, he's gotta be happy, he's going into the Hall of Fame."
In his time with the White Sox, Pierzynski had numerous instances where he drew the ire of Cubs fans when the intra-city rivals would face off. Having been a part of many rivalries, Pierzynski wasn't sure where Cubs-Cardinals would rank, but he did find some humor in the fact that his debut with St. Louis would come at Wrigley Field.
"If it can top the Cubs-White Sox when I was here, then it'd be pretty good," Pierzynski said of the rivalry. "It's gonna be pretty tough to top those first few years when I was here. You hear about it, obviously in the Midwest, it's a pretty big deal. But I've been a part of Yankees-Red Sox, Giants-Dodgers, White Sox-Cubs, it's pretty tough. I'm looking forward to it and hopefully Wrigley is loud and I'm sure I'll get a nice ovation today from the crowd."
Pierzynski's new manager, Mike Matheny, pointed out that it may not be all boos when Pierzynski, who started and batted sixth Saturday, steps to the plate.
"I think he anticipates that it's going to be pretty loud," Matheny said. "Actually, [Friday] there was a good portion of red in the stands. It'll be interesting to see how the fans react in a positive way from the red and from the blue. I know he's had a couple run-ins here, so one way or another, there's going to be some noise."
July, 26, 2014
Jul 26
2:25
PM CT
COOPERSTOWN, N.Y. -- Chicago White Sox chairman Jerry Reinsdorf is feeling much better one day after a fainting episode that required an overnight stay in the hospital.
A White Sox official said Saturday that the lightheaded spell was brought on by a combination of exhaustion and dehydration.
Reinsdorf was attending a White Sox dinner Friday night that included new Hall of Fame inductee Frank Thomas when he slumped down into a chair. An onlooker described the scene, saying the 78-year-old owner's eyes rolled back into his head.
Thomas, who was nearby when the incident took place, initially worried it might be a life-threatening situation.
"After seeing Jerry go down last night, I'll be honest, it scared the s--- out of me," Thomas said. "He was down for a long time and it didn't look good. He was white as a ghost on the floor. The first thing you're thinking is 'Oh, my God, he's gone.' "
Thomas said paramedics were pumping Reinsdorf's chest as they took him away in an ambulance, but a White Sox official disputed that account.
The White Sox say that Reinsdorf was alert the entire time and was immediately tended to by a paramedic that was in attendance at the team function. The issue was said to not be heart-related.
Reinsdorf stayed at a local hospital for observation and had what was described as a restless night. He was released from the hospital in the morning and spent Saturday at his hotel.
A clear sign that Reinsdorf was feeling much better was his request to doctors to continue enjoying cigars the remainder of the weekend. The request was granted.
July, 26, 2014
Jul 26
12:45
PM CT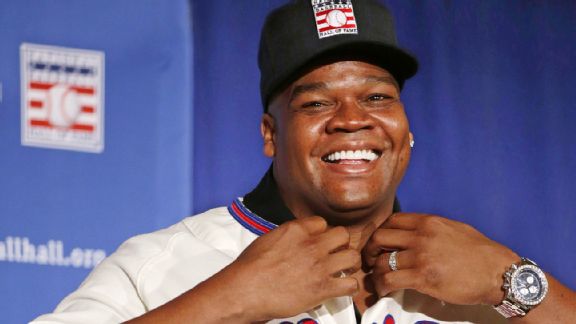 AP Photo/Kathy WillensFrank Thomas didn't put up Hall of Fame numbers just by being big and strong. He put in the work.
COOPERSTOWN, N.Y. -- There are plenty of traits that led
Frank Thomas
to one of the best careers in baseball history, but it might have been an awareness of his own swing that yielded Hall of Fame credentials.
Picking apart Thomas' positive offensive traits has been a popular subject this week in advance of his induction to the Hall of Fame in Cooperstown on Sunday.
There was Thomas' patience at the plate that led to some robust numbers since he was a master at swinging at strikes. There was his ability to hit to the opposite field, essentially taking what the pitcher gave him, that helped to keep his run production high.
His raw, natural power has also been cited. Thomas has even suggested that the steroid era might have been influenced by hitters trying to match his natural strength. Thomas has long boasted that he did not touch performance-enhancing substances, crediting coaches from his football days at Auburn for setting him straight on the subject.
But for all Thomas did on the field, it was the things he did behind the scenes that might have been the most important. Thomas' work with hitting guru Walt Hriniak laid the groundwork for a .301 career batting average over 19 seasons, a .419 on-base percentage, 521 home runs and 1,704 RBIs. In 16 seasons with the White Sox, he hit .307 with a .427 OBP, 448 HRs and 1,466 RBIs.
Thomas didn't have the prettiest of swings, rocking his weight forward during a pitcher's delivery and often kicking back his right foot at the point of contact. While many power hitters load up on their back foot, Thomas' upper-body strength allowed him to cheat the process and get his weight centered earlier than most.
It may not have been a swing to teach, but Thomas got himself where he needed to be at the point of contact. More importantly, he knew how to get himself back into his ideal hitting zone as soon as that swing started to stray.
"Just from what I saw the years he was here, something he had learned obviously before I got here, but he was just really consistent and dialed in with his work," said former teammate
Paul Konerko
. "He knew when things went bad and [he] wasn't swinging the bat the way he wanted to. He had drills and just a whole formula on how to get himself back. He was very aware at all times where he was at with his swing.
"He knew what to do when it was good and knew what to do when he didn't feel good. He kind of just knew and learned how to kind of get it back to where he wanted to and knew little tricks to do it. That all leads to the numbers and not going through long stretches with bad results. That's what I saw."
Another behind-the-scenes trait that served Thomas well was his ability to be self-motivated. Often criticized for focusing on personal statistics, it was that desire to have better numbers than anybody else in the game at the time that enabled Thomas to deliver success for the team.
"People used to ask me about his numbers [and say], 'Well, he's selfish,'" broadcaster Ken "Hawk" Harrelson said. "I said, 'He's not selfish. Guys do that.' They have to find ways to motivate themselves. You know, 162 games, that's tough. It's really tough, and guys find ways to motivate themselves."
Konerko seemed to have no issue with Thomas' perceived stats fetish.
"Well I don't know if that's [it]; that sounds kind of bad to say just stats," Konerko said when asked about Thomas' motivator. "I just think it was a by-product of his work and his routines. Whoever got him early, when it was when he first got to pro ball or the big leagues, I think gave him kind of a framework and a structure on how to work. He stuck to it, and that produced all the numbers.
"When you are a first baseman/DH type, that's kind of how people are going to judge you. Not too many times are they going to give you credit or care about anything else besides that."
And what worked for Thomas probably wouldn't have been the right course of action for anybody else. Former teammate and current White Sox manager Robin Ventura was a good hitter in his own right, but knew that he wasn't going to have much success doing it Thomas' way.
"He was a different hitter and he could do different things than everybody else, so I wasn't going to be in his league as far as being able to do those things," Ventura said. "So you'd talk about certain things, but he was just able to do a lot more than everybody else. I wasn't going to be able to hit for power the way he did, so it had to be different for me.
"I mean you'd talk about little stuff here and there. You could talk to him and probably get information, but he was just different."
With that ability to make solid contact, it didn't take Harrelson long to tag Thomas with his "Big Hurt" nickname.
"He'd just go on a streak there for a while and every time he swung the bat I'd say, 'Man, he hurt it. He hurt it,'" Harrelson said. "All of the sudden I'm up there one day and he was running around first base and he had hit one out there deep, real deep, and it just blurted out. I'm watching him go around first base and, 'The Big Hurt!'
"That's how it came about and it was a good one. I think it was voted what, third- or fourth-best [nickname] in baseball history. And he deserved it because he was the Big Hurt, no question about it."
July, 26, 2014
Jul 26
11:30
AM CT

By Christina Kahrl
ESPNChicago.com
Archive
Seeing
Frank Thomas
head to the Hall of Fame is something special, not just because it's a
White Sox
thing or a Chicago thing; it is a moment when the greatest slugger in the history of one the American League's original eight gets his due.
But at this point of the build-up to his induction, you probably know all that. You probably know he's one of just four people to hit .300 with 500 home runs, 1,500 RBIs, 1,000 runs scored and 1,500 walks (joining Mel Ott, Ted Williams and Babe Ruth). You probably know he's one of just seven men to ever average better than .300/.400/.500 in 10,000 or more plate appearances, joined by Ruth, Ott,
Chipper Jones
, Ty Cobb, Stan Musial and Tris Speaker. (Williams is short of at-bats because of his service in two wars, while Jimmie Foxx and
Manny Ramirez
ran out of gas.) You probably know
what Jay Jaffe has to say
about Thomas' rank among the all-time greats, and (I hope) you know to respect where he's coming from, because no one has devoted as much care to the study of the subject of who is and isn't a Hall of Fame-worthy player.
[+] Enlarge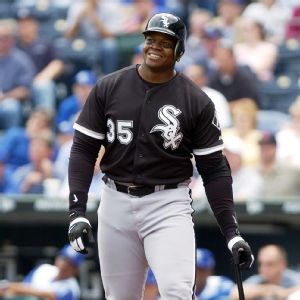 John Williamson/MLB Photos/Getty ImagesFor White Sox fans, Frank Thomas was proof that "good guys wear black."
You can get worked up about all of this and more besides when it comes to parsing what Thomas did. But let's look beyond all that for a second and remember why we love the game and the people who play. Besides having fun with the numbers that made Thomas' case such an easy slam dunk for the voters, there are other qualities that you can't so neatly sum up, which go toward why he was such a joy to watch.
It's a writer's conceit to talk about the power that words have, but here, it merely serves up the easy observation that Thomas
was
power, investing even the words used to describe him with greater power still.
In sabermetrics, we're necessarily focused on outcomes, even as we're aware of possibility; it's been this way going back to the ancient Greeks, if not further. When Aristotle discussed his concept of potentiality to explain concepts of physics, he distinguished between the idea that a thing might happen or get done and a thing that might be done well. These days, in simplest terms, we might discuss the difference between potential energy and kinetic energy -- between the energy that could be and the energy that is.
At bat, Thomas was the fulcrum that converted potential into kinetic energy. More than that, he was the man who could take the potentiality of a hunk of cork, yarn and hide, and through his magic, through his intelligence and strength, could could convert it into many things at once, many places at once, a concatenation of facts: souvenirs 400 feet away, runs on the scoreboard, joy for Sox fans, fireworks at the Cell. Call it physics or call it magic; at some point, the distinctions blur because this was a thing that Thomas did more than well -- he did it beautifully.
Watching Thomas poised at the plate, you were only too aware of that potential each and every time that he stepped in. None of us were alone in this, whether you were in the stands, the dugouts, on the field; hundreds of major league pitchers knew this, feared this, and desperately tried to avoid surrendering to his power. And Thomas in turn would not submit to any chicanery outside the zone. Even in a game defined by failure, by the .300 hitter who fails seven out of 10 times or by the pitcher who can never beat every batter every night, Thomas' career-long unwillingness to settle for less than his own excellence generated 1,667 walks.
So, as we reckon Thomas getting his due in Cooperstown, what are we to make of his selection to the Hall at a time when others are outside, with numbers as great or greater, tainted by actual PED usage or unanswerable accusations? It is the big question at times like this, now and in the decades to come. Hallowing Hall-worthy performance has become more of an elective decision for the electorate, and in this, memory and data alike are providing fewer easy answers.
In hallowing Thomas, you can choose to celebrate the performance and all that means: the numbers themselves, the man who made them or the mind's-eye memory indelibly imprinted by one towering blow after another. But what I will treasure most about Thomas -- even at this moment of career closure -- when we know what is known and can put away the arguments, is that sense of anticipation -- that, maybe, tonight, here and now, we'll see magic.
That said -- going back to the stuff that can excite us to this day as far as his career numbers -- Thomas is first in White Sox history in so many things: home runs and RBIs, runs and walks, extra-base hits and total bases, on-base percentage and slugging -- all of which you might have wished for after his college career starring at Auburn. He was the perfect first-round pick, the best of four straight first-round picks from 1987 to 1990 (along with Jack McDowell, Robin Ventura and Alex Fernandez) that turned around a moribund franchise trying to recover from making more mistakes in the '80s than your average hair band.
Looking beyond his White Sox career, we can nevertheless acknowledge and enjoy the three seasons split between Oakland and Toronto at the end of his career. They added the counting stats that may have made it easier for some voters to vote for him at first blush -- the 73 homers pushing him beyond 500 for his career, a number which once held its own magic -- but a .267/.373/.484 line across those seasons made it clear he was finishing his career on his own terms, still able to contribute as an offense-only player as a designated hitter.
Which brings us to another part of the big deal about the Big Hurt's induction: We really shouldn't begrudge Thomas playing more than half of his career at DH. We're now more than 40 years into the history of the thing, more time than baseball was played between the creation of the World Series (1903) and the Hall of Fame (1939). It is, and should be, part of the baseball landscape, and if unofficial "positions" like closer have long since been acknowledged -- with the first real official saves generator, Rollie Fingers, getting into Cooperstown in 1992, less than a quarter-century after the save became an official stat -- then we were overdue for a guy we should describe as a DH.
[+] Enlarge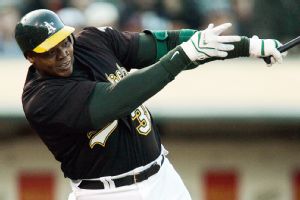 AP Photo/Ben MargotThe last three years of the Big Hurt's career put him in other unis to reach 500 career home runs.
And in Thomas' case, what a DH. Among all players who have played half of their career or more at the offense-only position, Thomas is
the all-time offense-only WAR leader for his full career at 79.8
, far outstripping
Edgar Martinez
(66.4) and
David Ortiz
(47.2).
That said, again leaning on offensive WAR (oWAR) for the suggestion, Thomas ranks among the best offensive players at first base, with that 79.8 career mark trailing just Lou Gehrig (112.1), Foxx (94.3),
Albert Pujols
(81.4) and Rod Carew (80.4). Or, if you're like me and want to punt on pre-war, pre-integration and (effectively) pre-slider stats, he belongs in the conversation as one of the best first basemen ever, given the slender margin separating Thomas from Pujols and Carew.
A big part of that was a peak between the ages of 25 and 29 that was picture perfect for illustrating what a great player can do at the peak of his power. In those five seasons, spanning 1993-1997, Thomas hit .334/.455/.631 with 194 home runs and 575 walks. In part, the DH was created to preserve, extend and make possible careers such as this, not merely to create job opportunities for the Ron Blombergs of the world. After Thomas tore the triceps in his throwing arm, ending his 2001 season less than a month into the campaign, his ability to play as a regular first baseman ended. But he also very clearly wasn't done.
Like prior DH stars
Harold Baines
, Don Baylor, Hal McRae and Paul Molitor, Thomas was a man who was one of the most gifted hitters on the planet. He was someone who the friction of being a pro athlete on both sides of the ball could simultaneously wear down. By blazing this trail and earning this honor, we can hope this means that the Hall of Fame electorate will give due consideration to guys like Martinez (immediately) and
Jim Thome
(eventually).
As feats go, all of them are individually awesome. So many records remain covered in the dust of decades long gone, set in smaller leagues against fewer foes in puny parks and before integration expanded the game's greatness. Seeing Frank Thomas elected is a validation of the present and the recent past, one earned through his gifts. You don't have to be a White Sox fan to enjoy seeing the big man get his due, but if you know one who rooted for him, here's hoping she or he can pass along how enjoyable watching the big man on the South Side was, a man armed with more thunder in a bat than Thor has in a hammer, a power source who was his own special effect.
Christina Kahrl writes about MLB for ESPN. You can follow her on Twitter.
July, 25, 2014
Jul 25
10:53
PM CT
Associated Press
CHICAGO -- The Chicago White Sox say owner Jerry Reinsdorf has been hospitalized after feeling lightheaded in Cooperstown, New York.
The team says all tests Friday night indicate he is fine. Reinsdorf, 78, also chairman of the NBA's Chicago Bulls, is coherent and resting comfortably, according to the club.
In a statement released Friday night, the White Sox say Reinsdorf is communicating with his doctors and medical staff. He will stay overnight at Bassett Medical Center as a precaution and is expected to be released Saturday morning.
Induction ceremonies for the Baseball Hall of Fame are this weekend in Cooperstown.