September, 19, 2014
Sep 19
10:03
PM CT
Associated Press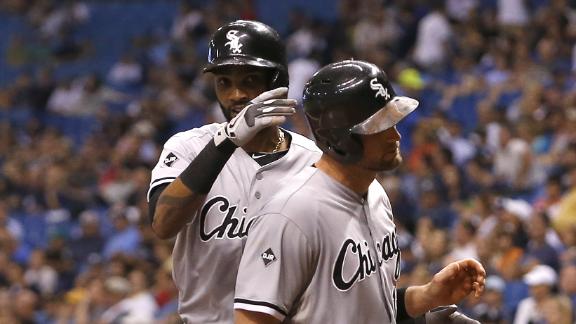 ST. PETERSBURG, Fla. -- Jose Quintana pitched into the eighth inning and Avisail Garcia had a two-run double to lead the Chicago White Sox to a 4-3 victory over Tampa Bay on Friday night, eliminating the Rays from playoff contention.
Chicago rookie Jose Abreu also had a run-scoring single during a four-run fifth, giving him 104 RBIs for the season.
Logan Forsythe had a two-run double and a solo homer, his sixth, for Tampa Bay.
Quintana (9-10) gave up three runs -- one earned -- and nine hits in 7 1/3 innings. Zach Putnam got the last two outs, striking out Kevin Kiermaier with two runners on in the ninth to earn his sixth save.
Jeremy Hellickson (1-4) allowed four runs and seven hits in 4 1/3 innings.
September, 19, 2014
Sep 19
3:39
PM CT
With 10 games remaining in the season, it's all about the
Paul Konerko
watch at this point.
Konerko is back in the lineup Friday night in the series opener at Tampa Bay after fracturing a bone in his left hand on Sept. 2, giving him six final road games to get in some swings in advance of his final four home games Sept. 25-28 against the
Kansas City Royals
.
Konerko said he would like to see some pitches in advance of that final home series to dial in his swing before playing in front of White Sox fans for the last time.
How many games he gets in advance of that final series likely will be determined by how his left hand reacts from Friday's game against the Rays. Just two weeks ago, Konerko couldn't even grip a bat, so there isn't a ton of expectation that he will be productive.
But with the White Sox long out of playoff contention, sending Konerko off into the sunset in style is about as good as it gets for the next week and a half. And that isn't a bad thing, considering that Konerko is the White Sox's all-time leader in total bases (4,008) and is second in home runs (432), RBIs (1,383) and extra-base hits (846).
The six-time All-Star has a White Sox record of 13 seasons with 20 or more home runs.
The White Sox plan to honor their team captain with Paul Konerko Night on Saturday, Sept. 27.
HEAD TO HEAD
The White Sox's
Alexei Ramirez
is 3-for-9 (.333) against Rays right-hander
Jeremy Hellickson
, while
Moises Sierra
is 3-for-7 (.429) with a home run. ... White Sox hitters
Adam Eaton
,
Tyler Flowers
and Ramirez all are 2-for-4 (.500) against Rays right-hander
Chris Archer
, while
Jose Abreu
is 2-for-3 (.667). ... Rays starter
Nathan Karns
has made four career starts (three with the
Washington Nationals
) and has never faced the White Sox. ... Rays hitters are a combined 4-for-17 (.235) against White Sox starter
Jose Quintana
with one RBI. ... The Rays'
Matt Joyce
is 4-for-7 (.571) against White Sox starter
Hector Noesi
, while
David DeJesus
is 4-for-5 (.800). ... The Rays'
Yunel Escobar
is 6-for-12 (.500) against White Sox starter
John Danks
, while
Sean Rodriguez
is 6-for-14 (.429).
NOTES
Abreu needs one home run to set a White Sox rookie record. He is tied for the mark at 35 with Ron Kittle. ... Quintana, who starts Friday night, is 2-0 with a 1.80 ERA and 23 strikeouts over his last three starts, all quality. ... The White Sox are just 2-10 over their last 12 road games and have been outscored 59-35 in that stretch. ... If the White Sox can win four more times in the last 10 games they will avoid consecutive 90-plus loss seasons for the first time since 1988-89. ... White Sox starters have a 3.20 ERA over the last 13 games, with nine of those quality starts. ... The White Sox are tied for second in the American League with a .261 batting average since the all-star break. ... The White Sox and Rays haven't met since April, when the White Sox took three games in a four-game series at U.S. Cellular Field. ... Hellickson, who starts for the Rays on Friday, hasn't won at home since July of last year ... when he faced the White Sox.
PITCHING MATCHUPS
Friday:
White Sox LH Jose Quintana (8-10, 3.30 ERA) vs. Rays RH Jeremy Hellickson (1-3, 3.63), 6:10 p.m. CST
Saturday:
White Sox RH Hector Noesi (8-10, 4.77) vs. Rays RH Chris Archer (9-8., 3.54), 6:10 p.m. CST
Sunday:
White Sox LH John Danks (9-11, 4.88) vs. Rays RH Nathan Karns (1-0, 0.00), 12:40 p.m. CST
September, 19, 2014
Sep 19
2:37
PM CT
Associated Press
ST. PETERSBURG, Fla. -- Paul Konerko is set to finish his career on the field after an injury threatened to keep him a spectator.
Konerko was hitless in four at-bats in his first game since breaking his left hand Sept. 2 as the Chicago White Sox eliminated the Tampa Bay Rays from playoff contention with a 4-3 victory Friday night.
"Very minimal discomfort," Konerko said. "Maybe catching the ball, the only time I noticed it. Considering what it felt like a couple weeks ago, I'm lucky to have it where it's at right now."
The first baseman is retiring after this season, his 18th in the big leagues. He will be honored at a pregame ceremony Sept. 27.
"A couple weeks ago, I was nervous that I wouldn't be able to even take a swing," Konerko said. "I feel lucky just to be back out there."
White Sox manager Robin Ventura had Andy Wilkins replace Konerko defensively in the seventh.
"I took him out almost like a spring training game," Ventura said. "He hadn't been in there in a while. This is the first time he's been on his feet running around doing stuff."
September, 19, 2014
Sep 19
1:26
PM CT
By all accounts,
Adam Eaton
's first season with the
Chicago White Sox
has been a rousing success with his ability to get on base, hit for average and his single-handed improvement of outfield defense with speed and an ability to get reads on fly balls.
There remains an area where significant improvement can be shown, though, as the base-stealing side of his game remains undeveloped.
[+] Enlarge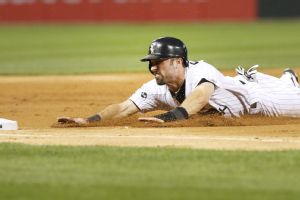 Nuccio DiNuzzo/Chicago Tribune/MCT via Getty ImagesAdam Eaton has 14 steals this season but has been thrown out nine times.
Eaton might not possess the raw speed of the
Los Angeles Dodgers
'
Dee Gordon
or the
Cincinnati Reds
'
Billy Hamilton
, but he is faster than his 14 steals would indicate. Considering that he has been caught stealing nine times, Eaton is more of a liability than an asset when it comes to stealing bases.
Eaton has admitted it's an area that needs work as he adapts to becoming an everyday major league player. He may never be a top-flight base stealer, but even the slightest improvement in that department over successive seasons can turn him into an even more dynamic player.
Manager Robin Ventura said during the most recent homestand that he is pleased with his coaching staff, but that the front office will conclude its assessment of the group before the season ends. One area to consider is adding a coach who excels in the base-stealing department, although that coach could come at the expense of one already on the staff.
One proponent of a base-stealing guru is the Dodgers' Gordon, who admitted he was nothing more than a run-and-hope base stealer before Davey Lopes joined the Dodgers' coaching staff in advance of the 2011 season, which just happens to be the year Gordon broke into the major leagues.
"I thought I knew it all," Gordon said. "I stole like 70 bags, 80 bags, 60 bags (in the minor leagues). I was, 'Yeah, I'll be alright.' But I didn't know what I thought I knew."
Officially, Gordon's best season stealing bases was in 2009 at Single-A Great Lakes when he swiped 73. By comparison, Eaton's best was 44 in 2012 when he was mostly in Triple-A, but spent a handful of games on the Double-A level.
Eaton's numbers show that he won't ever be Gordon, but he can be better than he's shown. Getting a coach to get it out of him figures to be key.
"It takes time and you're still going to get thrown out, but the one thing they say, if you're getting thrown out it means you're on base," Gordon said. "You don't want to get thrown out a lot, but you're going to have to sometimes."
It's that "getting thrown" out part that has been tricky when it comes to Eaton's base stealing. If he gets to second base, it can give a guy like
Jose Abreu
an easier RBI opportunity. But Abreu can often drive in runners from first base too, meaning that the White Sox might not like their risk-reward ratio when it comes to stealing in front of their big slugger.
With Eaton, the White Sox would be best working on his stolen-base percentage before focusing on a larger number of steals.
Gordon won't specify his recipe for success, saying only: "Just the little keys that me and Davey have figured out. That's about it." He will say that Lopes has been instrumental on his major league-leading 63 steals this season.
"It was amazing," Gordon said of Lopes' arrival. "I'm extremely happy that he came over, and I have been able to get help."
September, 18, 2014
Sep 18
12:26
AM CT
By ESPN Stats & Information
ESPNChicago.com
Archive
Chicago White Sox
starter
Chris Sale
had allowed a total of seven runs in his previous six starts against the
Kansas City Royals
before Wednesday.
But the Royals managed to get to the Cy Young candidate in a big way for a big win, slicing the
Detroit Tigers
lead to a half game in the AL Central.
How did they manage to do that?
Aoki again
Left-handed hitters were 17-for-115 against Sale this season, but that was of little consequence to red-hot
Norichika Aoki
.
Aoki
Aoki continued to torment the White Sox, netting three more hits against them, all against Sale. That raised his batting average against left-handed pitching this season to .376. That's the highest for any left-handed hitter against left-handed pitchers this season (23 points better than
Ben Revere
and 49 points better than
Brandon Crawford
).
The Elias Sports Bureau noted that Aoki set the Royals' record for most hits in a three-game series with 11, one better than the previous mark shared by Royals legends George Brett and Willie Wilson.
What was surprising about this game was that Sale didn't go after Aoki with his slider. Only one of the eight pitches Aoki saw from him was one. Aoki has seen 70 sliders from lefties this season. They've resulted in him making 16 outs without recording a hit.
Cain can do
Lorenzo Cain
has 17 career home runs. The only pitcher against whom he has more than one is Sale, against whom he hit a three-run shot on Wednesday night.
Cain had three more hits on Wednesday, giving him 12 in 32 at-bats (a .375 batting average) in his past eight games.
Ventura sharp again
Rookie starter
Yordano Ventura
was sharp again, allowing only one run and three hits in seven innings.
This was Ventura's 10th straight quality start (six innings or more, three earned runs or fewer), the longest streak by a Royals starter since Kevin Appier had an 11-game streak in 1993.
Ventura averaged 98 mph on the 74 fastballs he threw on Wednesday, the third time this season (and second this month) that his heater has averaged 98 in a game.
That set up his curveball (which averaged 83 mph) and changeup (which averaged 88) as his putaway pitch, against which White Sox hitters were 0-for-8 with six strikeouts (and one walk).
The six offspeed strikeouts tied for his second-most in a game this season, trailing only the nine he had versus the
San Diego Padres
on May 5.
September, 17, 2014
Sep 17
10:12
PM CT
Associated Press
KANSAS CITY, Mo. -- Lorenzo Cain hit a three-run homer, Nori Aoki kept up his tear at the plate and the Kansas City Royals roughed up Chicago White Sox ace Chris Sale in a 6-2 victory Wednesday night that kept the pressure on Detroit in the AL Central.
The first-place Tigers led the Royals by 1 1/2 games at the start of the night.
Alcides Escobar also homered for a Royals offense that had been scuffling for weeks, and Aoki went 3 for 4 to finish with 11 hits in the series. Yordano Ventura (13-10) allowed three hits and two walks over seven innings, the lone run off him coming on a sacrifice fly.
Meanwhile, Sale (12-4) was cuffed for a season-high five earned runs on nine hits over five innings. It was arguably the three-time All-Star's worst start since Aug. 23, 2013, when he gave up eight runs over seven innings in a loss to the Rangers.
September, 16, 2014
Sep 16
11:56
PM CT
Associated Press
KANSAS CITY, Mo. -- Kelvin Herrera and Wade Davis both gave up runs for the first time in nearly three months as the Kansas City Royals' dominant bullpen was touched up Tuesday night in a 7-5 loss to the Chicago White Sox.
Davis replaced Herrera with two on in the seventh inning and walked Jose Abreu to load the bases for Conor Gillaspie, who cleared them with a triple to right-center on a 2-2 pitch to give Chicago a 7-5 lead.
That ended Herrera's scoreless streak at 30 2/3 innings, dating to June 24. Also snapped was Davis' shutout streak of 31 2/3 innings, a club record for a reliever, with the first run charged to him since June 25.
The rare bullpen failure prevented Kansas City from gaining ground on AL Central leader Detroit, which lost at Minnesota. The Royals remained 1 1/2 games behind the Tigers, but still lead Seattle for the second wild-card spot.
September, 16, 2014
Sep 16
12:26
AM CT

By Mark Simon
ESPNChicago.com
Archive
Teams fighting to make the postseason have to steal every win they can get at this time of year.
The
Kansas City Royals
did that and then some in coming from three runs down to beat the
Chicago White Sox
on Monday night.
It was an epic comeback, one that will be circled to be remembered should the Royals make the postseason.
Run, run, run
The Royals tied the game on a play in which
Jarrod Dyson
stole third, then scampered home on Jake Petricka's wild pitch. They won it when
Terrance Gore
went from second to home on an infield hit by
Lorenzo Cain
, whose second career walk-off hit was his first since the 2010 season.
Talk from baseball fans on Twitter was that this was a very Royals kind of win. What did they mean by that?
The Royals
rank second in the "Ultimate Baserunning" stat (UBR) tracked by Fangraphs.com
, trailing only the
Washington Nationals
. This stat combines elements of baserunning; its components include base-stealing efficiency, the success rate taking extra bases on hits and outs, and the avoidance of baserunning mistakes.
With that in mind, it's worth noting that:
• Dyson improved to 21-of-24 on steal attempts of third base for his career. He atoned for getting caught stealing by Joe Nathan in a key moment in a game against the Tigers last week.
• Gore was someone brought up from the minors for situations just like this one. He'd stolen 47 bases in 54 attempts in his time in the minor leagues this season. His first steal on Sept. 3 led to a run when he scored on a throwing error.
Moustakas beats the shift
The comeback was set up by Mike Moustakas' one-out opposite-field double in the ninth inning. Moustakas has struggled for much of the season against shifted defenses but has shown more of a willingness to hit the ball the other way lately.
In Moustakas' first 350 at-bats, he had only nine opposite-field hits. He has had eight in 69 at-bats since Aug. 24.
Aoki's four-hit day
Norichika Aoki
kept things going for the Royals with his fourth hit of the game after the tying run had scored.
Aoki's offensive contributions have been minimal this season, but he's now hitting .333 (21-for-63) in his past 17 games.
And let's not forget the bullpen
Kelvin Herrera
and
Wade Davis
each pitched a scoreless inning in relief of
James Shields
.
Davis has now thrown 31 2/3 straight innings without allowing an earned run. Herrera has a similar streak, only one inning behind him.
The Elias Sports Bureau notes that Davis and Herrera have the third- and fourth-longest streaks in the majors this season, trailing a 41-inning streak by
Clayton Kershaw
and a 32 1/3 innings streak by
Boston Red Sox
reliever
Burke Badenhop
.
September, 15, 2014
Sep 15
10:57
PM CT
Associated Press
KANSAS CITY, Mo. -- Pinch-runners Jarrod Dyson and Terrance Gore scored in the ninth inning as the Kansas City Royals rallied for a 4-3 victory over the Chicago White Sox on Monday night.
Mike Moustakas doubled with one out in the ninth. Dyson ran for him and stole third and came around to score as Jake Petricka (1-5) threw a wild pitch.
After Nori Aoki, who had four hits, doubled with two outs, Gore ran for him and scored from second on Lorenzo Cain's infield single.
Wade Davis (9-2) worked a scoreless ninth to pick up the victory, extending his scoreless streak to 31 2/3 innings.
White Sox starter John Danks pitched six scoreless innings and allowed just two singles, both by Aoki, before departing after 103 pitches. He struck out six and walked four.
The Royals scored all their runs off three White Sox relievers.
September, 15, 2014
Sep 15
4:19
PM CT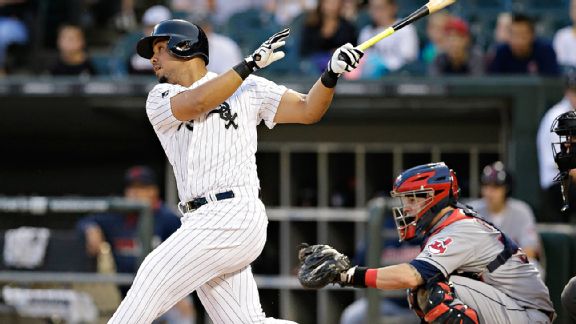 AP Photo/Nam Y. HuhJose Abreu ended his home run drought with two long balls over the weekend.
RISING
Jose Abreu, DH/1B:
After finally ending his home run drought Saturday, Abreu hit another Sunday giving him home runs in back to back games for the fourth time this season and first time since early June. He has a hit in 22 of the last 23 games and is batting .427 over that stretch with 12 RBIs and 11 multi-hit games.
Starting pitching:
Scott Carroll
and
Hector Noesi
might have ended the starting staff's run of consecutive quality starts at eight, but the current run from the rotation continues to be impressive. Even with the five earned runs Noesi gave up Sunday, White Sox starters still have a 2.81 ERA over the last 10 games since Sept. 5, and eight of those outings have been quality.
Jake Petricka, RP:
Not only did the right-hander pick up his first victory of the season in the second game of Saturday's doubleheader, he has delivered six consecutive scoreless innings over his last six appearances. He has converted five consecutive save opportunities since Aug. 17 and he has a 1.65 ERA in his 16 save opportunities this season. Oh, and he also welcomed the birth of his daughter last week.
FALLING
Alexei Ramirez, SS:
His season offensively is as good as any shortstop in the American League, but Ramirez has been scuffling at the plate of late. He is batting just .122 (5-for-41) in September and .198 (22-for-111) over his last 28 games. He still leads AL shortstops in home runs (15), slugging percentage (.414) and extra-base hits (49). He also leads with a .983 fielding percentage.
Paul Konerko, DH/1B:
This was supposed to be a month-long celebration of Konerko's career, but a fracture of a small bone in his left hand has put that on hold. Konerko will try to give the hand a go on the upcoming nine-game road trip with the idea that he could be in sync offensively by the time returns for the final home series of the season, Sept. 25-28 against the
Kansas City Royals
.
Adam Eaton, CF:
There haven't been too many dry spells from the high-energy leadoff man, but the just-concluded homestand wasn't his best. Eaton went 4-for-23 (.174) in the games against the A's and Twins. In September, Eaton is 6-for-42 (.143) after going 48-for-113 (.425) over his previous 29 games.
September, 15, 2014
Sep 15
3:48
PM CT
The
Chicago White Sox
have nobody to blame but themselves for their dashed playoff hopes, but they can still make a mark on other playoff chases.
The final road trip of the season, which starts Monday night, includes games against the
Kansas City Royals
and
Detroit Tigers
, both of whom are battling for the American League Central title. Heading into play Monday night, the Royals trail the Tigers in the division by 1 1/2 games.
The White Sox will see the Royals first for the final three games of the season at Kansas City. From there it's three games at Tampa Bay against the Rays, who no longer are a playoff threat, and then it's the final road series next week at Detroit. The season ends with four games at home, Sept. 25-28, against the Royals.
The Royals haven't made the playoff since 1985 and their 28-year drought is the longest in baseball. In losing three of four games against the disappointing
Boston Red Sox
this past weekend, the Royals appear to be cracking under the pressure of the huge opportunity in front of them.
The White Sox, meanwhile, played well on their just concluded seven-game homestand, winning five of those games. They won three of four games against the playoff-contending
Oakland Athletics
and swept a doubleheader against the
Minnesota Twins
on Saturday.
The White Sox have won just four times in 12 tries against the Royals this season and have been outscored 59-39. Against the AL Central, the White Sox have lost five of their last seven games and are 13-19 on the road.
HEAD TO HEAD
Royals starter
James Shields
is 1-1 against the White Sox this season in three starts, with a 2.25 ERA over 20 innings. ... Royals starter
Yordano Ventura
, who has delivered an impressive rookie season, has his problems against the White Sox, facing them once this year and once late last season, giving up four home runs while posting a 7.20 ERA over 10 innings. ... Players on the Royals' 40-man roster have 175 at-bats against White Sox starter
John Danks
and have only hit two home runs, while batting .223. ... The White Sox's
Chris Bassitt
will make his fourth career appearance and third start Tuesday against the Royals, who he has never faced. ... White Sox starter
Chris Sale
has an impressive 2.36 ERA in 99 career innings against the Royals but is just 7-7 against them.
NOTES
The White Sox are 30-36 against American League Central teams this season, with 10 more games remaining. ...
Jose Abreu
tied Ron Kittle's White Sox rookie record of 35 home runs with a blast on Sunday, one day after matching Kittle's mark of 100 RBIs in his rookie season if 1983. ... The White Sox have lost six of their last seven games against the Royals, but are 9-4 over their last 13 games at Kauffman Stadium. ... The White Sox are just 1-8 over their last nine road games. ... Danks, who will start for the White Sox on Monday night, is 6-0 with a 2.58 ERA over 14 career starts, 11 quality, against the Royals. ...
Paul Konerko
needs one home run to tie
Jason Giambi
(440) for 41st place on the all-time list, while
Alexei Ramirez
needs one home run for 100 in his career.
PITCHING MATCHUPS
Monday:
White Sox LH John Danks (9-11, 5.05 ERA) vs. Royals RH James Shields (14-7, 3.13), 7:10 p.m. CST
Tuesday:
White Sox RH Chris Bassitt (0-1, 4.73) vs. TBA, 7:10 p.m. CST
Wednesday:
White Sox LH Chris Sale (12-3, 1.99) vs. Royals RH Yordano Ventura (12-9, 3.25), 7:10 p.m. CST
September, 14, 2014
Sep 14
7:25
PM CT
Associated Press
KANSAS CITY, Mo. -- Boston slugger David Ortiz left the ballpark early due to what Red Sox manager John Farrell called a family emergency.
"He got called away from this game," Farrell said. "There was a family emergency that he had to attend to and he jumped on a flight late this afternoon. He should catch up with us in Pittsburgh."
Even without him, Boston was able to rally past Kansas City for an 8-4 victory on Sunday as Daniel Nava hit a grand slam and Xander Bogaerts added a three-run shot.
The loss continued the Royals' slide. When asked if his club could afford to lose three of four to a last-place club, Kansas City manager Ned Yost succinctly replied, "No, no, no."
Yost also abruptly ended his postgame media session with that answer.
The Royals, who blew a four-game lead, fell 1½ games behind Detroit, which beat Cleveland, in the AL Central. Kansas City is in the thick of the wild-card race.
The Red Sox chased Jason Vargas (11-9) with one out in the sixth after Mookie Betts and Bogaerts singled. Reliever Aaron Crow walked Yoenis Cespedes to load the bases and struck out Allen Craig.
Nava hit Crow's next pitch into the Red Sox bullpen for his second career grand slam and a 7-4 lead.
"Do I think this is going to cause us to fade? No," Vargas said. "But we need to play better ball, that's for sure, because we're running out of games."
September, 14, 2014
Sep 14
5:34
PM CT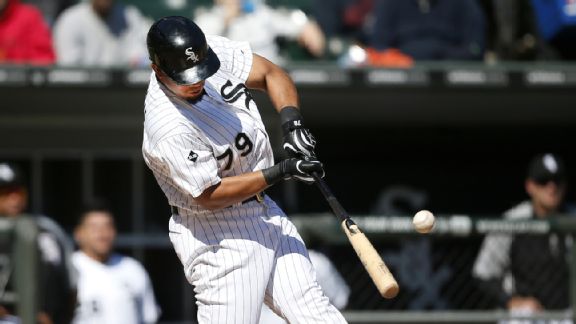 AP Photo/Andrew A. NellesJose Abreu hit his 35th home run Sunday and added an RBI single.
CHICAGO -- Ron Kittle's magic rookie season of 1983 now has an equal, at least when it comes to power and run production, and
Jose Abreu
still has two weeks worth of games remaining to raise the bar even further.
Abreu tied Kittle's
Chicago White Sox
rookie record of 35 home runs with a ninth-inning blast that closed the margin slightly in an eventual 6-4 defeat to the
Minnesota Twins
. On Saturday he matched Kittle's 100 RBIs from that same '83 year.
Abreu's strength had appeared to diminish over the last month and a half, but his home run Sunday gave him long balls in back-to-back games for the first time since early June.
"He's a good hitter so this isn't a surprise that he hit a home run," manager Robin Ventura said. "He's been pretty consistent just as a hitter. The power's going to be there. He went through a little stretch where he wasn't hitting many home runs, but it's there.
"That's part of him learning to go through a full season. I didn't see it, as when he went through it he wasn't going to come back. Right now, he's as good as anybody in the league."
September, 14, 2014
Sep 14
4:21
PM CT
Associated Press
CHICAGO -- Rookie Trevor May struck out a season-high 10 in six innings and the Minnesota Twins overcame Jose Abreu's 35th home run, beating the Chicago White Sox 6-4 Sunday to end a four-game losing streak.
Trevor Plouffe and Jordan Schafer homered for the Twins.
May (3-4) was staked to an early 4-0 lead, then hung on to win his third straight start. The 6-foot-5 right-hander walked none while allowing three runs and five hits in his seventh start and longest outing so far.
Glen Perkins pitched the ninth for his 34th save in 40 chances, despite giving up Abreu's homer.
Abreu singled and drove in two runs, giving the rookie 102 RBIs. Adrian Nieto also homered for the White Sox.
Hector Noesi (8-10) allowed five runs on eight hits in 6 2/3 innings.