September, 23, 2014
Sep 23
11:30
AM ET
CINCINNATI -- When ESPN's NFL Power Rankings come out later Tuesday afternoon, there's a strong chance the
Cincinnati Bengals
will be among the top two teams.
They opened Week 3 of the 2006 season at No. 2, but that's as high as they have ever been ranked. And even if the Bengals fail to claim the top spot, there is no disputing the fact they are among the strongest teams in the NFL right now.
[+] Enlarge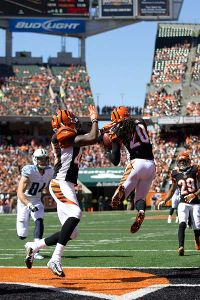 Aaron Doster/USA TODAY SportsNumerous open seats can be spotted during the Bengals' Week 3 home game against the Titans at Paul Brown Stadium.
But as good as the Bengals have been so far, on the surface, they don't seem to be getting the respect locally that they're starting to receive nationally. Empty seats have filled the upper reaches of Paul Brown Stadium the past two weeks, leaving the Bengals some 10,000 patrons shy of having sold out each of those games. The 65,500-seat stadium has had attendance figures of 58,574 and 56,743.
For a team that has gotten off to the start the Bengals have, the sight has been disheartening.
"We definitely notice it," receiver
Marvin Jones
said. "We're doing stuff right now to change that. That's on them. We're doing our job on our end."
Not only are the Bengals winning games, but they are doing so in convincing fashion. Cincinnati is scoring 26.7 points per game this season while its opponents are averaging just 11.0. The Falcons and Ravens, the first two teams the Bengals beat, have collected rather impressive wins in the wake of their respective losses to the Bengals. Atlanta last Thursday pounded Tampa Bay, 56-14.
The Bengals beat the Falcons 24-10, and could have had a more lopsided victory had kicker
Mike Nugent
's made his three missed field goals.
Optimism nationwide is high for the Bengals. In an
ESPN.com poll
after Sunday's
33-7 win
against Tennessee, nearly 150,000 weighed in with their opinions about whether the Bengals are a legit Super Bowl contender. While just 48 percent said "yes," that's a higher number than most would anticipate. Remember, this also is a franchise that has come off three straight seasons of teasing its fans with a first-round playoff exit.
Closer examination of the poll showed -- perhaps unsurprisingly -- that the
most optimism comes from Ohio
and the states that border it. West Virginians and Kentuckians share the opinions of Buckeye Staters. Indianans are split 50-50, and football fans in Georgia apparently thought the Week 2 win against Atlanta showed how good the Bengals are. They, too, see the Bengals as a legit Super Bowl team.
So why doesn't it seem the local online optimism is manifesting itself in the stands on game day?
"You hear so much in the media about how the owners and the stadiums are really having to compete with DirecTV and everybody sitting at home watching TV," Bengals kicker Mike Nugent said. "It's easier to go to the restroom, it's easier to get a drink out of the fridge [at home]."
Those have been among the chief concerns Bengals fans have had in recent seasons. To address them, the club this offseason came up with a fan-experience strategy that was headlined by improvements to in-stadium wireless. The hope is to allow fans better bandwith to stream video and chat on social media, so they can have a home experience at the game.
Ticket prices also are concerning for fans. But Bengals tickets remain among the cheapest in the league.
According to secondary ticket site SeatGeek, the Bengals have the seventh-cheapest ticket, averaging $83 this season. That's $40 lower than the league average.
ESPN The Magazine also recently ranked the franchise as having the 15th-best bang for fans' buck in all of professional sports. The team was ranked fifth in that same survey among NFL franchises. The "bang for the buck" metric weighed wins during the past three seasons per revenue generated from fans.
While Bengals players have noticed the empty seats, they're growing weary of discussing the issue.
"Honestly, any other year I'd probably sit here and complain about it or whine about it, but this football team is so focused on winning," veteran offensive tackle
Andrew Whitworth
said last week, amid threats of a blackout. "We set out at the beginning of the year with the goal of trying to win the Super Bowl, and that's the only thing we really care about. I can honestly say that about this team. We don't care. We want to play and we want the people that want to be here to watch us play."
September, 23, 2014
Sep 23
11:00
AM ET
CINCINNATI -- A weekly look at what the
Cincinnati Bengals
must fix:
For the second straight week, I'm scratching my head a little as I try to figure out what exactly it is that the undefeated Bengals need to fix. But ahead of their Week 5, post-bye Sunday night game at New England, here's what I've come up with: The Bengals need to give their running backs' yards per carry a boost.
Through three games, Cincinnati is averaging 3.6 yards per carry. Their running backs, specifically, are averaging 3.8 yards per carry.
Those averages are remarkably lower than the 4.5-yards-per-carry benchmark the Bengals have set as their standard. At the end of each game, that's the number they want to see when they look down at the stat sheet. If not, in the words of offensive coordinator Hue Jackson, "There's something wrong."
What has the issue been? Is it blocking? Is it poor execution on the part of the backs?
Quite honestly, on tape, it's tough to tell. The backs are trying to hit their holes, they're running through tackles and eluding others, and the holes are -- for the most part -- present. Perhaps the scheme really is just a shade off. In that case, it's on Jackson to make the necessary tweaks to alleviate this comparatively minor issue for this red-hot team.
September, 23, 2014
Sep 23
9:30
AM ET
CINCINNATI -- Hours before Sunday's game,
Cincinnati Bengals
linebacker
Vontaze Burfict
let
Vincent Rey
in on his secret to success: get to the ball on the first play.
"It'll settle you down," Rey said, relaying the injured Pro Bowler's message to him.
Rey
With Burfict spending the afternoon under concussion protocol after suffering his second head injury in as many games the previous Sunday against Atlanta, the Bengals were forced to send Rey out to replace him.
He filled in quite nicely.
Rey finished with four tackles, including one on the very first play of the game from scrimmage. As the Titans tried to execute a first-down run, Rey flowed right into the spot where running back
Shonn Greene
was trying to go, and he stopped him for no gain.
"I just happened to be there," Rey said. "The running back kind of fell, and I got on him. That did settle me down."
While Rey isn't as vociferous on the field as Burfict, and while he isn't as overall intimidating as the starting "Will" linebacker, he still packs a more-than-adequate punch as a reserve linebacker. The former undrafted player out of Duke began making a name for himself in Bengals stripes on special teams where he thrived through his first three seasons on the team. Then last season, in Year 4, he earned the respect of Bengals fans after starting three straight games in the middle of the season for starting "Mike" linebacker
Rey Maualuga
.
Rey had 30 tackles, three sacks and an interception in those three games.
As one of the Bengals' smartest defenders, he's also the linebacker who is given the most opportunities to play all three linebacker positions. He knows each of the spots and has performed so well in those positions throughout his career. He is viewed as a sort of utility player at the position. When one starter goes down, regardless of what spot he plays, in comes Rey. And if he's on the field when Burfict or
Emmanuel Lamur
aren't, then the person making calls in the huddle and pre-snap adjustments at the line is him.
Rey was credited with one of the four positive grades Pro Football Focus gave Bengals defenders after Sunday's
33-7 win over Tennessee
. He had a plus-1.2 overall grade and a plus-1.3 grade against the run, according to PFF. The website also rewarded him with two quarterback hurries on the 49 snaps he played.
While it's clear Rey played well individually, he was quick to credit the rest of his teammates for performing well in Burfict's absence.
"When a guy like Vontaze is out, we all have to pick up the slack for him, not just one guy," Rey said. "We all raise our game."
Despite how well Rey played Sunday, Cincinnati is hoping its defense will be at full capacity in 12 days when it travels to New England for a Sunday night game that comes after this week's bye. There is an expectation the bye will give Burfict additional time to work through the symptoms of the concussion and to eventually clear the protocol ahead of arguably the biggest game of the first half of the Bengals' season.
September, 23, 2014
Sep 23
8:15
AM ET
CINCINNATI -- When
Cincinnati Bengals
offensive coordinator Hue Jackson was asked about the versatility receiver
Mohamed Sanu
has shown through three games, he said he has barely scratched the surface with ways he can use the do-everything wideout.
Sanu
"There are a lot of things this young man can do," Jackson said. "He's just very talented. He really is."
Sanu has already passed, ran with and caught the ball through three games.
The weirdly unique thing about the Bengals' offense, though, is that this time two weeks from now, the question may not be so much about what more Sanu can do. The question may be about what more
Marvin Jones
will do. That's because all signs point to an already potent Bengals' offense adding another dangerous and versatile playmaker when Cincinnati returns from its bye next week at New England.
"I can't wait," Jackson said when asked about getting Jones back soon. "I'm excited about him coming back because he's another one of our talented players. We will just add him to the mix of
A.J. [Green]
and [Sanu] and the rest of the guys and see how it fits."
Jones
Last season, Jones was the Bengals' second-leading receiver behind Green. He set career highs in catches (51), yards (712) and touchdowns (10). His four receiving touchdowns in the late-October game against the Jets last season set a franchise record for touchdown catches in a single game.
Cincinnati is banking on Jones picking up right where he left off, even if he hasn't caught many passes at live speed since January.
Jones participated in the Bengals' organized team activities (OTAs) and minicamp in the spring and joined some of his fellow receivers in Fort Worth, Texas, one weekend to work on routes with quarterback
Andy Dalton
near his offseason home. But when training camp started in August, Jones landed on the non-football injury physically unable to perform list with an ankle issue that he said had been bothering him throughout the offseason.
Once the ankle injury healed, he participated in three practices before breaking a bone in his left foot during a preseason practice. He was kept on the active roster, but sidelined until the foot injury healed. He's expected to return to practice for the first time since on Tuesday, the only day the Bengals are working out this week. He had been catching passes off to the side since after his surgery, and started doing more extensive running this past week.
"You have to get in there and practice at first and see how that goes," Jones said. "But knowing me, I can get ready pretty fast."
When he does get back on the field, expect Jackson to tinker with Jones in ways like he's toyed with using Sanu.
"How much can you not use him?" Jackson asked rhetorically about Jones. "He can run and catch. Not only does he take the top off here, he scores a lot of touchdowns, too. This is a fun part about our guys; that we have a multitude of different guys that you can use. When you have good players, you find ways to give them opportunities to make plays."
Could Jones' playmaking hinge on throwing passes like Sanu?
"I'd rather be on the receiving end of it," Jones said, smiling after saying he'd pass if asked to do that. "I'll let the professionals handle the throws, because Mo is a professional QB, as well -- perfect passer rating and all."
Sanu has a perfect career passer rating of 158.3. He's completed all four of his attempted passes, including Sunday's 18-yard touchdown pass to Dalton.
"I'm ready to play and do what I always do, and that's go on the field and make those catches and those explosive plays," Jones said. "Whatever [Jackson] asks, whatever he has planned, I"m OK will all of it."
September, 23, 2014
Sep 23
8:00
AM ET
September, 22, 2014
Sep 22
6:15
PM ET
CINCINNATI -- Hue Jackson had to avert his eyes.
When the
Cincinnati Bengals
' offensive coordinator called the now infamous touchdown pass from receiver
Mohamed Sanu
to quarterback
Andy Dalton
in Sunday's
33-7 Bengals win
against the
Tennessee Titans
, he felt he had drawn the play up perfectly.
[+] Enlarge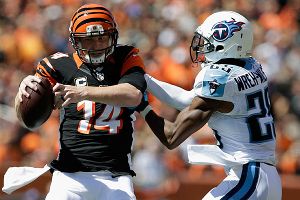 AP Photo/Darron CummingsTennessee's Blidi Wreh-Wilson failed to make a play on this pass to Bengals QB Andy Dalton in the first quarter. Dalton caught the ball and ran in for a TD.
Even if the Titans had practiced against that play, they still weren't going to be ready for it at that moment, Jackson reasoned. In his mind, he was going to run it regardless. All Sanu had to do was take his pitch from Dalton, stop, turn to his left and deliver a strike back across the field to the wide open quarterback. That's precisely the way he expected the play to go.
But it didn't.
As soon as Sanu let go of the ball, Jackson peered across the field and simultaneously saw what made
Sanu dejectedly mutter to himself, "Oh s---."
It was Titans cornerback
Blidi Wreh-Wilson
, stepping up after originally dropping back in coverage, and sprinting back to the line of scrimmage.
Wreh-Wilson was making a beeline for Dalton. With the ball floating to the quarterback, all Wreh-Wilson needed to do was make one of two decisions. Either he was going to jump the route and intercept the pass for an interception return for touchdown, or he was going to light Dalton up with a blindside hit that would rattle the Ohio River Valley.
It was the latter that flashed quickly through Jackson's mind. So he turned away.
"The last thing you know, I'm talking to [quarterbacks] Coach [Ken] Zampese on the headset and I go, 'Oh no,'" Jackson said, reliving the play Monday afternoon. "The ball is thrown and Kenny says, 'He's going to score.' I quit watching. I turned around and was like, 'What's going to be the next call?'
"Ken goes, 'Hue, he's going to score.'"
Sure enough, Wreh-Wilson made the odd decision to pull up and completely avoid both Dalton and the ball, allowing Dalton to catch the pass without contact and sprint toward the pylon. With a dive across the goal line, Dalton completed the first touchdown reception of his career.
As the crowd erupted, Jackson looked back up and saw Dalton celebrating. He let out a sigh of relief.
"It's a calculated risk," Jackson said.
It's the type of risk that he'll repeat.
"We'll just keep spreading this thing around because the more versatile we are as an offense, the harder we are to defend," Jackson said. "We have several guys that when they touch the ball, a lot of good things can happen."
September, 22, 2014
Sep 22
5:00
PM ET
CINCINNATI -- As we start putting the proverbial bow on the
Cincinnati Bengals
' third ballgame of the year, here is a by-the-numbers look at their 33-7 win over the
Tennessee Titans
:
46:
Number of Bengals players who played Sunday. With the blowout, they had a chance to play their complete active gameday roster.
17:
Percentage of third downs Tennessee's offense converted. The Titans were 2-for-12 on third down.
300:
Number of total yards the Bengals' offense collected.
326:
Number of total yards the Titans' offense collected.
1:
Number of interceptions Bengals quarterback
Andy Dalton
threw, Cincinnati's first turnover of the year. Running back
Giovani Bernard
had a pass from Dalton tip off his hands and into the hands of a Titans defender.
25.3:
Average number of net punting yards by Titans punter
Brett Kern
.
3:
Number of rushing touchdowns for the Bengals. They had four total touchdowns Sunday. Dalton's 18-yard touchdown catch from receiver
Mohamed Sanu
was the lone exception.
4:
Number of red zone opportunities the Bengals converted for touchdowns in five trips. They had been 2-for-5 in the red zone entering the game.
29:
Number of yards Titans quarterback
Jake Locker
gained on one of his several scrambles into the Bengals' defensive interior.
158.3:
Sanu's career passer rating. He's 4-for-4 with two passing touchdowns in his career after the strike to Dalton.
1:
Number of passes Bernard caught after having paced the Bengals' pass-catchers with a team-high 11 catches through the first two games.
8:
Number of tackles safety
George Iloka
had, leading all Bengals defenders.
11:
Number of consecutive regular season home games the Bengals have won at Paul Brown Stadium; a franchise record, and the longest active regular season home streak in the NFL.
14:
Number of wins Cincinnati has at home since the start of the 2012 season. Only Seattle, Denver and New England have more.
0:
Number of sacks on Dalton through three games this season. He's the only quarterback in the league who hasn't been sacked.
12.6:
Dalton's total career QBR when he was under duress in 2011-13. That ranked 33rd out of the 36 quarterbacks who had at least 100 passing attempts since 2011.
68.7:
Dalton's total QBR when he has been under duress this season. That ranks 12th-best in the NFL.
Data from ESPN Stats & Information was used in this report.
September, 22, 2014
Sep 22
11:00
AM ET
CINCINNATI -- Before the
Cincinnati Bengals
get too deep into their bye week, let's take a quick peek back at some of the ways our friends at Pro Football Focus analyzed and examined Cincinnati's Week 3 game against the
Tennessee Titans
.
As always, take the following grades and notes with a certain grain of salt because they can end up being amended. Bad grades also can sometimes simply be the product of particular schemes or coverages or formations that a team happens to employ in a respective week based upon the opponent.
Here are a few Bengals grades and notes following Sunday's 33-7 win:
OFFENSE
The Bengals' offensive line was stout against a Titans pass rush that entered among the best in the league. Tennessee began Week 3 ranked first in pass defense and had eight sacks -- five of which came off the blitz. The Bengals were well prepared, limiting the pressure on quarterback Andy Dalton. Only once did a pressure get through. Reserve right guard Mike Pollak, playing for injured Kevin Zeitler, was credited with allowing a hurry.
Dalton still is the only player in the league who hasn't been sacked this season, despite facing a rather constant blitz Sunday. He was 9-for-13 with 132 yards passing against Tennessee's blitz.
After having two negative grades through Weeks 1 and 2, PFF credited rookie Russell Bodine with his best game from a grade standpoint so far. He had a plus-2.8 overall grade that was buoyed by his plus-2.0 run-blocking grade. In the first two games, he had negative marks in run blocking, bringing his overall grade down. With the run doing well behind his blocks and the pass rush not getting through, Bodine's play finally caught PFF's eye.
Short passes were a hallmark of Dalton's day. Of his 23 overall attempts, 16 traveled 9 yards in the air or less.
Receiver A.J. Green caught six passes for 102 yards after being targeted eight times. He collected 41 yards after the catch.
Running backs Giovani Bernard and Jeremy Hill both forced three missed tackles in the game. Bernard also still has a perfect pass-block efficiency on the 11 pass-block snaps he's been part of this year.
DEFENSE
September, 22, 2014
Sep 22
9:00
AM ET
CINCINNATI -- Only two
Cincinnati Bengals
played 100 percent of the snaps on their side of the ball in Sunday's
33-7 win
.
That is a byproduct of a 26-point victory that was effectively decided in the first half.
Dalton
Thanks to the lopsided win, the Bengals were able to give many of their starters a few breaks Sunday. Quarterback
Andy Dalton
, for example, played 87 percent of the offensive snaps. He and most of the starters left late in fourth quarter. Backup quarterback
Jason Campbell
entered and played eight snaps with the second-team.
It's very rare during the regular season for a team to have the luxury of resting its starters, so the Bengals were quick to take advantage.
There were no injury issues in Sunday's game that affected the way the snap counts broke down. The two injured contributors on defense who left the game late suffered injuries around the time they likely would have been replaced. After the game, coach Marvin Lewis intimated that
Margus Hunt
and
Emmanuel Lamur
would be fine to play in two weeks when the Bengals return from their bye with a Sunday night game at New England.
One regular contributor whose snap counts were considerably lower Sunday than they were last week was running back
Jeremy Hill
. He played 18 fewer snaps in Week 3 than in Week 2.
Cornerback
Dre Kirkpatrick
was one backup who received more defensive snaps than he has at any other point this season. They were mostly costly ones, too. Kirkpatrick had two personal foul penalties, one of which set up the Titans' lone touchdown. Both of Kirkpatrick's infractions came on the same drive.
Here are this week's complete snap counts with help from Pro Football Focus and the NFL's Game Statistics and Information System:
OFFENSE (62 plays)*
OG
Clint Boling
(62), C
Russell Bodine
(62), OT
Andre Smith
(60), OG
Mike Pollak
(59), OT
Andrew Whitworth
(54), QB Andy Dalton (54), TE
Jermaine Gresham
(49), WR
Mohamed Sanu
(48), WR
A.J. Green
(47), RB
Giovani Bernard
(40), WR
Brandon Tate
(33), H-back
Ryan Hewitt
(31), RB Jeremy Hill (15), WR
Dane Sanzenbacher
(14), OT
Marshall Newhouse
(12), TE
Kevin Brock
(9), WR
James Wright
(9), QB Jason Campbell (8), RB
Cedric Peerman
(8), OG
T.J. Johnson
(3), FB/DT
Domata Peko
(3), OT
Tanner Hawkinson
(2).
DEFENSE (71 plays)*
S
George Iloka
(70), CB
Terence Newman
(61), S
Reggie Nelson
(61), CB
Adam Jones
(59), LB Emmanuel Lamur (56), LB
Vincent Rey
(49), DE
Carlos Dunlap
(48), CB
Leon Hall
(46), DE
Wallace Gilberry
(45), Peko (43), DE
Robert Geathers
(42), LB
Rey Maualuga
(41), DT
Geno Atkins
(40), DE Margus Hunt (27), DT
Devon Still
(26), CB
Darqueze Dennard
(16), CB Dre Kirkpatrick (14), S
Taylor Mays
(10), S
Shawn Williams
(10), DE
Will Clarke
(8), LB
Jayson DiManche
(7), LB
Marquis Flowers
(2).
SPECIAL TEAMS (25 plays)**
DiManche (21), Williams (21), Flowers (19), Peerman (17), Mays (17), Kirkpatrick (16), Dennard (15), Hunt (14), Wright (13), K
Mike Nugent
(11), Nelson (10), LS
Clark Harris
(9), P
Kevin Huber
(9), Hewitt (9), Rey (8), Peko (8), Brock (7), Tate (7), Lamur (5), Newhouse (5), Gresham (5), Whitworth (5), Pollak (5), Smith (5), Bodine (5), Dunlap (3), Still (3), Jones (3), Newman (2), Hall (2), Maualuga (2), Clarke (2), Sanzenbacher (1), Sanu (1), Bernard (1).
*Counts come from PFF.
**Counts come from the NFL's GSIS.
September, 22, 2014
Sep 22
8:00
AM ET
CINCINNATI -- It was quite possibly the most complete win the
Cincinnati Bengals
have had this season, according to their head coach.
"It was a good effort in all three phases," Marvin Lewis said of the
33-7 win
against the Titans. "Probably our best effort of the season."
That is saying a lot. After all, this is an undefeated team that has won each of its games in convincing fashion.
Sanu
Sure, the Week 1 23-16 final against the Ravens might sound close and the two-touchdown win against the Falcons might not indicate a blowout, but the Bengals were clearly the better team in both games. But drives that stalled both weeks took points off the scoreboard, as did a series of missed field goals in the Atlanta game.
Sunday against the Titans, it all came together. The Bengals were better in the red zone, converting touchdowns in goal-line situations. The defense held firm on third down. The special teams contributed to sound field position, and scored points, too. That is considered a complete win.
"At the end of the day, if everyone on the offense, defense and special teams are doing their job, that's what you get -- team effort," defensive end
Wallace Gilberry
said.
The term "team victory" sounds cliche, but it fits for the Bengals, who return to action at New England in 13 days. As the lone undefeated team in the AFC, Cincinnati is entering its early bye as the unquestioned top-dog in the conference. The Patriots will be a good test to see just how poised they are to shake up the league this season.
One reason why it's easy to call these team wins is because each of the three have come without the services of multiple stars.
Receiver
Marvin Jones
has been out since the middle of the preseason when he broke his left foot during a practice. Linebacker
Vontaze Burfict
(concussion) was in and out of the rotation on defense the first two games and didn't play Sunday. Receiver
A.J. Green
played six snaps against Atlanta because of a toe injury. And tight end
Tyler Eifert
hasn't played since the first quarter of the opener with a dislocated elbow that won't be better for another seven weeks.
Without consistent work from each of these players, two of whom are Pro Bowlers, somehow the Bengals have managed to win.
That is where depth becomes important, as does the expectation that a team will receive quality play from backups. When Jones and Green were down last week,
Mohamed Sanu
stepped up at receiver. Even with Green back in Sunday's game, Sanu continued to fill in for the absent Jones, who should give the Bengals an added layer of offensive complexity when he returns in two weeks against the Patriots.
Defensively,
Vincent Rey
has been the addition that has eased the loss of Burfict.
On special teams,
Kevin Huber
has had punts in the past two games land at the opponents' 1, 2 and 4, respectively. That field position has helped the defense, which in turn has given the offense the ball in advantageous spots.
The Bengals are as well-oiled a machine as there is in the NFL right now. With injured stars coming back to form in the next two weeks, they could soon be operating even better.
September, 21, 2014
Sep 21
9:15
PM ET
CINCINNATI -- Are the
Cincinnati Bengals
a legitimate Super Bowl contender?
Fifteen years ago, you probably would have snickered reading that. Heck, 10 years ago you would have believed anyone who suggested it was crazy.
But now? In 2014? It's not so far-fetched a question.
As the only undefeated team in the AFC through the first three weeks of the season, the Bengals are
looking down on the rest of the conference
. They have good reason to stick out their chests and beat them if they wanted to. But they don't.
To hear Bengals coaches and players tell it, all they have done so far is accomplish exactly what they set out to do when the season began: win the first three games. Next on the to-do list is to extend that string of victories with a Week 5 victory against the Patriots in New England in 14 days. The Bengals have their bye next Sunday, which gives them time to rest, reflect on the way the year has begun and look forward to what's on the horizon.

What's on the horizon after next week are 13 more regular-season games to prove they are for real. And then, if they're lucky, the Bengals will have multiple weeks this postseason to prove they do belong in the Super Bowl conversation. In each of the past three postseasons, the Bengals' Super Bowl dreams were squashed in the first week of the playoffs.
If we are to truly answer the question in the headline in the affirmative, we first must see the Bengals do what has eluded them for a generation: win a playoff game. For that reason, it's far too early to legitimately ask this question. Still, after three weeks in which they completely dominated their opponents and have built up momentum, it makes sense to wonder if this is finally the Bengals' year.
It makes sense for Bengals fans, with their heavily guarded but still excited early optimism, to not only dream about 2014 being synonymous with 1981 and 1988, but also dream about this year standing apart from those monumental campaigns. Those are, of course, the only two seasons the Bengals have competed for the Lombardi Trophy to this point.
With championship aspirations floating around their fan base, the Bengals are just trying to remain grounded, remain humbled ... and remain perfect.
"We're hunting excellence," linebacker Vincent Rey said. "Right now, we just have to keep the pedal to the metal. When January comes, we'll see where we're at."
September, 21, 2014
Sep 21
8:35
PM ET
CINCINNATI -- And now, the
Cincinnati Bengals
breathe.
After a month of training camp and the preseason and three weeks of the regular season, the Bengals get to collect their thoughts these next 14 days as they go through their bye week.
More important than that, these next two weeks will give them a chance to heal aching bones and joints, and to rest the muscle strains and pulls that have caused them to be shorthanded through the start of the season. As much as the Bengals might normally hate having an off week that falls just four weeks into the start of a season, they are currently thanking the schedule makers for this unexpected, unintended early rest period.
As a result of the bye, the Bengals expect to be dramatically closer to full strength by Oct. 5, the day they are next in action.
Coach Marvin Lewis said after Sunday's
33-7 victory
against the
Tennessee Titans
that linebacker
Sean Porter
(hamstring), receiver Marvin Jones (foot) and running back
Rex Burkhead
(knee) should be healthy enough to return after the bye. He also sounded optimistic about linebacker
Vontaze Burfict
, who spent all week on concussion protocol after suffering his second head injury in two games last Sunday.
Offensive guard
Kevin Zeitler
, who is reportedly expected to miss the next two games, also progressed from a calf injury this week, Lewis said. Depending upon how the next two weeks go for Zeitler, perhaps his return could come quicker than originally anticipated. That doesn't mean Zeitler will play at New England on Oct. 5, but it means he may not be out as long as once believed.
"I didn't like [the placement of the bye] to begin with," Lewis said, "but where we are injury-wise, it'll give us an extra week to get everybody back. We didn't lose anyone [Sunday] with anything serious, so we'll be as close to a full-strength, 53-man roster as we've been."
Defensive end
Margus Hunt
and linebacker
Emmanuel Lamur
were the only two players who left the game with injuries. Both occurred late in the fourth quarter of the blowout. Hunt had what appeared to be a shoulder injury after he dove for a sack attempt along the Titans sideline. Lamur left after being hit in the head.
September, 21, 2014
Sep 21
8:00
PM ET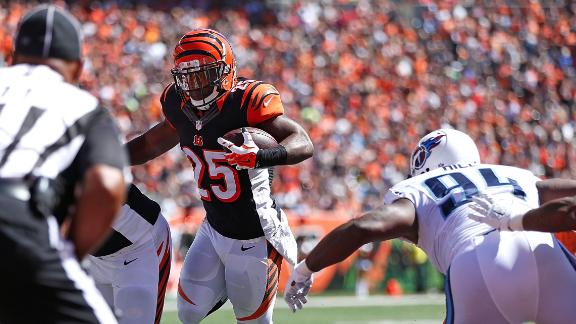 CINCINNATI -- When the ball left
Mohamed Sanu
's right hand, two words immediately popped into his head.
"Oh, s---."
After trying to sell
the
play of the
Cincinnati Bengals
' 33-7 win Sunday over the
Tennessee Titans
by pretending he was about to run the ball to his right, Sanu threw back across the field to a seemingly wide open
Andy Dalton
. The quarterback had just pitched Sanu the ball and was curling out wide for a screen pass on the left side of the field.
What Sanu didn't see when he prepared to release the ball was the 6-foot-1, 200-pound cornerback cheating up and lining Dalton in his sights. It was only after the ball left his hand that Sanu realized Titans corner
Blidi Wreh-Wilson
had the perfect opportunity to wreck his quarterback.
The Titans knew what was coming. They practiced defending the trick play all week. Like many of the other teams that will face the Bengals the rest of the year, they understood how complex Cincinnati's offense is under new offensive coordinator Hue Jackson. They knew they had to do everything they could to prevent a potential gadget play such as this one from burning them. So when Wreh-Wilson dropped out of coverage and started sprinting toward the line of scrimmage, it seemed someone had finally solved Jackson's scheme.
Sanu wanted to look away.
"I was thinking he was going to knock Andy out," Sanu said. "Then Andy just went up in front of him and made the play."
Wreh-Wilson slowed his sprint, pulled up and bizarrely avoided contact with Dalton. Surprised, the quarterback-turned-pass-catcher adjusted his body to avoid a collision, caught the pass and took off toward the corner of the end zone. With a dive into the pylon, he scored an 18-yard touchdown that put the Bengals up 10-0 early. The play completely pushed the momentum in their favor. From there, offensively and defensively, there was no looking back.
The rout was beginning.
"He's so creative in getting his playmakers involved," Sanu said of Jackson, who called a non-traditional play for the third straight game.
In the season opener, Jackson had his two offensive tackles flanked off the line and in the slot. The rare formation didn't yield much in the form of yards on what was a short
Giovani Bernard
run, but it gave defenses something to think about. Last week, Jackson had Sanu roll out and attempt a bomb to fellow receiver
Brandon Tate
, who caught the well-thrown pass 50 yards downfield despite drawing double coverage along the sideline by the end of the route. Then there was this week's play.
There's no telling what all exists inside Jackson's playbook, but there certainly is a lot more. When defenses play the Bengals the rest of the year, they won't only have to defend against the standard run and pass, they'll also have to pay attention to who is running the ball, who is passing it and where it's being passed to.
"It's tough when you have gadget plays and the defense starts second-guessing," running back
Jeremy Hill
said. "They start thinking. Defenses pride themselves on running to the football and not thinking and playing fast. When you've got gadget plays going on, it makes them sit back on their heels and run back."
They do something else for Bengals players, too -- give them reasons to curse joyously.
"Once Andy actually caught the pass, I was like, 'Oh, s---!'" Sanu said. "But this time, in a more exciting way."
September, 21, 2014
Sep 21
7:43
PM ET