December, 11, 2013
Dec 11
8:00
PM ET
CINCINNATI --
Ryan Clark
has played in the NFL for a long time; 12 seasons, to be exact.
Burfict
Clark
That means the
Pittsburgh Steelers
cornerback has seen his share of physical play, and he's heard his share of brash, rivalry-induced smack-talk. After all, not only has he played in the rough and rugged AFC North, but he also spent his early years playing for a pair of NFC teams (Washington and New York) that have a long-standing tradition of hatred for one another.
So it's safe to say Clark knows rivalries.
Still, on a teleconference Wednesday, he said something interesting about the rivalry game he will be involved in Sunday night in Pittsburgh. While speaking with media who cover the
Cincinnati Bengals
, he implied that the mostly young Bengals team has been chirping adverse things about his team in recent months and years. He implied that the division-leading Bengals, filled with veterans who started elsewhere and fresh-faced players who have been groomed by the franchise within the last four or five seasons, don't know anything about the Steelers-Bengals rivalry, and that they couldn't care less about it.
"I don't think there's a lot of respect for the Pittsburgh Steelers in Cincinnati," Clark said. "I don't think they necessarily understand the history, or know the history, nor care about it."
That's not the impression second-year Bengals linebacker
Vontaze Burfict
seemed to leave when he spoke with reporters earlier in the day.
"When we played them the first game, we realized they are a physical team," Burfict said, referring to a Monday night meeting back in Week 2. "Even when I played them my rookie year, I knew it would be a physical division; especially at linebacker since you have to go up against some big offensive linemen. They can barely move, but they can hit."
Now, for a little context.
Clark was asked on the teleconference to generally describe his thoughts on the Bengals-Steelers rivalry. He began by citing how competitive the series was throughout the previous decade when
Carson Palmer
was behind center for the Bengals and
Chad Johnson
and
T.J. Houshmandzadeh
were catching passes from him. Even though Pittsburgh was 13-6 in the rivalry between 2001-09, several of those contests were quite competitive, Clark pointed out.
Then came the 2010-11 era, when the Steelers really dominated, Clark continued. "We were beating the Bengals pretty regularly."
Pittsburgh won all four meetings those two seasons.
But since last year's split of the two regular-season games, Clark has detected something different about the Bengals. It's not a bad thing, just different, he said.
"Those guys play hard," Clark said. "They talk. And for me, that's exciting. It's always good to play against good players who feel like they're better than you. It makes for a good game for both teams."
Perhaps the Bengals' feelings of superiority are expressed internally when no one else is looking. Because publicly, they are putting on a much different face. It's one that reeks of respect for the Steelers.
Here's Bengals safety
Reggie Nelson
on the rare 5-8 record Pittsburgh is bringing into this late-season game: "They've always been good to me, to be honest with you. You can see it on film. They've got a great group of athletes over there; a great group of guys. They just had a rough start. But we've got to just come out and play. Their record don't speak for nothing."
Eight-year Bengals vet
Andrew Whitworth
, who played at LSU just after Clark, also sounded respectful when describing the Bengals' preparations for Sunday.
"It's going to be a heck of a game," Whitworth said. "We're preparing to get the best they've got."
Maybe the Bengals are just saying the right things publicly.
As for Clark's take on the rivalry, no matter how much disrespect he may feel off the field, he still knows his team has to be well prepared on it.
"Right now, they're clicking," Clark said. "They're going to be tough to stop. We'll have our work cut out for us."
December, 11, 2013
Dec 11
6:45
PM ET
CINCINNATI -- Most times when
Leon Hall
walks through the
Cincinnati Bengals
' locker room these days, reporters are absent.
Wednesday was a rare exception.
As the cornerback and his booted right foot breezed through around midday after another weekday rehab assignment, he was stopped by members of the media who hadn't talked with him since before he tore his right Achilles during in a win over the
Detroit Lions
two months ago. He has been on the injured reserve since and remained mostly out of sight while undergoing his second major rehabilitation in three seasons.
[+] Enlarge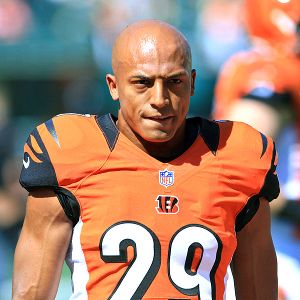 Pat Lovell/USA TODAY SportsLeon Hall is trying to recover from his second Achilles injury in two years.
Much like the last time he went through an Achilles injury, Hall is also targeting a complete return by training camp.
"That's how I look at it," Hall said. "It's the same injury but every injury's different. I'm kind of approaching this one the same way I approached the last one as far as we're just going to rehab every day, see what happens in six months or whatever."
Six months from now, Hall, who turned 29 on Monday, hopes to be back to running, cutting and jumping.
In the summer of 2012, about a month before the start of that year's training camp, Hall was finishing up the comeback from his first Achilles injury; a tear to the tendon on his left foot.
In the months that followed, he went on to have a strong 2012 season and was on pace to have an even better one in this, his seventh year in the NFL. Last season, he was credited with 38 tackles, while also intercepting two passes and breaking up a career-high eight more. This year, before the injury, he was on pace to have 48 tackles. That would have been his most since 2009. He also was on pace for a career-high 10 pass breakups.
With respect to this particular injury, the timing couldn't have been better from the Bengals' point of view. Hall made a relatively expedient return before training camp last summer. Since this year's injury came two weeks earlier on the season calendar than the last one did, he has even more time to get healthy this go round.
"That's true," Hall said. "My left is healed 100 percent, so I'm kind of looking at it basically with the same mindset I had on the first one."
Hall went down during Week 9 in 2011. This latest injury came in Week 7.
The day-by-day progression of Hall's recent rehab has gone similarly to the first one, he said.
"Sometimes with this one you kind of go as the tendon allows you to go," Hall said. "But for the most part, it's going to be the same number of weeks I had in a cast and the same amount of weeks in this boot and so on and so forth."
Asked to think back to the moment he tried to jump while covering the Lions'
Calvin Johnson
in goal-line territory, Hall said he knew right away what he had done to himself. He knew the reason he buckled and went down as the pass to Johnson fell incomplete. As he was helped back to the sideline and disgustedly sat on a bright orange Gatorade cooler, he knew his season was done.
"I did know, unfortunately," Hall said. "The feeling felt all too familiar.
"It was a lot going through my head. Anything from: I had a lot of family at the game, to 'Not again.' One of those deals."
It wasn't until Hall returned to Cincinnati that night that he realized the long march to recovery was about to commence. After having gone through that process once before, he knew what to expect next; not that it made dealing with the injury any easier.
"I kind of realized the process that it takes, which can be good and bad," Hall said. "It's good because I know what's happening, but then obviously bad because you realize you have to go through it all over again."
What has helped Hall get through the more difficult moments this rehabilitation process has brought? The fact that his teammates have kept winning. The Bengals, playing most of the latter half of the season without not only him but also Pro Bowl defensive tackle
Geno Atkins
, are 9-4 and have a commanding lead in the AFC North. With a high playoff seed in sight, Hall has comfort knowing they're continuing on without him.
"When you're winning, it's not as hard because you're happy and the guys you're around every day, that you are used to being around every day, are playing well," Hall said. "So that's good."
December, 11, 2013
Dec 11
4:55
PM ET
CINCINNATI -- After suffering an MCL sprain Sunday against the Colts,
Cincinnati Bengals
cornerback
Terence Newman
was expected to miss this week's practices.
On Monday, ESPN's Chris Mortensen reported that Newman would be out this week and that he could end up being sidelined through the end of the regular season.
Officially, he was listed as having not participated in practice Wednesday, the Bengals' first ahead of this Sunday night's game at Pittsburgh.
Newman has been wearing a long leg brace to stabilize his left knee and using crutches the past four days. It doesn't appear he will be near a field between now and the weekend.
Running back
BenJarvus Green-Ellis
also didn't practice Wednesday. According to Cincinnati's injury report, he was out with an illness. In the Bengals' 42-28 win over the Colts, he rushed for 48 yards and two touchdowns on 17 carries. His physical running style has keyed some of the Bengals' most prolific rushing performances this season. Not only did he play a part in the Bengals rushing for 155 yards last weekend, but his 92 yards against the Chargers the week before helped pace a 164-yard ground attack.
Four other Bengals practiced in a limited capacity. Linebacker
Vontaze Burfict
, defensvie linemen
Wallace Gilberry
, safety
George Iloka
and receiver
Marvin Jones
were among the limited. Offensive guard
Kevin Zeitler
went through full practice participation day, as he rehabs from a foot injury that has forced
Mike Pollak
to start the last three games in his place.
Here's a look at the Bengals' full injury report:
DID NOT PARTICIPATE
CB Terence Newman (knee)
RB BenJarvus Green-Ellis (illness)
LIMITED PRACTICE PARTICIPATION
LB Vontaze Burfict (thigh)
DL Wallace Gilberry (knee)
S George Iloka (concussion)
WR Marvin Jones (shoulder)
FULL PRACTICE PARTICIPATION
OL Kevin Zeitler (foot)
December, 11, 2013
Dec 11
3:10
PM ET
CINCINNATI -- Earlier this week, the
Cincinnati Bengals
learned they could be without one a key defensive back for the next three weeks. While they remained optimistic that another banged-up member of the secondary would be healthy enough to play this coming weekend, there was still some uncertainty that he actually would.
Until Wednesday.
Two days after the Bengals found out veteran cornerback
Terence Newman
might miss multiple games because of an MCL sprain suffered against the Colts, Cincinnati's training staff was able to clear safety
George Iloka
of the concussion protocol.
Iloka was put on the protocol Sunday after leaving the game thanks to a hit to the helmet. As soon as he went on it, he was anxious to come right off.
"It doesn't matter what injury it is, I just want to get out there as soon as I can," Iloka said. "But you've got to let those doctors do their job. That's what they're paid to do."
The second-year safety practiced Wednesday in the Bengals' first practice of the week. This Sunday, they travel to Pittsburgh for a nighttime division contest against the Steelers.
With Iloka on the field, the Bengals will keep one part of their secondary intact, even while another undergoes a bit of a makeover because of Newman's injury. Had Iloka missed time, Cincinnati would have had two positions to find replacements for this weekend. Second-year corner
Dre Kirkpatrick
is taking Newman's place, getting the first start of his career.
Iloka said the protocol waiting game -- as brief as it comparatively was -- was frustrating. Still, with the NFL's emphasis on alleviating head injuries, he understood why he had to go through it.
"Oh, I know the big picture. I want to be healthy when I grow up," Iloka said. "But I also feel like I know my body better than anyone else.
"But they obviously went to school for 10-plus years and they know [what they're talking about]. But I still feel like I know my body so that's just how it is. But hats off to them because they're just doing their job like anybody else, and so I respect what they do in trying to make sure players are safe and 100 percent OK before they get back in. There's no ill will towards anybody. I'll be ready to go this week."
December, 11, 2013
Dec 11
9:53
AM ET
By
Zach Rodgers, ESPN Stats & Info
| ESPN.com
Andrew Weber/USA TODAY SportsGiovani Bernard has emerged as one of the front-runners for NFL Offensive Rookie of the Year.
As we close in on the end of the NFL regular season, ESPN Stats & Info looks at some of the leading candidates for the Offensive Rookie of the Year award.
RB Giovani Bernard, Bengals
Bernard has been a dual-threat back for the
Cincinnati Bengals
in his rookie season. The 37th overall pick has three receiving touchdowns, more than all other rookie backs combined this season.
The Bengals' offense has noticeably improved with Bernard on the field this season. Bernard has been especially effective in the red zone. His 4.6 yards per rush in the red zone is the highest by a rookie since
Adrian Peterson
(4.8) in 2007.
WR Keenan Allen, Chargers
Allen, who fell to the
San Diego Chargers
at 76th overall in the draft due to a knee injury, leads rookie receivers in receptions (61) and receiving yards (902). Allen is on pace to post the most receptions and receiving yards by a rookie receiver in the last five seasons (
A.J. Green
finished with 65 receptions for 1,057 yards as a rookie in 2011).
Not only does Allen lead rookies in standard receiving categories, he also boasts the best catch rate among rookie receivers (70 percent).
RB Eddie Lacy, Packers
Lacy
Since his return from a concussion in Week 5, Lacy leads the league in rushing yards after contact (441). Last season, the
Green Bay Packers
averaged only 1.4 yards after contact per rush, the fourth fewest in the league.
One of Lacy's biggest impact areas comes on third and fourth down. The Packers convert on 50 percent (41-of-82) of their third downs and 100 percent (5-of-5) of their fourth downs when Lacy is on the field. Without Lacy, the Packers convert only 29 percent (26-of-89) of their third downs and 20 percent (1-of-5) of their fourth downs this season.
Honorable mention
• RB
Andre Ellington
, Cardinals
• WR/KR
Cordarrelle Patterson
, Vikings
December, 11, 2013
Dec 11
8:00
AM ET
With its group of players on injured reserve, the Cincinnati Bengals nearly have enough to field a full 11-man unit.
Nine players in all have spent time on the season-ending IR list, forcing the Bengals to showcase the depth that many believed they had before the season even began. Specifically on defense, where they have been hardest hit, the Bengals have had to dig deep into their roster to plug in bodies and fill holes, all in an effort of continuing to put some semblance of a quality defense on the field.
As young as they have suddenly gotten on that side of the ball, as lacking in experience as they have been at times, their depth has passed each test with flying colors.
So it stands to reason that now that veteran cornerback Terence Newman is out for possibly the remainder of the regular season, his replacement, Dre Kirkpatrick, will slide right in and perform the same way other replacements have for the Bengals this season.
In addition to Kirkpatrick -- and to a smaller degree, fellow backup corner Brandon Ghee -- the Bengals have been forced to plug in backups for starters all season. Most recently, Vincent Rey has shined at linebacker in place of Rey Maualuga, who was hurt parts of three games. Since Maualuga's return, Rey has still seen significant action. Last Sunday, they split snaps, playing 29 apiece.
On offense, backup tackle Anthony Collins has come in for Pro Bowler Andrew Whitworth, who has moved inside to play left guard for Clint Boling, who tore his ACL two games ago. At right guard, Mike Pollak has come off the bench to fill in the last three games for Kevin Zeitler and his slow-recovering foot injury. There are numerous other stories, and most of them have a similar outcome: The backup hasn't much looked like a backup.
One reason people in Cincinnati are giddy about their team? Because its depth has kept it afloat this season, and even without some of their best players, the Bengals have a legitimate shot at wrapping up the AFC's No. 2 playoff seed.
To get the Wednesday Morning Stripes going, let's take one look at another take on Cincinnati's depth:
Here's Geoff Hobson of Bengals.com's take on how Cincinnati's depth is "pulling rank."
As we've discussed in the past on the ESPN NFL Nation Bengals blog, big-game scenarios and Andy Dalton do not seem to mix. The quarterback hasn't fared well in night games, nor has he played well in division games. Well, he's got both this weekend. If you consider "big games" those that either occur at night, against divisional opponents and in the postseason, Dalton hasn't been very good throughout his career. Using that logic, we found that he is now 8-12 in such contests, while going 20-7 in every other. If Dalton wants to prove he's a big-game quarterback, he'll want to improve to 9-12 in Sunday night's game. The Cincinnati Enquirer's Joe Reedy explored Dalton's big-game play in one of his "Walkthrough" blog posts earlier this week.
Finally, a bit of a feel-good story to close out your Wednesday morning. Also from the Enquirer, here is a story from Paul Dehner Jr. about the shopping spree a group of Bengals players took 35 Cincinnati-area students on earlier this week. The $100 shopping spree at a local Dick's Sporting Goods store was coordinated by the Marvin Lewis Community Fund and its "Learning is Cool" program. The elementary- and middle school-aged children came from different schools across the area.
December, 10, 2013
Dec 10
4:40
PM ET
CINCINNATI -- The
Cincinnati Bengals
announced Tuesday that they have kept quarterback
Zac Robinson
on the physically unable to perform list and waived fullback
Chris Pressley
as a three-week window to activate them to the 53-man roster expired.
Per NFL rules, teams have a 21-day window in which they can allow players on the PUP list to practice and participate in normal team activities. If after that 21 days team don't activate them to the playing roster, they have to waive them. Since Pressley practiced the last three weeks after having cleared a physical, he was eligible to be added to the roster. The Bengals, however, decided not to make that move.
In Robinson's case, since the team never cleared him to practice within those 21 days, the backup is able to remain part of the club but he must remain on the PUP list for the remainder of the season.
Both players suffered injuries that predated the start of training camp and were placed on the PUP list as a result. Robinson had an elbow injury and Pressley had a knee issue.
Since the Bengals haven't had a true fullback all season, it appeared Pressley had a chance to make the team if he returned to fully conditioned health. In an effort to work around his absence in the lineup, the Bengals moved
Orson Charles
from tight end to fullback in the preseason in an effort of grooming him into the role. Charles has barely played this year, though, and the Bengals have been more content with using rookie tight end
Tyler Eifert
in fullback situations, lining him up in the backfield as an H-back. When Eifert isn't run-blocking from there, the Bengals have mostly gone with a two-halfback formation that puts
BenJarvus Green-Ellis
and
Giovani Bernard
in the backfield at the same time.
December, 10, 2013
Dec 10
10:03
PM ET
[+] Enlarge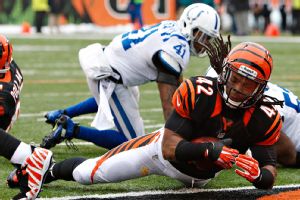 AP Photo/David KohlBenJarvus Green-Ellis was awarded a controversial touchdown when officials, after reviewing a replay, ruled he scored against the Colts.
INDIANAPOLIS -- The NFL's head of officiating said on Tuesday that referee Jeff Triplette made the wrong call when he reversed a play in the second quarter of Sunday's game between the Indianapolis Colts and Cincinnati Bengals.
"It wasn't a correct call," Dean Blandino, the league's head of officiating, said on "Total Access" on the NFL Network. "We made a mistake here."
The Bengals had the ball fourth-and-goal at the Colts 1-yard line, when Indianapolis defensive tackle Josh Chapman tripped running back BenJarvus Green-Ellis. Green-Ellis stumbled to the ground and the officials ruled that he was down short of the goal line.
The play was reviewed and Triplette reversed the call, giving the Bengals a 14-0 lead late in the second quarter. Chapman said after the game Sunday and again on Monday that there was no doubt in his mind that he touched Green-Ellis.
December, 10, 2013
Dec 10
2:00
PM ET
A weekly examination of the Bengals'
ESPN.com Power Ranking
:
Preseason
: 9 |
Last Week
: 8 |
ESPN.com Power Ranking since 2002

Stop us if you've read this before: The
Cincinnati Bengals
check in at No. 8 in ESPN.com's weekly Power Rankings. That's right, for the fourth consecutive week, the Bengals came in eighth in the latest Power Rankings as compiled by our six-person voting panel. Even after going 3-0 in a four-week stretch that includes an important division win, a key road victory and one over a fellow division leader, Cincinnati remains in the spot it has occupied since Nov. 19.
The Bengals first checked in at No. 8 after climbing from 10th following their Week 11 win over the visiting
Cleveland Browns
.
The teams immediately around the Bengals in the Power Rankings have changed over the past month. Two weeks ago, the 49ers were seventh. Following their win over No. 1-ranked Seattle this past weekend, the 49ers settled at No. 5 in this week's rankings. The Colts, 42-28 losers to the Bengals on Sunday, went from ninth in last week's rankings to 11th in those released Tuesday. One positive the Bengals do have going for themselves despite this month of stagnation is the fact that they were in the top 10 on all six ballots this week. Two voters even ranked them seventh.
December, 10, 2013
Dec 10
1:30
PM ET
CINCINNATI -- Much of the talk the last two weeks surrounding the
Cincinnati Bengals
' recent offensive line overhaul has centered, with good reason, on Pro Bowl lineman
Andrew Whitworth
.
After moving over from left tackle to left guard during the Week 13 game at San Diego, the eight-year veteran's physical and athletic play at the new position has been among the key reasons the Bengals' offense is coming off two of its best offensive performances of the season. The call to switch Whitworth was indeed a good one, and it should stick.
But that change isn't the only one that deserves credit. Equally important to Cincinnati's offensive line changes has been the move that took
Anthony Collins
off the bench, and inserted him into Whitworth's old starting left tackle spot. Without a player the caliber of Collins on their sideline, the Bengals might not be enjoying the run- and pass-block protection that has factored heavily in their last two wins.
From the moment the line changes were made, the Bengals have rushed for 316 yards and passed for 456. Quarterback
Andy Dalton
has only thrown one interception, and he hasn't been brought down for a sack. The Bengals also were just nine yards away from having respective 100-yard rushing performances in the two games for running backs
BenJarvus Green-Ellis
and
Giovani Bernard
. Yes, since the changes were made, Cincinnati has been rolling offensively.
The changes that moved Whitworth over one spot and inserted Collins into a more active role came on the sixth play of the game at San Diego. On the play before, previously starting left guard
Clint Boling
tore his ACL. His season was effectively over.
Last week, while debating whether to make the changes stick, offensive coordinator Jay Gruden praised his deep pool of tackles. The group was even so strong to him and head coach Marvin Lewis before the Chargers game that both felt comfortable starting Collins at right tackle in place of
Andre Smith
, who was benched that day for an unspecified reason. When Boling went down, Smith came in, Whitworth shifted over and Collins moved across the line to Whitworth's previous spot.
"Obviously great tackles are hard to find, but luckily we have three tackles in here that can play NFL football with Collins, Smith and Whit," Gruden said. "And with Whit's versatility and unselfishness, we can play him anywhere and be pretty good."
As a team leader, Whitworth very easily could have declined the opportunity to stay at left guard ahead of last Sunday's game against the Colts, but in deference to his team, he decided to remain on the line's interior. In his eyes, the Bengals are better off with him there than if he stayed on the outside.
"Jay Gruden all week was like, 'I love you in there, but I feel bad if you're going to miss out for going to the Pro Bowl or having an opportunity to be all these things by moving,'" Whitworth said. "I told him, 'To be honest, that's why I wear a 'C' on my chest. Whatever it is that's going to help us win football games, that's what I want to do."
Although his opportunities have been limited, Collins has helped the Bengals win in his own right for much of the year, too.
Sunday's game against Indianapolis marked the fourth time this season that Collins played more than 30 snaps in a game. The extensive playing time came after he also started at left tackle in place of an injured Whitworth during the season opener at Chicago and in the 22-20 overtime loss at Miami on Halloween. He has played in 12 games total. Aside from the four starts he has made, Collins also played 26 snaps in the Monday night win over the Steelers and 25 more in relief of Whitworth during the 49-9 blowout over the Jets in October.
Of those six games he has enjoyed such action in, four have resulted in wins. The loss at Miami came on an overtime sack for a safety that was the result of a protection breakdown on the opposite side of the line. The loss at Chicago came after a 15-yard Bengals defensive penalty negated a punt that could have returned to set up a possible Bengals comeback drive.
In the six games Collins has played the most in, Dalton has been sacked seven times total. Five of those came against a Dolphins defense that was intent on pressuring the third-year quarterback the whole night. In three of the six games, Dalton was kept upright and didn't get sacked once. As for the ground game, the Bengals rushed for more than 150 yards in three of the six, specifically hitting 164 yards and 155 yards in the last two. They also have eight rushing scores in the six games.
"We all knew he had it in him," center
Kyle Cook
said of Collins. "He's a very athletic guy. He's had the ability to practice with the 1s at both [tackle] positions, right and left. So it wasn't like he's been around here all these years but he's never played. When Chicago came around, we knew he was going to be able to do it. It was like, 'If Whit can't go, no sweat. A.C.'s got it.'"
As long as the Bengals maintain that confidence in Collins across the remainder of the regular season and into the playoffs, expect his addition to continue having a big impact on their offense.
December, 10, 2013
Dec 10
8:00
AM ET
When Cincinnati Bengals officials began evaluating draft-eligible running back Giovani Bernard last year, they believed him to be a playmaker in the truest sense.
If the speedy multi-use North Carolina Tar Heels star was given even the tiniest crack of space, he could make something happen that could lead to a big, team-galvanizing moment, they felt. After all, that's exactly what his college game tape showed. Even though he only played two seasons at the level due to in part to injury, he already had moves upon moves. As they tried to take their offense to the next level, the Bengals believed he could be the key ingredient they had been missing for several seasons.
So far, the rookie is making geniuses out of Cincinnati's entire scouting office.
Even though he was a second-round selection, Bernard this season has been playing like a first-round talent. And now that it appears the Bengals are comfortable settling with a new offensive line setup that features Andrew Whitworth at left guard and backup Anthony Collins at left tackle, the first-year running back may end up being an even bigger component to the Bengals' balanced offensive attack.
Why is that? Because the holes the Bengals' offensive line has formed the past two weeks since the lineup shift have been downright massive. On sweeps and tosses left, with the athletic Collins and Whitworth pulling and blocking downfield, Bernard has had space to pick up large chunks of yards. On screen passes to the same side, he's shown he can pick up even bigger gains.
Just consider these stats, which we'll get into a little more detail about on the ESPN NFL Nation Bengals blog later this week: Against Indianapolis on Sunday, Bernard averaged 8.3 yards per rush on his 12 total carries for 99 yards. That's a very high average for a ball carrier who ran the ball more than 10 times. Along with that figure, he gained 148 yards of total offense. That number includes the 49 yards receiving Bernard had. Bernard's total yards combined for more than 34 percent of the Bengals' offensive production in the 42-28 win. That's the type of impact he can have on this team. And remember, he's still only a rookie.
As we get to a few quick Tuesday Morning Stripes, we begin with another look at Bernard:
December, 9, 2013
Dec 9
7:25
PM ET
CINCINNATI -- The next three weeks could end up being the most important of the
Cincinnati Bengals
' season.
Playoff berths are on the line and other postseason prizes are at stake, too. If the Bengals win all of their final games games and end the regular season on a 6-0 winning streak, they have a strong chance at claiming the AFC's No. 2 playoff seeding -- along with the first-round bye and home-field advantage that would come along with it.
Of course, they also need a little help from the current No. 2-seed
New England Patriots
. Even one Patriots loss in the next three weeks could end up being all the help the Bengals need in order to clinch that coveted spot.
But the Bengals are more focused on other things: namely winning their game Sunday night against the
Pittsburgh Steelers
. Beyond that, their focus remains on doing whatever will allow them to clinch a postseason berth. As much as their play recently may have made it seem like they had already wrapped up a playoff spot, the Bengals have not.
In order to receive a playoff berth this weekend, the Bengals need the following to happen:
To beat or tie the Steelers on Sunday.
A Dolphins loss to the Patriots on Sunday.
In order to clinch their third AFC North title under coach Marvin Lewis this weekend, the Bengals need the following to happen:
To beat or tie the Steelers on Sunday.
A Baltimore Ravens loss to Detroit next Monday night.
In order to move from No. 3 to No. 2 in next week's AFC seeding, the Bengals need the following to happen (note: they won't be able to clinch the seeding until Week 16 at the earliest):
To beat the Steelers on Sunday.
A Patriots loss to the Dolphins on Sunday.
As you can see, much remains in flux when it comes to the playoff picture. That's why some players like center
Kyle Cook
are taking a patient approach to letting the various scenarios play out.
"It's tough. I don't look at it," Cook said. "When somebody says, 'You're in no matter what,' then great. But until that happens, it's too hard with people walking around and saying, 'If this wins and this team loses, then you do this.'
"Hopefully we just keep winning and go from there."
Don't tell Cook, but if you want to play around with some of the scenarios and tiebreaks yourself, be sure to check out
ESPN's Playoff Machine
. This can be a useful tool for those who do feel like playing the "what if," "if then" game.
Here's a roadmap outlining what the next three weeks look like for the teams the Bengals need to keep the closest tabs on as they look toward what appears to be an immediate postseason future:
Cincinnati Bengals (9-4 overall, 6-0 home, 3-4 road)
Week 15 -- at Pittsburgh, Sunday night
Week 16 -- vs. Minnesota, 12/22
Week 17 -- vs. Baltimore, 12/29
Baltimore Ravens (7-6 overall, 6-1 home, 1-5 road)
AFC North title depends on them
Week 15 -- at Detroit, Monday night
Week 16 -- vs. New England, 12/22
Week 17 -- at Cincinnati, 12/29
Miami Dolphins (6-6 overall, 3-3 home, 3-3 road)
AFC playoff berth this weekend depends on them
Week 15 -- vs. New England, Sunday
Week 16 -- at Buffalo, 12/22
New England Patriots (10-3 overall, 7-0 home, 3-3 road)
AFC No. 2 seeding this weekend depends on them
Week 15 -- at Miami, Sunday
Week 16 -- at Baltimore, 12/22
Week 17 -- vs. Bills, 12/29
Indianapolis Colts (8-5 overall, 4-2 home, 4-3 road)
AFC No. 3/4 seeding could depend on them if Bengals lose last two games
Week 15 -- Houston, Sunday
Week 16 -- at Kansas City, 12/22
Week 17 -- Jacksonville, 12/29
December, 9, 2013
Dec 9
4:30
PM ET
CINCINNATI -- This is exactly what every young professional football player dreams about when he enters the NFL; getting the opportunity to replace a proven veteran, and helping keep the team afloat until the veteran comes back.
Dre Kirkpatrick
, the
Cincinnati Bengals
' second-year backup cornerback, is in that very position this week.
With Monday's
report from ESPN's Chris Mortensen
that two-time Pro Bowler Terence Newman will miss this week's game against the Steelers and possibly the two after it with an MCL sprain, Kirkpatrick's opportunity to shine has come. While the young defensive back certainly doesn't wish injury on any of his teammates, he does want them to know he can fill their shoes more than adequately.
[+] Enlarge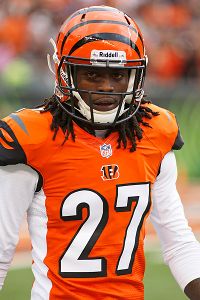 AP Photo/David KohlCornerback Dre Kirkpatrick might get a chance to start in Week 15 against the Steelers.
If he wants to help the Bengals finish off their goals of winning out the remainder of their schedule and entering the playoffs with a high seeding, he has to seize this opportunity.
On the horizon for Kirkpatrick is an chance to prove his slowly shrinking line of naysayers and doubters wrong. It's a line that rightfully swelled following Cincinnati's preseason loss at Dallas back in August. That night, he was flagged twice for pass interference, was burned in coverage, and generally looked lost on the field. Some fans were calling for him to be cut, others were questioning whether the Bengals were smart to select the University of Alabama product with the 17th overall pick in the 2012 draft.
Already they had concerns about his health, after he was forced to the injured reserve with a knee injury at the end of last season. Those concerns were exacerbated this season when a hamstring injury kept him out of the Week 3 and 4 games against Green Bay and Cleveland, respectively.
Since returning in Week 5, Kirkpatrick has gradually been given more playing time, and he has done well with it.
"We've got a lot of good guys on this team. We don't have any guys that are not top-notch guys," veteran cornerback
Adam Jones
said. "These guys work hard in practice. Even on scout team. They make it hard for the offense. When you see those guys working hard and making interceptions [in practice] against a top-10 offense, that kind of puts it in your mind that these guys are ready to go."
Cincinnati's offense ranked 10th in the league entering Monday night's Dallas-Chicago game.
Over the past nine games, Kirkpatrick has played 100 of the 102 snaps he has totaled this season. All but one of his 12 tackles have come in that stretch, as did his first career interception. He picked off a
Philip Rivers
pass last week against San Diego.
Back in late October when Kirkpatrick first got on the field as veteran corner
Leon Hall
's replacement, defensive backs coach Mark Carrier said he was
detecting positive changes
in Kirkpatrick's practice habits and demeanor.
"It's amazing, and he'll be the first one to tell you that when he's healthy, he can go out there and play," Carrier said. "Everyone's time comes, and he knew his time was coming soon."
That time is here again. With the Bengals in the middle of a playoff push and missing two of their best cornerbacks, they are looking to the young player to step up and play like he's been starting the whole time. If he does, he could end up playing a vital role in assisting the Bengals' efforts in securing a first-round playoff bye and home-field advantage.